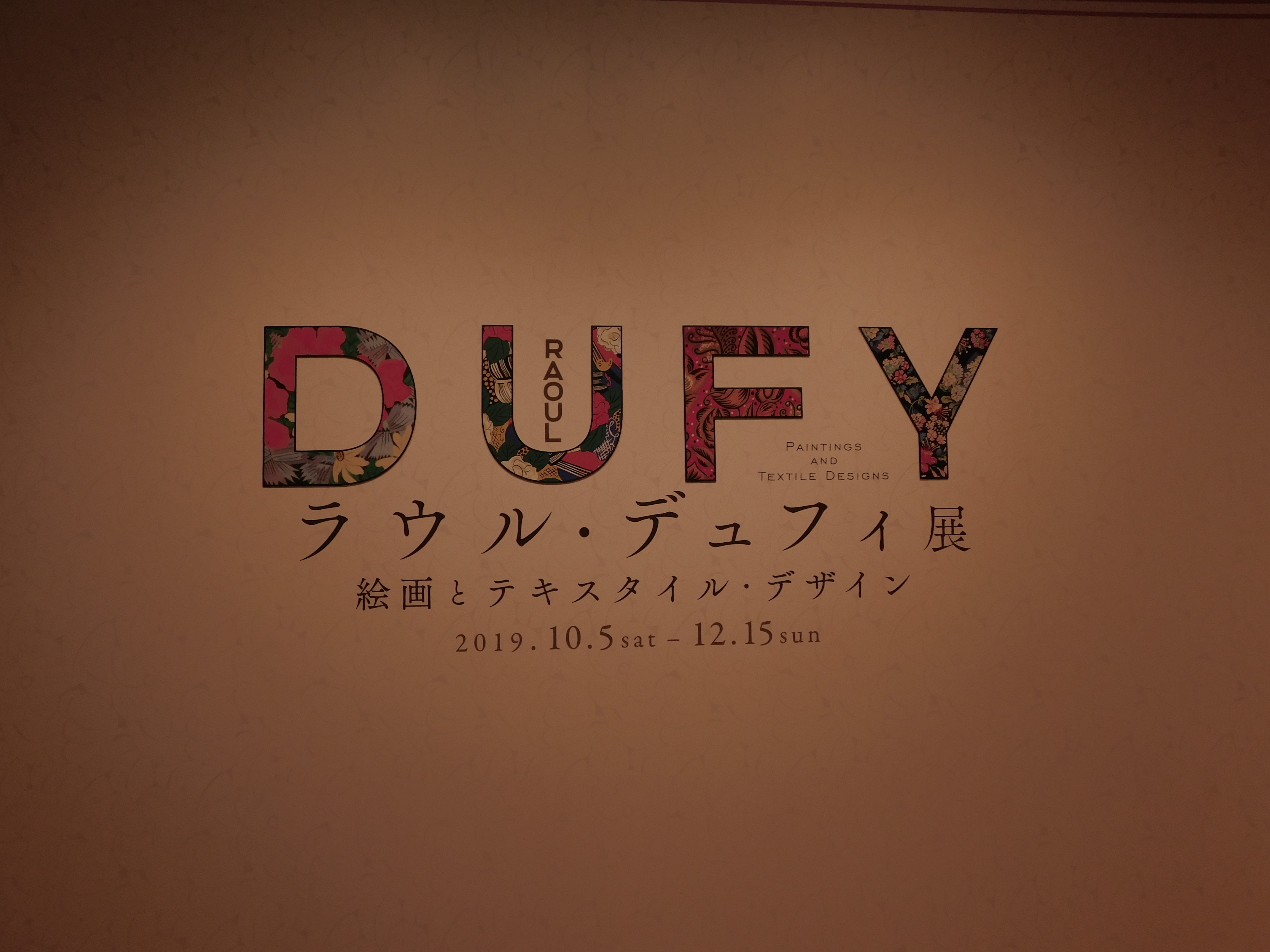 From October 5, 2019 (Saturday), the Raoul Dufy Exhibition Painting and Textile Design has been held at the Panasonic Shiodome Museum (until December 15 (Sun)).
The other day there was a press preview of this exhibition, so I will report on the design.
---
What is Raoul Dufy?
Raoul Dufy was born and raised in 1877 in a family that loved the music of Le Havre, a port town in the north of France.
In 1900, he went to Tokyo to get a scholarship and enter the National Art School in Paris in a family environment that was never wealthy.
I was deeply impressed by Henri Matisse and absorbed the bold colors of the beast group (forvisum) and the free touch.
Raul Dufy, a painter who keeps the hearts of many people with gorgeous and bright colors and light strokes.
It was Raul Dufy's painting and textile design that paid attention to Dufy's world.
Raoul Dufy exhibition highlight
There are three main highlights of the Raoul Dufy exhibition.
① Exhibiting Dufy's excellent paintings from early to late years
Exhibited 16 representative works from "The Grand Boulevard Carnival" to the late "Bouquet" from the Dufy School of Fine Arts.
Touch the precious collections in the country, such as the dazzling sea, the interior of the window and the effect of the paintings, and the series of music-themed paintings, including the top of Dufy's painting "Yellow Console" By doing that, we follow the footsteps of Dufy's painting business.
②Many works and materials related to Dufy textile design
116 works including Dufi's original fabric designs and sketches for Biancini-Ferie, original silk fabrics, woodblocks (woodcuts used as woodblock prints) and sample books.
Design original drawings such as "Shell and Sea Horse" and "Elephant" used for Paul Poiret's costumes are also notable.
③ 20 costume works using Dufy Design textiles
---
---
An outfit created by Mongi Giban in a modern interpretation of a dress by Paul Poiret, a gorgeous dress created by Christian Lacroix and Olivier Rapidos using Dufy Design fabric, and a British stage costume Many gorgeous dresses such as "My Fairlady" costumes by designer Anthony Powell are on display.
The Raul Dufy exhibition consists of four parts.
The Raul Dufy exhibition consists of 1 to 4 chapters.
Chapter 1 Painting Joy of Living-Sunlight, Sea and Music
Raul Dufy's artistic development period was influenced by the Impressionism, Forvisum and Cezanne, and continued to innovate in expression while producing works that responded to the atmosphere of the times.
Around 1920, Dufy stayed in Vance, southern France, where dazzling light overflowed, and was devoted to production.
In the process, we will open our eyes to light, form and color and acquire our own style.
It is a painting in which light colors, soft and light outlines, and the whole gently harmonize.
The joy of life and the joy of living are sung singing vividly, such as the calm sea where light and liveliness can be seen, the individual person who decorates, and the concert hall where you can feel the sense of rhythm and unity.
Chapter 2 Encounter with Mode
In 1910, Dufy made a woodcut illustration for "Animal Poetry or Orpheus Procession" at the request of the poet Apollinaire.
Paul Poiret, a fashion designer who had a friendly relationship as an acquaintance, highly appreciated Dufy's graphic work, established a textile production center, and began joint development of fabric with Dufy.
Duffy, who had a short-term experience but was interested in textile design, signed a contract with Biancini-Ferie in Lyon in 1912 to provide fabric designs.
(* Textile design = textile design for clothing and interior)
Chapter 3 Flowers and Insects
Dufy will work on textile design in earnest for 16 years from 1912 to 1928.
Through this challenge of fabric work, Dufy will gain an important technique in painting.
The method does not depend on the color and the outline, and each is independent and harmonizes on the screen.
The experience of textile design has led to the development of paintings unique to Dufy.
Chapter 3 is divided into four parts by motifs, "Part 1 Rose", "Part 2 Various Flowers", "Part 3 Flowers and Leaves", "Part 4 Insects" You can enjoy in detail the works that deal with nature.
A wide range of works such as Dufy's sketches and original drawings, and the textiles, printed fabrics, test prints, and costumes that will be exhibited from the original will be displayed.
Chapter 4 Modernity
Dufy works often feature scenes of the city, such as party scenes and sports people, and are expressed in colorful fabrics.
A clear color scheme and a simple but story-like composition will open a new frontier in textile design.
Charles Biancini of Biancini-Ferie also sends a letter to Dufy, who recognizes it as a designer who can expect a lot of modern-style printed fabrics, so they are aiming to reform textile design with the same orientation. I understand that it was.
Chapter 4 is developed with two themes of "Part 1 Modern Life" and "Part 2 Geometric Pattern".
Raul Dufy Exhibition Featured Works
◎ "Large bath woman in Saint-Tadres" (left photo)
A work based on the ocean, which was the origin of Dufy.
The plump woman in the center is somewhere humorous.
A swimsuit like a sailor suit is a trendy swimsuit proposed by famous designer 20th century Coco Chanel.
The blue of the sea is drawn colorfully, and you can hear the sound of the quiet waves.
◎ "Portrait of Pierre Geismar" (right photo)
A work depicting Pierre Geismar, a company owner and collector of Dufy works.
The bright blue suit clearly represents the characteristics of Dufy's work, which emphasizes color over contour lines.
Behind the room, Dufy's works are arranged in a random manner.
The work looks like a figure drawn with the outside scenery seen from the room, but in fact the room is closed and decorated with a Dufy landscape. But like the scenery outside the window It looks strange because it looks like
It is also noteworthy that the composition of the picture is almost the same as that of the Saint Tadress bather.
---
◎ "Concert" (left photo) "Orchestra" (right photo)
An orchestra-themed work drawn by Dufy.
In the production, Dufy said that he had the cooperation of a good band inside.
When these two works are compared, the depicted viewpoints are different.
Wasn't "Orchestra" written while sitting in the audience seats while watching the audience seats on the stage? It is speculated.
---
◎ "Evening Court"
An outfit created by Monji Giban in 1911, with a modern interpretation of the evening coat announced by Paul Poire, a fashion designer representing the 20th century.
It looks like a kimono and it has a unique presence even in a simple design.
---
◎ "Orpheus Procession" (all three works)
A series based on Orpheus in Greek mythology.
It depicts the people who are in a procession while being intoxicated with the music of Orpheus, along with a series of leaves.
It is interesting that the color appears differently depending on the viewing angle.
---
◎ "Dress Textile« Ileve Rose "" (both 2 works)
A costume designed and created by Monji Giban in a contemporary style using a dress designed by Paul Poiret.
Both seem modest and expressive.
If you compare the two costumes, you can see that the rose being drawn is inverted.
---
◎ "Violin" (left photo)
A work that can be said to be Dufy's hymn for loved music.
The intense colors of red, blue, and yellow are calmed with green and white, and even black.
It is wonderful that the colors of each other are in perfect harmony without interfering.
◎ "Yellow console" (right photo)
A late work at the top of Dufy's painting that was created by a technique called tonal painting that uses three colors to compose the screen.
Based on yellow, the violin is placed on the yellow console, and the lower part of the painting uses light grayish blue.
The outline of the score is not white, but it is unique that light yellow and dark yellow are used.
Summary
We reported the report preview of Raul Dufy exhibition.
Dufy has established an unparalleled world with a unique style of light and color weaving.
The work is used not only in painting but also in the field of design, and continues to live in modern times.
The appeal of Raoul Dufy, which cannot be spoken in a single word, can only be understood through actual visual experience.
Raul Dufy exhibition Painting and textile design now being held.
Why don't you go to the Panasonic Shiodome Museum in the autumn of art appreciation?
Outline
■ Exhibition Name: Raoul Dufy Exhibition Painting and Textile Design ■ Exhibition Period: October 5 (Sat)-December 15 (Sun), 2019
10: 00 ~ 18: 00 (Admission until 17:30)
* November 1 (Friday) and December 6 (Friday) Open at night until 20:00 (Admission until 19:30)
■ Closed: Wednesday
■ Venue: Panasonic Shiodome Museum ■ Price: General 1,000 yen / 65 years and older 900 yen / University students 700 yen / Junior and senior high school students 500 yen / Elementary school students free * Group discount for over 20 people is 100 yen discount Name is free. Presenting a handicapped person's notebook, etc. when entering the museum ■ Official website:
https://panasonic.co.jp/ls/museum/exhibition/19/191005/index.html