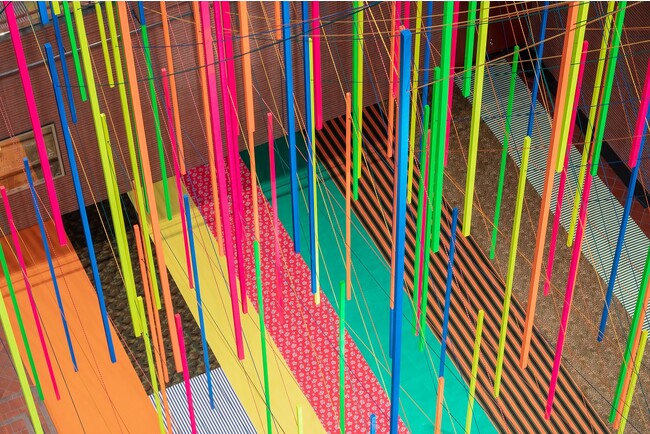 Ginza Tsutaya Bookstore (GINZA SIX6F, Chuo-ku, Tokyo) will hold a solo exhibition by artist Kengo Kito from May 13 (Sat) to May 24 (Wed). A reconstruction of the "Lines" installation exhibited at the Kanagawa Arts Theater in 2022. We will also present a new large-scale two-dimensional work from the "cartwheel galaxy" series.
Feature page| https://store.tsite.jp/ginza/blog/art/33483-1548090508.html
·overview
This is a solo exhibition by Kengo Kito, an artist who is known for his diverse means of expression, including sculpture, painting, and photography, as well as large-scale installations that incorporate the colorfulness, rotation, and circulation of ready-made objects that are common in everyday life. increase.
For the installation work, "Lines", which was exhibited at the Kanagawa Arts Theater Atrium in 2022, was reconstructed for this exhibition. Using ready-made ropes and colorful 4m sticks, vertical lines are created with a direct sense of color that can be seen in Kito's paintings. The contrast between the rhythm of the colors and the straight lines echoes.
In addition, as a two-dimensional work, he presented a new work "cartwheel galaxy". Vivid strokes of paint come to life on the canvas, leaving traces of the title "Wheel". Fragments of mirrors are also scattered here and there, and depending on the angle of the lighting, it throws an unexpectedly sharp light. The multi-layered primary color paints and reflections on the glass create a unique pictorial space through their synergistic effect.
・Artist profile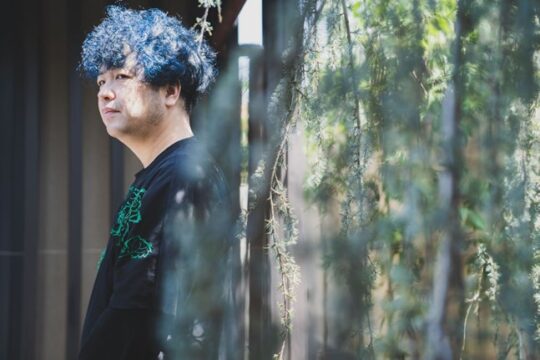 Kengo KITO
Born in Aichi Prefecture in 1977.
2003 Graduated from Kyoto City University of Arts Graduate School of Fine Arts Oil Painting 2008-2009 Stayed in New York with a grant from the Gotoh Memorial Foundation Based in Berlin (Germany) and Gunma Prefecture since 2015. Professor at Kyoto University of the Arts Graduate School.
Using everyday ready-made products such as hula hoops, parasols, and scarves, he will create large-scale installations that incorporate rotation and circulation, such as their colorfulness, the reflections of mirrors and lame, and the movement of motors. I have been presenting works that use expressive methods. They are a mixture of modern artificial colors and brilliance with the expanse of life and the universe.
[Main solo exhibition]
2022 "Lines Kengo Kito Exhibition" Kanagawa Arts Theater <Atrium> (Kanagawa)
2021 "big rip" rin art association (Takasaki, Gunma)
2021 "Reconnecting" JAPAN HOUSE Gallery (Los Angeles, USA)
2020 "Full Lightness" Kyoto City KYOCERA Museum of Art (Kyoto)
2018 "MULTIPLE STAR I-III" Hara Museum ARC Contemporary Art Gallery A (Gunma)
2018 "color color color color color color" Gateau Festa Harada Main Gallery (Gunma)
2017 "YCC Temporary Kengo Kito" YCC Temporary (Kanagawa)
2016 "KENGO KITO Interstellar" Kyoto University of the Arts Galerie Aube (Kyoto), etc.
[Major group exhibitions]
Mori Art Museum "Roppongi Crossing 2007: Pulse to the Future" Exhibition, The National Art Center, Tokyo "Artist File" Exhibition, Hermitage Museum "Mono No Aware" Exhibition, Takamatsu City Museum of Art "The Secret of Gihou" Exhibition, Kyoto City Kyocera Museum of Art in 2020 The solo exhibition "Full Lightness" was held as the first exhibition after the re-opening.
・ About work sales
It will be on sale at Ginza Tsutaya Bookstore from 11:00 on Saturday, May 13th.
*We do not sell online.
* Depending on the pre-sale situation, sales of works may end before the exhibition period starts.
・Exhibition details
Kengo Kito "About Lines"
Date: May 13 (Sat) – May 24 (Wed), 2023
Time|11:00-20:00 *Last day only, closes at 18:00 Venue|Ginza Tsutaya Bookstore GINZA ATRIUM (event space)
Organizer | Ginza Tsutaya Bookstore Cooperation | rin art association
Inquiries|03-3575-7755 (during business hours)/info.ginza@ccc.co.jp
Feature page| https://store.tsite.jp/ginza/blog/art/33483-1548090508.html
*The end date is subject to change.
・Ginza Tsutaya bookstore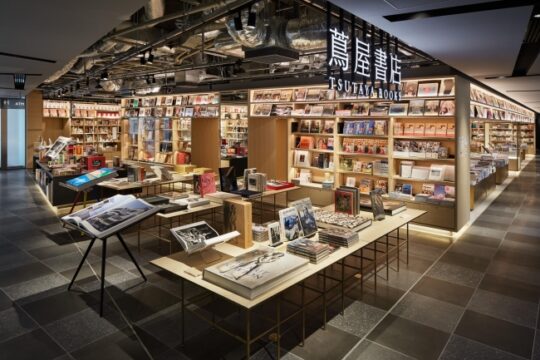 By connecting art, Japanese culture, and life through books, we propose a lifestyle with art.
Address|6-10-1 GINZA SIX 6F, Ginza, Chuo-ku, Tokyo 104-0061
Phone number|03-3575-7755
Business hours | Please check the store website.
Homepage| https://store.tsite.jp/ginza/
Facebook| https://www.facebook.com/GINZA.TSUTAYABOOKS/?ref =bookmarks
Twitter| https://twitter.com/GINZA_TSUTAYA
Instagram |https://www.instagram.com/ginza_tsutayabooks/
・CCC Art Lab
We are a planning group that conducts business related to art within the planning company Culture Convenience Club Co., Ltd. We would like to contribute to making people's lives happier and creating a better society by making art more accessible through "proposing a life with art". Based on the knowledge cultivated through many years of business experience such as store planning, art media, product development and event production, we will propose plans with a professional approach.
https://www.ccc-artlab.jp
[Culture Convenience Club Co., Ltd. (CCC ART LAB)] From the press release
<Related articles in the past>
[Ginza Tsutaya Bookstore] Folklore artist Kenichi Nakatani, who is attracting attention for his works based on Japanese folk crafts, will hold a "Kyotsu Mingei" exhibition from Saturday, May 13th.
WOW "Imperfect Image —Refraction #001–014—" exhibition held at Ginza Tsutaya Bookstore to experience the beauty of imperfection
[Ginza Tsutaya Bookstore] A new space "GINZA ART SQUARE" has opened in the store to commemorate the 6th anniversary. The first project is the contemporary artist Julian Opie's fair.