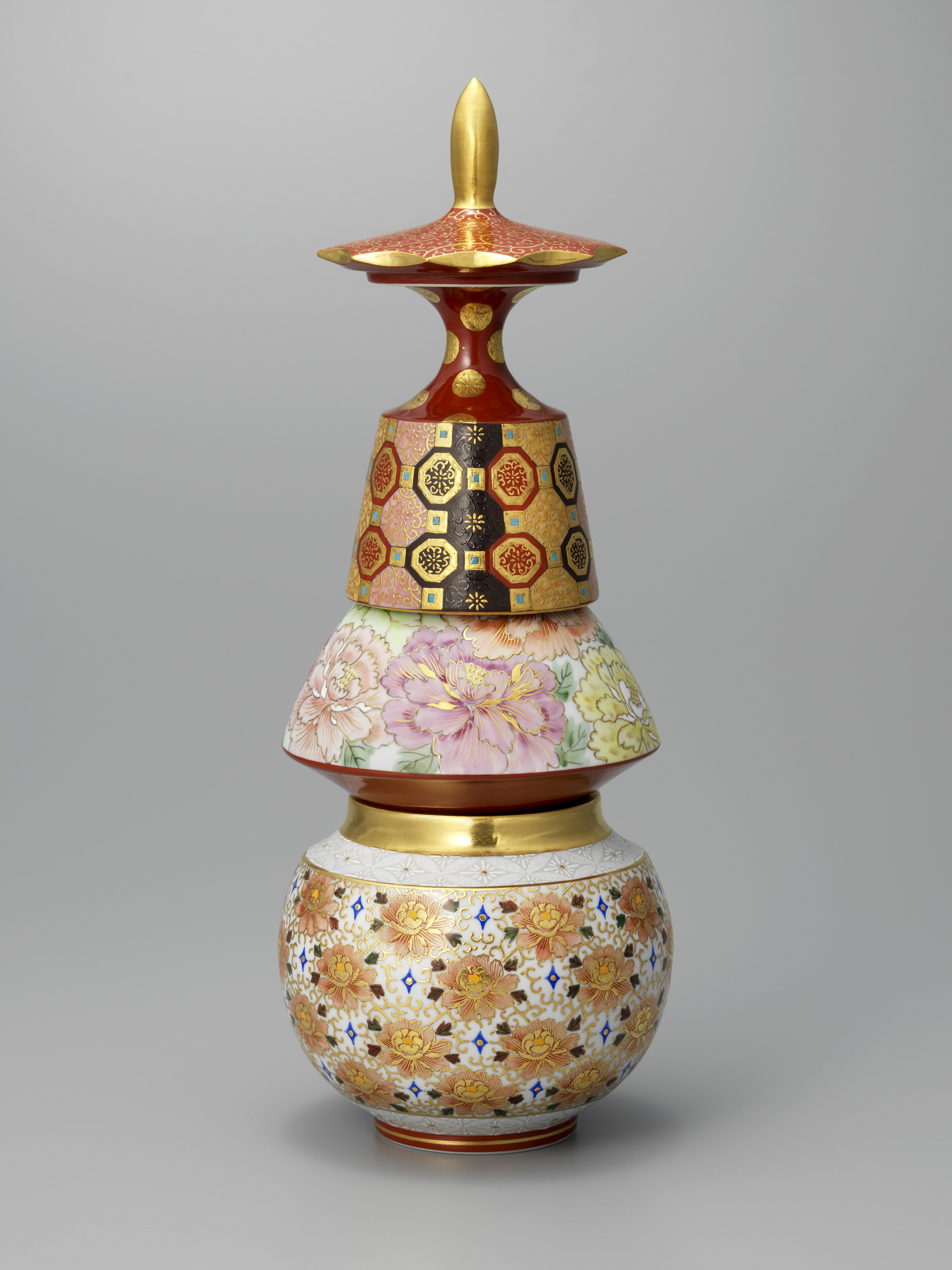 An exhibition of works directed by Mr. Yukio Yoshida and Mr. Keigo Kamide, who lead two potteries representing Kutani ware.
At the Seiko House Ginza Hall, from August 31st (Thursday) to September 10th (Sunday), we will hold "Yoda's Gold and Kamide's Blue Nishikiyama Kiln x Kamide Choemon Kiln".
Nishikiyama Kiln and Kamide Choemon Kiln are representative kilns of Kutani ware. 100 years after the opening of the kiln, the paths of the two kilns intersect here for the first time.
Kinzan Kiln, which inherits the tradition of Kutani's Kinrande and tries a new expression of gold color, and Kamide Choemon Kiln, which expresses freshness with Shozuite's vivid blue dyeing, exchanged each other's base materials and painted. I made a work. At the same time, works that symbolize each pottery will be gathered together. The direction is Mr. Yukio Yoshida, the 4th generation of Kinzan Kiln, and Mr. Keigo Kamide, the 6th generation of Kamide Choemon Kiln.
Please take a look at this exhibition where two potteries and their successors compete across history and generations.
Base Material: Kinzan Kiln "Kacho Yumetan"
Painting: Kamide Choemon Kiln
Base material: Kamide Choemon kiln "Jufukuro"
Painting: Kinzan kiln
Yukio Yoshida Biography
1960 Born in Komatsu City, Ishikawa Prefecture
1985 Asahi Ceramic Art Exhibition Encouragement Award
1997 International Overglaze Ceramics Competition 97 Kutani Semi Grand Prize 23rd Choza Prize Ceramic Art Exhibition Encouragement Prize
1999 International Ceramic Biennale 99 Special Award
2000 2nd Contemporary Tea Ceramics Exhibition TOKI Oribe Silver Prize
2010 Japan Traditional Art Crafts Exhibition Takamatsunomiya Memorial Award
2013 Contemporary Japanese Crafts Exhibition (Morikami Museum, USA)
Commemorating the 60th Japan Traditional Art Crafts Exhibition From crafts to KOGEI (The National Museum of Modern Art, Tokyo)
2014 19th MOA Mokichi Okada Award Exhibition (MOA Museum of Art)
2020 Kogei2020 <The Art of Crafting Beauty from Nature> (Hyokeikan, Tokyo National Museum)
2022 Ceramic Art Connecting to the Future – The Power of Traditional Crafts Exhibition (Panasonic Shiodome Museum of Art, etc.)
Currently a regular member of the Japan Kogei Association and a permanent director of the Japan Ceramic Art Association
Kinzan kiln kiln history
1906 Shosaku Yoshida, the founder of the company, becomes independent and takes the name Nishikiyama.
1933 Seiichi becomes the second generation and inherits the style of the first generation, improving Kutani's design and producing many new prototypes.
1951 3rd generation Mito inherited Kinzan kiln and started making pottery
2001 Bito is certified as a holder of important intangible cultural property underglaze gold color (Living National Treasure)
2007 Yukio replaces his father Bito as the 4th head of Kinzan Kiln.
2016-17 Kinzan Kiln Exhibition held (Daikanyama Hillside Forum)
2017-19 Exhibition at Maison & Objet (Paris)
2019 Opening of the gallery "Dandan"
Selected for JAXURY AWARD in 2023
Biography of Keigo Kamide
1981 Born in Nomi City, Ishikawa Prefecture
2006 Graduated from Tokyo University of the Arts, Department of Painting, Department of Oil Painting
2010 KUTANII CONNEXION (spiral garden)
2013 Paradise – New Horizons of Art and Everyday Life – vol.3 Keigo Kamide (gallery αM)
2019 The 14th Paramita Ceramic Art Award Exhibition (Paramita Museum)
15th Anniversary Commemorative Present Location: To Draw a Map of the Future [2] (21st Century Museum of Contemporary Art, Kanazawa)
2022 Yoshimi Arts
Collection 21st Century Museum of Contemporary Art, Kanazawa, Nomi City, Japigozzi Collection, Ryutaro Takahashi Collection, MONTBLANC JAPAN
Kamide Choemon Kiln Kiln history
1879 Chouemon Uede, the founder of the inn business, started selling Kutani ware through a drug dealer in Toyama.
1941 Introduced the main kiln and named it Choemon Kiln.
1969 Received the honor of dedicating a "vase" at the request of the Meiji Jingu Shrine
1996 Kentaro IV receives Medal with Blue Ribbon
2003 Received the 5th Order of the Rising Sun from the Order of the Rising Sun.
2011 Presented tableware designed by Jaime Hayon in Milan, Italy
2015 First overseas solo exhibition at NAKANIWA, Paris, France
2018 Held two exhibitions in Sing Tehus, Denmark and Yoda, Germany
2023 Opened the first directly managed store "Kanazawa Choemon" in Korinbo, Kanazawa
<Information about gallery talks by Yukio Yoshida and Keigo Kamide>
Date: September 2nd (Sat) and 9th (Sat), 2023, from 14:00 on both days (reservation required)
Reservations will be accepted by phone from Tuesday, August 22nd.
Reservations: Wako Art Department (03) 3562-2111 (representative)
<Information on Instagram Live>
We will introduce the works on Instagram dedicated to art (@art_wako_ginza_tokyo).
Date: Wednesday, August 30, 17:00-
https://www.instagram.com/art_wako_ginza_tokyo/
Yoshida's Gold and Kamide's Blue Kinzan Kiln x Kamide Choemon Kiln
August 31st (Thursday) to September 10th (Sunday)
Venue: Seiko House Ginza Hall Seiko House Ginza 6th floor, 4-5-11 Ginza, Chuo-ku, Tokyo Contact: Wako (03) 3562-2111 (representative)
Business hours: 11:00-19:00 (Until 18:00 on Thursday, August 31. Until 17:00 on the last day)
Closed: Open all year round Admission: Free Sponsor/Wako
◎ Wako Hall has changed its name to "Seiko House Ginza Hall".
We will send various messages to the world, such as exhibitions related to the Seiko Group business in general and co-creation with artists.
■ Change of business hours
Thursday, August 31, 11: 00-18:00
◎Annex 10:30-18 :00 (Last order at Tea Salon is 17:30)
Target stores: Main Store, Annex, Bridal Boutique Ginza, Wako Site Ginza, Seiko Dream Square, Grand Seiko Boutique Ginza, Osaka Store, Sapporo Park Hotel Store, Nagoya Kanko Hotel Store, Hotel Okura Niigata Store
Business hours and events are subject to change without notice.
Please see our website for the latest information.
home page
https://www.wako.co.jp/
Instagram
https://www.instagram.com/wako_ginza_tokyo/
Instagram dedicated to art
https://www.instagram.com/art_wako_ginza_tokyo/
[Wako Co., Ltd.] From the press release
<Related articles in the past>
[Seiko House Ginza Hall (former Wako Hall)] "Persian beauty colored by light and shadow-hand-spun and plant-dyed carpet exhibition-" will be held from Saturday, July 8th
"The art of time" spun by actors and craftsmen. The Seiko Group will hold an exhibition of clothing by Tamasaburo Bando, titled "Four Seasons, Nature, and Life – Transition of Time and Natural Beauty –" at the Seiko House Ginza Hall in Ginza 4-chome (free admission).
[Seiko House Ginza Hall (former Wako Hall)] "Manji Inoue White Porcelain Exhibition Fresh-Wheat-like" will be held from June 22 (Thursday)