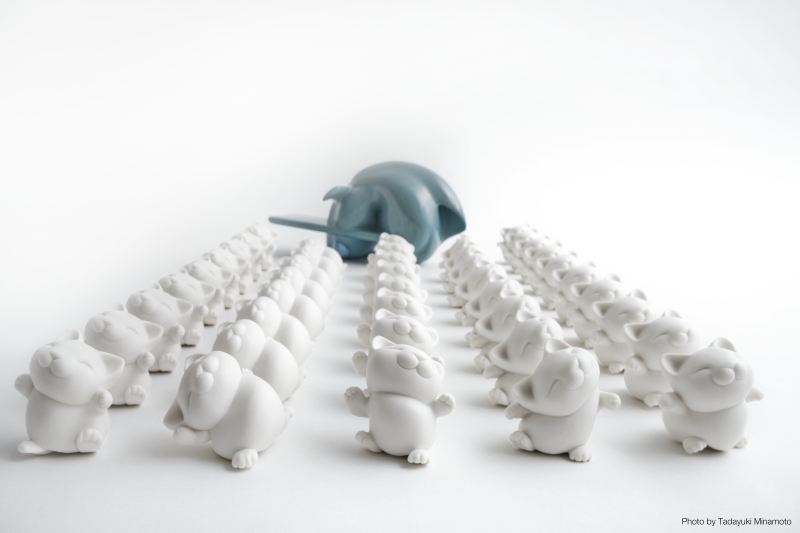 The culmination of 10 years of work by artists who aimed to create "new crafts" by fusing different fields.
Seiko House Ginza Hall will be holding "Fusion of Crafts – This is the Answer" from November 9th (Thursday) to November 19th (Sunday).
This exhibition, the first in five years and the third in Wako, brings together eight artists active in the fields of lacquer art, bamboo crafts, ceramics, metalwork, wood carving, Japanese painting, digital art, and architecture, and fuses each other's materials and techniques. I will exhibit the works that I made.
In 2014, lacquer artist Takashi Wakamiya and fourth-generation bamboo craftsman Chikuunsai Tanabe launched the "Fusive Crafts" project with the aim of passing on the Japanese handicrafts they love to the future. .
They aimed to create a new craft, and an artist who sympathized with them joined them, and they continued their activities.The current exhibition, "Fusion of Crafts – This is the Answer,'' is the culmination of their activities.
Because "fusion crafts'' basically involve collaboration between multiple artists to create a single work, it takes many times more time and money than usual. This time, we raised part of the cost through crowdfunding to create an art book as a record of our thoughts for the exhibition and to convey the works to the future.
The eight members participating in this exhibition are Arisa Oguro, Sawako Kaijima, Fumie Sasai, Shugo Tajima, Chikuunsai Tanabe IV, Haruho Mitsuda, Seiko Wakasugi, and Takashi Wakamiya. While each of them continued to work in their respective fields, they did their best to create works for this exhibition that connect Japanese art to the future.
Please come and see this exhibition, which marks a new page in the history of crafts as the culmination of the project.
<Gallery talk information>
Date and time: Saturday, November 11, 2023, Sunday, November 12, 2023 From 14:00 on both days (reservation required)
Reservations will be accepted by phone starting October 20th (Friday).
Reservations: Wako Art Department (03)3562-2111 (Representative)
---
---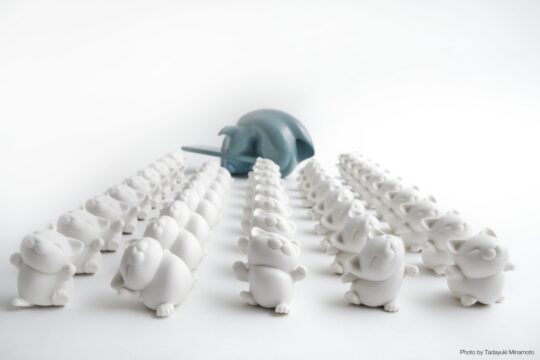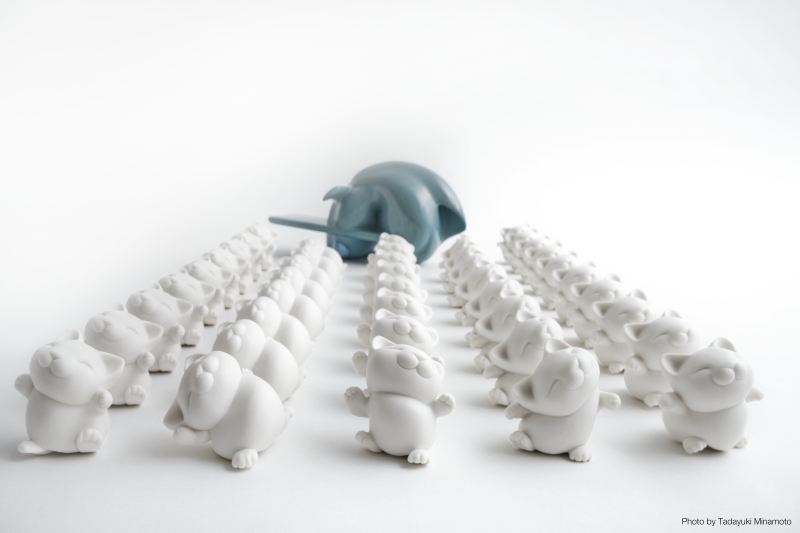 Arisa Oguro x Sawako Kaijima x Fumie Sasai x Seiko Wakasugi
"Animism March"
(Lacquer w30×d16×h13.5cm, porcelain A w6×d5×h6.2cm, porcelain B w6×d6×h5.5cm,
Porcelain C w6.7×d5.2×h6.2cm, porcelain D w6.2×d4.2×h6.4cm, porcelain E w5.6×d4.2×h6.4cm,
Porcelain F w6.2×d5.5×h6cm)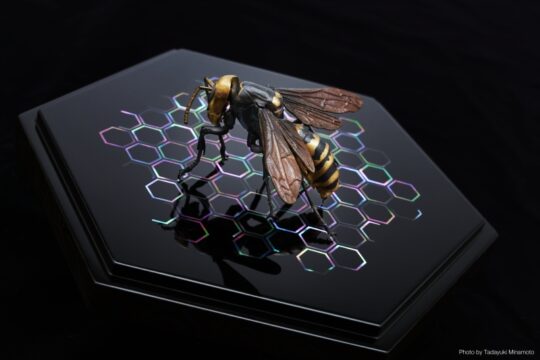 Haruho Mitsuda x Hikoju Makie Takashi Wakamiya
"Jizai Daijaku Bee <Queen Raden Book Table>" (Body: W5.5 x D4 x H3 cm, Book stand: W13 x D15 x H4 cm)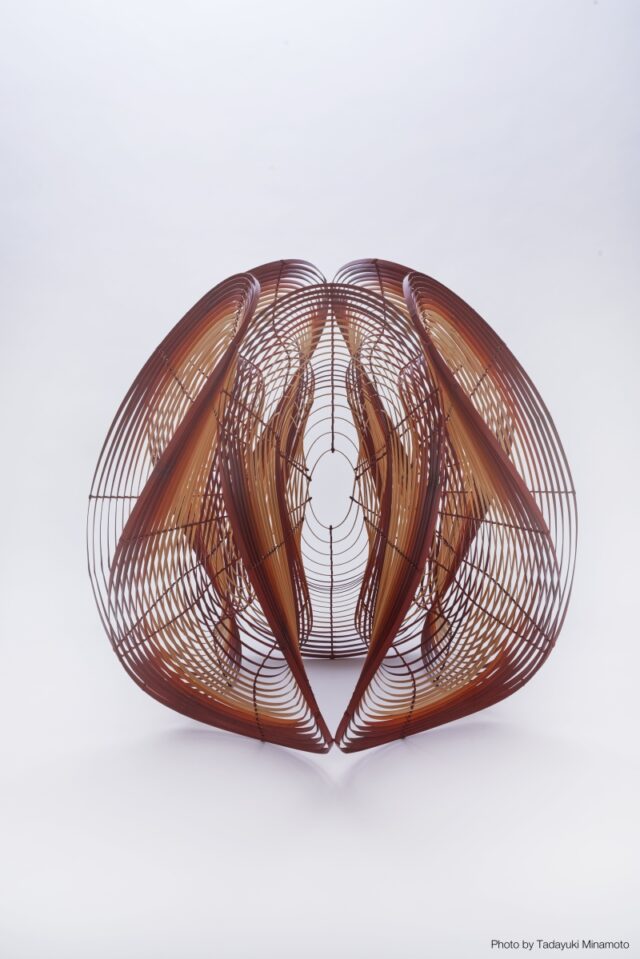 Sawako Kaijima x 4th generation Chikuunsai Tanabe
"Chou Mushin V" (w60.5×d60.5×h56.5cm)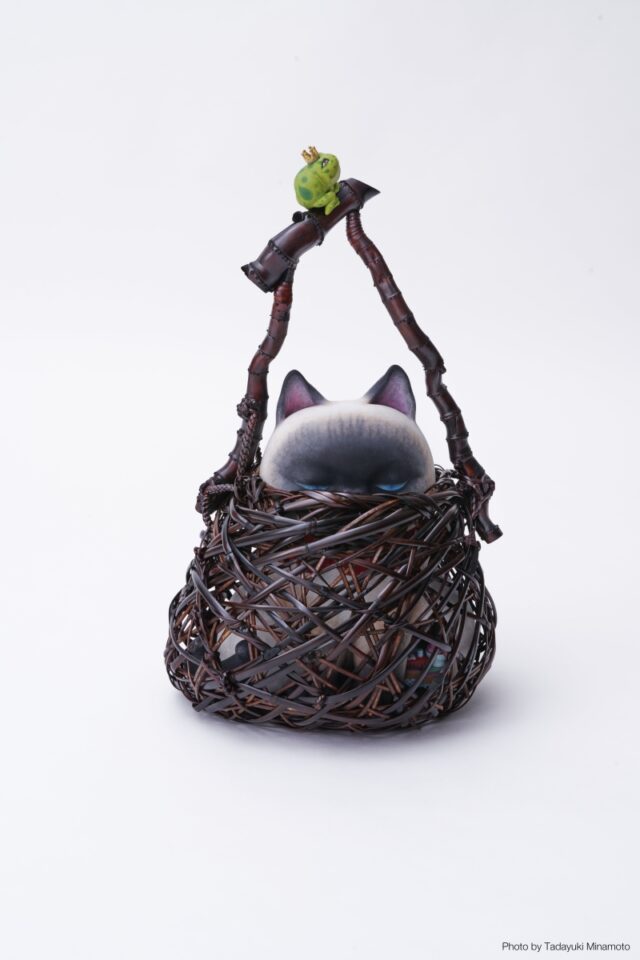 Arisa Oguro x Shugo Tajima x 4th generation Chikuunsai Tanabe
"Cat wrap" (3D) (w30.5 x d27 x h51cm)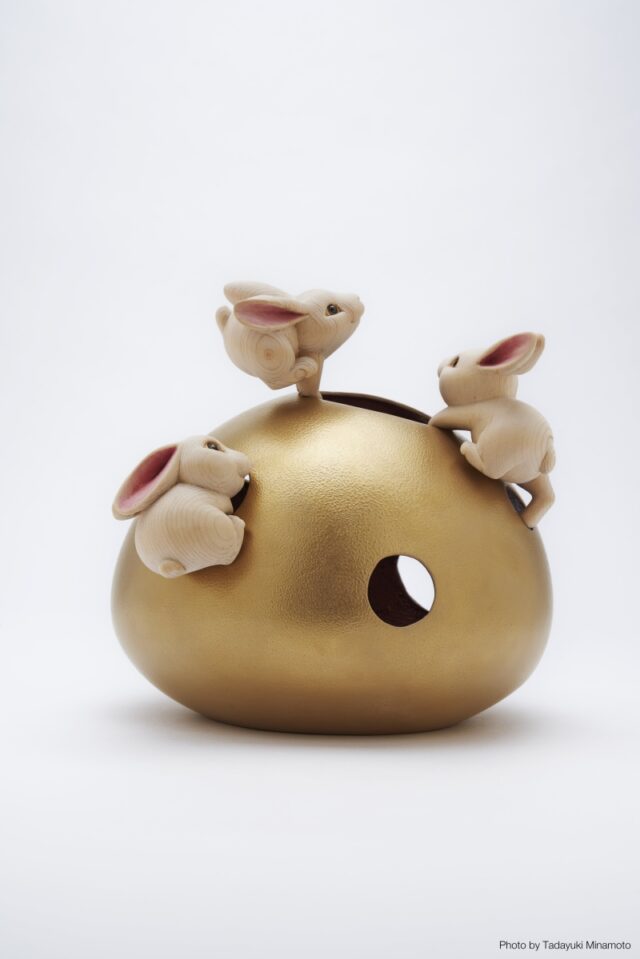 Arisa Oguro x Fumie Sasai
"Manju Moon Rabbit" (w24.5 x d24 x h21cm)
[Biography of exhibiting artist]
Arisa Oguro (wood carving)
Born in Tokyo in 1990
2013 Graduated from the Department of Sculpture, Faculty of Art and Design, Musashino Art University
2015 "Arisa Oguro Exhibition – Tama Tokemono" (Ginza Mitsukoshi ∞ Gallery)
2017 "Arisa Oguro Sculpture Exhibition – Today is also a ball beast" (Nihonbashi Mitsukoshi Art Square)
2019 "Arisa Oguro Wood Carving Exhibition -Yo Li Do Ko Ro" (Hanshin Department Store)
In 2019, numerous solo exhibitions were held, including "Arisa Oguro Sculpture Exhibition – Sphere Spiritual Beast of the Japanese Soul" (Takashimaya, Osaka), "Fusion of Crafts" (Takashimaya Gallery, Osaka, Wako Hall)
Many exhibits at special exhibitions such as "Nihonbashi Mitsukoshi Next Generation 100 Selection Exhibition ~HOPE~" (Nihonbashi Mitsukoshi)
Sawako Kaijima (Architecture/Digital Art)
Born in Tokyo in 1976
1999 Graduated from Keio University Faculty of Environment and Information Studies
2005 Graduated from Massachusetts Institute of Technology, School of Architecture
2006: Adams Kara Taylor, Computational Designer, architectural and structural design firm in London
2011: Assistant Professor, Faculty of Architecture, Singapore Institute of Design
2013 Advanced craft research: Composite material fitting and joining research presentation; Craft collaboration project started
2017: Appointed Assistant Professor, Radcliffe Institute, Harvard University; Appointed Assistant Professor, School of Architecture, Harvard University
Fumie Sasai (lacquer art)
Born in Osaka in 1973
1998 Completed lacquerware major, Graduate School of Fine Arts, Kyoto City University of Arts
2014 Kyoto City New Artist Award
2015 25th Takashimaya Cultural Foundation Takashimaya Art Award 33rd Kyoto Prefecture Cultural Award Encouragement Award
2022 35th Kyoto Art and Culture Award Genreless Crafts Exhibition (National Crafts Museum/Kanazawa)
Shugo Tajima (Japanese painting)
Born in Kyoto in 1974
1997 Graduated from Kyoto University of Art and Design
2013 Artist Group-Kaze- Public Exhibition (Tokyo Metropolitan Art Museum)
2014 2nd Go Sakura Art Museum Ohka Award Exhibition Grand Prize (Go Sakura Art Museum)
2015 Takashimaya Osaka store solo exhibition
2017 Japanese Painting Group Seishin (Takashimaya/Kyoto/Osaka/Nihonbashi store 2018 and 2019)
Solo exhibition (Takashimaya/Osaka/Nihonbashi store)
2018 Solo exhibition -Hyakka every day- (Takashimaya Osaka store 2018, 2019, 2022)
2019 Solo exhibition (Mitsukoshi/Nihonbashi/Hiroshima store)
2020 Solo exhibition (Takashimaya/Nihonbashi/Kyoto/Osaka store)
2021 Solo Exhibition (Takashimaya Yokohama Store)
2022 Shugo Tajima World of Japanese Painting (Yawata City Shokado Garden and Art Museum)
Fourth generation Tanabe Chikuunsai (bamboo crafts)
Born in Sakai City, Osaka Prefecture in 1973
1999: After graduating from the Department of Sculpture, Faculty of Fine Arts, Tokyo University of the Arts, studied under his father, Chikuunsai III.
2017 Succession of the name to the fourth generation Tanabe Chikuunsai
2017 "Japanese Bamboo Art: The Abbey Collection" Metropolitan Museum of Art (New York)
2018 "Japanese bamboo crafts that split the sky" Quai Branly Museum (Paris)
2019 Solo exhibition "CONNECTION" San Francisco Asian Art Museum (San Francisco)
2022 Solo exhibition "LIFE CYCLES" JAPAN HOUSE LA (Los Angeles)
Solo exhibition "Gucci Namiki 1st Anniversary" Gucci Namiki (Tokyo)
"In praise of light" Bauer Foundation Museum of Oriental Art, Geneva
2023 Solo exhibition "Fourth Generation Tanabe Chikuunsai Exhibition – Shuhari" Takashimaya/Osaka/Nihonbashi Store
Haruho Mitsuda (free ornament)
Born in 1980 in Yonago City, Tottori Prefecture. Spent school years in Abiko City, Chiba Prefecture
2008 Completed master's course at Tokyo University of the Arts, Graduate School of Fine Arts, Metal Engraving Laboratory, studied under free-hand ornament artist Muneyuki Tomiki
2013 "Roppongi Crossing 2013 Out of Doubt" Mori Art Museum (Tokyo)
2016 "IMAYO−: JAPAN'S NEW TRADITIONISTS" University of Hawaii/Honolulu Museum of Art (Hawaii)
"Spider Thread" Toyota Municipal Museum of Art (Nagoya)
Received the 8th "Creating Tradition Award" from the Japan Foundation for the Arts
2017 "Amazing Transcendental Skills! – From Meiji Crafts to Contemporary Art" Mitsui Memorial Museum of Art (Tokyo) and other tours "Japanese Realism – Magical Power" Hakodate Museum of Art (Hokkaido),
Toyohashi City Art Museum (Aichi), Nara Prefectural Museum of Art (Nara)
"Chaosmos 5 Like seeing the world in a grain of sand" Sakura City Museum of Art (Chiba)
"Ima-sama" Shoto Museum of Art (Tokyo)
2022 "JIZAI" Yonago City Museum of Art (Tottori)
"Freely ornamented objects – A journey of minute evolution" Hirayama Ikuo Museum of Art (Hiroshima)
2023 "Japanese people looking at insects" Suntory Museum of Art (Tokyo)
Seiko Wakasugi (white porcelain)
1977 Born in Toyama City, Toyama Prefecture
2000 Graduated from Kindai University, Faculty of Arts, Department of Art
2002: Selected for the 6th International Ceramics Exhibition Mino
2003 Completed Tajimi Ceramic Design Institute
2005 7th International Ceramics Exhibition Mino, Special Jury Award
2007 Awarded the Encouragement Award at the Craft City Takaoka Craft Competition
2013 "Artists associated with Toyama" Rakusuitei Museum of Art
2014 "The 9th Paramita Ceramics Award Exhibition" Paramita Museum "Fusion of Crafts" Wako Hall "Modern Ceramic Art Phenomenon" Ibaraki Ceramic Art Museum
2015 Agency for Cultural Affairs Overseas Training Program for Emerging Artists / France (~2016)
2020 Hyogo Prefecture Art Encouragement Award
2021 "No Man's Land" Hyogo Ceramic Art Museum
2022 "In Search of New Forms" Mashiko Ceramic Art Museum and many other solo exhibitions Currently living in Sanda City, Hyogo Prefecture, Associate Professor at Kyoto City University of Arts
Takashi Wakamiya (head of Hikoju Makie)
1964 Born in Wajima City, Ishikawa Prefecture
1984: Worked at a lacquer shop and learned the basics of manufacturing and selling Wajima lacquerware.
1988 Learned Maki-e technique from Master Kisan Seizan
1998 Learned the basics of lacquer art, such as dry lacquer techniques and sun black eyes on lacquer, from Master Michikazu Hirasawa, and began lacquer scraping and lacquer tree planting.
2002 Served as the 30th president of the Wajima Lacquerware Youth Association.
2004 Started activities as "Hikoju Makie"
2014 2014 Agency for Cultural Affairs Cultural Exchange Envoy
2008-Present: Participated in lacquer art exhibitions at domestic and international museums, numerous solo exhibitions; works currently in collection at Museum für Lackkunst (Germany), Victoria and Albert Museum (UK); representative of the Wajima Urushi Restoration Project Executive Committee
[Supervision]
Shinya Maezaki ( Professor, Kyoto Women's University)
After graduating from Ryukoku University Faculty of Letters, studied abroad in the UK and completed master's and doctoral programs at the School of Asian and African Studies, University of London.
PhD in History of Art
Current position since 2015. He specializes in craft culture history, cultural information science, etc. He is involved in a wide range of activities such as exhibition supervision and creation of cultural content for Google Arts and Culture.He has written many books and papers.
What is the "Fusion of Crafts" project?
In 2014, Takashi Wakamiya (lacquer art) and the fourth generation Chikuunsai Tanabe (bamboo crafts) realized that one of the problems faced by modern Japanese crafts is that they are divided into fields such as ceramics, lacquerware, bamboo crafts, and metal crafts. Thinking that this might be the case, we started the exhibition "Fusive Crafts,'' which brings together artists who can transcend the boundaries of their fields. We have held three exhibitions so far, with the members changing, and which are based on the collaboration of multiple artists working in different fields once every two years.
1st "Fusion of Crafts: The Future of Tradition that Encounters Lead to" 2014, Wako Hall 2nd "Fusion of Crafts: The Story of a Hermit Crab on a Journey" 2016, Osaka Takashimaya Art Gallery 3rd "Fusion of Crafts: Finding Traditional Ashita" 2018, Wako Hall
"Fusion of crafts – this is the answer"
Thursday, November 9th to Sunday, November 19th
Venue: Seiko House Ginza Hall (6th floor, Seiko House Ginza, 4-5-11 Ginza, Chuo-ku, Tokyo)
Contact: Wako (03)3562-2111 (Representative)
Business hours: 11:00-19:00 (until 17:00 on the last day)
Closed days: None Admission fee: Free Sponsored by/Wako
◎Wako Hall has been renamed to "Seiko House Ginza Hall."
We will communicate a variety of things to the world, including exhibitions related to Seiko Group business in general and co-creation with artists.
Business hours and events are subject to change without notice.
Please see our homepage for the latest information.
home page
https://www.wako.co.jp/
Instagram
https://www.instagram.com/wako_ginza_tokyo/
Instagram dedicated to art
https://www.instagram.com/art_wako_ginza_tokyo/
[Wako Co., Ltd.] From the press release
<Past related articles>
[Seiko House Ginza Hall (formerly Wako Hall)] "Jihei Murase Urushi Work – Tradition and Future" will be held from October 12th (Thursday)
[Seiko House Ginza Hall (formerly Wako Hall)] "Iron Painted Copper Painted Norio Kamiya Pottery Exhibition – Akimitsu Touka -" will be held from September 28th (Thursday)
[Seiko House Ginza Hall (formerly Wako Hall)] "Yukie Osumi Metalwork Exhibition METALWORK by YUKIE OSUMI" will be held from September 14th (Thursday)