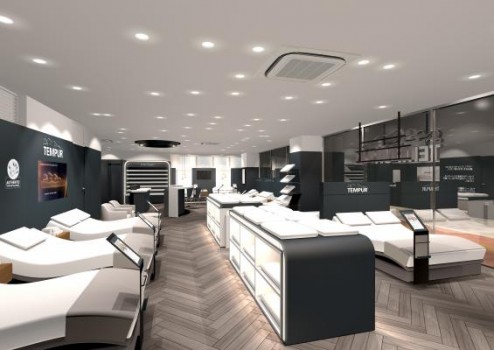 Once again, Tempur, Sealy, Japan (representative: Kim Mortensen head office: Chuo-ku, Kobe) is a flagship store in Ginza showroom 2/16 (Thursday), Fukuoka showroom 3/2 (Thursday) renewal open.
Redesigned the toys store concept Tempur® Ginza showroom 4/2008, Tempur (R) Fukuoka showroom was opened in 1/2011 and has been patronized as a showroom to bring sleep, Scandinavian style, with all five senses, but renewed suggests the sleep technology pioneer along the needs of our customers.
---
---
Tempur® name to the world known became damp pillow "original NEC pilot' and futon, mattress, beds, Tempur® products are stocked in the lineup.
We have the Tempur® "sleep consultants" qualified professional staff to the showroom. It's a consulting according to sleep rather than products, you experience your products, customers with problems. We proposed the "perfect product" that suits you.
Day 7-your important health partner's mattress supports the body during sleep, 8 hours. Take this opportunity to review quality of sleep with the latest technology, does not improve the quality of life.
---
-Opening campaign Guide-
With the renewal of the Ginza, Fukuoka, both showrooms, 2/18 (Saturday) ~ 2/28 (Tuesday) will be held the opening campaign. In addition, held once a year mattress & bed fair opening campaign and at the same time. Campaign for a limited time. Take a look at this opportunity to showroom, visit please.
♦ campaign (1)
First over tax Excl. £ 85000 purchased up to 20 persons present cado humidifier.
* Color black only
♦ campaign (2)
Futon series (type 3 Deluxe, simple and Basic) with original NEC Pro we offer renewal opening up price set.
* Pictures are ftndelax. The size of the pillow is available.
♦ campaign (3)
During the period, rates below are available free of charge.
• Bed mattress shipping rates
And your bed mattress disposal fee
-Stair lift cost
* Special rates such as cranes, REO separately;

Shop outline
Name: Tempur® Ginza showroom
Location: Tokyo, Chuo-ku, Ginza 2-Chome 11-8 round cross Ginza 2-Chome 1F
TEL: 03-6226-5868
Opening hours: 11:00-20:00
Closed: year-end and new year holidays
Access: Ginza line Ginza station walking 5 minutes
Yurakucho line Ginza 1-Chome station, Asakusa line station walk from Higashi Ginza 2
Name: Tempur® Fukuoka showroom
Location: Fukuoka Prefecture, Fukuoka City Chuo-ku, daimyo 1-12-8 Cesio Daimyo 1F
TEL: 092-714-1233
Opening hours: 11:00-20:00
Closed: Wednesday, year-end and new year holidays
Access: Subway Tenjin station walk 5 minutes

Product information, please contact:
Tempur, Sealy, Japan marketing & Digital Division
650-0032, Japan, Hyogo Prefecture, Kobe City Chuo-ku Ito town 119, Mitsui life Kobe Sannomiya Bldg. 13F
E-mail pr-info@tempur.com contact: Endo (PEA), Mamoru beliefs (is more)