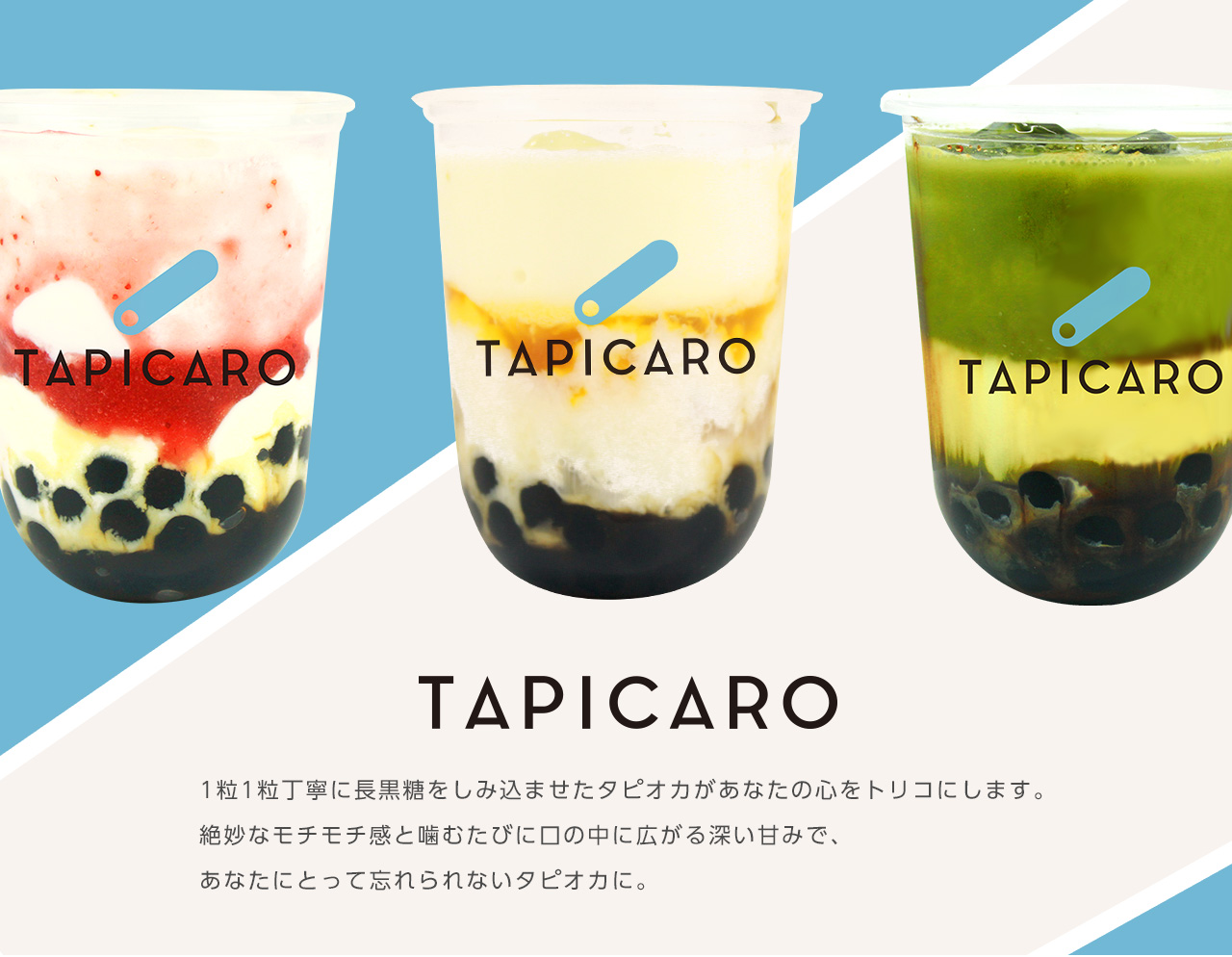 The hair removal salon "SASALA" operated by Viewtech Co., Ltd. will start a tie-up campaign with the tapioca specialty store "TAPICARO", which was first supervised by SASALA image model Yuka Furukawa from August.
◾️ Scratch campaign with luxury items When you order tapioca at "TAPICARO" (details below) in Nakameguro, everyone will receive a "SASALA" x "TAPICARO" scratch.
If you scrape the scratch and send the winning number to LINE, you will get a luxurious product on the spot.
The scratch campaign will end as soon as it is gone.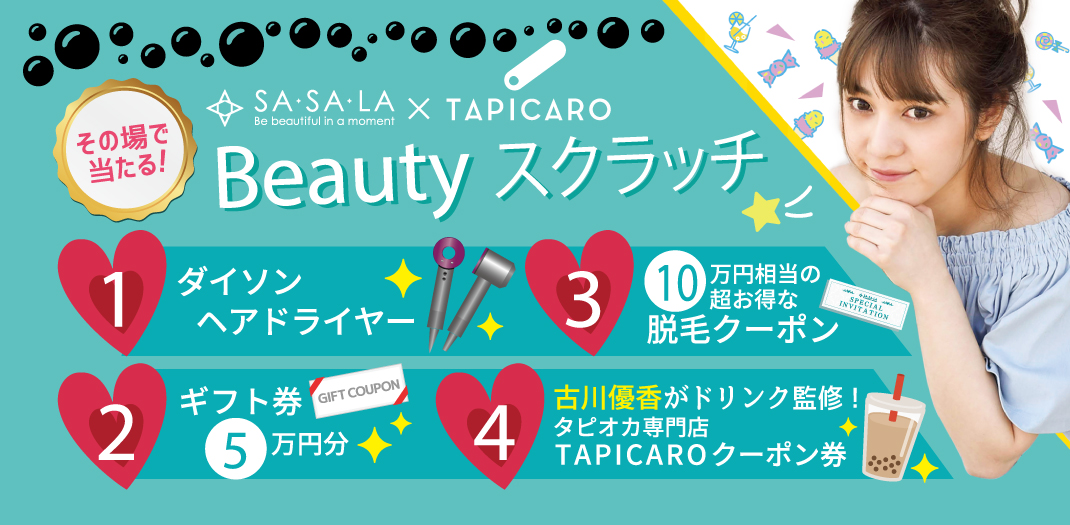 ◾️ "TAPICARO"
This is a tapioca specialty store first supervised by SASALA's image model Yuka Furukawa.
Yuka Furukawa is the only female member of the Youtuber group "Sankoichi", a group of three popular reader models, and is a charismatic teen.
She loved tapioca drinks, went to a new tapioca store, and she was sending information on SNS. She finally produced a tapioca specialty store "TAPICARO".
From the drink menu to the store design, it has become a tapioca brand filled with her commitment.
---
---
On August 11th (Sun), tapioca specialty store " TAPICARO '' opened in Nakameguro,
Yuka Furukawa supervises drinks, and a store visit event is held on Wednesday, August 14th.
Click here for a detailed overview → https://prtimes.jp/main/html/rd/p/000000001.000047055.html
■ What is the hair removal salon SASALA?
Based on the concept of "early and beautifully", the new hair removal salon is satisfying even for customers who have not been satisfied with conventional hair removal by SASALA's unique hair removal method called "IS Hybrid Hair Removal".
The "IS hybrid hair removal" performed by SASALA is compatible with various hair and skin conditions by simultaneously irradiating two types of hair removal: "IPL hair removal" approaching the hair root and "SHR hair removal" approaching the hair follicle. It is a hair removal method that achieves both "fastness and beauty". This enabled hair removal to be completed in as little as 6 months.
Last year, in May 2018, the first store in Shinjuku was opened, including Ginza, Shibuya, Machida in Tokyo, Omiya in Saitama, Yokohama in Kanagawa, Osaka The store continues to open with Shinsaibashi, and the Nagoya Sakae store is scheduled to open on Saturday, August 24, 2019. In the future, Ikebukuro, Fukuoka, Sapporo, etc. will be deployed.
At SASALA, you can now receive 3 sites of hair removal, "Waki" + "Ude" + "Reed" for 100 yen when you visit the store for the first time.
You can make a reservation here, so please check it out.
→ https://bit.ly/2GjGBWC
―SASALA store information―
Shinjuku main store
3-21-6 Shinjuku, Shinjuku-ku, Tokyo Shinjuku Ryuido Building 3F
Ginza store
GINZA YUKI BLDG 5F, 2-4-8 Ginza, Chuo-ku, Tokyo
Shibuya store
2-23-14 Dogenzaka, Shibuya-ku, Tokyo Dogenzaka 225 Building 6F
Omiya store
Saitama prefecture Saitama city Omiya ward Sakuragicho 2-2-17 inside and outside Omiya building 2nd floor
Shinsaibashi store
1-20-14 Higashi Shinsaibashi, Chuo-ku, Osaka-shi, Osaka Shinsaibashi Erna Iwasaki Building 5F
Yokohama West Exit Store
Kanagawa Prefecture Yokohama City Nishi-ku Okano 1-12-13 Chiyoda Building 4F
SASALA Machida store
4-3-14 Haramachida, Machida-shi, Tokyo Shiratori Building 5F
SASALA Nagoya Sakae shop
Elte Building 2F, 3-15-5 Nishiki, Naka-ku, Nagoya, Aichi Prefecture
8/24 (Sat) scheduled opening hours: 11:00 to 21:00 (irregular holidays)
SASALA call center: 0120-905-798
SASALA official SNS
<FaceBook>
https://www.facebook.com/sasala.official/
<Instagram>
https://www.instagram.com/sasala_official/?hl=en
<Twitter>
https://twitter.com/sasala_official?lang=en