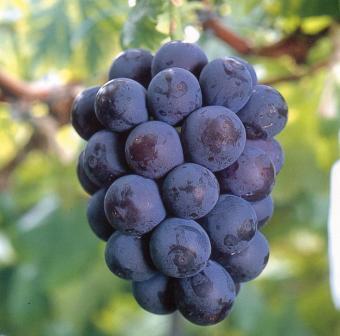 Date: September 13 (Fri)-15 (Sun), 2019 Location: Hiroshima Brand Shop TAU (Ginza Kamiichi Building, 1-6-10 Ginza, Chuo-ku, Tokyo)
Miyoshi City, located in the northern part of Hiroshima Prefecture, will hold a "DISCOVER MIYOSHI 2019 Tourism and Products Fair" at the Hiroshima brand shop TAU.

"Miyoshi Pione" is a high-class fruit that is also said to be the autumn taste of Hiroshima, "Black Pearl".
We will sell a limited amount of "Tertiary Pione", which is characterized by large grains, sweet and elegant fragrance, and melting sweetness.
We also sell TOMOÉ wines made from 100% tertiary grapes. This wine is crafted by the brewer's technology and passion, and the individuality of each varieties is utilized, and has won numerous awards at wine competitions including overseas. In order to learn more about the appeal of Tertiary Wine, we will hold "Wine Enjoying Party" by Mr. Okita of Hiroshima Miyoshi Winery every day during the fair. Enjoy marijuana with food and wine using ingredients unique to Miyoshi. In addition, special products such as confectionery, cheese, pudding, and yogurt certified by the Miyoshi brand will be sold. Thank you very much for your time and media.
[Outline of sales of special products of the third order]
■ Date and time September 14, 2019 (Sat) 10:30 to 20:00 15th (Sun) 10:30 to 15:00 ■ Location Hiroshima Brand Shop TAU 1st floor special corner (1-6-Ginza, Chuo-ku, Tokyo) (10 Ginza Kamiichi Building)
■ Contents ① PR and sales of Miyoshi City special products (Miyoshi Pione, Miyoshi's specialty confectionery, Takahara Yasudaira Dairy Yogurt, Miyoshizaka Fromage Cheese, etc.)
(2) Tertiary liquor tasting sales (tertiary wine, sake (Zuikan))
③ Carp monsters and goods sales etc.
[Outline of "Wine Enjoying Party"]
■ Date and time September 13 (Friday), 2019 from 18:30, 14 (Sat) and 15 (Sun), 1 hour from 15:00 ■ Location Hiroshima Brand Shop TAU 2nd floor tasting corner or "MERI Principessa" (Merry Print Pessor) "
■ Content We offer a total of three types of wines recommended by the Hiroshima tertiary winery, including TOMOÉ wine, which is recognized as a quality. In addition, you can enjoy mariage with dishes using the ingredients of the third while listening to the explanation of the wine's commitment by Mr. Okita of the Hiroshima third winery.
■ Capacity / Membership First 10 people each time 2,000 yen (tax included) Reservation "MERI Principessa" [Phone 03-5524-5560]
Click here for event information of Hiroshima brand shop TAU https://www.tau-hiroshima.jp/s_event/15582
---