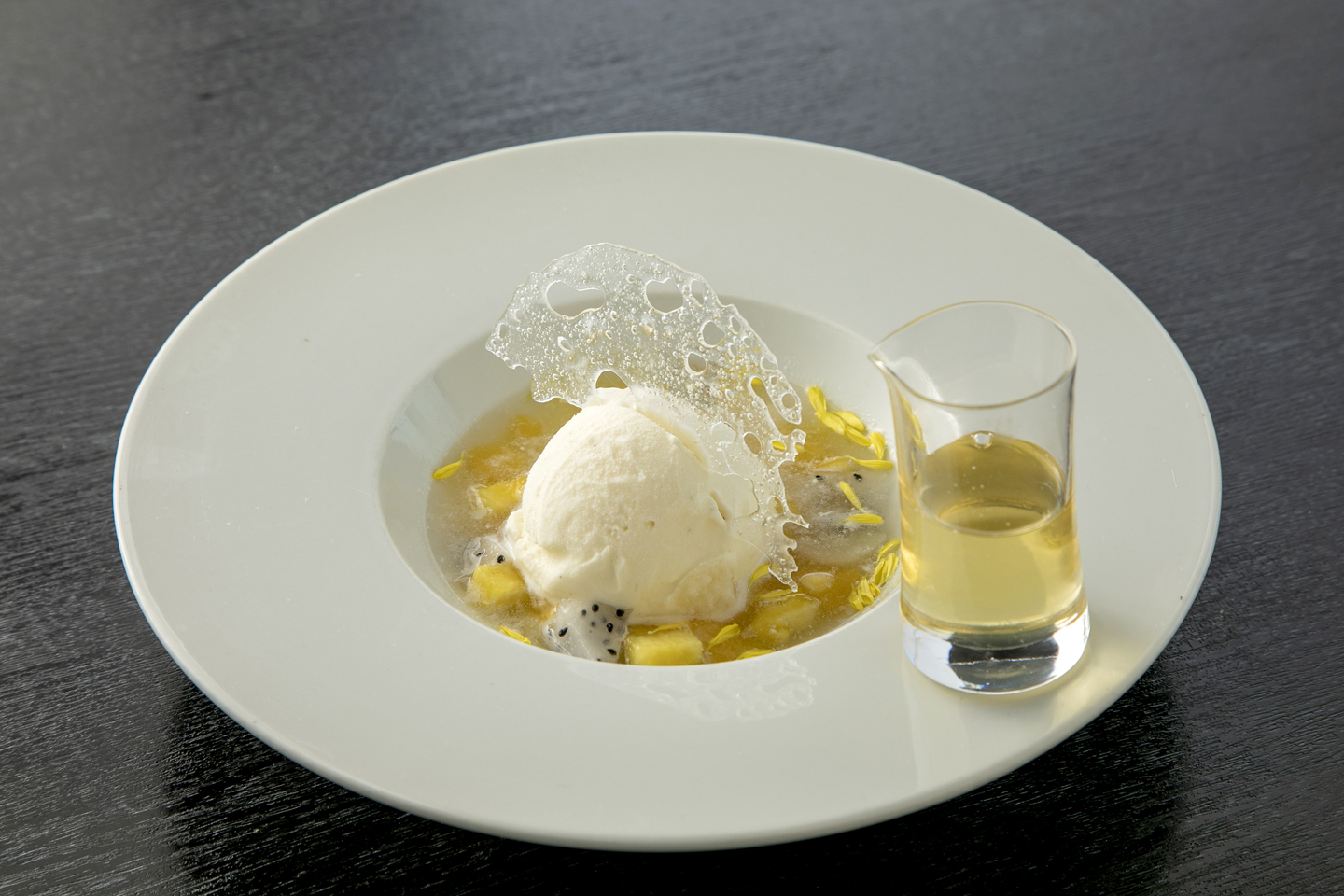 Ginza Maronie Gate will hold a "Ginza Honey Fair" for 12 days from September 19 (Thu) to 30 (Mon).
From Japanese / Western / ethnic cuisine to desserts and drinks, 16 stores at Maronie Gate Ginza collaborated with honey in Ginza.
Please enjoy the honey that you can only meet here.
Maronie Gate Ginza 1 Rooftop honey
Hundreds of honey collected from the roof of Maronie Gate Ginza 1 used at the Ginza Honey Fair are flowers and fresh flowers born from street trees and flowers in Ginza, including early summer flowers such as the surrounding Maronie flowers and lilies. Honey.
In addition, the bees in Ginza carry honey from nearby large green spaces such as the Imperial Palace, Hibiya Park, and Hamarikyu.
(Non-profit organization Ginza Bee Project)
Honey menu
■ Maronie Gate Ginza 1
4F Cafe / Leo Leoni Cafe (Sunday Brunch)
SWIMMY PLATE ¥ 2,808 * Until Sunday, September 29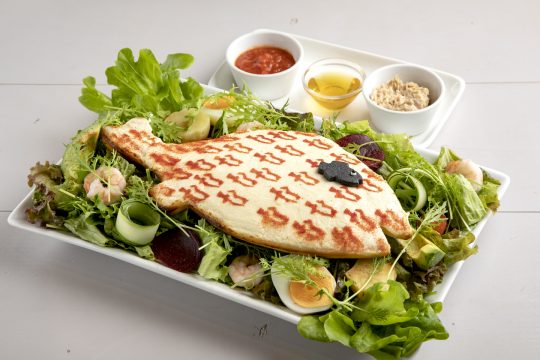 Salad bread to eat big fish bread.
Under the fish, Ginza honey, cream cheese, tomato sauce and tuna liets are hide-and-seek.
---
10F Thai food / Jim Thompson's Table Thailand
Honey highball 756 yen (offer time) 17: 00 ~ 22: 00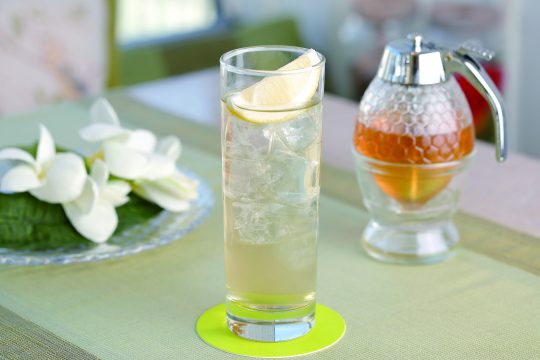 Ginza Honey x Highball !!
The taste is gentle and refreshing, and the compatibility with meals is outstanding.
---
10F Cheese Dining / Cheese Kitchen Rakule Ginza
Raclette cheese and vanilla ice cream 810 yen (offer time) 17: 00-22: 00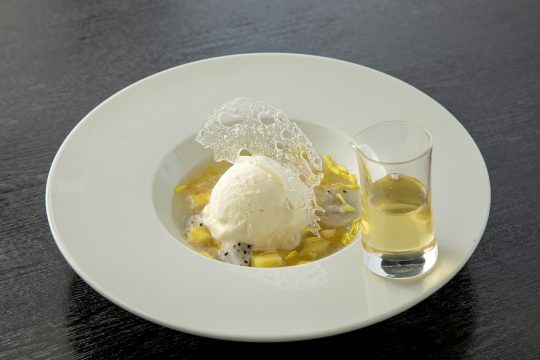 A sweet and salty dessert with raclette cheese and vanilla ice cream in a savory bucket and plenty of honey from Ginza.
---
---
Ginza Honey Ginger Highball 756 yen (offer time) 17: 00-22: 30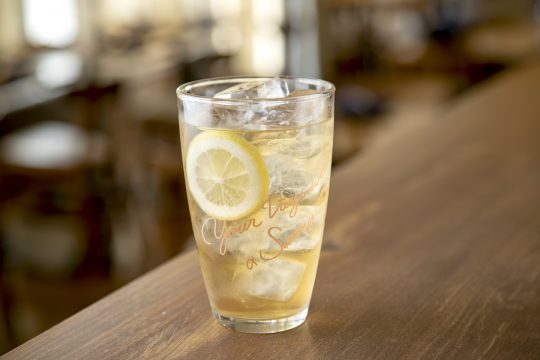 A high ball that combines ginger and honey.
Ginza has made it easy to drink by making use of the elegant sweetness of honey.
---
11F Vietnamese cuisine / Vietnam Alice
Honey butter nut Vietnamese chicken curry 1,080 yen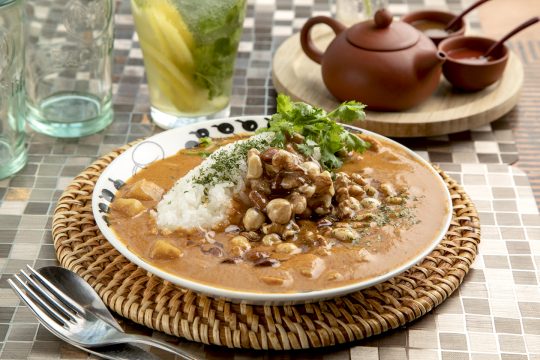 Vietnamese chicken curry with plenty of honey and several kinds of nuts and moderately spicy coconut.
---
11F Samgyeopsal / Samgyeopsal and vegetables
Honey cheese chijimi 680 yen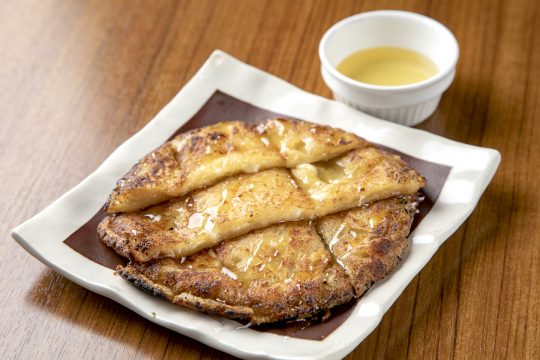 Please enjoy the popular cheese chijimi with trolley honey.
Rich and fragrant cheese and honey are excellent compatibility.
---
11F Asian Ethnic / Singapore Seafood Republic
Ginza Honey Macedonia 580 yen (offer time) 17: 00-22: 00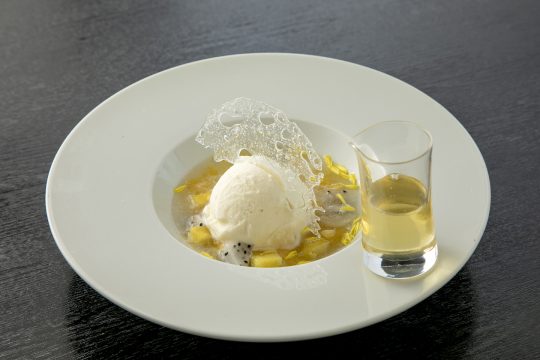 Ginza is a refreshing dessert using honey-based syrup and plenty of tropical fruits such as dragon fruit and pineapple.
---
12F Chicken dish / Sake / Yakitori Tori Bonchi
Oyama Chicken Negima ~ Black Pepper Ginza Honey Mustard ~ 2 691 yen ~ (Offer time) 17:00 ~ 22:00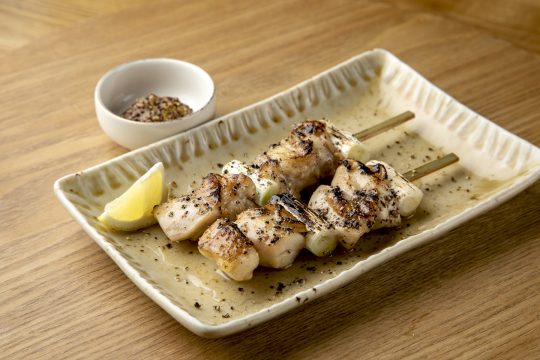 We eat spicy with black pepper on Oyama chicken's pre-prepared onion, and further honey with Ginza honey.
Please enjoy with mustard on the accent.
---
12F Steamed Shabu / Shabu Cuisine / Ginza Shabu-dori Yoshino-Mori Ginza Honey Lemon Sauce Served as a sauce for the Shabu-shabu course
(Offer time) 17: 00 ~ 22: 00 Sat / Sun / Holiday 17: 30 ~ 21: 30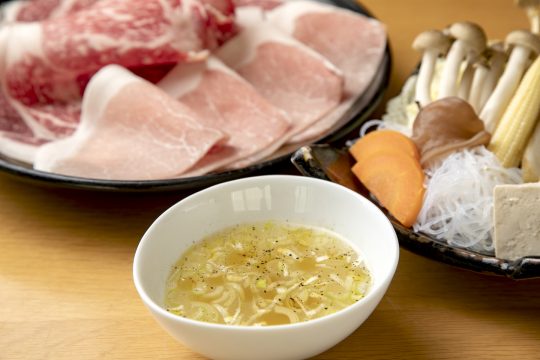 Ginza's elegant sweetness of honey and lemon are combined to create a refreshing sauce.
---
Hitsumabushi / Hitsumabushi Nagoya Bincho
Chicken thigh meat honey miso grill limited quantity 864 yen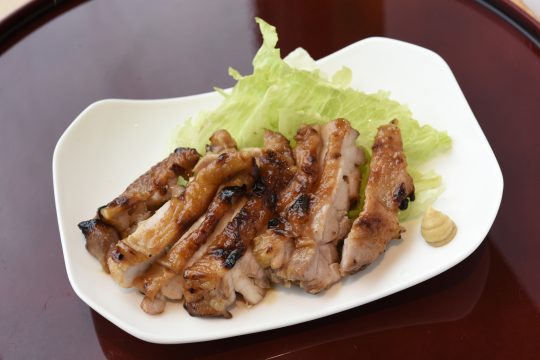 We used honey from Ginza and baked it with Bincho charcoal.
A dish that uses the sweetness of honey and the taste of miso.
---
12F Japanese cuisine / Edo-mae Mikurimiyashita
Honey mustard spare rib 1,400 yen (offer time) 17: 00-22: 00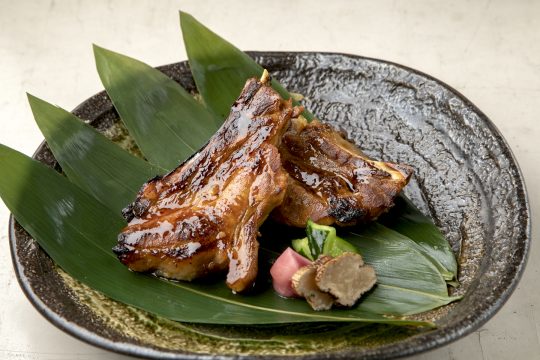 It is a delicious dish with a rich sweetness of honey's natural sweetness and mustard flavor.
Soft and juicy.
---
■ Marronie Gate Ginza 2
B2F Bakery / Douce France Vigo
Honey lemon limited to 30 per day 432 yen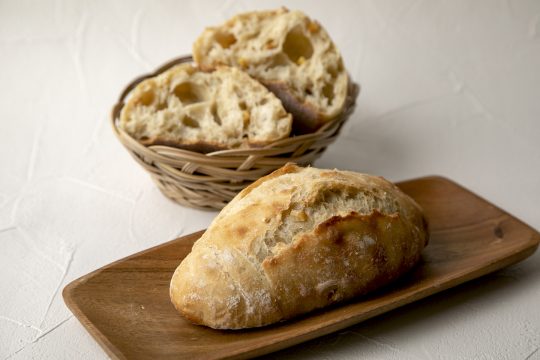 Lemon beer soaked in Ginza honey was kneaded into bread dough and baked.
Ginza is a bread where you can enjoy honey and a refreshing lemon scent.
B2F Cake Shop / Douce France Vigo
Ginza honey florentine 888 yen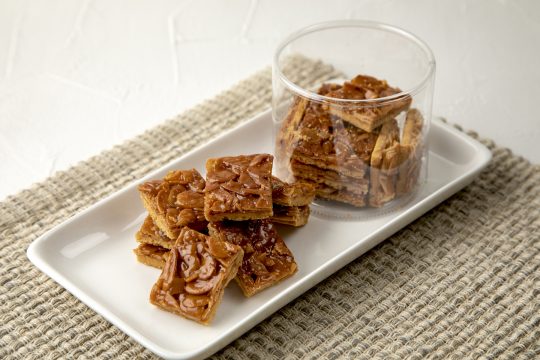 French traditional sweet "Florantan".
Savory almonds and refreshing orange peel nougat are moderately sweet, and Ginza honey is baked richly.
Recommended for teatime.
---
B2F Smoothie Cleanse Bowl Baby
Blue honey 600 yen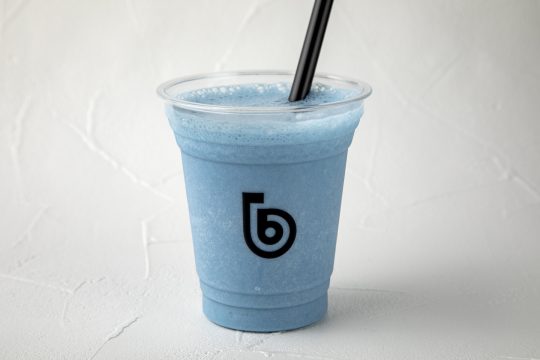 Ginza honey was used, and spirulina was mixed with beautiful blue banana soy milk.
A rich but honey-flavored taste that is easy to drink.
---
B2F Ramen Ramen Lemon & Fromage GINZA
Tomato Collection 2019-Ginza Honey Cold War Soup with 620 yen
A colorful and refreshing marinade that matches the sourness of fresh tomatoes and the elegant sweetness of Ginza honey.
---
B2F Gerrard Herbal Tea / Luciano Bio Ginza
Ginza Honey Milk <Special Price> 501 yen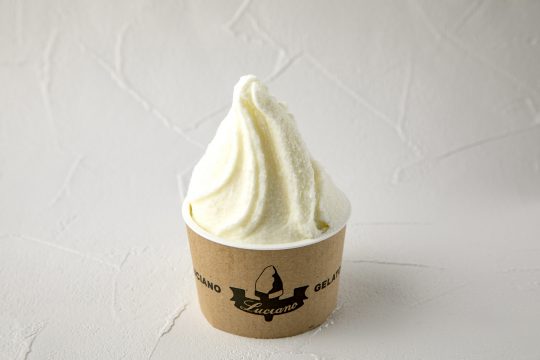 Ginza honey is used to finish the popular milk gelato with a solid texture.
The deep and mellow flavor of honey spreads in your mouth.
---
B2F Salad Bowl Store / With Green
Character who's stick chicken (Banbanji salad) <M size> 1,030 yen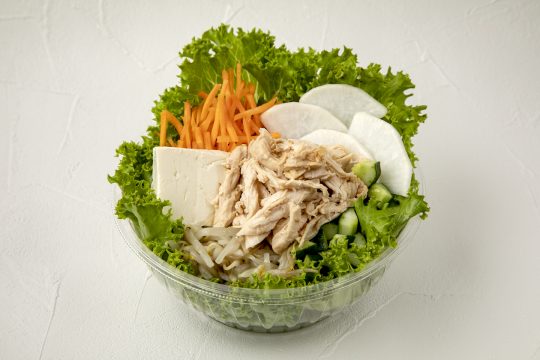 The popular low-sugar "Stick Chicken Salad" was seasoned with a special sauce using Ginza honey.
Together with fresh vegetables grown by contract farmers and bean sprouts.
---
B2F Brown rice set meal / saKura cafeteria
Boiled tea and strawberry tiramisu <with drink> 780 yen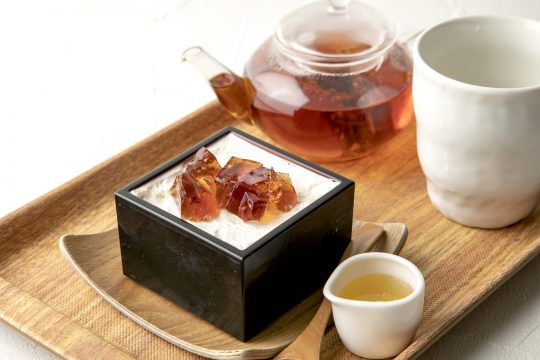 Tiramisu with Ginza honey added to mascarpone and fresh cream.
Use honey for tea jelly.
In addition, you can choose a honey topping.
---
■ Marronie Gate Ginza "Ginza Honey Fair"
Date: September 19 (Thu)-30 (Mon)
Location: Maronie Gate Ginza 1-2