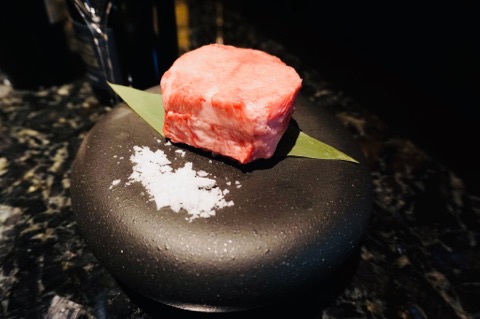 ~ 92 tsubo, 94 seats on the first floor of the reborn Nihonbashi town "Coredo Muromachi Terrace" ~
Heijoen Co., Ltd., buying one black beef that can be seen by the producer, will open its grand opening of the 39th store, "Tokyo Yakiniku Ichiya" on Friday, September 27, 2019 at Coredo Muromachi Terrace I will do it.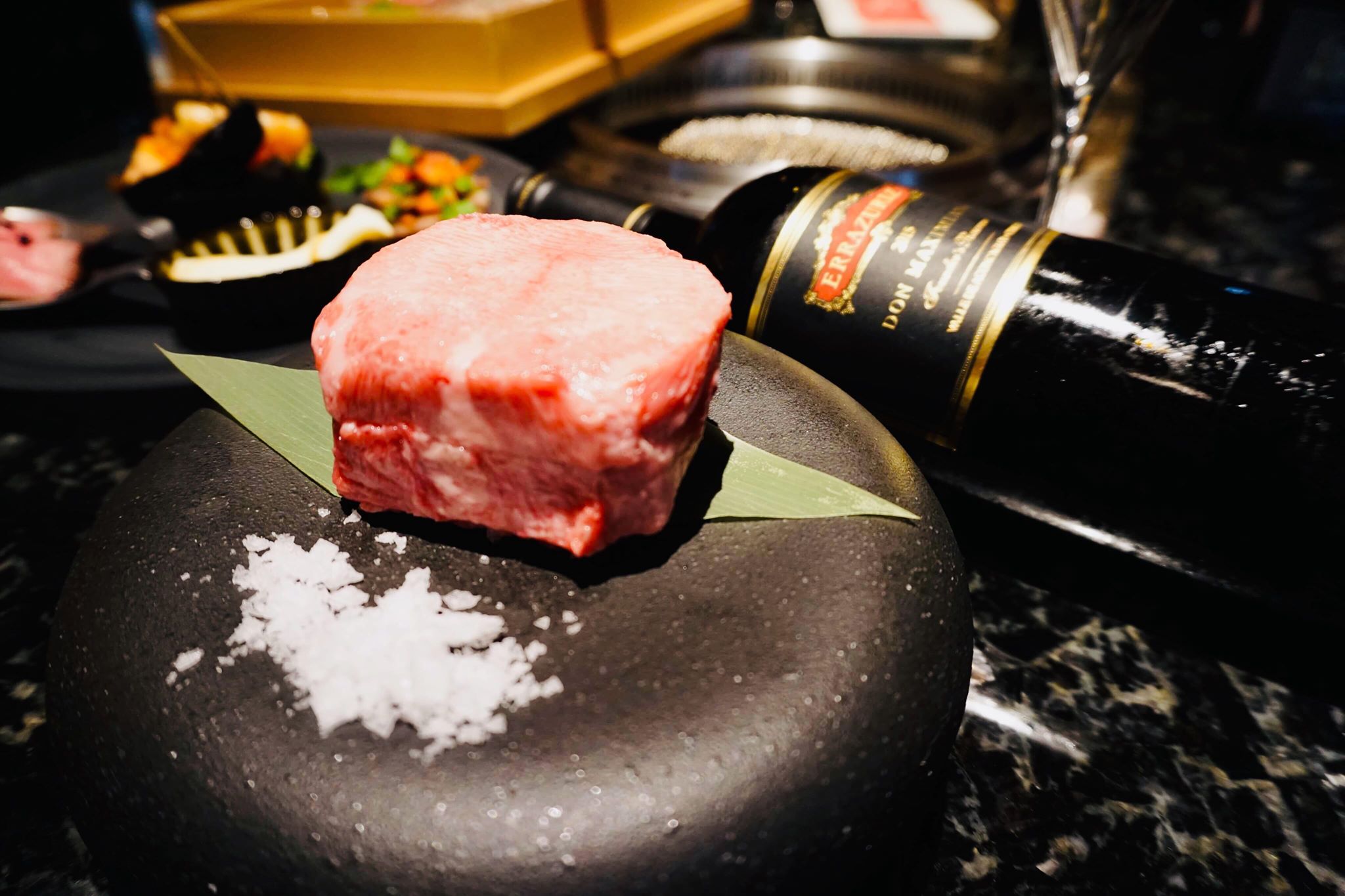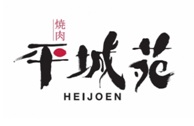 Since opening the first store in Adachi-ku, Tokyo in 1970, "Heijoen" buys a selection of Wagyu beef from across the country, with a long-standing commitment to quality and quality. We offer high quality Wagyu beef, which is the merit of buying one, and we offer it after carefully aging. "Wagyu", a deeply savory taste that only selects the real thing without compromise, has continued to resonate with many traditions.
The world-famous "Matsuzaka beef" and "Kobe beef" can be tasted "Tokyo Yakiniku Ichiya"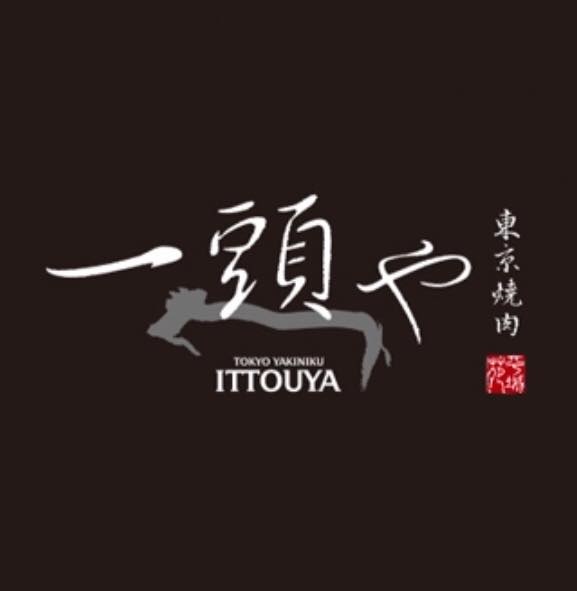 "Tokyo Yakiniku Ichiya" opens on the first floor of Coredo Muromachi Terrace, a new commercial facility in Nihonbashi on September 27th.
In a luxurious store with a space of 1 tsubo per seat, the Japanese brand beef, Matsuzaka beef red beef and Kobe black beef such as Kobe beef are A5 grade and BMS (*) 9 We will carefully select up to 12 and provide them to our customers.
The seasoning to match the highest-ranked Japanese black beef uses soy sauce, salt, ponzu, etc., carefully selected from overseas as well as from Japan, and is seasoned as simple as possible so that you can feel the original taste of the meat purely. It is.
* "Beef Marbling Standard" indicating the degree of marbling
"Matsuzaka beef" cow red
The best beef "Matsuzaka Beef Cow" that has been carefully nurtured with great pride.
Finely balanced Sashi Matsuzaka beef has a sweet and meltable texture. Our Matsuzaka beef only purchases the best rated A5 grade meat directly from Mie Asahiya, a well-established Matsuzaka beef specialty store.
---
---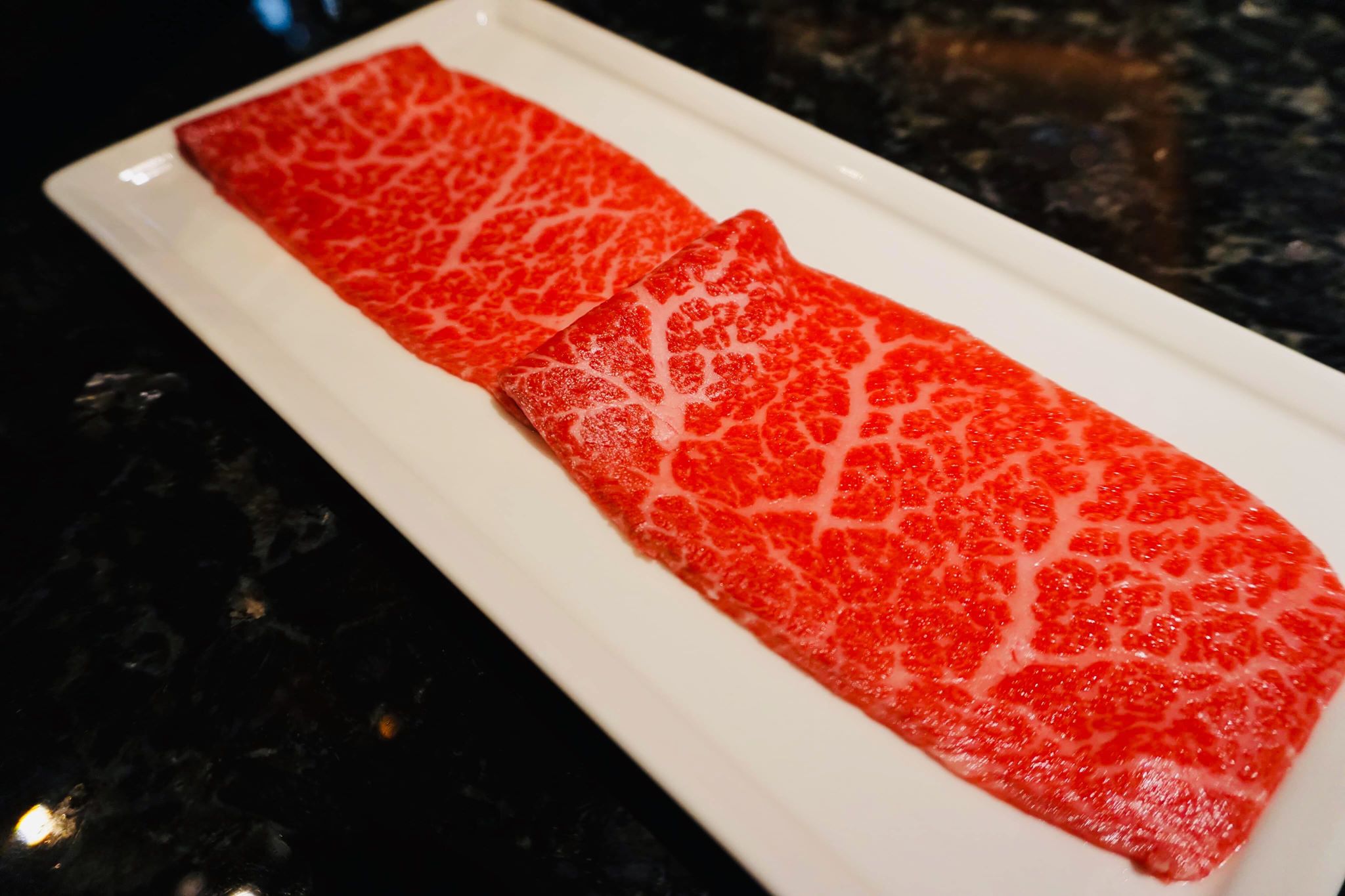 Matsuzaka beef cow special grade 3,500 yen lean 2,800 yen
Red ¥ 2,000
"Kobe beef"
The brand beef "Kobe Beef", which is attracting worldwide attention, has gained tremendous support from overseas customers as "Kobe Beef". Due to its high popularity, the distribution volume is limited, especially fillet and loin are very rare. Enjoy the original taste of meat simply with the salt art, Maldon crystal salt.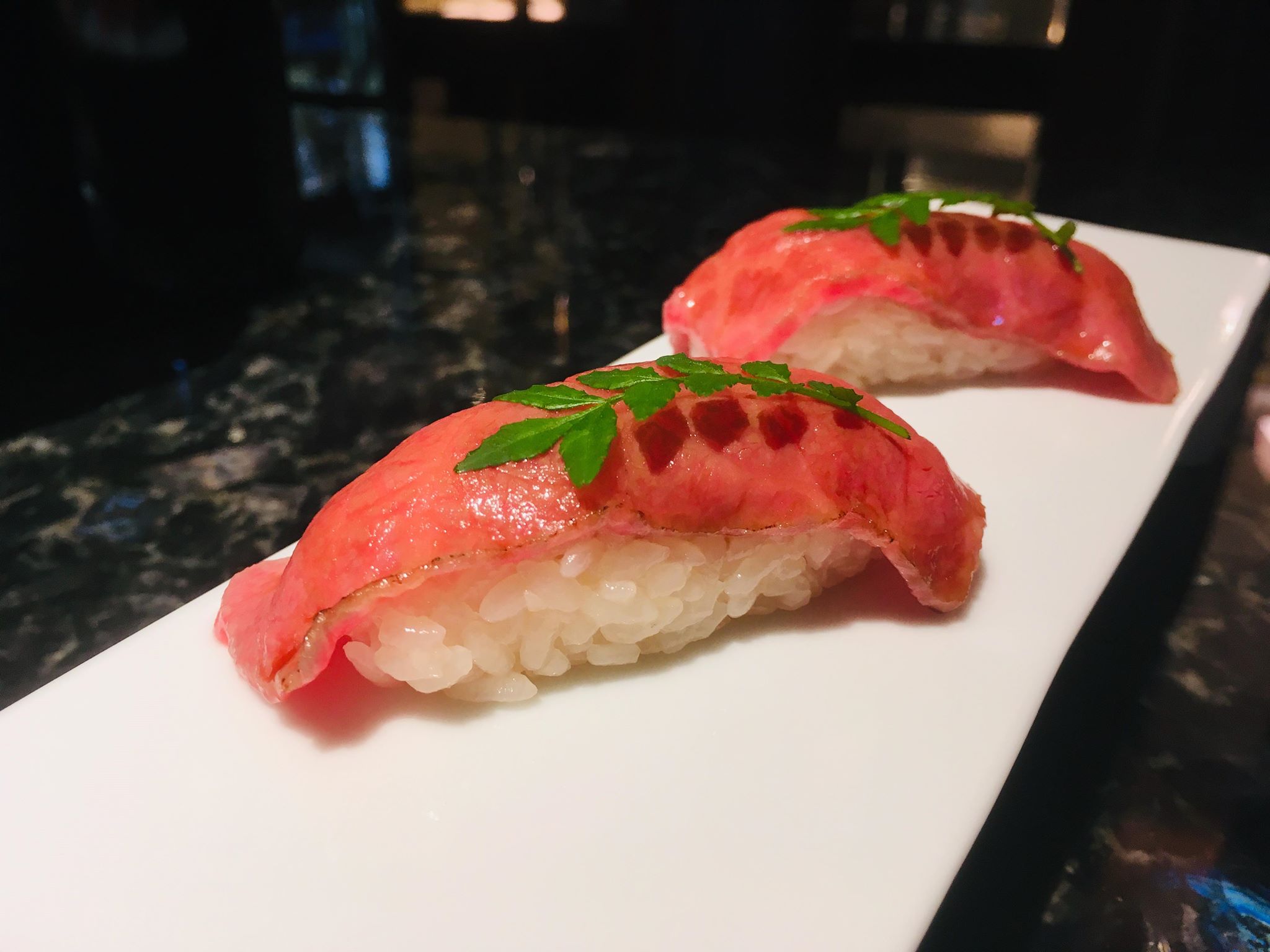 Kobe Beef Fillet Salt ¥ 7,000 ~
Loose sirloin 3,500 yen ~
"Wagyu black tongue"
Black-haired Japanese black beef tongue, which is the finest of all tans, has a very small distribution volume.
Among them, our "special grade black tongue thick cut" is a rare item that can only be taken for one serving from one cow. It is said that the meat quality is so soft that it cannot be compared with general tongue, and the taste is the best.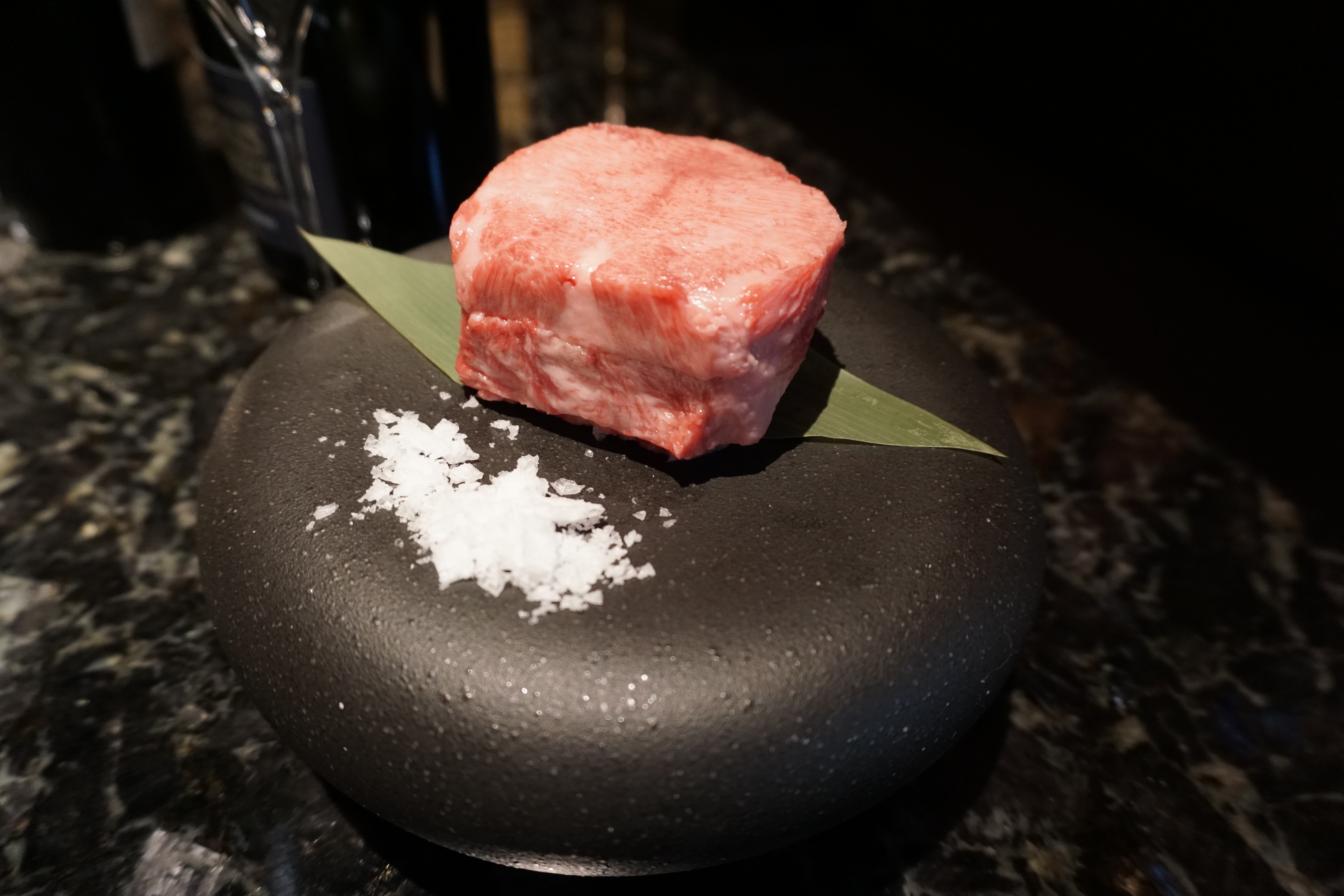 Wagyu black tongue Special grade black tongue sliced salt 120g 5,600 yen Black tongue salt 3,500 yen
Matsuzaka Beef x Kobe Beef x Wagyu Black Tan "Six Kinds of Box Kabuki Futsuki" 9,800 yen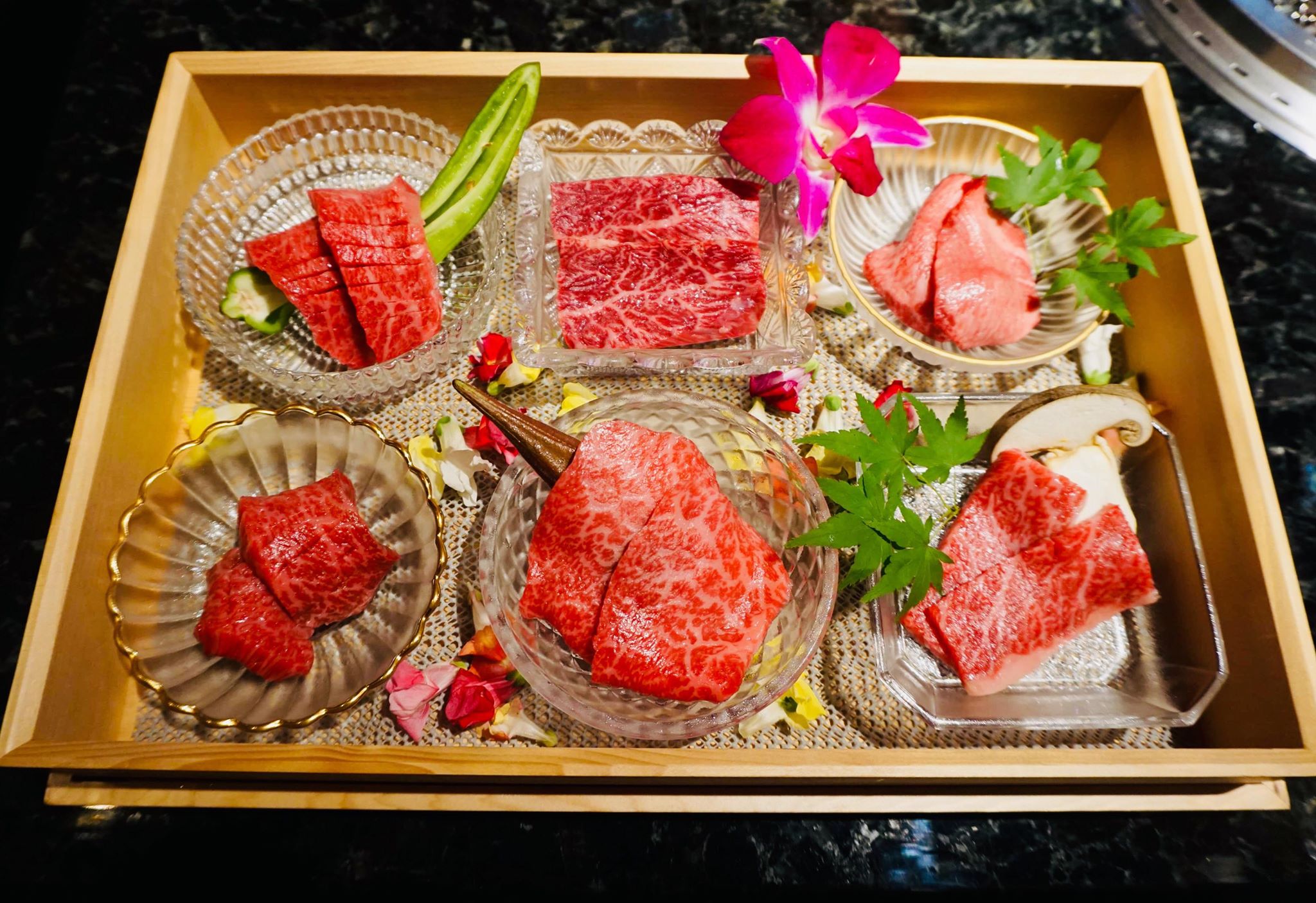 Upper left) Kobe loin upper middle) Wagyu beef top right) Black tongue salt lower left) Matsuzaka beef cow special grade red underneath) Matsuzaka beef cow upper red lower right) One head and ribs
You can enjoy 6 types of parts that are the cucumbers of "One Head" assorted.
"Ichiya" dinner course
A course designed to give you the highest quality Japanese black beef in the best condition.
It is a lineup that allows you to enjoy highly rare parts that can only be done by buying one. We offer a simple and ingenious course for Wagyu beef.
・ 宵 yoi <9 items> 7,500 yen ・ Muromachi muromachi <10 items> 9,500 yen ・ One and ittouya <12 items> 12,500 yen
Senior sommelier carefully selected wine
The wine selected by the senior sommelier according to the taste of each customer,
About 40 types are always available.
Enjoy the "Wagyu x Wine" mariage.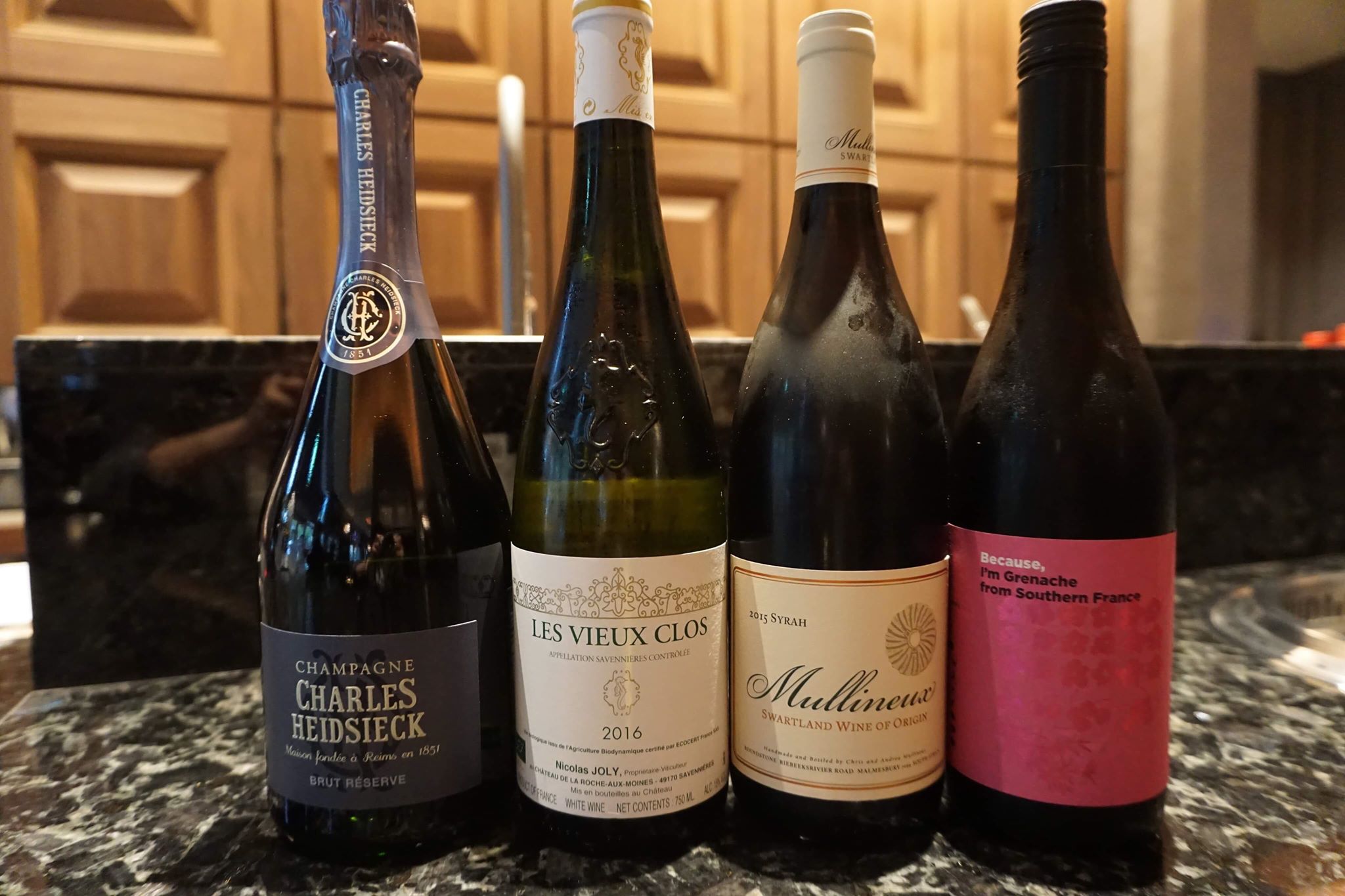 "Ichiya" lunch menu
The lunch menu where you can enjoy yakiniku, curry, rice, etc. is a menu structure where you can fully enjoy Matsuzaka beef and Kobe beef even at lunch. Because of the wide range of pricing from 1,300 yen to 4,500 yen, you can choose from a business lunch to a leisurely lunch according to your preference.
・ Calbi Mitake Ozaki Beef Calvi from Miyazaki Prefecture ¥ 1,800 Tailoring 1,600 yen
Spacious and high-quality interior with 1 seat and 1 tsubo
The interior (inside the store) is decorated in black with warm wood and elegant champagne gold designed by Hiroki Michishita who designs many stores.
At the entrance, in addition to a spacious bar counter for two people, a table seat with a high ceiling and a spacious space, there are 5 private rooms that are convenient for dates and dinner. The marble table is a fine quality and creates a space for adults.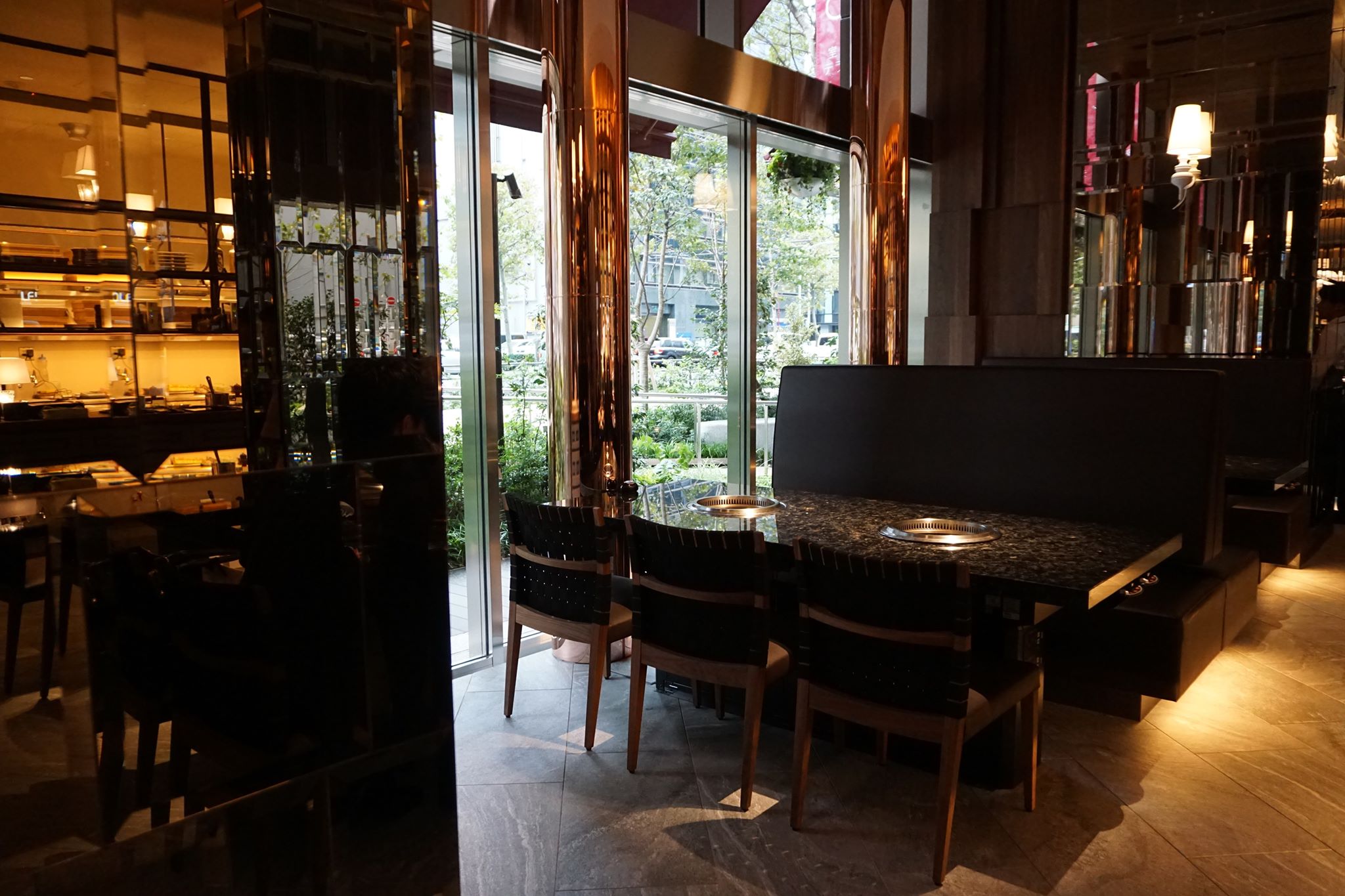 Table seat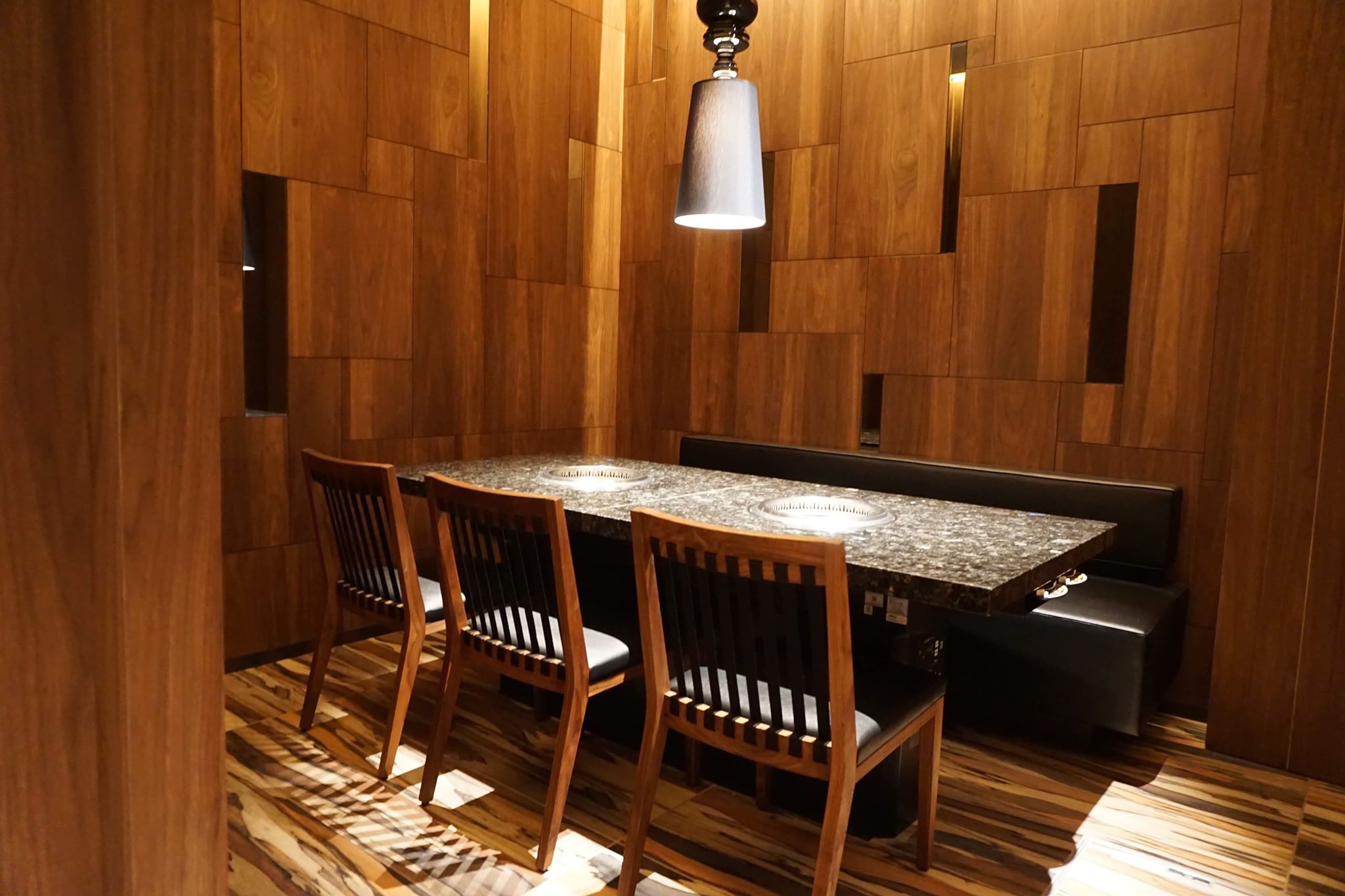 Private room for 6 people
Surprising cost performance from buying one black beef
We purchase only the highest grade A5 grade "Wagyu" and the highest grade black Wagyu beef from BMS 9-12, and we purchase them at the factory and deliver them to the store. We take pride in being able to enjoy the highest-ranked Japanese black beef at this price because we buy hundreds of Japanese black beef a year. Kuroge Wagyu beef is not only quality and taste, but we carry out radiation inspection based on national standards and provide only safe cattle.
* All prices exclude tax.
——————————————-
Store overview
——————————————-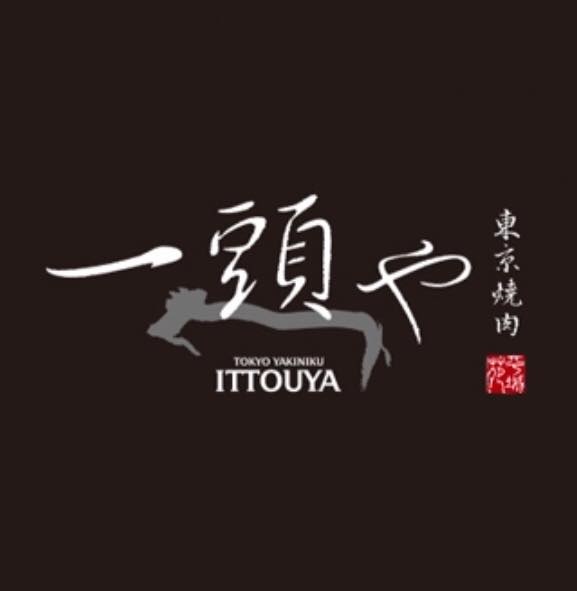 ■ Store name: Tokyo Yakiniku (ITTOUYA)
■ Genre: Wagyu Yakiniku ■ Phone: 03-6225-2970
■ Address: 3-2-1 Nihonbashi Muromachi, Chuo-ku, Tokyo Coredo Muromachi Terrace 1F
■ Access: Directly connected to Tokyo Metro Ginza Line and Hanzomon Line "Mitsukoshi-mae" Station
JR Yokosuka Line / Soubu Rapid Line "Shin Nihonbashi" Station directly connected ■ Closed: Same as the facility ■ Business hours: 11: 00-23: 00
■ Number of seats: 94 (private rooms: 5)
■ Tsubos: 92 tsubo ■ Budget: Lunch 1,300 yen ~, Dinner course 7,500 yen ~
■ Official reservation site: http://heijouen.co.jp
■ Official Instagram: https://www.instagram.com/tokyoyakinikuittouya/
Established 50 years of reliable Japanese black beef / Kobe beef
Since its establishment in 1970 (Heisei 45), Heijoen Co., Ltd. has been purchasing one Japanese black beef and providing customers with safe and delicious meat. This is the conclusion that we have come up with in order to ensure stable grades and quality, and to provide only high-quality products to our customers.
The world of deliciousness unique to Heijoen begins with a careful examination of the ingredients. We buy Japanese black beef and domestic potatoes carefully selected from one of Japan's famous production areas, and then carefully ripen them at our own processing factory in Adachi-ku, Tokyo before delivering them to each store.
Meat that has been carefully selected without compromising continues to reinvigorate the disciplined food.

——————————————————————————
■ Company information
——————————————————————————
DREAM & REALIZE
Heijo Rei envisions.
With customer joy. Creating delicious food that is correct.
Company name: Heijo Satoshi Co., Ltd. Founded: December 1970 (Showa 45) Founded: March 2012 Headquarters: 4-16-7 Ayase, Adachi-ku, Tokyo Representative: Jun Tsujiki, President Capital: 45 million yen Sales: 5.8 billion yen (as of February 2019)
Number of employees: 1,200 (as of February 2019)
Business description: Restaurant business development brands: "Tokyo Yakiniku Ichiya", "Yakiniku Heijoen", "BLT STEAK"
"Steakhouse Dub's Grill" "Edo-mae Kotobuki Uohira" "All-you-can-eat beef shabu beef Tajimaya"
Number of stores: Number of stores: 39 directly managed stores, 2 directly managed franchise stores, 33 directly managed stores in Japan (27 yakiniku, 4 steaks, 1 shabu shabu, 1 Edo-mae sushi)
6 directly managed overseas stores (Singapore: 2 yakiniku, 3 shabu shabu, Taiwan: 1 yakiniku)