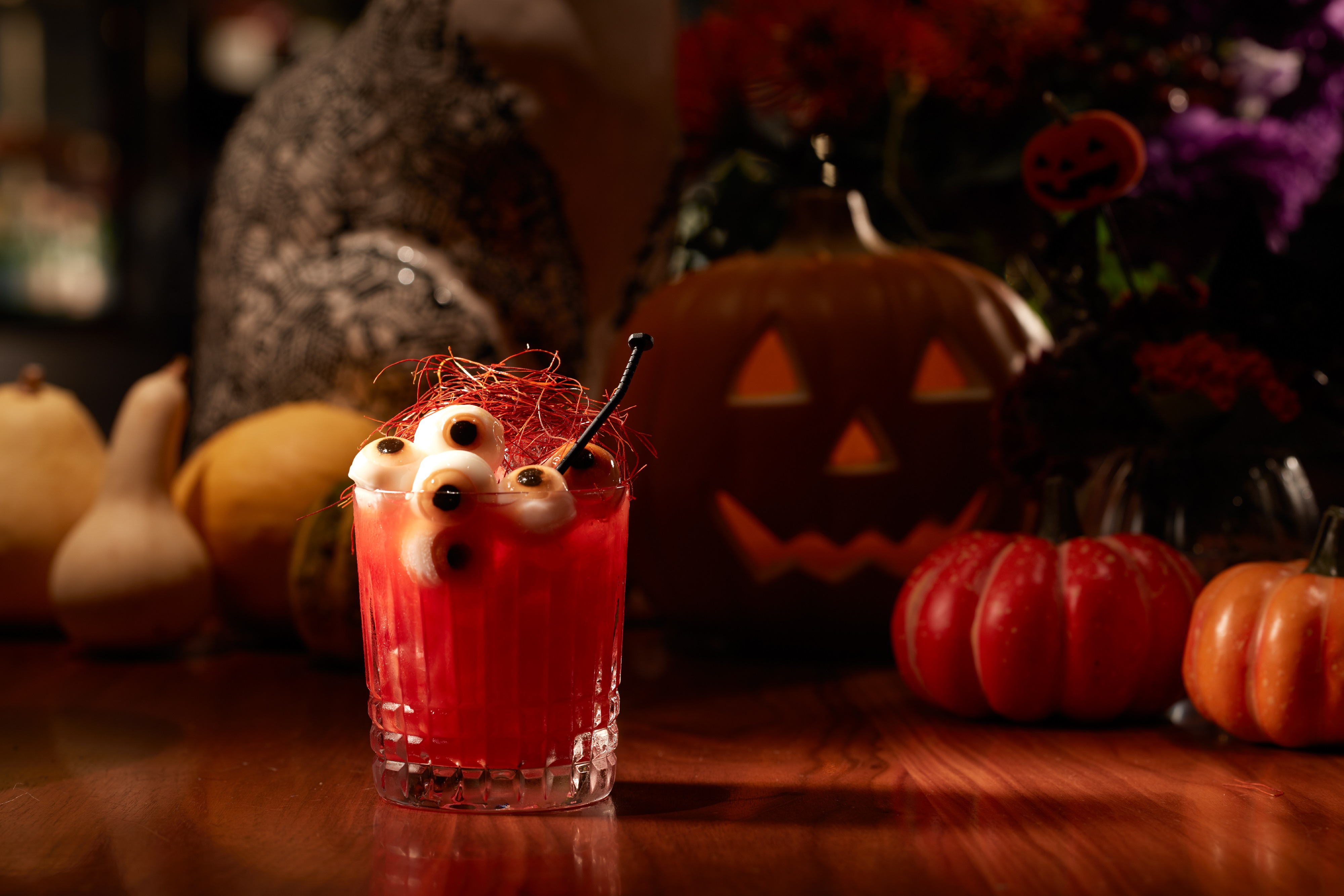 October 1 (Tue)-October 31 (Thu)-"Halloween Cocktail" will also be available for a limited time from October 18 (Fri)-
"Halloween Cake Set" with a scary and cute-looking sweet like Halloween in the "NAMIKI667" Bar & Lounge area (URL: namiki667.com) of the lifestyle hotel brand "Hyatt Centric Ginza Tokyo" located in Namiki-dori, Ginza Will be available from October 1 (Tue). Two types of "Halloween Cocktail" will be available from Friday, October 18th.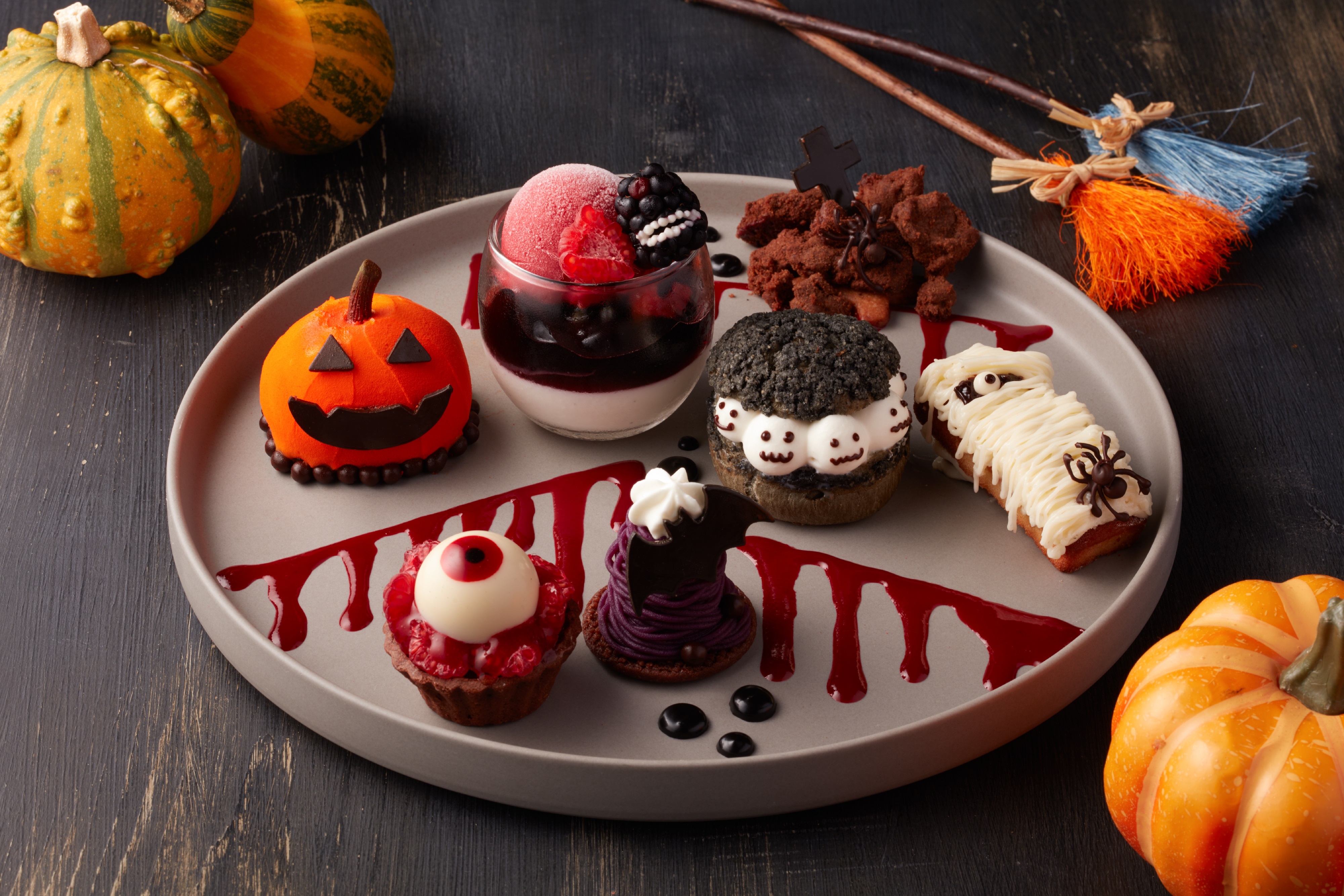 Halloween Cake Set
Six kinds of limited-time sweets that make you feel like taking a photo unintentionally have been combined into one plate.
"Mommy Carrot Cake", a cream cheese squeezed in a line on a financier that feels the flavor of ginger and cinnamon, "Mummy Carrot Cake", which looks like a mummy man, and a face that looks like a spook (ghost) A lineup of cute sweets that can enjoy the atmosphere of Halloween, such as "Black Sesame Oakeshesh Cream" and "Jack O Lantern's Pumpkin Pudding". We also prepared sweet and scary-looking sweets such as " eyeball raspberry tart '' with a real-looking eyeball made of white chocolate on tart cloth, and topped with raspberry sauce that looks like blood on the plate .
---
---
A cake set exclusively for Halloween, where you can enjoy the scary and cute look and the taste of various adults at the same time.
Set contents: Jack or Lantern pumpkin pudding monster panna cotta and red wine jelly chocolate and black sesame ghost puff cream mommy carrot cake bat purple strawberry Mont Blanc eyeball raspberry tart coffee or tea offer price: ¥ 2,400
Offer period: Tuesday, October 1, 2019-Thursday, October 31
Offer time: 14:00 – 17:00
Details / Reservation: http://bit.ly/BookHalloweenCakeSet
* Plus ¥ 1,500, you can enjoy all-you-can drink (AYCD) of sparkling wine for 90 minutes.
* 15% service charge and 10% consumption tax will be added to the above price.
* Menu may change depending on the stocking situation.
Halloween Cocktail
For a limited time, the bartenders who design cocktails for NAMIKI667 will offer two types of cocktails with a Halloween atmosphere and high impact.
"Bloody Needle Eyes" is a classic cocktail made with vodka and tomato juice, Bloody Mary arranged for Halloween. A real eye-catching jelly was placed on top, and a spicy pepper was added at the end to create an exciting taste. On the other hand, "Sweet Melty Nightmare" is a sweet and meltable drink that matches the pumpkin and chocolate flavors and repaints a scary and sleepless nightmare. The surface of the cocktail is decorated with the face of Jack O Lantern.
Why don't you drink cocktails that look and taste completely different according to your taste?
Drink: Bloody Needle Eyes
Sweet Melty Nightmare
Offer price: ¥ 1,600 each
Offer period: Friday, October 18, 2019-Thursday, October 31
Offer time: 17:30 – 23:30
* 15% service charge and 10% consumption tax will be added to the above price.
* Menu may change depending on the stocking situation.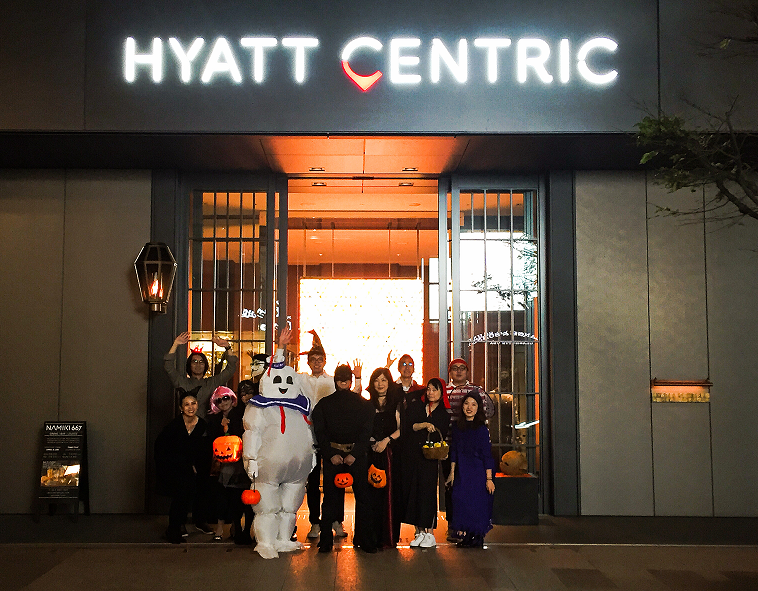 On October 31 (Thursday) on the Halloween day, the staff will welcome you in Halloween costumes and make Halloween together.
Please enjoy the Halloween with all five senses at Hyatt Centric Ginza Tokyo.
About NAMIKI667 "NAMIKI667" offers a combination of dishes and dishes born from an unexpected approach created by chef Toru Hirakawa.
■ Facility name
NAMIKI667
■ Location 6-3-7 Ginza, Chuo-ku, Tokyo Hyatt Centric Ginza Tokyo 3F ■ Toru Hirakawa
■ TEL
Reservation / Inquiries 03-6837-1300 (Reception hours 10:00 – 22:00)
■ URL
namiki667.com
■ Business hours:
[Dining]
Breakfast : 7: 00 – 11:00 (Buffet close 10:30)
Lunch: 11:30 – 14:30 (LO14: 00)
Dinner: 18:00 – 22:00 (LO21: 00)
[Bar & Lounge] 11:00 – 24:00
■ Number of seats:
[Dining] 102 seats / private dining room: 2 rooms 24 seats / terrace seats: 42 seats [Bar & Lounge] counter 44 seats / lounge seating: 22 seats / terrace seats: 12 seats * From March 28, 2019, business The booth seats are also perfect for private use, creating a more fulfilling space.
[Dining area]
A lively show kitchen, a rich fragrance that tickles the nasal cavity from a large oven, and a warm dish full of natural blessings that incorporate plenty of seasonal ingredients and seasonings unique to Ginza, Tokyo. " On the terrace along Namiki-dori, which is about 40 meters long, you can see the scenery of Ginza that changes every hour and every season. The approximately 86㎡ private dining room (private room) and multifunction area are ideal for small events and parties. It can be used for a wide range of purposes. A bold and open atrium with artwork based on letterpress characters and an interior that incorporates a wide variety of materials like Ginza, where various people come and go, creates an exceptional space.
[Bar & Lounge area]
As soon as you get off the elevator on the 3rd floor, you will see a bar counter with a total length of about 7m and a large staircase that stretches to the 4th floor with a vivid red carpet. The bar menu offers a wide variety of foods and desserts for various purposes, such as cutlet sandwiches, Japanese beef burgers and seasonal parfaits. Head bartender Kazuya Nishimura (Kazuya Nishimura) offers cocktails designed and enjoyed with ingredients, including unique and original signature cocktails that symbolize Japanese taste. "NAMIKI 5 to 7" Happy Hour is held from 5pm to 7pm. You can enjoy signature cocktails, beer, glass wines and other items that have been popular since the opening of the store for a flat rate of ¥ 600. Live music appears every Thursday and Friday night. A pleasant sound with a special cocktail.
---