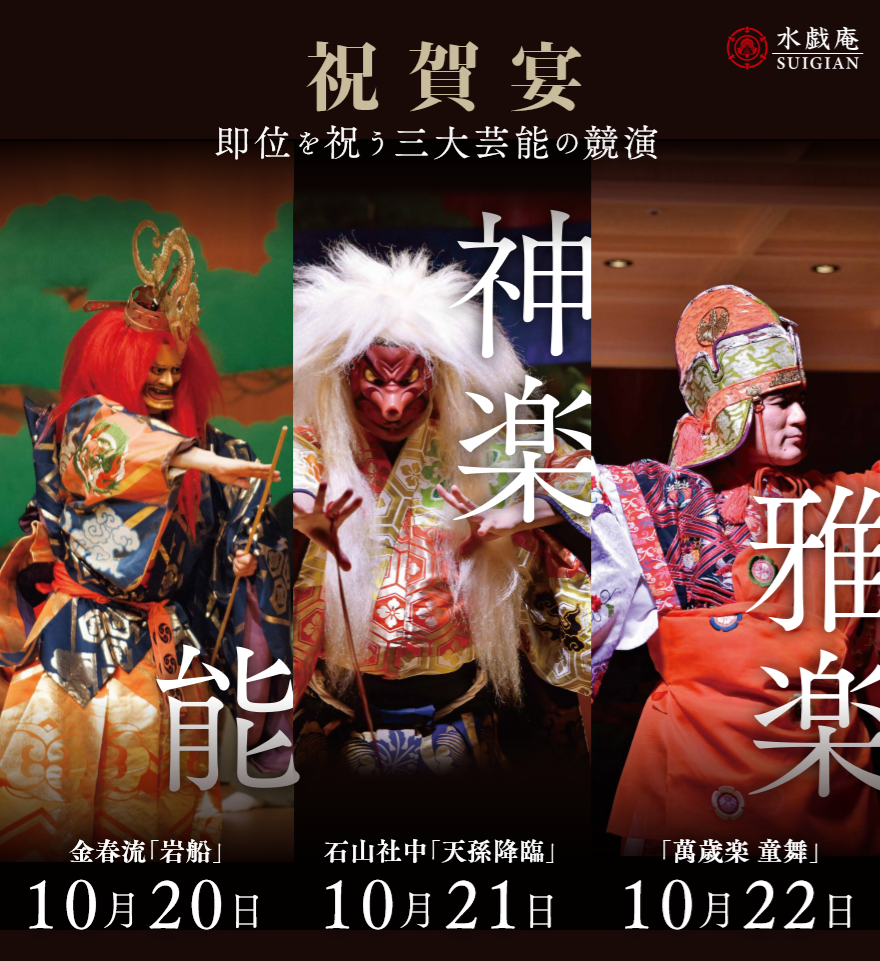 At the theater-type restaurant & lounge Mizugakuen, in commemoration of the imperial order of Emperor Ryowa, the coming three days of October 20 (Sun), October 21 (Mon), and October 22 (Tue) We hold a celebration party by Noh and Kagura.
On the eve and eve of the coronation day, the 20th and 21st nights are "Iwafune" and "Tensonkorin", the performances of the Japanese classic "Manyoshu" and "Kojiki". On the 22nd, the day of the throne, there will be three days in which you can enjoy a banquet celebrating the opening of Ryowa with an elegant dance while studying "Gagaku", which colors the ceremony of the Miyake.
Along with cooking, you can feel, enjoy, and celebrate traditional performing arts and crafts with your five senses.
How about spending the beginning of a new era in Suijo while enjoying Japanese sake, Japanese wine and tea?
---
---
[Outline of performance]
October 20th (Sun) Program: Noh / Kinchunyu "Iwafune"
Monday, October 21 Performance: Kagura / Ishiyama Shachu "Tenson Korin"
October 22 (Tue) Program: Gagaku
Part 1: Start at 11:15, Open at 11:00 Part 2: Start at 13:45, Open at 13:30 Part 3: Start at 19:00, Open at 17:30
Seat price: 7,000 yen-(tax included / per person)
Day 1: Noh "Iwafune"
Iwafune is called " Ama no Iwafune '' and is said to be a boat that is used when various gods descend from Takatenhara. .
Noh "Iwafune" is a celebratory performance in which the treasures of the celestial palace are loaded on a rock boat and dedicated to the prosperity of the Emperor's era. This time, Iwafune will arrive at the Sumiyoshi Beach and the eight great dragon kings will perform a scene of carrying treasure while dancing on the sea. In the actual stage, there is only one dragon god, but imagine that eight dragon gods have appeared.
Day 2: Kagura "Tenson Advent"
"Ninigi no Mikoto" will receive three kinds of sacred treasures from Amaterasu, and will play the scene of getting down to the ground for the first time with various gods.
Jinson is a great-grandson god of fertility. "Ten" in "Tengu" refers to Amaterasu, the god of the heavens, and "Grandchild" means a direct descendant of Amaterasu. Holding a spear upside down signifies the declaration of the arrival of a peaceful world without the need for weapons. The opening of the new era, the era, is a celebration that is suitable for the year of the new emperor's throne.
3rd day: Gagaku "Sakai-sai"
Gagaku, which has a history of more than 1300 years, was played by Miyanaka ceremonies, temple and shrine ceremonies, occasional occasions, and the palace's play. "Samurai" was made in the Tang Dynasty, China, when the samurai flew over when he ruled the country, and it was reported that he "was wise". It is said that After being communicated to Japan, it was often played as a celebration song on occasions such as a throne, and was celebrated in the place of Ise Jingu Shrine, celebrating the new emperor's throne.
* Three-day tickets: If you book all the performances for three days every day, we offer a limited number of tickets that will save you 20% of the seat price. For details, please check with the reservation desk.
【cuisine】
To celebrate the banquet, we will offer you an appetizer and drink set for a limited time. It is a special production where you can watch the performance while enjoying special dishes and drinks for a limited time.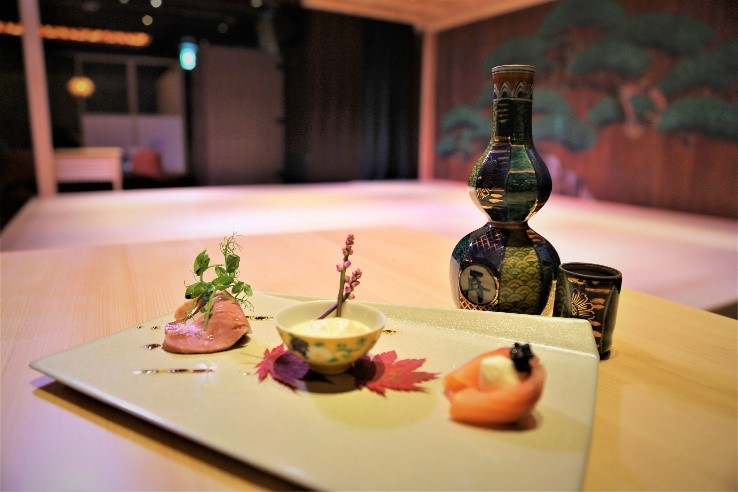 [About Mizuki]
Name of store: Suigian
Address: B1F, 2-5-10 Muromachi Nihonbashi, Chuo-ku, Tokyo
Access: 1 minute walk from Exit A6 of Mitsukoshi Station on the Tokyo Metro Ginza Line / Hanzomon Line, direct connection to Coredo Muromachi 2 Business hours: 11: 00-23: 30 (LO23: 00) * Business hours vary depending on the day of the week.
Regular holiday: Irregular seats: 50 seats Telephone number: 03-3527-9378 (reception hours: 10: 00-20: 00 (weekdays) / 10: 00-19: 00 (Sundays, holidays)
Official website: https://suigian.jp
-The feeling of Mizuki-
Fukutoku Forest is located in Nihonbashi, the center of Tokyo. Opened in the basement of the Fukutoku Forest, "Suigi-an" is registered as a World Intangible Cultural Heritage and is a space where you can enjoy Japanese traditional performing arts such as "Noh", the oldest performing art in Japan. This is a new type theater-style restaurant and lounge where you can taste the representative sushi, sake and sweetness with your five senses.
Utilizing state-of-the-art technology, the art exhibition "Art Aquarium" that makes you feel traditional Japan and the exhibition "Edo Sakura Renaissance" that transforms traditional industries into contemporary art have been used in the past. Hidetomo Kimura has expressed the world. Ten years have passed since Art Aquarium was born, and while facing the Japanese culture seriously, the desire to express the charms of traditional crafts, traditional industries, and traditional performing arts in a new way has grown strongly. A shop that embodies the thoughts of Hidetomo Kimura is "Suigien".
Based on the concept of "Enjoying and Enjoying Japan", the store is a mourning room that incorporates the elements of traditional crafts that Japan is proud of. In the center, there is a stage of Mikata Shikata (about 5.4m) symbolized by an end panel drawn by Kano school painters in the late Edo period, and traditional performing arts such as Noh, Kyogen, and Japanese dance are unfolding every day.
In this stage, there are five Noh school groups (Kanze school, Hosho school, Kinharu school, Kongo school, Kita school), Noh school Lions school, Kyogen two school (Okura school, Izumi school), Kyo Maii upstream, Japanese dance Hanagi school, It is the only place in Japan where various traditional Japanese performing arts such as the Fujima style, Ryukyu dance Miyagi style, Bunraku, and Gagaku appear daily.
[Contact for inquiries regarding this press release]
Mizuki Ryu public relations: Wakatsuki
Tel: 03-3527-9378
E-Mail: press@suigian.jp