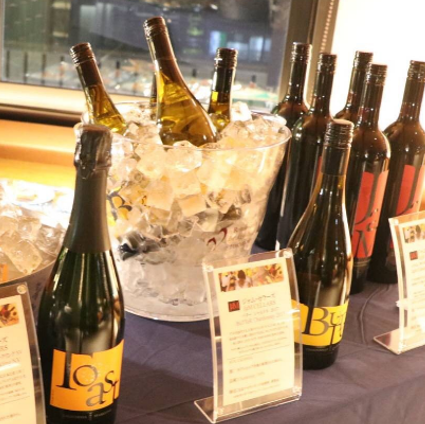 The Royal Park Canvas Ginza 8 (Reading: Ginza Eight) selected by Seiichiro Nakagawa, President, Nakagawa Wine Planning Co., Ltd., with a talk on the theme of "Marriage of Wine and Cuisine" on December 12, 2019 (Thursday) "WINE FESTA Vol.2" will be held to enjoy wine tasting.

This event will be held three times, and this time, the second time, we will use wine and keywords "bridge ingredients", compatibility with chocolate, cooking with wine, etc. To learn.
Spend plenty of time on your way home from work or shopping at a hotel in Ginza with good traffic access.
≪Summary≫
---
---
Date:
December 12, 2019 (Thursday)
Date:
Two-part system ①18: 30 ~ 20: 00 ②20: 30 ~ 22: 00
30 people each time
place:
The Royal Park Canvas Ginza 8
2nd Floor Canvas Lounge
Target:
20 years old or older
Membership fee:
5,000 yen per person (tax included)
How to apply:
Apply from the application form below
https://www.canvas-ginza8.jp/news/20191119/
The third meeting is scheduled to be held at the following date and time.
We will start booking at a later date.
Date: Friday, January 24, 2020
Two-part system ①18: 30 ~ 20: 00 ②20: 30 ~ 22: 00
Cooperation: Nakagawa Wine Co., Ltd.
As a pioneer of California wine since 1985, he introduced Harton, Bond, Kolgin, Bryant, Grace Family, etc. of "Carton Wine" to Japan. The restaurant offers a wide selection of wines, ranging from popular high-priced wines to casual wines.
A wine that reflects various climatic climates (terroir) under the California sky. We are importing and selling in the hope that everyone will enjoy the thoughts of the maker encased in each one, and that you want to enjoy the genuine taste.
■ Hotel Overview Location:
8-9-4 Ginza, Chuo-ku, Tokyo (about 5 minutes on foot from the A4 ground exit of Ginza Station, Tokyo Metro Ginza Line)
Facility composition:
Guest rooms (121 rooms), dining facilities, stores
Ancillary facilities:
1st floor cafe, 2nd floor lounge, kitchen, music library, fitness gym, 14th floor restaurant
Hotel management:
Royal Park Hotels and Resorts Co., Ltd.
Hotel management:
<100% investment by Mitsubishi Estate Co., Ltd.>
Hotel management:
Space Design Inc.
* All images are images.