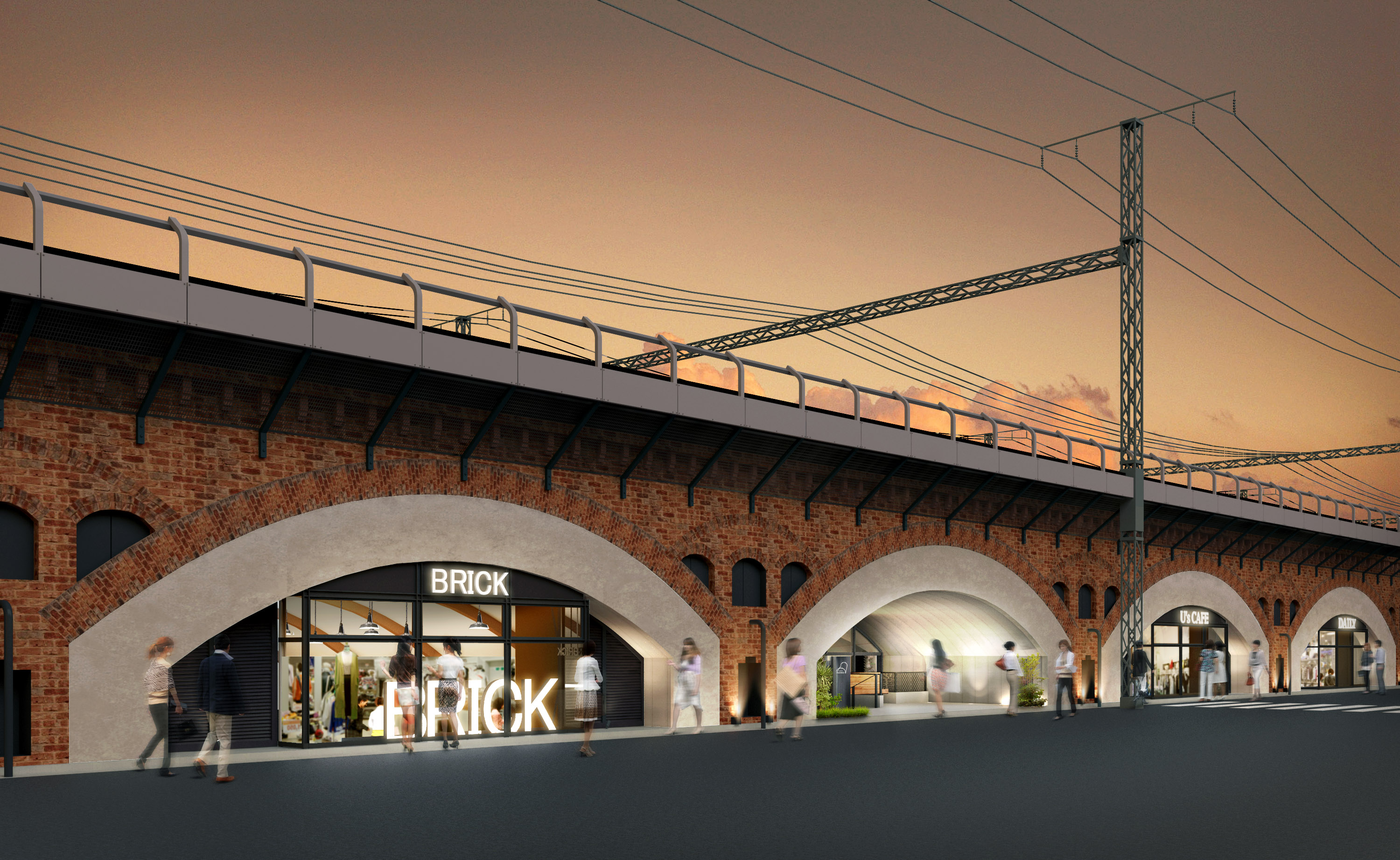 東 Under the Group Management Vision "Reform 2027", the JR East Group is working on "Creating new services starting from people", with the slogan "CITY UP!" To regenerate underpass space. Promoting the plan.

東 JR East Urban Development Co., Ltd. will open "Hibiya OKUROJI" in late June 2020 in a space under a 300m elevated bridge featuring a brick arch carving a 100-year history between Yurakucho Station and Shimbashi Station (*). To do.

行列 Line eel shop "Una Fuji" in Nagoya, all-day dining "COOK BARN TOKYO" that sticks to Ibaraki ingredients, Kyoto and Tango hand-woven tie "KUSKA & THE TANGO", Niigata craftsmanship "NIIGATA1 ○○" where you can enjoy squaring , Okayama's long-established bar " Bar CHINON '', authentic mutton restaurant " Premium mutton cuisine Le Belier MATSUO '' and other new stores, ivy fashion " VAN SHOP '', sneaker brand " Panther '', outdoor wear gear And 16 other brand-name flagship stores, other specialty merchandise and food stores, and 28 restaurants.

バ ー Bars of various styles such as standing and authentic, lamb dishes, shellfish dishes, specialty shops for somen, restaurants stuck to various materials and cooking methods such as charcoal grill and halal, jackets, ties, leather shoes, etc. There are unique stores such as shops, shops that color lifestyles such as tools and dyeing goods, small leather goods, and sweet shops that are beautiful and sweet.
* The opening of "Hibiya OKUROJI" was announced by JR East on September 3, 2019.
---
---
* This is the current plan and may change in the future.
1 Outline of this project This project is a project to regenerate as a new commercial space by utilizing the underpass created by combining the brick arch viaduct with over 100 years of history and the viaduct of the Tokaido Line and Tokaido Shinkansen.
The underpass located in the back of Hibiya, where new town planning is progressing, creates a stroll in Ginza, Yurakucho, and Shimbashi, and stores that are full of unique and distinctive stores are bustling with people and people and people. Aim for the place.
2 Facility outline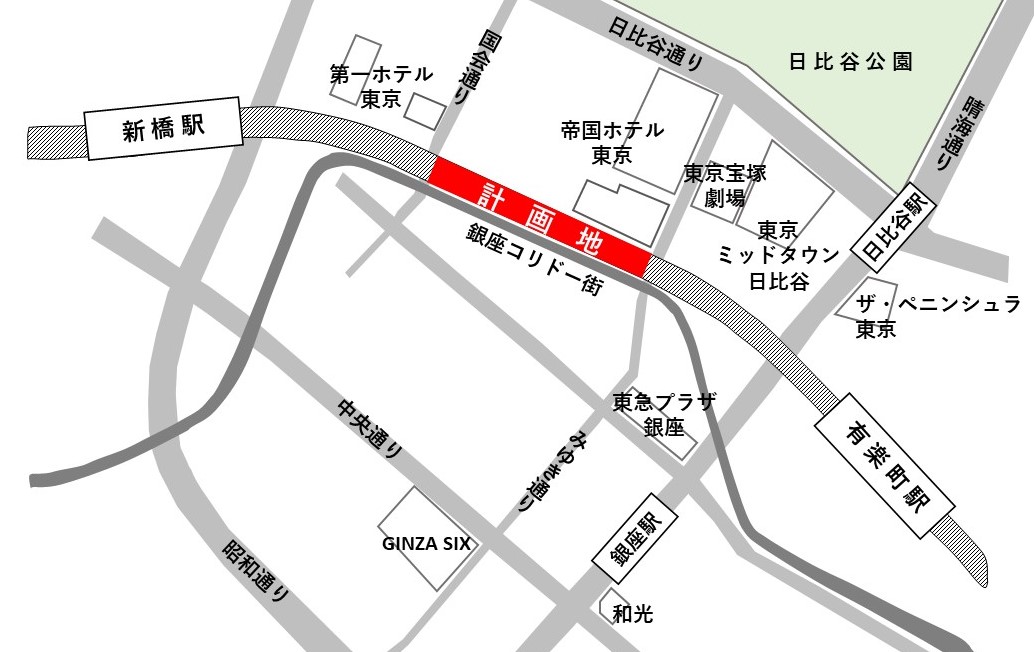 -Development area name "Hibiya OKUROJI"-
In addition to being located a little further away from the center of Ginza, Hibiya, the term "okoji" is named by replacing the hidden mood of the passage under the viaduct with the word "alley".
It expresses the excitement that the average adult wants to search for something, as well as a secret feeling that has a deep commitment and a 100-year history.
About 3 logo mark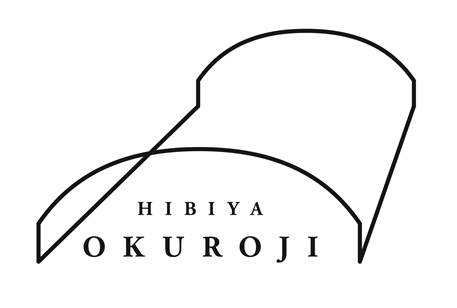 From the beautiful arch shape that is the characteristic of the brick viaduct,
Expressing the characteristics of the underpass that leads to the back.
In addition, we put thought like town and person, person and person, and bridge from past to present, the future.
About 4 store openings
[Various bars gather]
In the Ginza / Shimbashi area where the bar culture is rooted, there are bars with various styles and specialties, such as classic cocktails, single malt whiskey, Japanese spirits, authentic and squaring.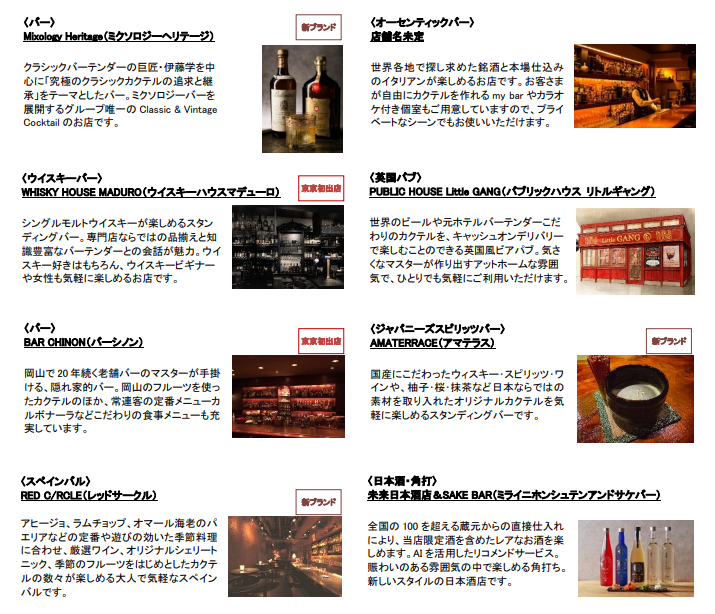 [From private to party scene]
A full-fledged dining restaurant that creates a party scene in a cuisine that is particular about cooking methods and ingredients, special hospitality, and special space.

[Enjoy special dishes]
A slightly luxurious food space where you can spend a special time in the Ginza / Hibiya area with special ingredients and techniques.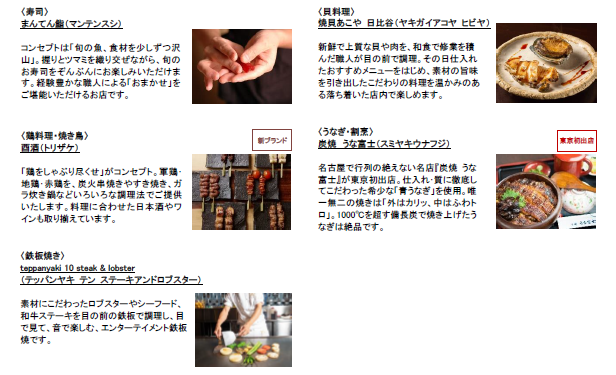 [Enjoy the material]
Enjoy carefully selected ingredients from Japan and around the world with the same deliciousness as sake and wine.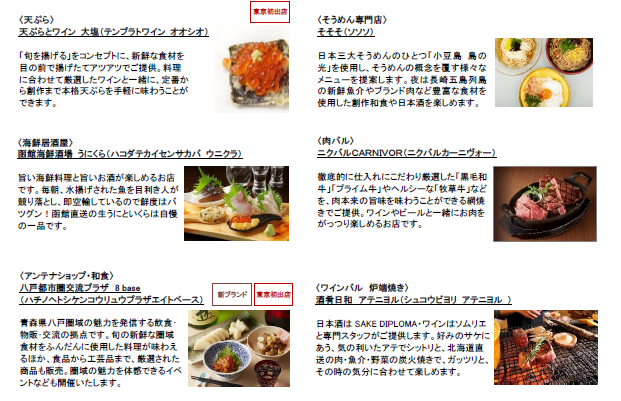 [Enjoy global food]
Enjoy a variety of styles, including vegetarian and vegan dishes, that offer world food in a free style.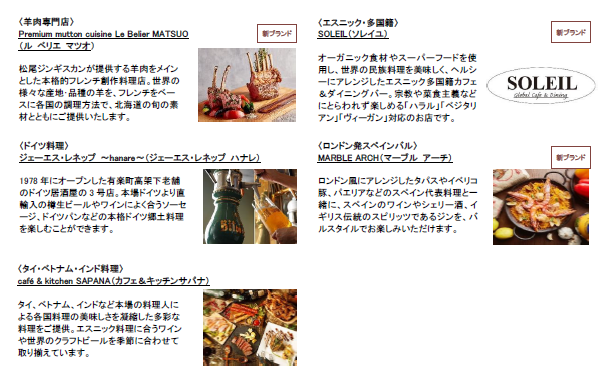 [Sweets cafe that looks and tastes better]
Beautiful sweets that spread the real taste, and a cafe restaurant where you can spend a relaxing time.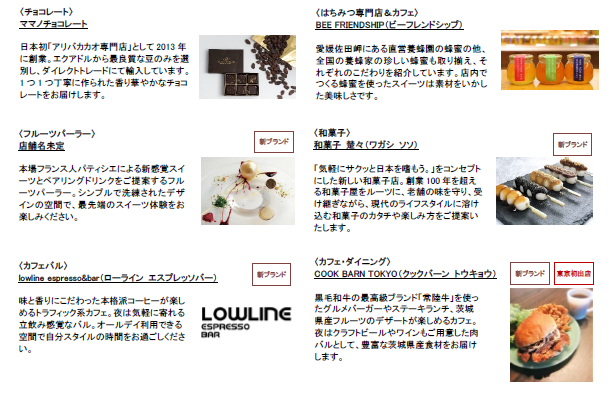 [Taste a special dish]
A supreme dish that craftsmen are particular about. One article only for you to make by conversation with craftsman.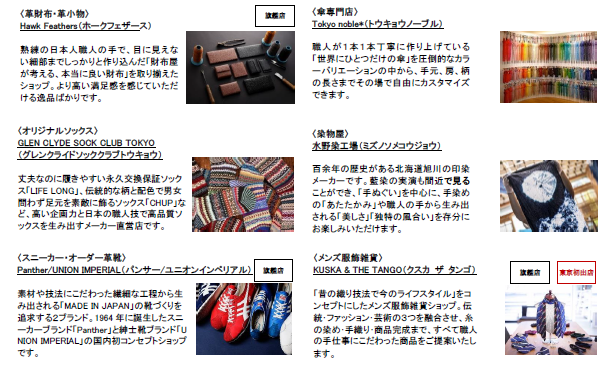 [Meet lovable good products]
Delivering a special brand concept to customers along with lifestyle.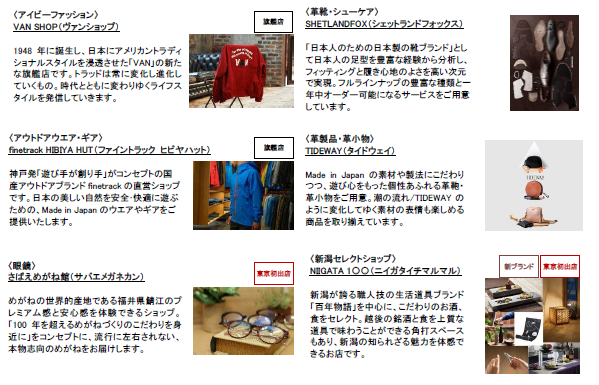 5. About "TOKYO MOVING ROUND"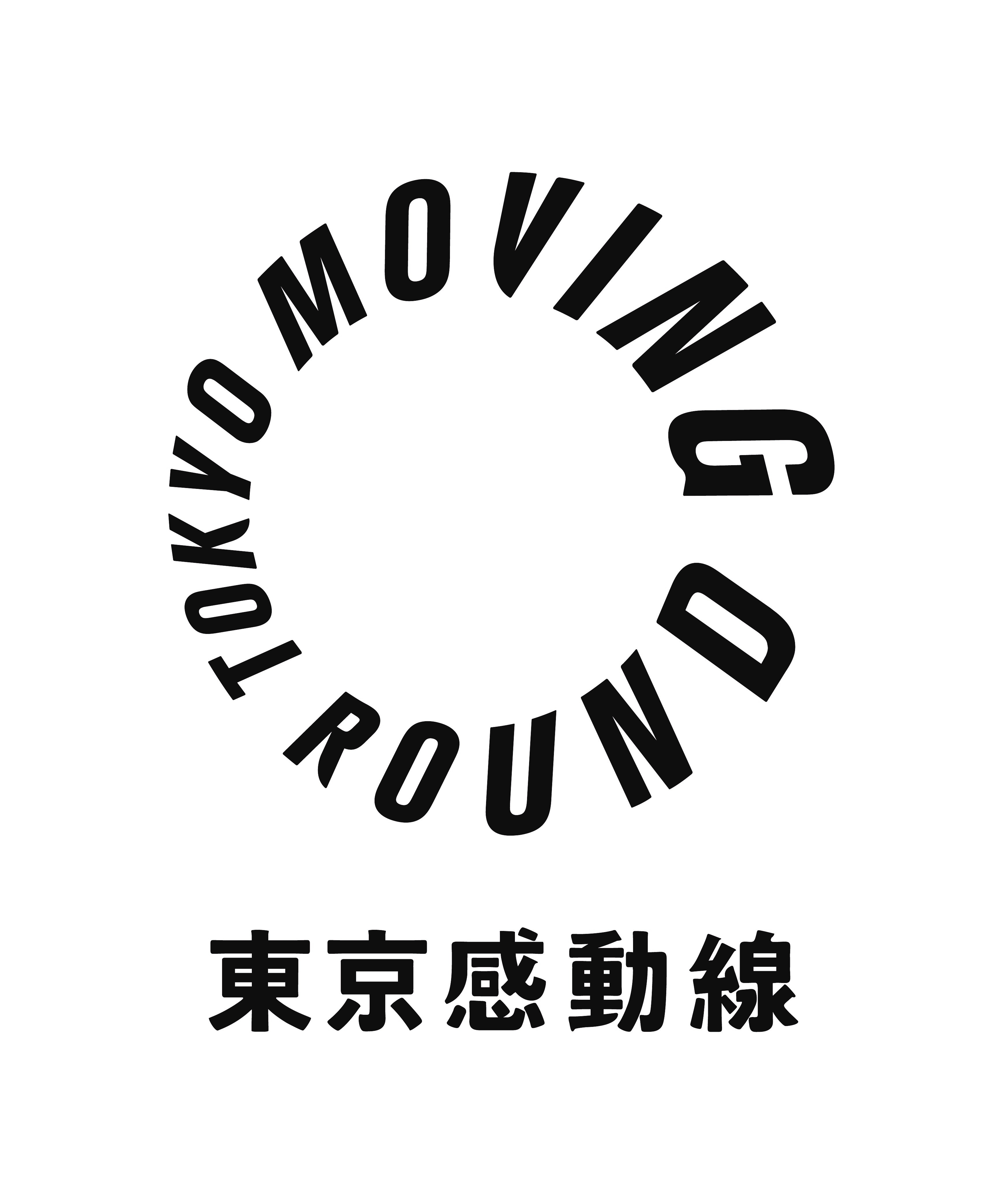 The Yamanote Line is a unique, world-class ring road that runs on the ground and connects people with different historical and cultural characteristics. In addition to services that enhance the convenience of everyday life, including travel, we will draw out the individuality of various towns and people and create connections between stations, stations, stations and towns, people and towns, people and people, We will create a rich urban living space.
"Tokyo Kando Line" Official Website https://www.jreast.co.jp/tokyomovinground/
■ Future Tokyo Kando Line About the development of bases or related facilities in cooperation For details on the development of each base, please refer to each press release website.