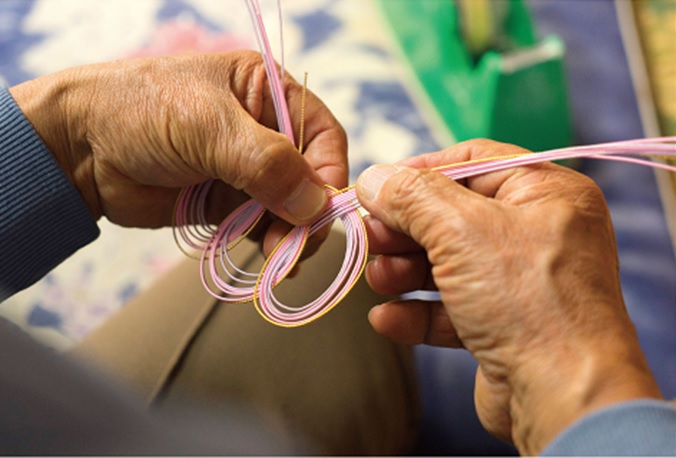 INTERGATE HOTELS, a value-experience hotel, a traditional Japanese craft workshop
Hotel Intergate Tokyo Kyobashi, run by GRANVISTA Hotels & Resorts, regularly holds workshops where you can learn and experience Japanese culture and traditional crafts. In the cherry blossom viewing season when cherry blossoms bloom, we will invite Mizuhiki craftsman Fumio Sekishima as a lecturer from Nagano Prefecture, and this time we will hold a workshop to make cherry blossoms by mizuhiki on March 28 (Sat) and 29 (Sun). .
https://www.intergatehotels.jp/tokyo_kyobashi/event/
The cherry blossom, which is firstly associated with spring in Japan, has been in the hearts of the Japanese since ancient times and has been regarded as a national flower of Japan and a symbol of beauty. The beauty of blooming and dancing at the arrival of spring attracts many overseas people and is one of the opportunities to travel to Japan. At this time when the cherry blossoms are at their best, Mizuhiki is made with a gentle color using traditional Japanese paper processing. You can make a "cherry blossom strap".
Mizuhiki has been connecting people's hearts with celebration bags and gifts for a long time. On the day of the workshop, an exhibition and sales event will also be held. Why don't you experience the elegant world of Mizuhiki while learning the skills of Japanese craftsmen from ancient times?
[Workshop Overview]
Venue: Hotel Intergate Tokyo Kyobashi Intergate Lounge (2F)
Contact: Tel.03-5524-2929
URL: https://www.intergatehotels.jp/tokyo_kyobashi/event/
* Dates and times are subject to change without notice.
* All photos of the workshop are images.
[Contents]
■ Mizuhiki making experience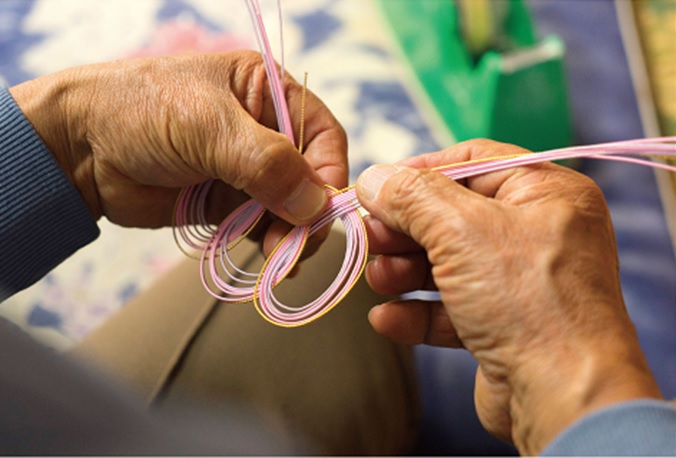 You can make original Mizuhiki work according to the season using Mizuhiki, which is colorfully processed by the traditional manufacturing method. You can take home-made works with memories of your travels that add color to your feelings and life.
* Explanation in Chinese is also possible.
Date: March 28 (Sat) and 29 (Sun) 2020
Every day from 14:00 to 17:00
Participation fee: ¥ 1,000 (tax included) You can make up to two.
Duration: 30 minutes to 1 hour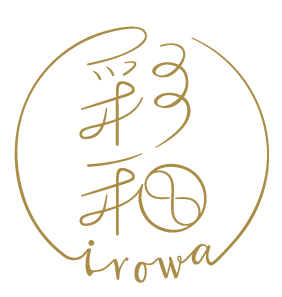 Organizer: Iina Mizuhiki Lecturer: Mizuhiki craftsman Fumio Sekijima
Cooperation: Mizuhiki Gallery "Saiwa irowa"
Mizuhiki Gallery "Saiwa irowa"
"Mizuhiki" has long supported gifts and united the hearts of people. I want you to feel closer to Japan's beautiful traditional culture that has been passed down. I also want people in the world to know. That's why I launched the Mizuhiki Gallery "Saiwa irowa". Mizuhiki, a tradition of "wa" that adds color to feelings and lives. To expand the possibilities and bring "harmony" and "harmony" to more people. We deliver a wide variety of Mizuhiki that will stick to your breath.
Hotel Intergate Tokyo Kyobashi Facility Overview

Location: 3-7-8 Kyobashi, Chuo-ku, Tokyo
Contact: TEL: 03-5524-2929
Opening: April 1, 2018 Structure: 17 floors above ground Number of guest rooms: 200
HP: www.intergatehotels.jp/tokyo_kyobashi
Grand opening in April 2018 in a convenient location 1 minute walk from Ginza Line Kyobashi Station and Asakusa Line Takaracho Station. Hotel Intergate Tokyo Kyobashi is the center of areas such as Ginza, Nihonbashi and Tsukiji, as well as Marunouchi and Yaesu. We invite all visitors to Tokyo to enjoy a variety of expressive mornings unique to Intergate Hotels and fully enjoy your trip to Tokyo.
* Hotel Intergate Tokyo Kyobashi is a group hotel of Gran Vista Hotels & Resorts.
[INTERGATE HOTELS concept]
Official website: https://www.intergatehotels.jp/
Brand concept: All For Tomorrow-a hotel that delivers the "best morning"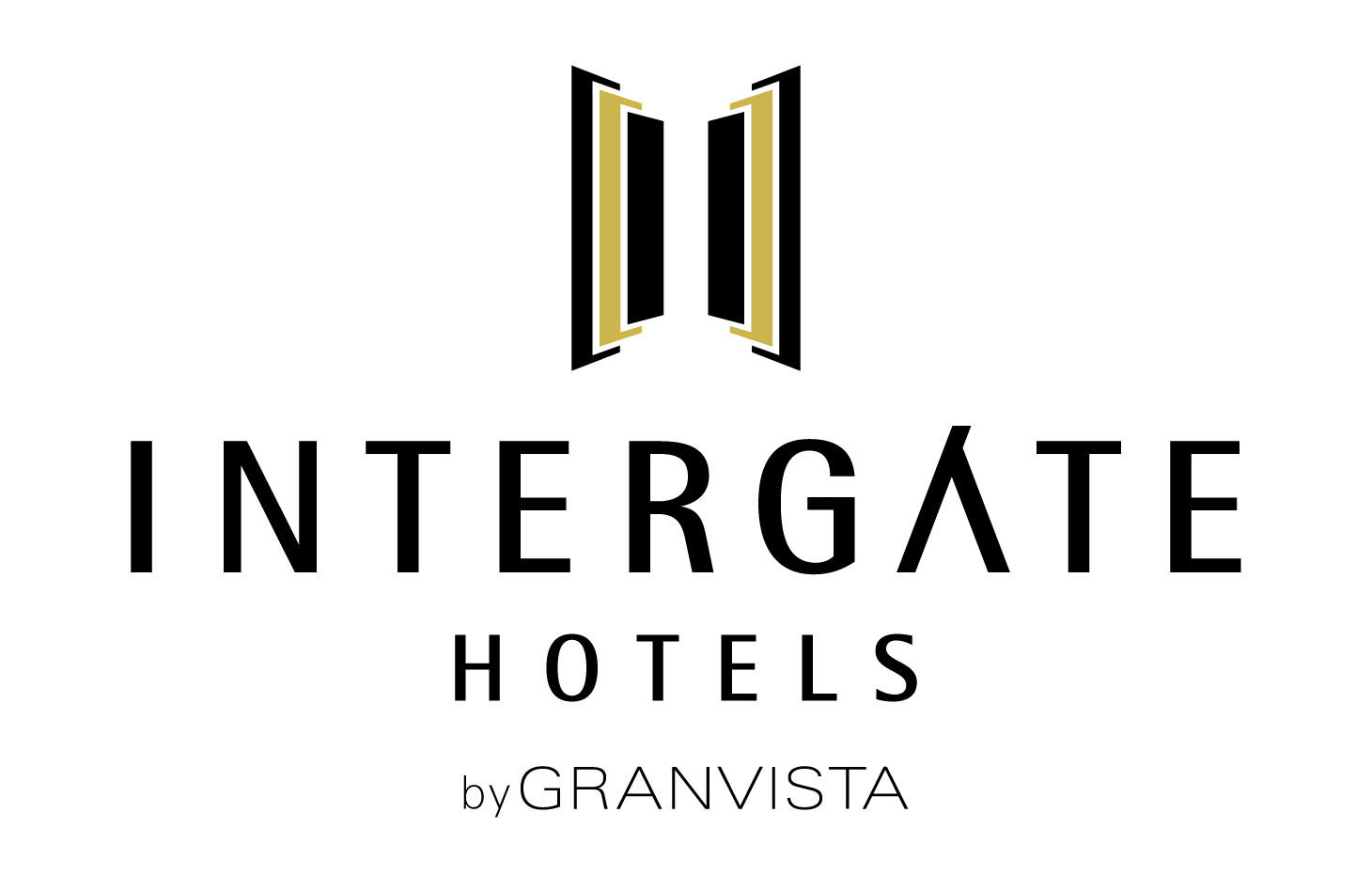 A good morning to start a good journey. Not only high quality sleep, but also a lot of vegetables and "Taste of Vegetable Breakfast" and local "Careful Morning Coffee" will start the journey. In addition, the lounge space, which provides a place for communication between people and people, hotels and people, and regions and people, where you can discover the charm of the region, is a regular event where you can experience the traditions and culture of the region. Held. This is a hotel that supports a trip to the local culture that greets the best morning.
* "INTERGATE HOTELS" is a group facility of Gran Vista Hotels & Resorts.
[INTERGATE HOTELS facility list]
" Hotel Intergate Kyoto Shijo Shinmachi '' opened March 1, 2018 " Hotel Intergate Tokyo Kyobashi '' opened April 1, 2018 " Hotel Intergate Hiroshima '' opened January 15, 2019 " Hotel Intergate Kanazawa '' 2019 Opened on March 16
[About Gran Vista Hotel & Resort]
Gran Vista Hotel & Resort has the northern guesthouse, Sapporo Grand Hotel, which was born as the first authentic Western-style hotel in Hokkaido.City hotels, business hotels, hot spring inns, integrated marine leisure facilities, golf courses, highways Through the operation of restaurants and other facilities, we are developing a contracted hotel management business, which is in step with the local community.
Company Name: Gran Vista Hotel & Resort

Location: 2-3F Uchikanda, Chiyoda-ku, Tokyo S-GATE Otemachi Kita 5F
Founded: August 27, 1958 Capital: 100 million yen President and CEO: Sadanori Suda
TEL: 03-5209-4121 (representative)
URL: http://www.granvista.co.jp
Facebook: https://www.facebook.com/granvista.co.jp
≪Facilities≫ Sapporo Grand Hotel Sapporo Park Hotel Kumamoto Hotel Castle (affiliated facilities) Hotel Intergate Kyoto Shijo Shinmachi Hotel Intergate Tokyo Kyobashi Hotel Intergate Hiroshima Hotel Intergate Kanazawa Ginza Grand Hotel Hotel The Lutheran Shirahrasou Grand Hotel Hotel Yumoto Noboribetsu Kamogawa Sea World Kamogawa Sea World Hotel Tomakomai Golf Resort 72 Sano Highway Restaurant Ashigara Highway Restaurant Otsu Highway Restaurant Atami Beach Line