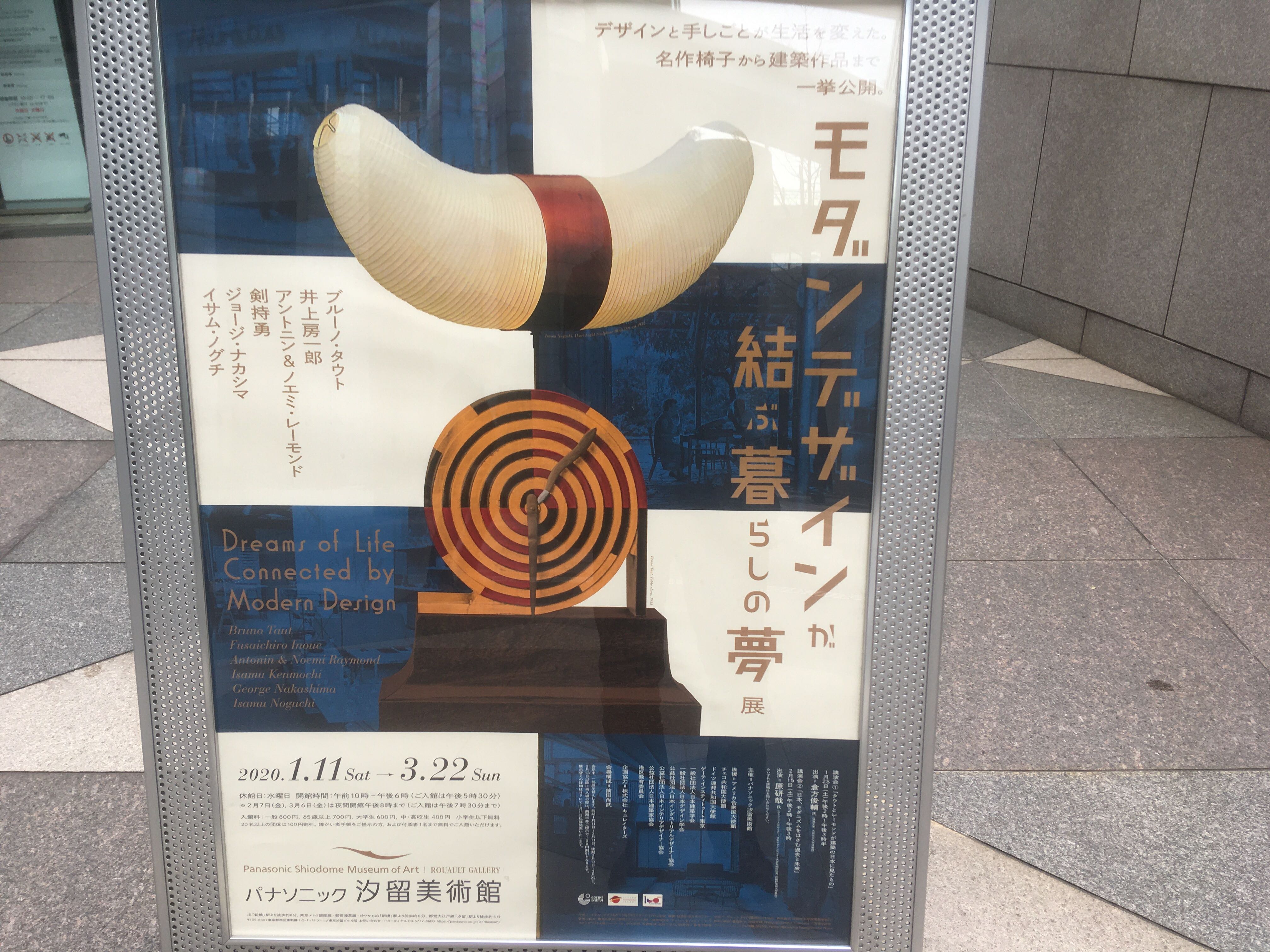 January 11, 2020 (Sat.)-The "Dream of Living with Modern Design" exhibition is being held at the Panasonic Shiodome Museum in Shimbashi.
The other day, I went to this exhibition.
In this article, you will find the highlights, highlights, and congestion of the dream of living that modern design connects.
---
The four highlights of the dream of living that modern design connects
There are four highlights of the exhibition.
1.A collection of classic chairs entrusting the dreams of living!
Approximately 35 masterpiece chairs that pursue the best design for a modern Japanese lifestyle, such as Inoue Fuichiro, Bruno Taut, Antonin & Noemi Raymond, Isamu Kenmochi's Rattan Maru Chair, George Nakashima's Peconoid Chair Is on display.
2. Crafts by Bruno Taut, who first taught Japan the basics of industrial design
Bruno Taut, who taught Japanese the basic concept of design for the first time.
The teaching was to make a prototype that could be used as a model for mass production of daily necessities such as chairs and lighting equipment.
At the exhibition, Taut exhibits crafts made using Japanese materials and handicraft before industrial production.
3. Encounter the longed-for Raymond style that has made wooden houses more modern
Antonin Raymond, the father of Japanese modernism, was born in the Czech Republic and lived in the United States and Japan.
At the exhibition, you can see works that suggested lifestyle in collaboration with wife Noemi.
---
---
4.Exhibition space of the venue designed with Japanese traditional space as motif
Naotake Maeda, who has been involved in numerous architectural exhibitions and received the Architectural Institute of Japan Award (Culture) last year (2019), is working on a venue composition based on a traditional Japanese space consisting of pillars, beams and floors. 。
Introduction of each chapter and featured works
Chapter 1 Bruno Taut and Fuichiro Inoue "Mirates"
In this chapter, businessman Bruno Taut, who was active in Germany, was exiled to Japan in 1933 since he was worried about the political situation in Germany, while businessman Fuichiro Inoue was in Ginza. The exhibition displays the furniture products of Taut Design and "Gyocho-Katsura Rikyu" (1934), etc., which were handled at the legendary furniture art exhibition "Mirates" which opened in Karuizawa.
● Bruno Taut [Former Hyuga Bettei]
It is the only existing building in Japan constructed by Bruno Taut.
Taut devised a Japanese-Western eclectic design using traditional lighting equipment technology and materials, such as chairs, tables, and lantern lighting, using Japanese wicks and candles.
The room has three rooms: a social room, a Western room and a Japanese room.
There is a sense of mystery and unity despite the eclectic mix of Japanese and Western.
It is said that the architectural space with a sense of depth was designed based on the Katsura Imperial Villa.
Chapter 2 Antonin & Noemi Raymond
In this chapter, Antonin Raymond and his wife Noemi Raymond, who had close friendships with Bruno Taut and the entrepreneur Fuichiro Inoue, said, "Koimachi Town House" and "Fuichiro Inoue House" Many representative works such as "New Studio" and beautiful hand-drawn drawings and furniture are on display.
● Noemi Raymond << Study of decoration for Imperial Hotel "Peacock Room"
Raymond, who worked at the Frank Lloyd Wright office, came to Japan with Frank Lloyd Wright as an assistant, depicting the Imperial Hotel banquet hall between peacocks.
A colorful peacock is drawn, and the two-dimensional design gives depth to the three-dimensional architectural space.
Chapter 3 "Japanese Modern" by Isamu Kenmochi
Isuzu Kenmochi studied in 1933 with Bruno Taut, who was invited as an advisor to the Ministry of Commerce and Industry's Craft Guidance Office.
In this chapter, we will showcase the design of independent furniture for Kenmochi as a designer, as well as later large-scale projects that incorporate art in collaboration with architects.
● Isamu Kenmochi 《Kashiwado Chair T-7165》
The presence of a stout and unique chair gets a lot of looks.
It looks lumpy, but the depth and width of the chair seems to be good.
Chapter 4 George Nakashima and Sanuki Mingu Ren
George Nakashima, a Japanese II American
After studying architecture in the United States and France, he worked for the Raymond Architects in Tokyo for five years from 1934, but later turned to furniture making.
In this chapter, Nakashima will manage the entire process from conception to final commercialization, exhibiting sculptural furniture and the Minglen series produced when he participated in Takamatsu's Sanuki Mingu Ren. doing.
● George Nakashima [Conoid Studio Appearance]
In 1943, the family was greeted by a family at the New Hope farm in Raymond and his wife, and this studio was built on the site of the land.
In the studio, furniture made of wood, such as chairs, tables and benches, is lined up.
The outside of the studio is surrounded by trees, making it look like an oasis.
George Nakashima's note near the work states, "We are looking for clues to share joy and sadness with trees."
Was deeply absorbed in my heart.
Chapter 5 Isamu Noguchi's "Wanraisha" and Lights
Isamu Noguchi, born between a poet Yonejiro Noguchi and an American mother, was searching for her identity from two countries.
This chapter shows Isamu Noguchi's production activities and their works in Japan in the early 1950s.
● Isamu Noguchi "Light 33S (BB3 stand)"
A lighting sculpture made of Japanese paper and bamboo with a lantern motif.
The unique design and the faint soft light illuminated by Japanese paper give us a sense of security.
A dream exhibition of living tied to modern design
The day I went was in the morning on weekdays.
I visited around 10:00, just after the exhibition started, so I was able to go around without much congestion.
As we headed for noon, the number gradually increased, but it was not so crowded,
If you go to the exhibition, I think it is recommended in the morning.
The goods corner is also full of programs, architectural miniatures, postcards, books, etc. So why not visit the museum in the morning and take a look at it slowly?
Conclusion
I have talked about the "Dream of Life Connected by Modern Design" exhibition held at the Panasonic Shiodome Museum of Art.
Overseas architects and their influenced designers pursuing a new, high-quality living in Japan.
Wouldn't it be possible to feel their feelings by touching the many works?
It may be fun to imagine how these works have influenced our lives in the modern age.
The "Dream of Living Dreams Connected with Modern Design" exhibition, which is currently being held, will be held until Sunday, March 22.
Please drop in before the end.
※ Panasonic Shiodome Museum, because of the new coronavirus infection prevent the spread, the period from February 29 (Saturday) to March 15 (Sunday), we have temporary closing. For the subsequent schedule, Panasonic Please check the Shiodome Art Museum website.
Facility information
■

Opening hours




From 10:00 to 18:00 (admission until 17:30)
■

Closed Wednesday
■

Admission fee




General: 800 yen / 65 and over: 700 yen / University student: 600 yen / Junior and high school students: 400 yen / Elementary school students and under: Free


* 100 yen discount for groups of 20 or more
※ Person who presents certificate of disability,
You can enter for free with up to one attendant.
■ Contact
03-5777-8600 (NTT Hello dial)
■ Official HP
https://panasonic.co.jp/ls/museum/
■

Official Facebook


https://www.facebook.com/shiodome.museum/