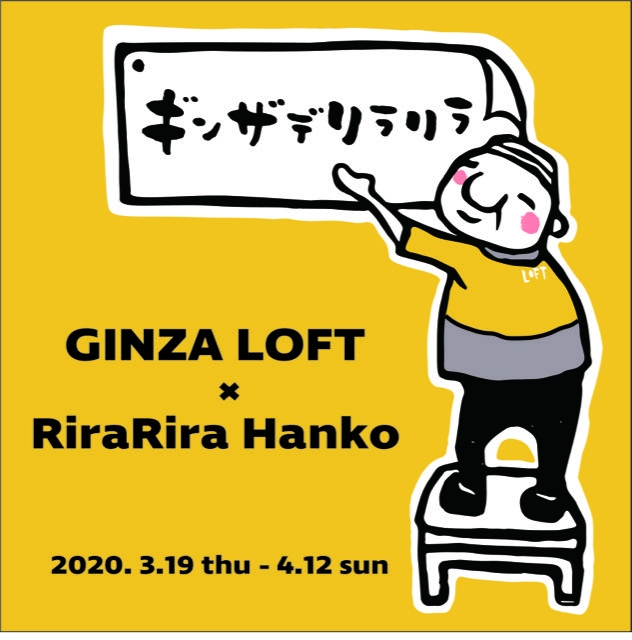 Sale of products limited to the venue, collaboration cafe menu, stamp rally etc.
Ginza Loft will hold a collaboration event with "RiraRira Hanko" by handmade artist RiraRira from Thursday, March 19th. In addition to developing a collaborative cafe menu at the cafe "Loft Food Lab" (1st floor), we will also select and sell limited items that can only be purchased at the venue and popular stamps.
In addition, recommended products for spring on each floor will be introduced by RiraRira Hanko's popular character, "Iwai Chief", and a stamp rally will also be held. For those who like RiraRira Hanko and those who are new to RiraRira Hanko, this is an event that you can enjoy while having a "rela-lila".
■ Title: "RiraRira Hanko Ginza Delila Rila"
■ Date: March 19 (Thu)-April 12 (Sun)
---
---
1. "RiraRira Hanko collaboration Cafe" @ the first floor cafe "loft Food Lab"   * Cafe only until April 5 (Sun). ※ Price is tax-exclusive menu such as hamburgers and cappuccino.
・Round bread lira burger (Round bread burger (BLT)) ¥ 380
・Iwai cookie cappuccino set   (1 cookie + cappuccino) ¥ 650
・Iwai cookies   (1 cookie) ¥ 150
・Iwai pound cake   (Pound cake fermented butter) ¥ 400
・Rila Rila Gelato   (2 kinds of gelato) ¥ 480
・Lilacino   (Cappuccino) ¥ 560
★ Drink set + 300 yen ★ Cappuccino set + 400 yen
2. Ginza loft "Ginza Delilah lira" Venue limited product    @Ginza Lofts 1 , 4 and 5 floors * Prices include tax ・ RiraRira Hanko Pocket 1,980 yen (1st and 4th floors)
・ RiraRira Hanko mug 1,650 yen (1, 4th floor)
・ RiraRira Hanko Glass 1,540 yen (1, 4th floor)
・ RiraRira Hanko Surveying field book 528 yen (1st and 5th floor)
・ RiraRira Hanko Sarasa Ballpoint Pen 165 yen (1st and 5th floor)
3. Ginza Delirilla Rally Stamp Rally    @Ginza Loft 1st-6th Floors <br /> At the 6 stamp points in the Ginza Loft store, if you complete the design by pressing the stamp, you will receive a clear file on a first come first served basis!
* Handover location: 5th floor cashier counter / Weekdays: 50 sheets Saturdays, Sundays, and holidays: 100 sheets / Ends as soon as each day runs out.
4. purchasing gifts  
Customers who purchase more than tax-included 3,300 yen at the Ginza Loft Store will receive a "RiraRira Hanko Original Design Sarasa Ballpoint Pen" on a first-come, first-served basis.
* Receipts for the day can be combined. Handing over is the cashier counter on each floor. It ends as soon as it runs out.
[And RiraRira stamp]
Rubber stamps made by handmade artist RiraRira. We develop various goods based on original designs made with eraser stamps.
The motto is "useful and laughable."