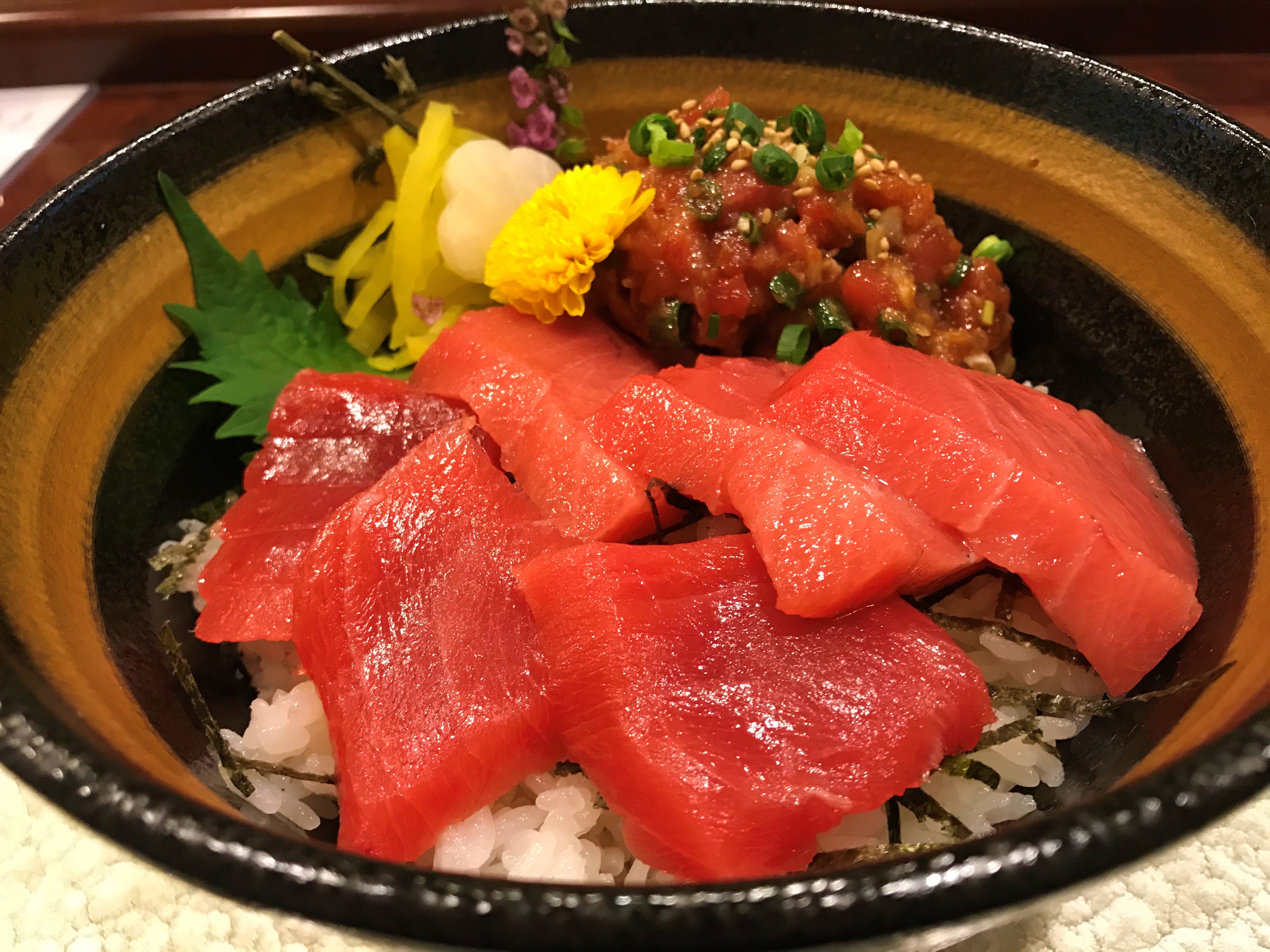 On March 10, 2020 (Tuesday), a saladman 's sacred place, Shinbashi, opened a specialty store for tuna "Tuna Ship-MAGROSEN" . "I want a salaryman in Shimbashi to taste real tuna at a reasonable price! "
"Tuna boat" was born from such thoughts.
This time, I have eaten 3 dishes recommended by tuna ship, so I will report.
In addition, we introduce other featured menus and discount coupon information.
If you read this article, you will definitely want to eat the tuna ship's menu asexually.
Then, I want to introduce immediately!

---
Tuna ship, I tried three recommended menu items ♪
First of all, we will have this tuna three meal bowl !
Sound effect "Dawn!"
There are a large amount of tuna and green onion in a bowl of ramen bowl size. The green onion is especially proud of the shop, so I would like to eat it with a spirit.
"Let's eat!"
---
---
Immediately, put chopsticks in Negitro.
Weight is transmitted to chopsticks.
Is this the weight of affection that I want you to eat Mr. Itamae's delicious negitro? I didn't have too much fat and it wasn't too light, and it was a moderately good meal.
Next, three meals tuna
The taste of the ingredients was outstanding, and as I chewed it, I felt that the most delicious part of the tuna was overflowing.
I am very satisfied!
A female reporter from the editorial department also had a complete book of tuna Sanshokudon.
---
2 items, this tuna red rice bowl .
Again, the sound effect "Dawn!"
It is a service perfect score with 10 reddish tuna.
"Let's eat!"
First of all, without anything, only reddish tuna, we had.
The moderate fat of fresh reddish tuna melts with your tongue.
The recommended way to eat is to mix soy sauce and wasabi, and sprinkle it on a bowl.
I actually tried it.
The spiciness of wasabi soy sauce matches the thickness of red tuna, and the chopsticks do not stop moving.
This is also very satisfying!
The donburi menu is free of both Omori and miso soup .
---
It is 3 items, a green onion rice ball .
Once again, the sound effect "Zusin!"
It is hard to find in other stores, it is a hearty rice ball.
You can enjoy it with the a la carte menu provided from 11:00 open.
"Let's eat!"
You will feel happy when you eat a hearty rice that does not fit in your mouth.
The taste of the hot rice and the green onion matches and the food goes on.
I ate at a stretch。
It was an article that made me think "I'm glad I was born in Japan"
If you order this rice ball, you are lucky!
The shop also introduced such a menu.
Hon tuna toro pickled rice bowl。

"Because the pickled portion is covered with sauce, mix it with the egg without applying anything, double the thickening of the tuna and egg, and taste it."
This is Tuna Tsukudani.
You can enjoy it as an à la carte menu.
Tsukudani is a stewed tuna blood.
Bloody blood is where the blood vessels of the fish gather and comes from red fish such as tuna.
And if it is not fresh, you cannot eat it deliciously.
Because it contains docosahexaenoic acid (= DHA) and minerals, it is packed with nutrients that are happy for women.
It's a menu that's kind to salaried workers who tend to be unbalanced.
It is said that they also offer alcohol, so it is a good item to accompany alcohol.
À la carte menu
Tuna boats also offer a la carte menus from 11:00.
Here are some of the menus.
| | |
| --- | --- |
| ● One dish | ● Sashimi separately |
| Lotus root and burdock gully 200 yen | Toro 1,000 yen |
| Potato salad 400 yen | Lean 800 yen ※ You can also pickle |
| Pickles 400 yen | Negitro 600 yen |
| Celery pickled 400 yen | 3,200 yen |
| 500 yen chilled tomato | Yukke 680 yen |
| Plum crystal 500 yen | |
| Tuna Tsukudani 300 yen | |
| Leek onigiri rice ball 250 yen | |
There is also a drink menu, so please check with the clerk.
500 yen discount by showing coupon of eating log
In the tuna ship, we are offering a discount campaign for some menus as a commemoration of the opening.
For more information, please check the tabelog page below.
https://tabelog.com/tokyo/A1301/A130103/13245101/
Conclusion
Above, this tuna specialty store "tuna ship ~ NAGUROSEN ~" recommended menu 3 items real food report! Has been told.
Personally, it was a day when I had a hearty donburi and rice and felt happy.
It is said that donburi rice can be made smaller, so women can enjoy it with confidence.
Why don't you stop by a tuna boat that offers a limited amount of fresh Ehime tuna?
It is said that it will be a snack after 19:00 in the evening, so if you are interested please contact us.
◎ Related article: The long-awaited opening in Shimbashi! Hon tuna specialty store "tuna ship-MAGUROSEN" https://home.ginza.kokosil.net/ja/archives/72041
store information
■ Address: B16, 2F, New Shimbashi Building, 2-16-1, Shimbashi, Minato-ku, Tokyo
■ Phone number: 03-6257-3980
■ Business hours: 11:00 to 18:00
■ Regular holidays: Saturdays, Sundays and holidays
■ Access: 80m from Shimbashi Station