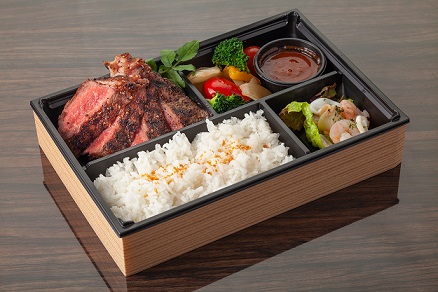 Delivery sales start at the same time, and a new chef special menu!
Takeout sales will begin on Thursday, May 7th at the American steakhouse "BLT STEAK GINZA" from NY.
A steak menu of the same quality as a restaurant at a reasonable price, at home or in the office.
American steakhouse "BLT STEAK GINZA" from NY will start take-out sale and delivery sale "Uber eats" from Thursday, May 7th. The delivery sales service "Fine Dine" is scheduled to start in June.
URL: http://bltsteak.jp
"BLTSTEAK" has been closed for all stores since April 1 after receiving an emergency declaration due to the spread of new coronavirus infection, but from May 7 we will take out from the Ginza store. It was
This is the first take-out sale at the Ginza store, and Uber Eats can be delivered to the following areas, including the Roppongi area where demand was high.
[Uber Eats Delivery Area] * Please check with the store for area details.
Chuo Ward, Chiyoda Ward, Koto Ward (Ginza, Yurakucho, Nihonbashi, Ningyocho, Tsukiji, Tsukishima, Kachidoki, Toyosu), Minato Ward (Shimbashi, Toranomon, Kamiyacho, Azabujuban, Roppongi)
The menu also includes three types of bento (prime rib eye steak, grilled salmon, stewed hamburger), roast beef bowl with onion sauce, BLT prime burger and new fillet cutlet sandwich, popular Caesar salad and lobster bisque separately. BLT's proud steak uses the highest grade prime grade beef certified by USDA (US Department of Agriculture). After carefully aging the product for maximum softness, flavor and aroma, it is baked in a special pot at a high temperature of 925 degrees. The take-out menu uses plenty of the same high-quality, high-quality meat as the restaurant. While staying out and staying at home and working a lot at home, we have prepared a new menu specially prepared by the chef with the hope that you will be able to keep your body and mind healthy with the best'Stay Home 'time. At home or in the office. Please spend a delicious and rich time with "BLT STEAK".
---
---
■ Business hours from 12:00 to 19:00 (last order 18:00)
※ Delivery time of product is from 12:00 to 19:00 (telephone reception 11:00 to 18:30)
■ Implementation store BLT STEAK GINZA store ■ Reservations and inquiries 03-3573-1129
[Price (tax excluded)]
■ Prime rib eye bento ¥ 2,980
It is a bento packed with the taste of the highest grade prime ribulose (150 g))
■ Grilled salmon lunch ¥ 2,980
Grilled Norwegian salmon (with dill cream sauce), BLT popular products garlic shrimp and vegetables (rice: turmeric rice)
■ Roast beef bowl ¥ 1,900 (prime strip loin / onion sauce)
A very precious prime-grade tender and juicy meat that only takes 4% of all American beef.
■ Stewed hamburger lunch ¥ 2,100
Stewed hamburger made from 100% prime grade beef * with rice / with demiglace sauce and white cheddar cheese
■ Fillet cutlet sandwich ¥ 4,800 * New menu!
The finest cutlet of prime grade fillet (150g) is soft and melts.
■ BLT Prime Burger ¥ 2,000 (100% beef used)
The beef patty that is baked to the right is a full-fledged burger that uses prime grade beef as well as steak. BBQ sauce & honey mustard sauce are used for the sauce.
■ Caesar salad ¥ 1,600
Lobster bisque ¥ 1,400
[About BLT STEAK]
BLT STEAK, one of the world-famous steak restaurants in the United States and abroad, has opened BLT STEAK, BLT PRIME, BLT BURGER since the opening of its flagship store "BLT STEAK NY (New York store)" in 2004. We are developing various brands such as BLT brand of more than 15 stores. The flagship brand of BLT, which is described as a modern American steakhouse with distinctive style, high quality and warm service. With a bistro element added to the steakhouse, it is famous for its dry-aged steaks, freshly baked popovers, fresh seafood, and side dishes using the highest USDA (US Department of Agriculture) rated prime grade beef. We also offer weekly blackboard specials using seasonal ingredients and local ingredients.
The BLT brand has received reviews such as The New York Times 2 Star, New York Post, Daily News, Cranes New York Business 3 Star and Esquire magazine Best New Restaurant.
[Cooking of BLT STEAK]
BLT STEAK, a modern American steakhouse with a bistro atmosphere to a classic steakhouse, is famous for its signature "popover", specialty "steak", fresh seafood and side dishes, and blackboard menu made with seasonal seasonal ingredients. .. The proud steak is the highest grade prime grade beef certified by USDA (US Department of Agriculture). After carefully aging it naturally and confining it to its maximum softness, flavor and fragrance, it is baked at a high temperature of 925 degrees in a special pot. The steak finished with herb butter is served with your favorite BLT original sauce.
■ Company Profile Company Name: Heijoen Co., Ltd. Founded: December, 1945 Established: March 2012 Headquarters Location: 3-15-5 Ayase, Adachi-ku, Tokyo Representative: Junko Kaburagi, President and Representative Director Capital: 45 million yen Business description: Restaurant management 37 domestic stores (Yakiniku restaurant, grill steak restaurant, shabu-shabusukiyaki restaurant, sushi restaurant)
Annual sales: 6.8 billion yen (February 2, 2019)
URL: https://heijouen.co.jp/