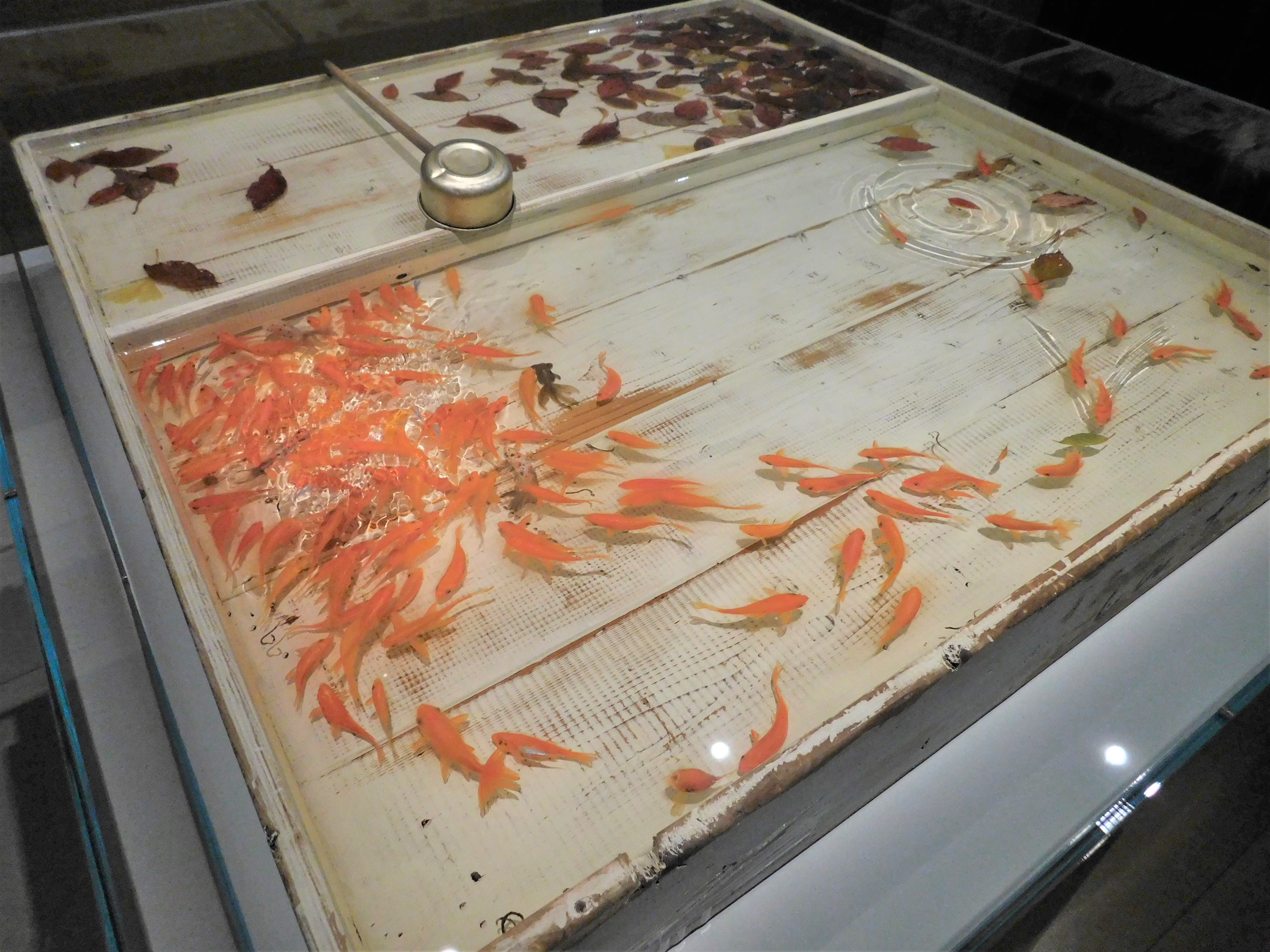 Ryusuke Fukahori <Hundred Boats> 2018 Kariya Museum of Art
From Saturday, July 18, 2020, a special project "Wakko Zetsuka Exhibition-Super Crafts of the Reiwa Era" is being held at the Panasonic Shiodome Museum. (until September 22 (holiday))
There was a press preview of this exhibition the other day.
In this article, we will introduce the highlights of the Wakaku Zeika exhibition, the structure of the exhibition, and the works of interest of the editorial department.
See it!
---
About Wakaku Zeika Exhibition
The Wakaku Zeika Exhibition is an exhibition that introduces twelve artists who were born in 1970 and who are currently receiving the most attention, who are making craft works that are rooted in Japanese aesthetics.
The title of the exhibition, "Wakaku Zeika," refers to the three trends of today's Japanese artistic work-the beauty of "Wa" that re-examines the value of Japanese traditional culture, and challenges the ultimate work. This is a combination of "Takumi" and "Zeika" that explore the possibilities of craft materials.
By observing the works exhibited by 12 artists, you can understand the new signs of traditional Japanese crafts that have been passed down to date and the current Japanese crafts.
Wakaku Zeika Exhibition-Three highlights-
There are three main highlights of the exhibition.
① Introducing new Japanese beauty that goes beyond contemporary art, design and craft
With the increase in the number of expressions that make full use of video and digital technology in the era of globalization,
The expression created by the artist's hands is regaining attention.
At the exhibition, we will introduce the "beauty created by people" in modern Japan.
② Exhibition of works by 12 artists who explore the beauty of crafts
―Popular artists born after 1970―
We will introduce the works of Daigo Adachi, Akinori Ikeda, Takuro Kuwata, Naoki Sakai, Michiko Saai, Kengo Takahashi, Noritaka Tatehana, Akashi Niisato, Chiki Hashimoto, Ryusuke Fukori, Masayasu Mitsuke and Akane Yamamoto.
---
---
③ About 30% of the exhibited works are new works and first public works!
90% of the exhibitors created a new work for this exhibition.
This is a great opportunity to see the newest expressions of the artists whose skills improve with each experience.
Composition of Wakaku Zeika Exhibition
The exhibition consists of three chapters.
Chapter 1

The beauty of "Wa" reexamining the value of Japanese traditional culture

(Exhibitor)
・Noritaka Tatehana
・Takuro Kuwata
・Ryusuke Fukahori

Chapter 2 "Takumi" Beauty (Exhibitor)
・Masayasu Mitsuke
・Akimasa Ikeda
・Akane Yamamoto (Akane Yamamoto)
・Kengo Takahashi

Chapter 3 "Zeika" to explore the beauty potential of craft materials (exhibitor)
・Chitaka Hashimoto
・Daigo Adachi
・Naoki Sakai
・Akio Niisato
・Michiko Sago
Introducing the works of attention by the editorial department
◎ Noritaka Tatehana <Baby Heel-less Shoes>
A work by Noritaka Tatehana , made by fusing Oiran's high geta and crystal glass .
Heel-less Shoes is also famous for being used by Lady Gaga and Daphne Guinness.
The glitter and presence of crystal glass make a strong impression on the viewer.
◎Ryusuke Fukahori <Hundred boats>
It is a work by Ryusuke Fukahori, who draws a part of the body of a goldfish little by little with acrylic paint on the surface of transparent resin, and stacks it in layers to create a lively picture of the goldfish.
A fresh goldfish swimming in the vessel coolly.
Memories of nostalgic fairs are recalled.

◎Akane Yamamoto <Genji Monogatari Series No. 19 "Thin Cloud" (Snow Light)>
Akane Yamamoto's work based on the farewell scene of Akashi and his princess in "The Tale of Genji".
The transparent snow in the transparent glass gave off a mysterious glow in the faint lighting of the museum.
The impression of the work changes depending on the viewing angle.
◎ Kengo Takahashi <flower funeral ‐cattle‐>
This is Kengo Takahashi's work, which was created using a technique called actual casting, in which countless living flowers are poured into an extremely thin aluminum material.
A mourning flower that fills the cow skull and its surroundings.
Many flowers in the dead speak with a lively expression.
◎ Chiki Hashimoto <"Butterfly">
This is the work of Chitake Hashimoto, who mainly produces lacquer crafts lacquer work, Hyomon, and Raden.
The colorful crow swallowtail is beautifully represented.
It's a work that is so well crafted that you can flutter your wings gently and make you feel like you're flying away from the venue.
◎ Daigo Adachi <Reconnect, break, repeat>
This is a work by Daigo Adachi who has created textiles with rich gradation of colors.
Gradients that are piled up in layers will continue with depth.
I was thrilled to see it and went back to appreciate it many times.
Summary
At the Panasonic Shiodome Museum, I have told you about the preview of the special project "Wakaku Zeika Exhibition-Super Crafts of the Reiwa Era" that is currently being held.
I was surprised and moved by how many works with different facial expressions were made using Japanese craft techniques.
And I realized again the high level of Japanese handicraft technology.
In addition to the works featured here, there are 12 wonderful artists at the venue, so
Please come and enjoy the technique.
By actually touching the work, you may be able to discover your own uniqueness.
* At the venue, hand sanitizer is installed as a measure against the new coronavirus. Please be careful to thoroughly disinfect, wear a mask, and avoid being dense.
Event outline
■ Exhibition name: Special project Wakaku Zokayoshi Super crafts of the Reiwa era
■ Period: Saturday, July 18, 2020 to September 22, 2020
■ Opening hours: 10:00~18:00 (Last entry is 17:30)
* August 7th (Friday), August 28th (Friday), September 4 (Friday) is open at night for opening until 20 pm (Admission is until 19:30 pm)
In order to prevent the spread of new coronavirus infections, we will cancel the nighttime opening (until 20:00) on Friday, August 7th and Friday, August 28th.
■ Closed: July 22 (Wed), August 12 (Wed)-14 (Fri), August 19 (Wed), September 9 (Wed), September 16 (Wed)
■ Venue: Panasonic Shiodome Museum 4th floor Panasonic Tokyo Shiodome Building 1-5-1 Higashi Shimbashi Minato-ku Tokyo 105-8301 Tokyo
■ Inquiries: Hello Dial 03-5777-8600
■ Fee: General 1,000 yen, over 65 years old: 900 yen, college students: 700 yen, middle and high school students 500 yen, elementary school students and younger: Free *100 yen discount for groups of 20 or more *Persons with disabilities certificate, and Up to 1 attendant can enter the building free of charge.
■ Official HP: https://panasonic.co.jp/ls/museum/
■ Official Facebook: https://www.facebook.com/shiodome.museum

*As a measure to prevent new coronavirus infectious diseases, we will limit the number of customers in the exhibition room.  
After reaching the limit, we will issue a numbered ticket and specify the admission time.
Please note that you may not be able to enter if you issue all the numbered tickets on the day.