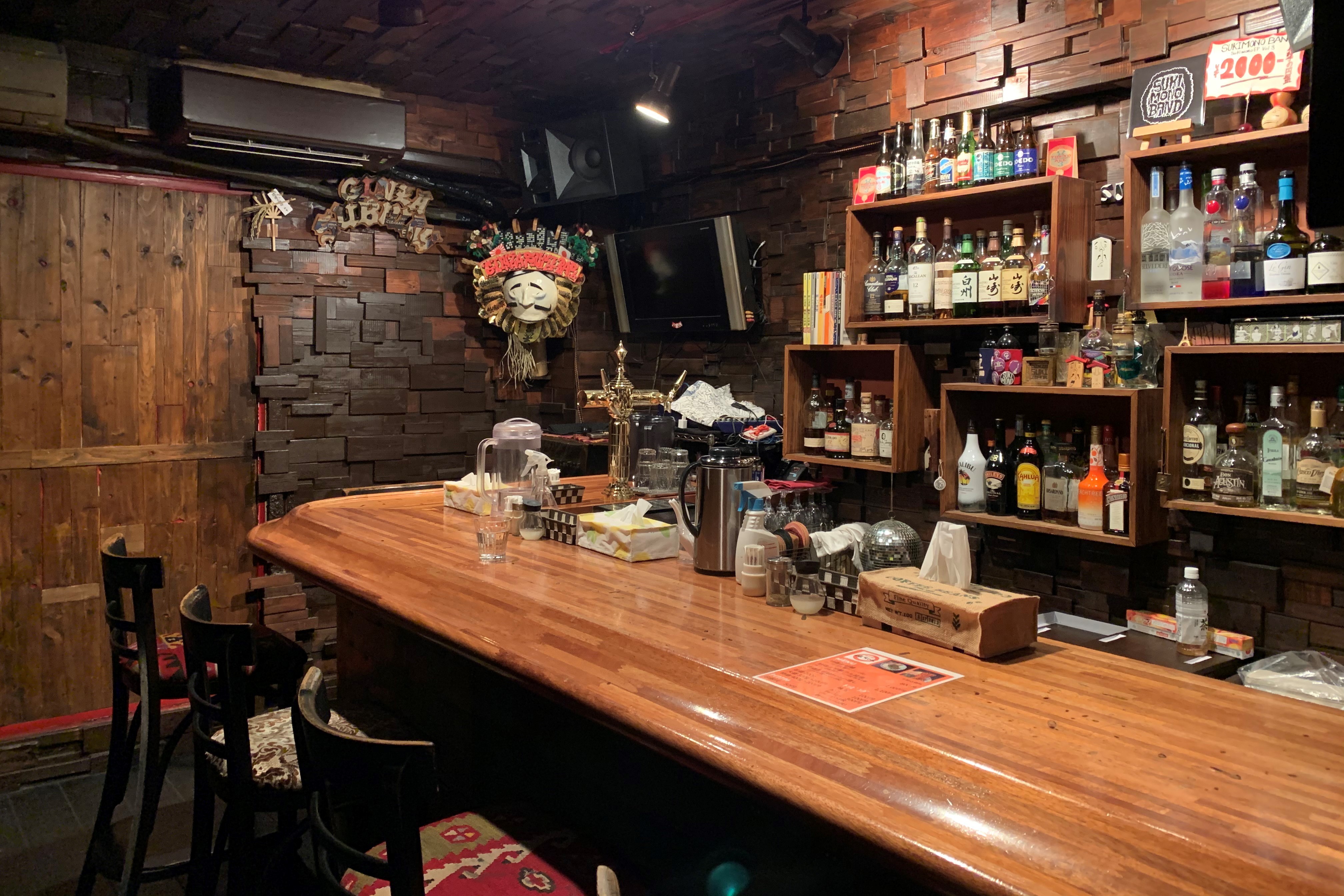 A corner where you can ask about the things, people, places, and commitments of the "best recommended!" Shops and facilities in Ginza [Our best recommended! ].
The person I visited this time was "Ginza Mazemen Yu-chan" .
3 minutes walk from Tokyo Metro Ginza station, 5 minutes walk from JR Yurakucho station. It is open on the 5th floor of the tenant building where the famous tsukemen shop "Ginza Oborodzuki" is located, which you can see after walking along Sukiya Dori.
No elevator. Take the narrow stairs on the right side of the front of the building to the 5th floor. The stairs have a unique atmosphere, so you may be worried about "Is it really right here?" On the way up, but don't worry! At the end of your efforts, a very nice shop is waiting for you, like a reward.
◆ The word "hidden" is perfect! Open for hire at a fashionable bar
At first glance, the inside of the store is a completely fashionable hideaway bar, but that should be the case. Actually, "Ginza Mazemen Yu-chan" is open only at lunchtime at the club bar "GINZA SUKI BAR" where music lovers gather.
The warm wooden walls arranged in a mosaic style are a masterpiece of the first owner of "GINZA SUKI BAR". Fashionable interiors and miscellaneous goods are the hobbies of the current shop owner.
Seats are counter seats only. The small interior, coupled with the location on the 5th floor of the building, makes you feel like a secret base with a "know-it-all" atmosphere.
◆ Mr. Takagi's recommended menu is "Fully equipped with local chicken mixed noodles"!
This time, we interviewed Mr. Takagi, the owner of "Ginza Mazemen Yu-chan".
Mr. Takagi was originally a regular of "GINZA SUKI BAR". After learning how to make mixed noodles at another store for about four years and consulting with the owner of the store to open the store himself, he said he was willing to lend the place.
It was a challenge in Ginza 6-chome, a fierce battle area where ramen shops and tsukemen shops are crowded, so although the struggle continued at the beginning of the opening, now the number of regulars has increased and it has just started to celebrate its 1st anniversary. Orbit. (Congratulations!)
――Please tell us about the menu of the shop.
Takagi-san:
We provide mixed noodles that allow you to enjoy the original taste of the ingredients without using chemical seasonings. Also, my motto is "What you can make yourself". It is a proud finish completed by a registered dietitian and a good cook and a three-legged race, such as char siu topping and yuzu pepper for taste change.
――What kind of sauce is used for mixed noodles?
Takagi-san:
It is simply made with oil and dashi soy sauce. Just because it's simple, we don't compromise on the two. The oil is a well-balanced mixture of Hinai chicken and young chicken oil.
Dashi soy sauce is made by adding domestically produced Soda-bushi, mackerel-bushi, kelp, dried sardines, etc. and soaking it for a whole day, boiling it for a moment, then soaking it for another whole day and then straining it. We use the method that carefully and carefully brings out the flavor.
――I was looking forward to the actual meal just by talking. Then, "Ginza Mazemen Yu-chan"'s [Our recommendation! ] Please tell me the menu.
Takagi-san:
At our shop, we have a basic mixed noodle called "Jidori mixed noodles" (800 yen) and an arranged menu of "Jidori mixed noodles". Among them, this time I would like to introduce the most popular "Jidori mixed noodles full equipment" (1,000 yen).
–Wow! There are lots of ingredients …! The noodles are completely hidden.
What is the difference between the basic "Jidori mixed noodles" and "Fully equipped"?
Takagi-san:
"Jidori mixed noodles"
・ 2 chicken char siu
・ 1 pork char siu
・ Menma
・ Mizuna
・ Chopped onions
・ Thread pepper
・ Yuzu pepper (for taste change)
Is topping, but if you make it "fully equipped" for an additional 200 yen,
・ Added 2 chicken char siu
・ Add 1 pork char siu
・ Add 1 egg
Will be upgraded to! We aimed to create a product that would give you a sense of satisfaction.
――This char siu looks delicious, but why did you decide to put two types of char siu, chicken and pork?
Takagi-san:
I just want customers to enjoy eating … Either way, I feel like something is missing. Chicken is made from local chicken breast, and pork is made from shoulder loin. Both are made by trial and error by low-temperature cooking, and the seasoning is simply salt and sugar. (* Pork is + and black pepper is also)
I say it myself, but it's very delicious, and customers are saying, "I want to eat it at the bar at night as a snack." This is also [our favorite! 】is not it.
――Are there any recommended ways to eat?
Takagi-san:
The noodles are entwined with sauce to some extent, so please eat it as it is at first. On the way, try changing the taste with yuzu pepper, lemon juice or fish ass prepared at the counter. When the noodles are running low, we recommend a free soup split as a 〆. If you add fish clauses there again, I wonder if you can eat deliciously until the end.
Both the fish-bushi and soup-wari soup use the dried bonito flakes and dried sardines left over after making the dashi soy sauce. The richness and umami will increase, so please try it.
【Recommendation! ] Actual food report on the menu
I had you hurry before it got cold!
Dashi soy sauce with rich flavor of fish ass is a little sweet and not too salty. The chicken oil gets stuffy at first, but if you eat it while entwining it with the toppings, it will be just right for you to get stuffy. Sauce is simply straight and delicious … !! I tried to change the taste of "deep and refreshing" alternately by making full use of fish ass and lemon juice, but both tastes hard to put on. In addition, the noodles are not only thick, but also have a slightly firm finish that makes them chewy, which makes them very satisfying.
Chicken char siu is elastic and moist. Even though it is pale, it is packed with umami. Black pepper does the best job for pork char siu, and you'll definitely want it as a snack. With handmade yuzu pepper, the refreshing spiciness became a good accent.
It was Mizuna that was an unexpected ambush. In fact, it seems that it is mixed with trefoil with a strong flavor, and it brings a refreshing feeling to the mouth that has been squeezed. This was the impression that the whole "Japanese" atmosphere of the mixed noodles was secretly put together.
Lastly, I had you split the soup, but as Mr. Takagi recommended, it is better to add a little fish clause and eat it ◎ !! The taste explodes and the words "Kuu …!" It was so delicious that it didn't come out. I have no choice but to drink up to the last drop …
――Thank you for introducing us to the very delicious mixed noodles.
Finally, please give a few words to Kokoshiru readers.
Takagi-san:
We are open in a place that is a little difficult to understand, but if you come, we will do our best to serve delicious mixed noodles, so please come and visit us!
It's kind of strange to eat Japanese-style mixed noodles in an exotic restaurant. However, it was very comfortable, and with the addition of Mr. Takagi's personality, I wanted to stay forever. It was a restaurant and food that made me want to teach people, and on the contrary, something that only I wanted to know.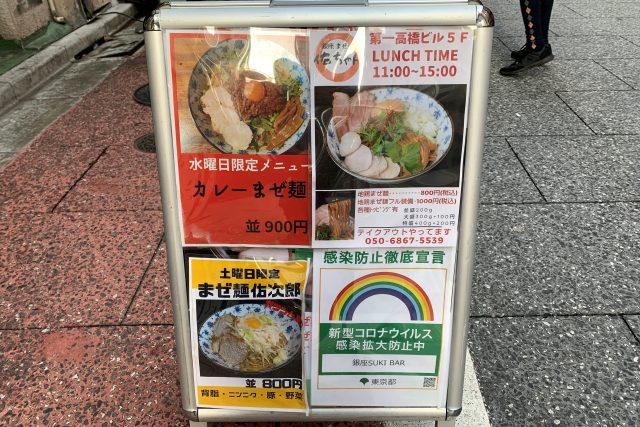 Currently, it is also supporting takeout, and it is said that a limited menu is also available on Wednesday and Saturday. (I'm curious about "curry mixed noodles"!)
Dear readers, please check out "Ginza Mazemen Yu-chan" when you visit Ginza.
"Ginza Mazemen Yu-chan"
* The information in this article is as of the time of publication. (2020/12/14)
* All prices include tax.