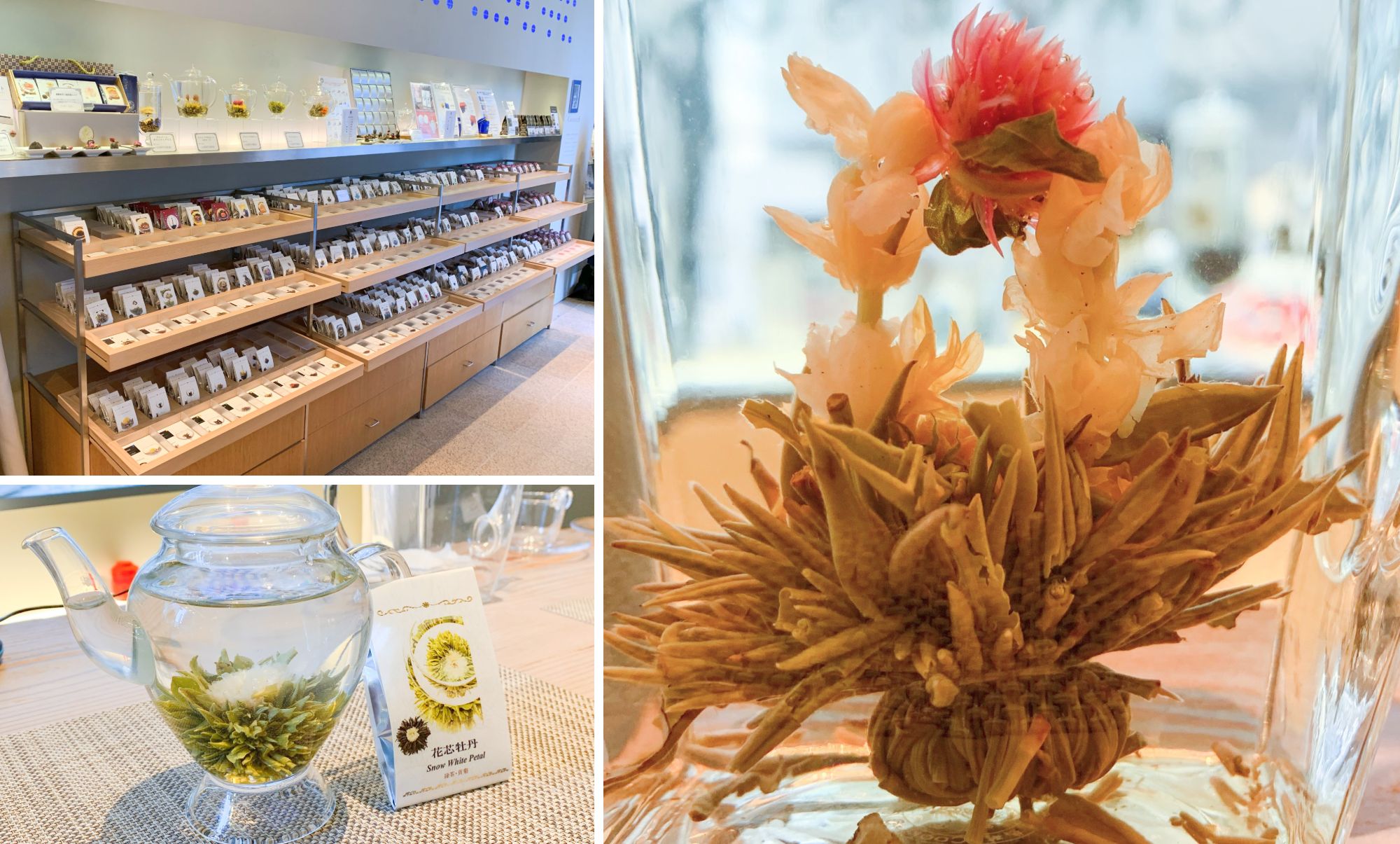 A corner where you can ask the shops and facilities in Ginza about the best things, people, places, and commitments [Our favorite! ].
This time, we visited Mr. CroesuS Ginza Main Store (hereinafter referred to as "Croesus"), which sells teas that bloom beautifully in teapots and craft teas .
About 5 minutes walk from Tokyo Metro Ginza Station, Exit A3. Follow Chuo-dori towards Shimbashi and turn left at the intersection with "Montblanc Ginza Main Store" and "Shiseido Parlor Ginza Main Store".
◆ What kind of tea is [craft tea]?
Craft tea originated in China.
Although it is named tea, it is not the type of tea itself like green tea and oolong tea.
Craft tea is made by crafting and molding Chinese tea leaves one by one with threads and putting real flowers with a Chinese herbal effect inside. There is no rule on the tea leaves used, and there are various types such as white tea base, green tea base, and black tea base.
I think it is easier to understand by looking at the real thing than explaining it in words, so please see this image.
---
---
Some people may have been surprised, "Well, what happened !?" (Actually, the author is one of them …)
By putting the tea leaves that have been hardened into small pieces in hot water, they will unravel as if they were blooming. Not only the taste and aroma, but also the appearance can be enjoyed, so it is a great tea for gifts as well as for special occasions.
Craft tea that blooms beautifully like this can be enjoyed as an underwater flower for about a week if it is transferred to water . Craft tea is a special existence that makes you want to teach people.
◆ Only "Croesus" handles the products of Mr. Mio, the inventor of craft tea-Interview with the manager, Mr. Izumi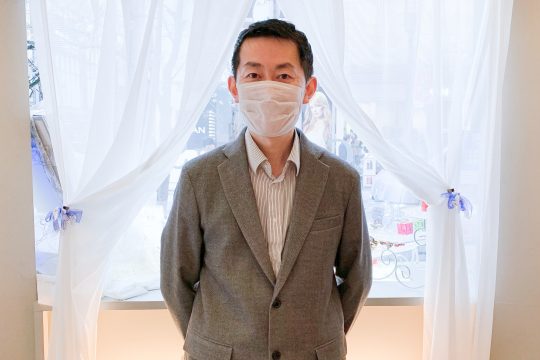 This time, we interviewed Mr. Izumi, the manager of Croesus, which specializes in more than 100 types of craft tea at all times.
Although it is a craft tea with an atmosphere like a traditional craft, its history is surprisingly short, and it was born in 1986 and recently. According to Mr. Izumi, since it was mainly used as a gift for diplomacy, there are many people who are unfamiliar with it because they do not know its existence even in China or confuse it with flower tea or jasmine tea.
It seems that there are many Chinese customers who are interested in visiting the shop while sightseeing in Ginza.
――When you look inside the store, it seems that the products are divided into two types, craft tea (standard) and Kogei tea (premium) . Can you explain about Kogei tea?
Izumi:
There is a person named Ohosei who is the inventor of craft tea and has a workshop in Huangshan, Anhui Province. His craft tea is not only excellent in appearance and artistry, but also uses only non-polluting natural materials and pays attention to health, so it is called Kogeimeicha. I call it and distinguish it from others.
――What are the characteristics of taste and appearance?
Izumi:
Green tea is Huangshan Maofeng, one of China's Famous Teas, and black tea is made from only the special tea leaves of Keemun, a specialty of Anhui Province. In addition, the craft tea before it is put in hot water is generally round, but there are a wide variety of teas made by Mr. Mio, and it is also characterized by many unique animal motifs.
Nowadays, various craft teas are made in various parts of China, but as far as Kogei tea is concerned, only our company directly deals with it in Japan, and the product lineup is mainly Kogei tea.
However, it is not the best choice between Kogei tea and other craft teas. Many of the craft teas look gorgeous, so we often recommend them as gifts, and our most popular product is one of the standard craft teas. I often hear that the recipient was also very pleased.
◆ [Our recommendation! ] Is "Over the Rainbow" with cute arches of Senboku and Jasmine
Here, Izumi-san said, "Our recommendation! ] As a product, we introduced the most popular product "Over the Rainbow" (360 yen including tax).
The base is green tea. An arch of red calendula and white jasmine hangs over the yellow calendula. We had you actually make tea, so please watch the video.
* The video is edited short. Please note that the color tone may change slightly in the video due to the natural light.
Pon! The moment the flowers popped out, I was very excited. You will be able to take a closer look at how the tea leaves gradually open.
This healing moment is the charm of craft tea.

The taste is soft and the subtle floral nuances pass through the nasal passages and are very refreshing. It has an atmosphere like herbal tea, and I personally wanted to match it with sweets.
[Directly from Izumi! Tips for making good craft tea]
1. 1. After putting the tea leaves in the tea pot, pour boiling water until about the 8th minute of the pot. It is often said that 70-80 degrees is the best for Chinese tea, but in the case of craft tea, the opening of tea leaves will be poor unless it is hot water.
2. Cover the teapot and leave it for about 10 minutes. Compared to Japanese green tea, Chinese green tea is less astringent and lighter, so Izumi says that it is just right for Japanese people to leave it for as long as 10 minutes to bring out the flavor and richness of the tea leaves. The temperature will drop and it will be ready to drink.
◆ We want to provide people who are depressed with a relaxing time with craft tea.
–Thank you for your time of peace. "Over the Rainbow" had a strong presence of flowers in the taste, but are there any flowers that have a strong taste claim?
Izumi:
It is chrysanthemum that has a strong claim. There are some customers who repeatedly purchase only craft tea using chrysanthemums, perhaps because it is a habit. In terms of taste, I also like the famous tea "Kashinbotan" (210 yen including tax), which has the nuances of Kogiku.
――It's wonderful that you can appreciate craft tea as an underwater flower after you finish using it. If it's so beautiful, I want to decorate it for as long as possible, but are there any tips to make it last longer?
Izumi:
It may be a little different from the trick, but if you want to decorate it for a long time, you may want to choose a yellow flower such as marigold, which is hard to lose color. Red flowers such as Senboku fade quickly.
-That's right! I will remember.
As I was interested in earlier, the shape of the glass teapot used is also very cute.
Izumi:
Thank you very much. This is our original teapot, and although it is not displayed, the tea strainer is actually made of transparent glass. It's not surprising to find a teapot with a transparent body, and there are times when general stores and restaurants want you to buy only a teapot.
By the way, when making craft tea, it goes without saying that you should use a highly transparent teapot, but if the size is small, the beautiful shape will collapse. It is recommended to choose one that has a certain height.
――Thank you for your kind guidance.
Finally, please give a few words to the readers.
Izumi:
I think there are many people who feel depressed or exhausted due to the corona sickness. Because of this time, I want you to make as much time as possible to rest your mind and body. We also operate an online shop, so we hope you will spend a peaceful time with the craft tea of "Croesus".
Originally, Mr. Croesus said that there were many female customers, but after the epidemic of the new coronavirus, it was impressive that the number of young male customers seeking craft tea for home use increased for some reason.
In this era, everyone needs healing regardless of gender or age. Why don't you give a special relaxing time to your loved ones or yourself with craft tea?

"Craft tea specialty store CroesuS Ginza main store"
| | |
| --- | --- |
| Street address | 1F, Serenity Building, 7-10-10 Ginza, Chuo-ku, Tokyo 104-0061 |
| business hours | 11: 00-20: 00 |
| Regular holiday | Irregular holidays |
| phone number | 03-5568-2200 |
| Other | No parking |
| Official SNS | https://mercure.shop-pro.jp/ |
* The information in this article is as of the time of publication. (2020/12/24)