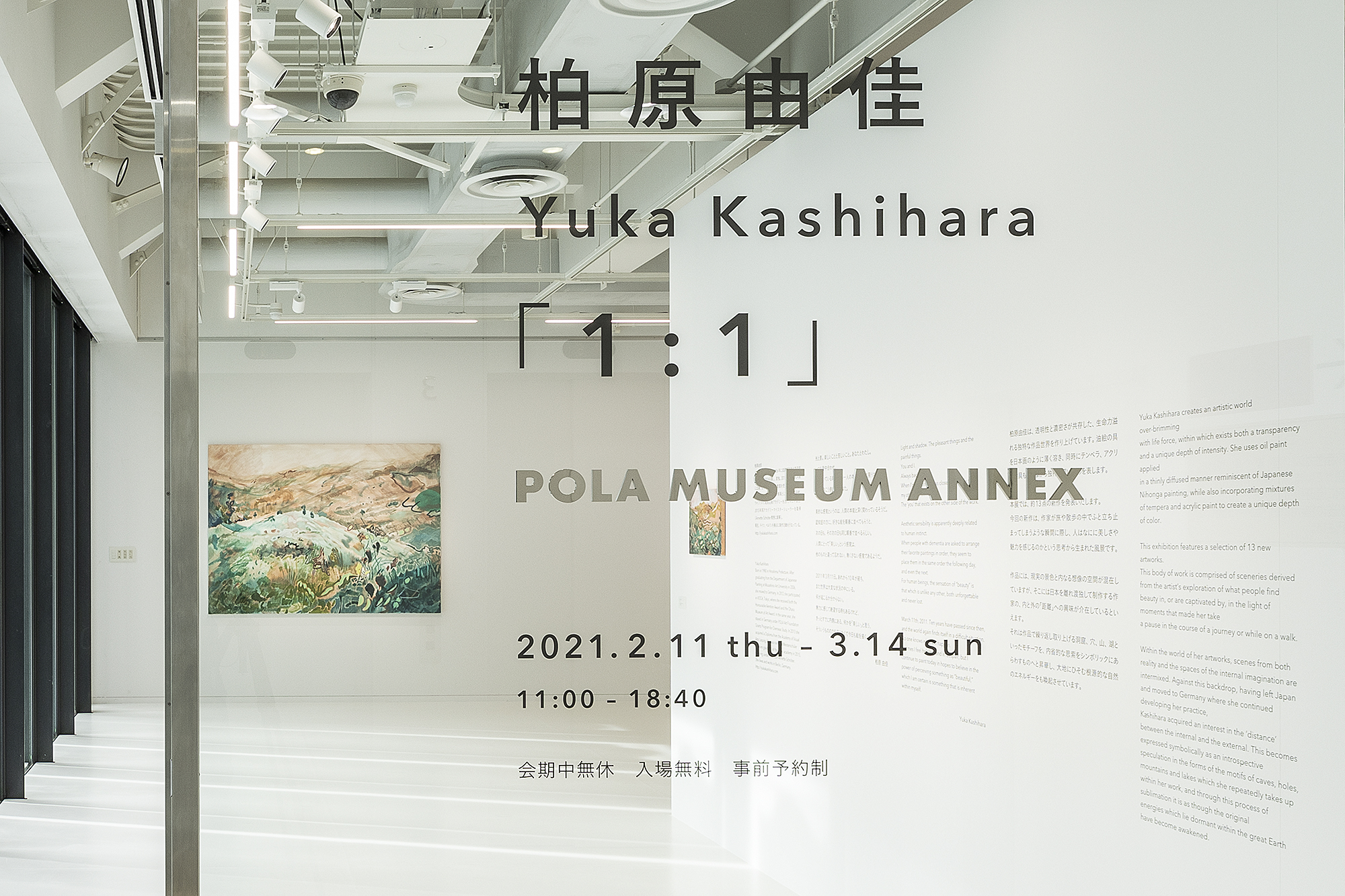 A unique world of works full of vitality
At Pola Museum Annex (Ginza, Chuo-ku, Tokyo), an exhibition "1: 1" by young artist Yuka Kashihara, who is based in Berlin, is being held.
---
---
Kashiwabara was born in Hiroshima Prefecture in 1980. Graduated from Musashino Art University, Faculty of Art and Design, Department of Japanese Painting in 2006, and moved to Germany. In 2012, he won the Honorable Mention Award and the Ohara Museum of Art Award at the "VOCA Exhibition". In the same year, he trained in Germany as an overseas trainee of the Pola Museum of Art Foundation. After graduating from the Leipzig Academy of Visual Arts in 2013, he studied under Annette Schröter at the Academy in 2015 and acquired the Meister Schröter. Currently living in Berlin.
In this exhibition, we will introduce the world of works created by Kashiwabara, which is full of vitality and where transparency and density coexist.
Kashiwabara creates a unique world of works full of vitality, where transparency and density coexist. Her paintings begin with a unique mix of semi-oiled substrates that are applied to the canvas, based on traditional Western classical painting techniques. On the original canvas created there, the oil paint is melted thinly like a Japanese painting, and at the same time, it is drawn with tempera paint to express a unique deep color.
In Kashiwara's work, the actual scenery and the inner imaginary space are loosely woven together. It can be said that the background to this is her interest in the "distance" between the inside and the outside, as she continues to work in Germany after leaving Japan. The physical distance between Germany and Japan, the spiritual distance between each culture, and the distance between you as a Japanese and yourself in Germany. It sublimates the motifs of caves, holes, mountains, and lakes that she repeatedly mentions in her work into symbolic representations of introspective thoughts, and also evokes the fundamental natural energy hidden in the earth.
Exhibition overview ∥
Exhibition name: Yuka Kashihara "1: 1"
Date: February 11th (Thursday / holiday) -March 14th (Sunday), 2021 [32 days] * Open all year round: 11:00 – 18:40
Admission: Free admission / Advance reservation system via the web (Admission is possible on the day only if there is space in the admission slot)
Meeting place: Pola Museum Annex (3rd floor, Pola Ginza Building, 1-7-7 Ginza, Chuo-ku, 104-0061)
Access: Immediately from Exit 7 of Tokyo Metro Ginza 1-chome Station / 6 minutes walk from Exit A9 of Tokyo Metro Ginza Station Main event: Paula Orbis Holdings Co., Ltd. Cooperation: Tomio Koyama Gallery
URL : www.po-holdings.co.jp/m-annex
* Subject to change depending on the situation. Please check the latest information on the gallery website before visiting.