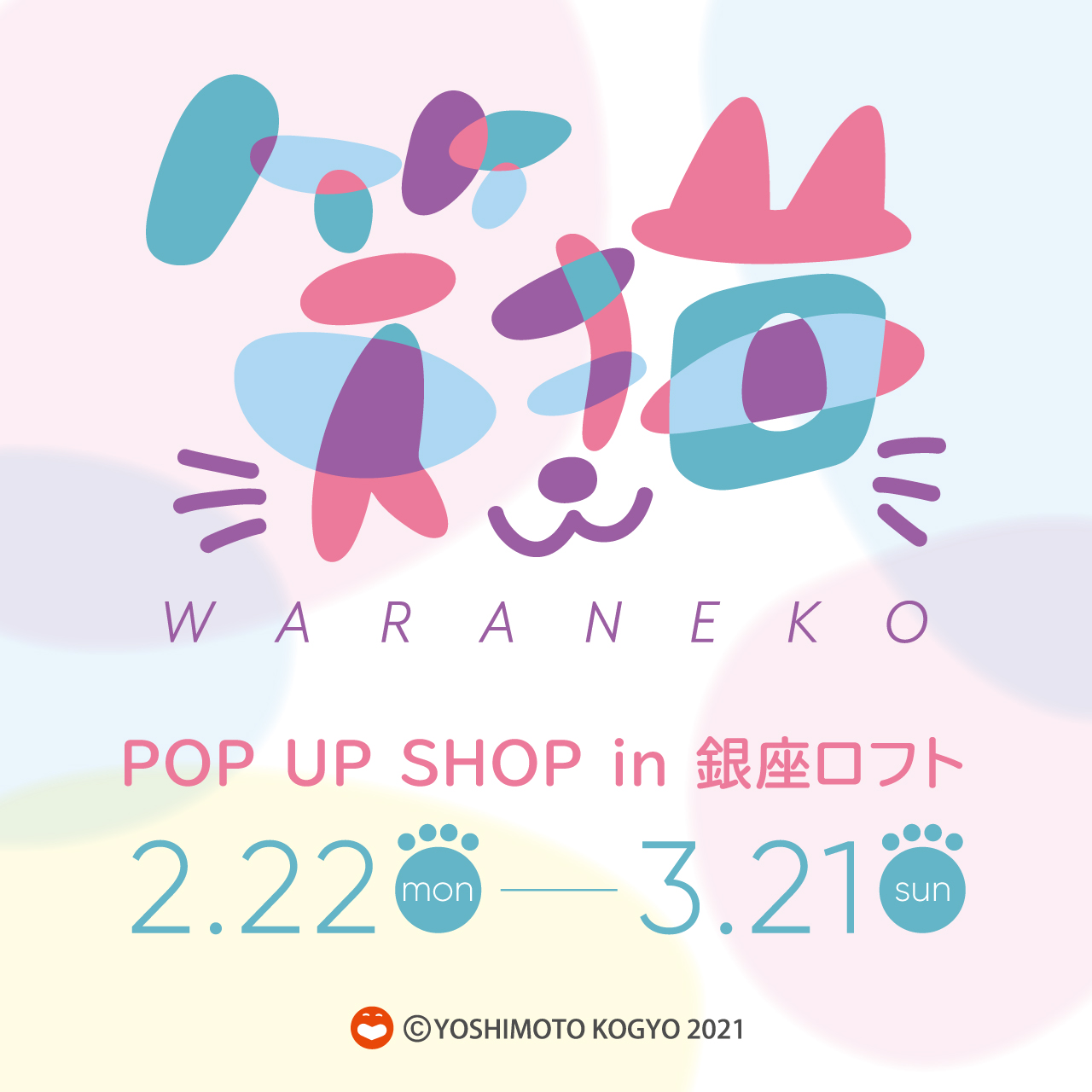 At Ginza Loft, "Comedy" and "Cat" from Yoshimoto Kogyo (Chuo-ku, Osaka) from February 22nd (Monday) to March 21st (Sunday), 2021
We will hold a "waraneko" POP UP SHOP with the theme of.
Omiya Rakuun Yoshimoto Theater-based unit "Omiya Seven" collaborates with cats to sell character miscellaneous goods, cat art miscellaneous goods by 6 entertainers who are good at art production, and many other products related to "comedy" and "cats". I will.
At the venue, an exhibition event "Entertainer and Cat Exhibition" will also appear, which will bring healing and smiles to the theme of entertainers and cats. In addition to the goods of Yamauchi, Tenjiku Kawahara, Miki Asei x Neko, the popular illustrator Sawa Yumika, the excellent painter, Monyo Chita Pomichi, and Rika-chan created the illustrations with the theme of "Entertainer and Cat". We also sell collaborative goods.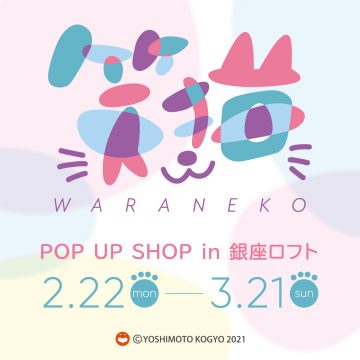 < Overview of " Laughing Cat POP UP SHOP in Ginza Loft" >
◇ the period: 20 2 1 February 22 (Monday) to March 21 (Sunday)
◇ Sales floor : 6th floor Variety miscellaneous goods sales floor
◇ Products : Approximately 100 types planned
---
---
◇ participation entertainer: Omiya Seven "Go shogi, GAG, Gerrard down, Sue spread not, Tamonzu, Madji Cal Lovely", eel Kazuhiro (silver Shari), Ikko Sakuma, Kenichiro Sakurai (Gion), Shuhei Nakano (Kaerutei), and the other Middle school students other
◇ Product examples: "Omiya Seven Cat Goods " series, " Entertainer Cat Art Goods " series, etc.

■ "Omiya Seven Cat Goods" 6 groups of " Omiya Seven " are now available as cat characters!
・ Ring note 1 type ・ ・ ・ 1,320 yen ・ Clear file 7 types ・ ・ ・ 660 yen
・ Acrylic key chain All 6 types ・ ・ ・ 825 yen
・ Blind can badge All 7 types ・ ・ ・ 660 yen etc.
■ "Entertainer cat art goods" Cat art work series drawn by entertainers 
・ Acrylic key chain all 9 types ・ ・ ・ 770 yen ・ Can badge all 8 types ・ ・ ・ 550 yen ・ Clear file all 9 types ・ ・ ・ 660 yen etc.
■ Popular fortune-teller Love Me Do special supervision! Cat face fortune-telling panel exhibition
You can enjoy the personality diagnosis of the cat by looking at the face of the cat on the panel.
Good luck goods supervised by Love Me Do will also be on sale at the venue.
[Purchase gift] * As soon as it runs out, you will receive an "Omiya Seven Cat Sticker" for every purchase of 2,000 yen including tax for the products in the venue during the end period.
* The design will be given at random.
* All prices include tax