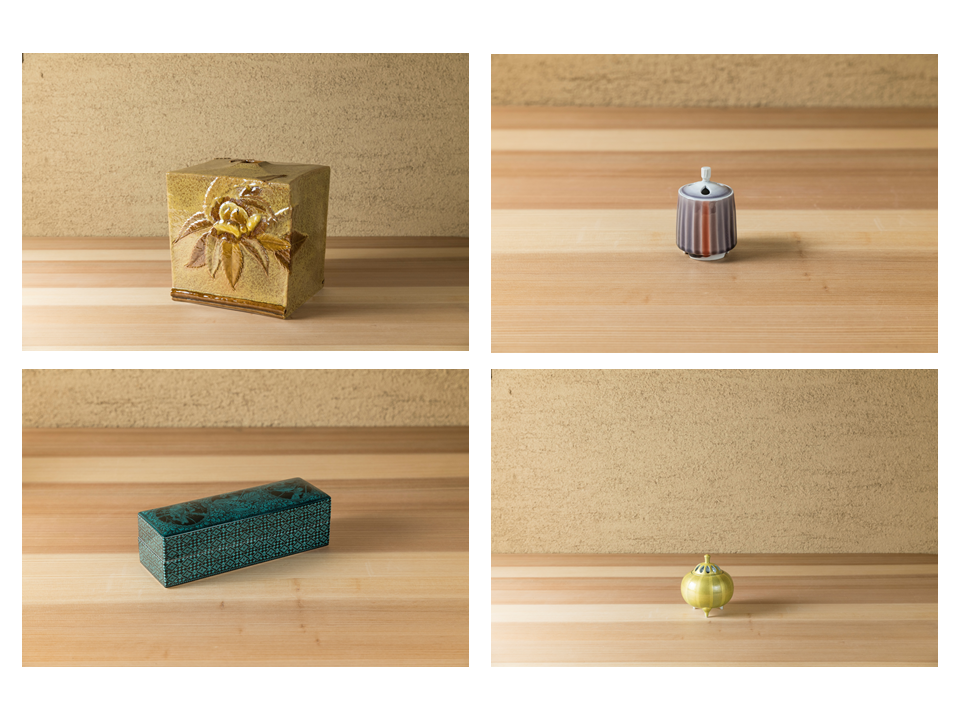 Painting ceramics that represent Japan and continue to be loved by the world
At Ginza Tsutaya Bookstore (GINZA SIX 6F, Chuo-ku, Tokyo), Ishikawa Prefecture's traditional industry Kutani ware pottery exhibition "-Kutani spectacle-", which boasts a history of about 360 years, will be held at the in-store event space GINZA ATRIUM on March 2 It will be held from Sunday (Tuesday). In this exhibition, we will exhibit and sell the works of Kutani ware four kilns that approach the essence of beauty by pursuing the original technique from Komatsu city among Kutani ware.
Ginza Tsutaya Bookstore is a bookstore that connects art, Japanese culture, and living through books and proposes "living with art." This time, we will hold an exhibition by four kilns that are active in Komatsu even in Kutani ware, which has many fans all over the world because of its splendor and elegance.
Komatsu City, which is a famous production area of ​​Kutani ware, faces the Sea of ​​Japan and is blessed with abundant nature, but in winter compared to the Pacific Ocean side, there is a lot of rainfall such as rain and snow, and the sunshine hours are short. .. Kutani artists who work in such a climate naturally seek "light", avoid rain and snow, and spend more time focusing on their works. I think that the works created from that time have amazing density and expressiveness, and the powerful and rich paintings and vivid colors that are characteristic of Kutani have come to be artistically expressed. ..
In this exhibition, works will be produced under the four themes of "brilliance (vividness of color)", "rigidity (strength put in)", "depth (depth of abyss)", and "aya (gorgeous pattern)". We hope that the artists of the four kilns will feel the essence of their unique aesthetic sense, and enjoy the new world of Kutani ware, which is one of Japan's most beautiful ceramics.
---
---
Special page: https://store.tsite.jp/ginza/blog/art/18756-1627440219.html
Introduction of four kilns
"Tsuyoshi (strength put in)" Fukaka pottery kiln (Shinkoutoyo)
In the early Taisho era, the first Isokichi started building a base material centered on figurines. After that, the kiln has a world view that cannot be seen anywhere else, with the unique color expression of the Asakura family, which incorporates decorations by Kutani Wucai, and powerful sculptural elements.
Authors: Isokichi Asakura (3rd generation), Hiroaki Asakura, Isokichi Asakura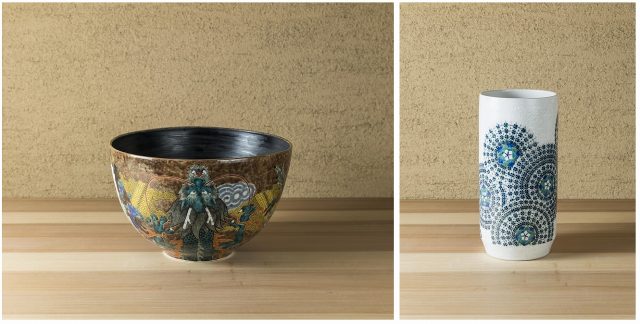 "Brightness (vividness of color)" Yasokichi Tokuda 4th (Yodaito Kudaya Sokichi)
The Kutani ware clan that has continued since the Meiji era. Currently in his fourth generation, with "tradition is a series of innovations" in mind. The technique of "Yosai" that creates beautiful gradations is very popular from overseas and is permanently exhibited at the British Museum in the United Kingdom.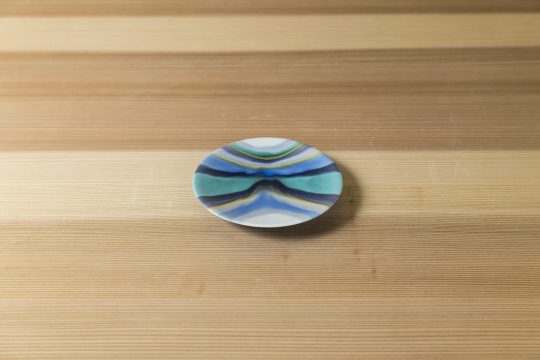 "Deep (Abyss)" Mao Kiln (Shinsei Gama)
Since its founding, the Mao Kiln, which was opened by Tadao Miyamoto in Hiraomotemachi, Komatsu City in 1961, has produced works that are particular about the beauty of painting and the beauty of colors, which are the charms of Kutani ware, by hand in all processes. ..
There are surprisingly many styles of painting, from the ones with the style of Kutani and Yoshidaya, which express auspicious sentences such as mandarin duck, crane, and Shochikuume with delicate line drawings and heavy colors, to the matiere of Kuresu and Japanese paint like copperplate painting. There is a wide range of things, from simple and urban ones created by the combination of coloring by.
Writer: Masao Miyamoto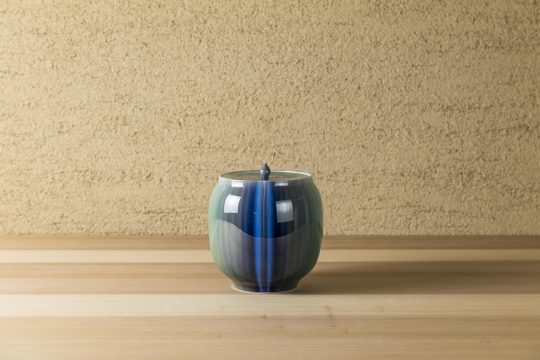 "Aya (gorgeous pattern)" Kinzangama
Aiming for the first Nishikiyama pottery in the 33rd year of the Meiji era, he inherited the gorgeous tradition of Kutani for more than 80 years, and while making new attempts, he aimed to complete the golden painting Kutani. To reach.
Authors: Minori Yoshita, Yukihiro Yoshida, Rumiko Yoshida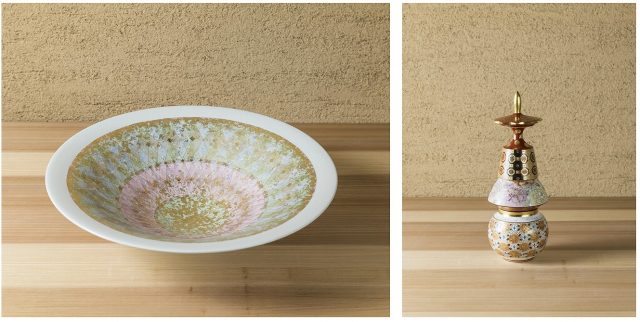 -Scenery of Kutani-
Session | March 2nd to March 12th Venue | Ginza Tsutaya Bookstore GINZA ATRIUM
Time | 11: 00-20: 00
Organizer | Ginza Tsutaya Bookstore Cooperation | Maruhashi Planning Co., Ltd., Nishikiyama Kiln Co., Ltd. Inquiries | 03-3575-7755 / info.ginza@ccc.co.jp
※free entrance
Special page: https://store.tsite.jp/ginza/blog/art/18756-1627440219.html
Scheduled to be sold at stores and online stores
* The online store will start selling from noon on March 5th. Details will be released on the special page later. Only some works are available.
The history of Kutani ware begins in the Edo period. A porcelain kiln was opened in 1655 when a pottery stone was discovered in the Kutani village of the Daishoji clan, a branch of the Kaga clan. Ceramics produced during this period are commonly referred to as "Kutani". However, the Kutani kiln will be abolished in about 50 years. Approximately 100 years later, the master craftsman of Kyo ware, Aoki Mokubei, was invited to open the Kasugayama kiln in Kanazawa. Kimai will return to Tokyo the following year, but Sadakichi Honda, who came with him as an assistant, discovered Hanasaka pottery stone and started porcelain production at the current Wakasugi kiln in Komatsu city. Eventually, various kilns called "Revival Kutani" were opened in various parts of Kaga, and the production of Kutani ware that continues to this day began. In the Meiji era, Kutani ware was actively exported and received high praise from overseas as "Japan Kutani". And while inheriting the tradition from the Edo period, new techniques and styles are being created one after another until the present day.
Ginza Tsutaya Bookstore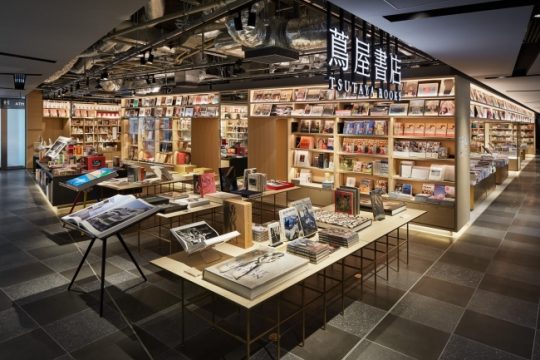 We propose "living with art" by connecting art, Japanese culture and living through books.
Address: 6-10-1, Ginza, Chuo-ku, Tokyo 104-0061 GINZA SIX 6F
Phone number: 03-3575-7755
Business hours: Please check the store homepage.
Homepage: https://store.tsite.jp/ginza/
Facebook: https://www.facebook.com/GINZA.TSUTAYABOOKS/?ref=bookmarks
Twitter: https://twitter.com/GINZA_TSUTAYA
Instagram:https://www.instagram.com/ginza_tsutayabooks/