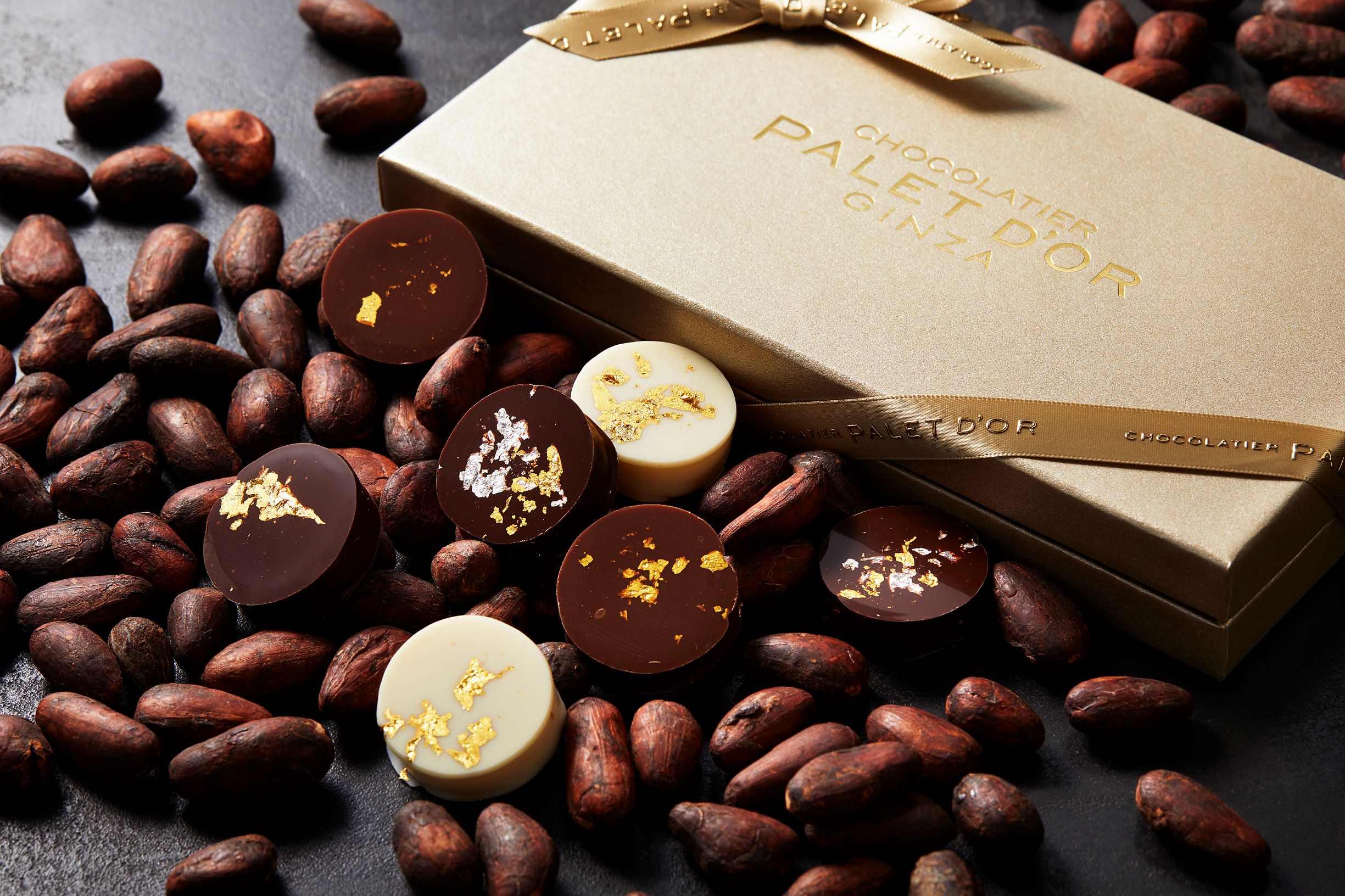 April 22, 2021 (Thursday) A new store of the chocolate specialty brand "Chocolatier Parade All" by Chocolatier Shunsuke Saegusa, who handles full-scale chocolate making from cacao beans, was opened on the 1st floor of EXITMELSA in Ginza 5-chome. I will!
The new store "Chocolatier Palet D'or GINZA" to open this time has a calm store design with the theme of "classic modern". Including "Sachertorte Blanc" limited to the Ginza store, we have chocolates and chocolate sweets that color your life in various scenes, such as gifts for loved ones and rewards for yourself.
We also offer take-out products unique to Chocolatier Palet D'or, such as "Chocolatier Nespa ?!", a drink that is transparent but you can enjoy the scent of cacao, and soft serve ice cream made from cacao. Please look forward to the new store where you can enjoy the careful manufacturing based on homemade chocolate, which handles the entire process from cacao sorting and roasting!
Store name: Chocolatier Palet D'or GINZA
Opening date: Thursday, April 22, 2021 / Business hours: 11: 00-20: 00 / Regular holiday: Equivalent to the facility Address: 5-7-10 Ginza, Chuo-ku, Tokyo Nakamura Sekizenkai Building EXITMELSA 1F
[Products handled]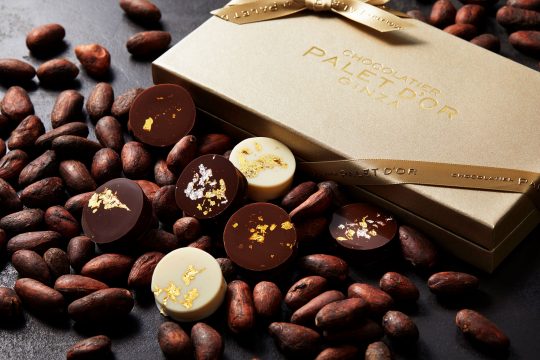 "Pared All Quartet" (GINZA store only)
4 pieces 1,620 yen (tax included)
8 pieces 3,240 yen (tax included)
12 pieces 4,860 yen (tax included)
A disc-shaped bonbon chocolate that symbolizes the brand. A quartet of simple bitter and milk, homemade white chocolate ganache made from cocoa butter squeezed oil, and rich flavored ganache with homemade cocoa powder added. Enjoy the assortment where you can feel the evolution of Chocolatier Palet D'or.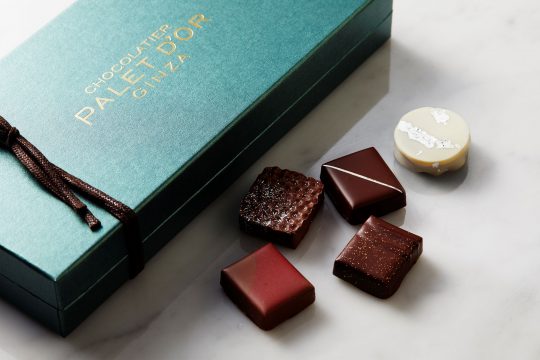 ---
---
"Liquors Collection" (GINZA store only)
5 pieces 2,700 yen (tax included)
10 pieces 5,400 yen (tax included)
Chocolatier Palet D'or's popular alcohol-themed bonbon chocolate. Taking the opportunity of opening the Ginza store, we have prepared an assortment that you can enjoy beyond the genre of alcohol. A luxurious assortment of chocolates that make the most of each individuality is recommended as a gift for those who like alcohol and as a companion for a relaxing time at home.
Sake: Asahi Sparkling Champagne: Dom Perignon Whiskey: The Macallan 18 Years Brandy: Hennessy X.O
Wine: Kenzo Estate rindo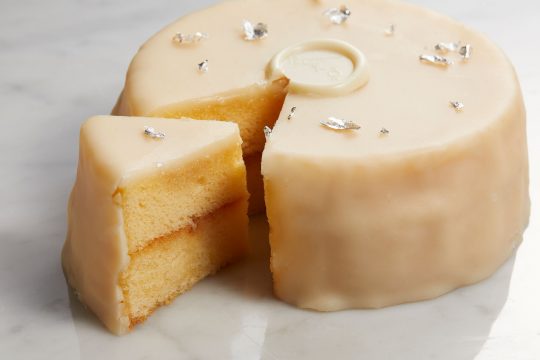 "Sachertorte Blanc" (GINZA store only)
Approximately 13 cm 3,888 yen (tax included)
A unique "white Sachertorte" made by arranging Sachertorte, a classic Viennese confectionery, using homemade white chocolate. The elegant scent of whiskey soaked in the dough and the scent of cacao enhance each other, and the crispy and delicate texture of grazul (sugar coating) is a pleasant white chocolate cake. Enjoy the taste that can only be produced by Chocolatier Palet D'or, which produces homemade white chocolate from the squeezed oil of cacao butter.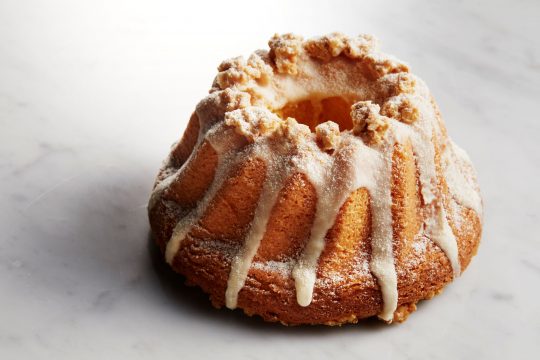 " Cake Pared All Blanc (Fromage)" (GINZA store only)
Approximately 13 cm 2,916 yen (tax included)
A moist butter cake with a mellow scent of cheese. Homemade white chocolate made from squeezed cacao butter is blended to create a deep and timeless taste. It goes well with wine and whiskey as well as tea and coffee, so you can use it for various purposes such as a relaxing after-meal time, a gift for your loved ones, or a souvenir. Please enjoy the limited edition products that can only be obtained at Chocolatier Palet D'or GINZA.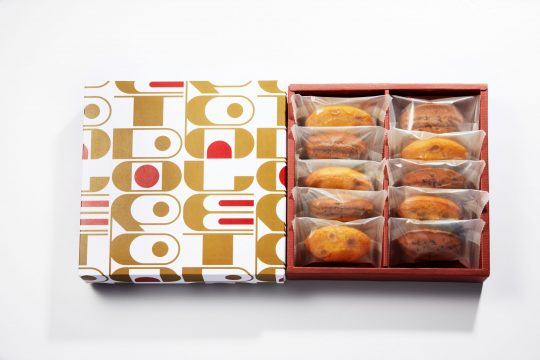 "Assorted baked sweets (chocolate) Noir & cacao Bran) "
5 pieces 1,620 yen (tax included)
10 pieces 3,240 yen (tax included)
15 pieces 4,860 yen (tax included)
With the opening of the Ginza store, an assortment of baked sweets that have been renewed together with the package. "Cacao Blanc" with a gentle taste using homemade white chocolate.
"Chocolate Noir" is a moist dough that matches the flavor of fragrant chocolate and the texture of hazelnuts. An assortment of two types of baked sweets that imitate the shape of a cacao pod with a colon is a perfect item for gifts.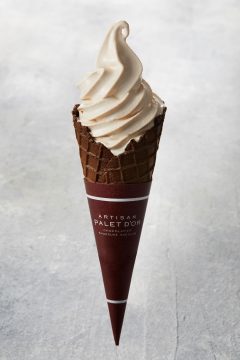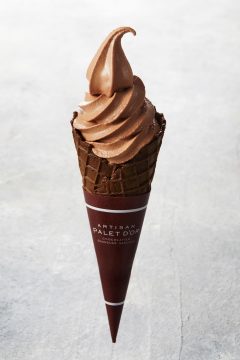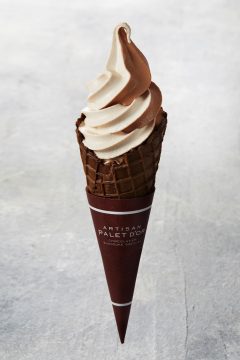 Until now, "Soft Pared All" was only available at Kiyosato's workshop or Aoyama store (from the photo above, Blanc Noir Rendezvous for 648 yen each (tax included)).
In addition, although it is transparent, it has a cacao scent! Drink "Chocolat Nespa ?!". We also offer take-out products that can be added to one of the new pleasures of walking in Ginza, such as the drink "Bean to Cocoa" that uses homemade cacao powder!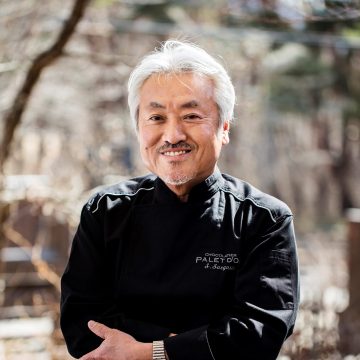 <About Chef Shunsuke Saegusa>
Studied under the late Mr. Juichi Yasui, a major figure in the Western confectionery world, at the prestigious hotel "Hotel Plaza" in Osaka. Independently developed a patisserie in 1991. After meeting the late Maurice Bernacion, a master of Lyon, France, and receiving a scent as a chocolatier, he opened a full-fledged chocolate specialty store "Chocolatier Parade All" in Osaka in 2004 and in Tokyo in 2007. After that, in 2014, he started the Bean to Bar workshop "Artisan Palet D'or Kiyosato", which handles all processes from cacao beans to chocolate.
In 2019, we will open the white chocolate Bean to Bar brand "Chocolate Palais de All Blanc" ahead of the rest of the world. We handle more than 10 tons of chocolate a year, consistently make cacao beans to bonbon chocolate as a chocolatier, and the finest chocolate produced by sticking to the original taste and aroma of cacao is a completely original that is widely noticed from home and abroad. Homemade chocolate.
It was introduced in many media such as 2010 TV TOKYO "Solomon Ryu", 2014 NHK "Today's Menu", 2018 NHK "Professional-Work Style".
<About Chocolatier Palet D'or>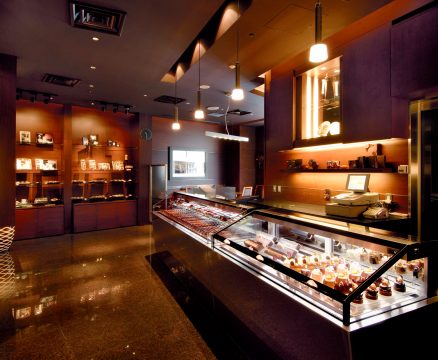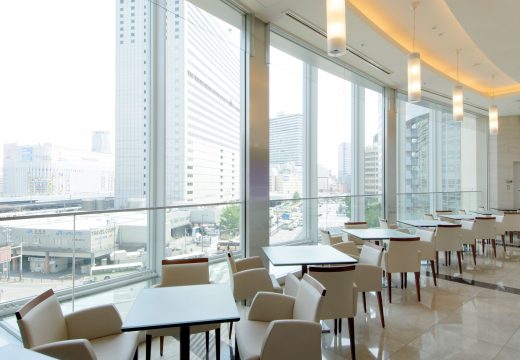 Chocolatier, which opened in 2004 at Harbis PLAZA ENT (Nishi-Umeda, Osaka) and in 2007 at the Shin-Marunouchi Building (Marunouchi, Tokyo), sells as many as 50 types of bonbon chocolate and chocolate-based gateau. At the salon, you can enjoy various ways to enjoy chocolate, such as original drinks and parfaits using cacao, a cafe specially blended with chocolate, bean to cocoa using homemade cacao powder, champagne and whiskey and chocolate mariage. I'm proposing.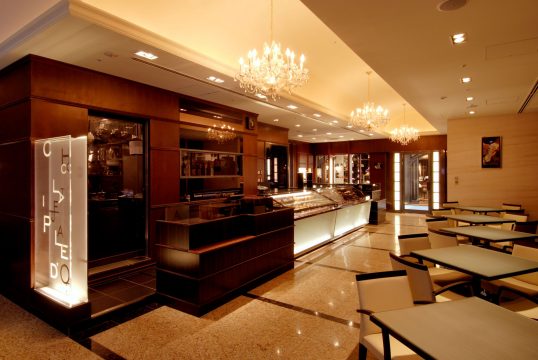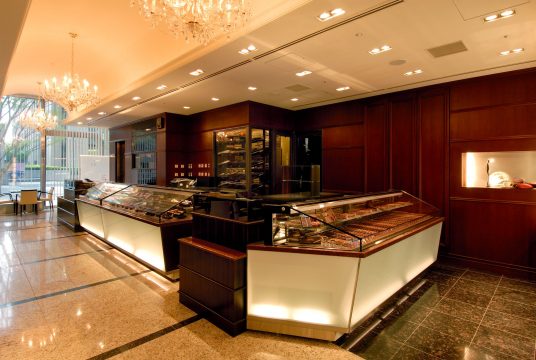 <About Artisan Palet D'or>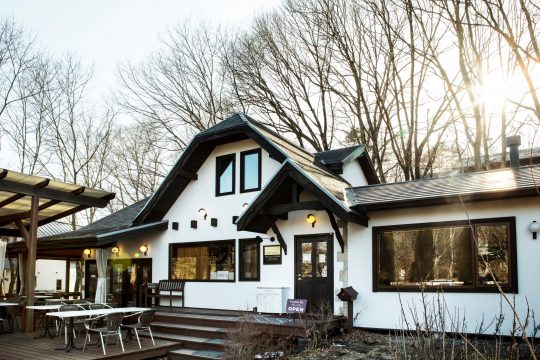 In 2014, we opened a workshop in Kiyosato Kogen where we roast cacao beans selected from all over the world in the best condition for each bean and finish the whole process up to chocolate.
The Bean to Bar workshop, where chocolatiers make chocolate from the cacao bean stage on a scale of 10 tons per year, is rare in the world and is the first in Japan. Surrounded by beautiful nature overlooking Yatsugatake, the cool environment similar to a mountain resort in Europe is ideal for storing cacao and aging chocolate. A Bean to Bar studio unique to Chef Saegusa, who has a career of over 40 years and has been handling many chocolates. He has won numerous awards at the International Chocolate Awards 2019 Asian and World Championships, as well as at the Academy of Chocolate 2019/2020 in the United Kingdom.
<About Chocolatier Parade All Blanc>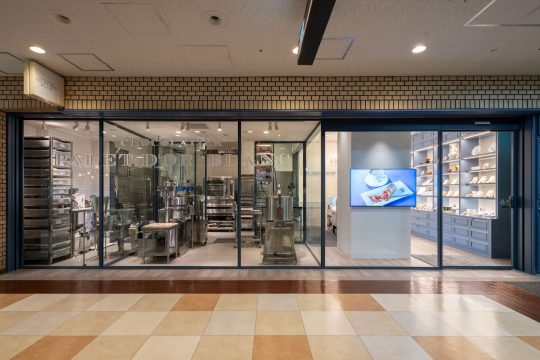 Even among Bean to Bar makers who consistently handle everything from cocoa beans to chocolate, it is rare to squeeze cocoa butter in-house to make white chocolate. This brand was born from Chef Saegusa's strong desire to express the new world of white chocolate produced from homemade cacao butter. This is the world's first attempt to handle a wide range of products such as white chocolate using homemade cacao butter and baked sweets, drinks, and soft serve ice cream produced from the homemade cacao powder produced at that time. You can enjoy products that you cannot taste anywhere else. Homemade white chocolate won all gold, silver and bronze at the International Chocolate Awards 2020 Asian Games.
≪Store details≫
■ Chocolatier Palet D'or
GINZA store EXITMELSA 1F, 5-7-10 Ginza, Chuo-ku, Tokyo 104-0061 / 03-5962-8787
* Opened on April 22, 2021
TOKYO store Shin-Marunouchi Building 1F, 1-5-1 Marunouchi, Chiyoda-ku, Tokyo 100-6501 / 03-5293-8877
OSAKA store Harbis PLAZA ENT 4F / 06-6341-8081, 2-2-22 Umeda, Kita-ku, Osaka 530-0001
■ Artisan Palet D'or Kiyosato Store 3545-931 Kiyosato Asahigaoka, Takane-cho, Hokuto-shi, Yamanashi 407-0301 / 0551-48-5381
■ Chocolatier Parade All Blanc Aoyama Store Aoyama Twin East Building B1F / 03-3470-0613 1-1-1 Minami Aoyama, Minato-ku, Tokyo 107-0062
■ La Trie Parade All (Workshop & office) Oval Liaison Co., Ltd. Headquarters 1-28-3 Tarumi-cho, Suita-shi, Osaka 564-0062 / 06-6337-1768
Home page http://www.palet-dor.com