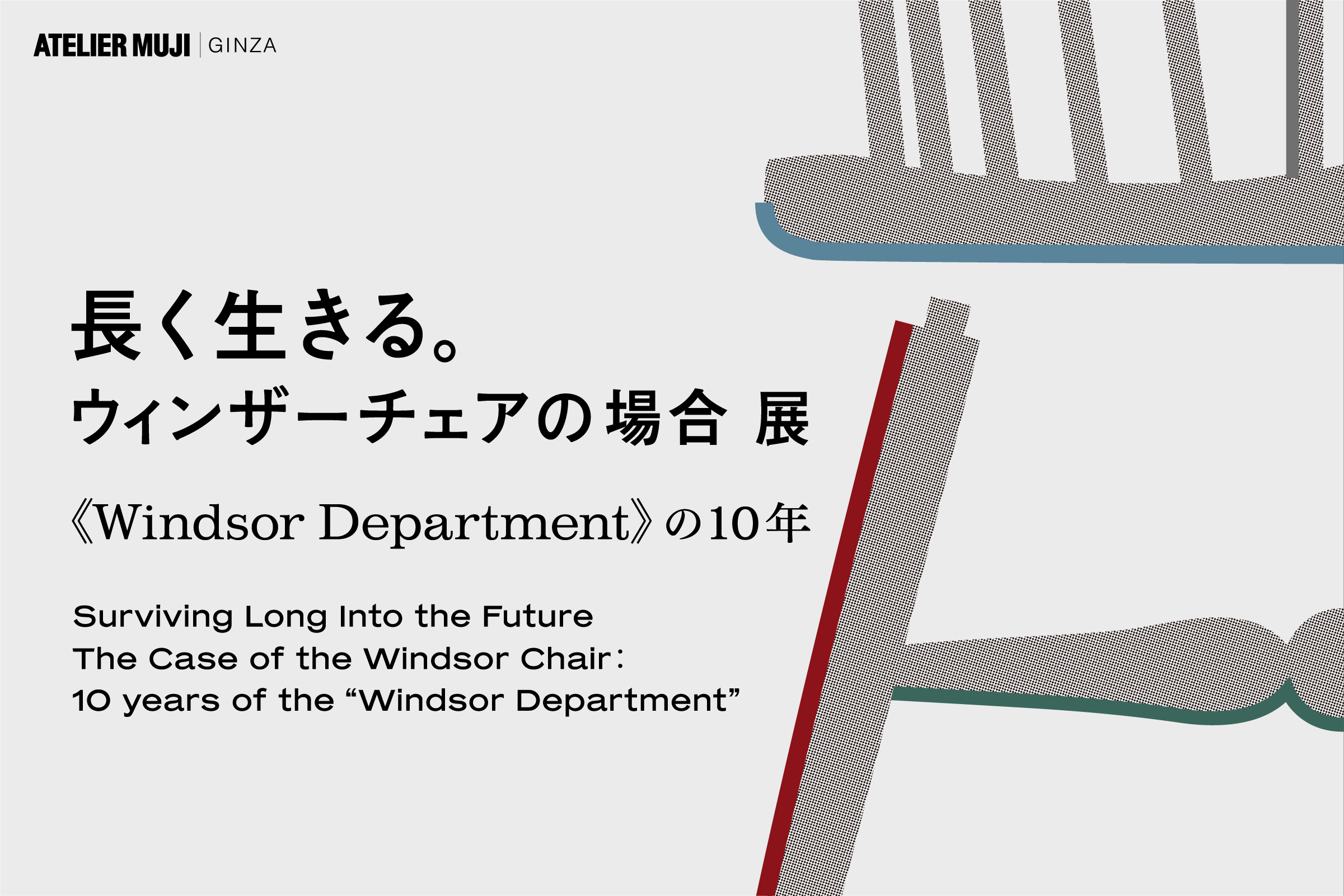 ATELIER MUJI GINZA (Chuo-ku, Tokyo / Mujin Ryohin Ginza store) will be holding "Living for a long time. In the case of Windsor chair" from May 14th (Friday) to July 4th (Sunday), 2021. "Windsor Department" 10 years "will be held.
How many chairs do we meet and sit there in our lives?
It is up to each person to decide what kind of chair to live with. And I think everyone has a "memorable chair" in their hearts.
---
---
At ATELIER MUJI GINZA, in 2019, "Living for a long time. The development of "DNA" of bentwood chairs represented by <Thonet> was exhibited with 50 chairs. And this year, three sets of designers, Yasushi Fujimori, DRILL DESIGN, and INODA + SVEJE, who were fascinated by the world, focused on "Windsor chair" which is another water vein of "living long" chair, formed in 2011. Introducing the activities of "Windsor Department".
The origin of the "Windsor chair" is said to have been made by joiners in Windsor and its surrounding areas in the latter half of the 17th century as a practical chair for ordinary households and farmers. "A chair based on a thick wooden seat with the legs, spindles, etc. of the chair directly joined to the seat," is defined by Windsor chair researcher Ivan Sparks. Regardless of the definition in words, it is a chair with a mysterious power that evokes the nostalgia of "this is it" when you see it.
It has been 10 years since 2021 started "Windsor Department".
The activity is a study group that explores the shape of the Windsor chair, the atmosphere, the indescribable charm, and what the "Windsor-like thing" is. And three groups have shaped the Windsor chair that lives in the present age with each approach.
It is also worth noting that it is an activity that values "redesign" that evolves the prototype of one chair and connects it to the future.
In this exhibition, materials and models that give a glimpse of the thinking process of "Windsor Department", a total of 10 chairs that have been realized, and even the historic Windsor chair that was redesigned by past ancestors will be exhibited in one place.
In modern times, design is often thought of as creating a completely new shape.
Their method of evolving the "prototype" of a single chair like a tree through the designer's thoughts (trials) frees us from the traditional "design" framework and is more sustainable. It will take you to the dimension.
This exhibition is a nostalgic new workshop of "redesign" that weaves time and memory into the form.
ATELIER MUJI GINZA
《Windsor Department》
The Windsor Department is an activity by three designers, Yasushi Fujimori, DRILL DESIGN, and INODA + SVEJE, and as the name implies, it is a design study group for Windsor chairs.
Why are you so attracted to the form and existence of this chair? In 2011, we started an attempt to consciously explore that. Three sets of designers are exploring a timeless and sustainable design by actually designing a new Windsor chair with each approach.
The first day of the exhibition May 14th (Friday) 13: 00-16: 00
Designer Yasushi Fujimori and DRILL DESIGN will be present at the venue from "Windsor Department".
[Related event]
Various related events are scheduled to be held during this exhibition.
Details will be announced on the ATELIER MUJI GINZA official website and SNS as soon as they are decided.
* If the event is canceled or the content is changed due to various reasons, we will inform you on the official website and SNS.
【Basic information】
"Living for a long time. In the case of the Windsor chair, 10 years of the exhibition" Windsor Department ""
Session | May 14th (Fri) -July 4th (Sun), 2021
Hours | 11: 00-18: 00 (Business hours are different from the store. Closed according to the store.)
* Some of the exhibits may not be available on some dates due to schedule changes such as the session and time, or events.
Venue | MUJI Ginza 6F ATELIER MUJI GINZA Gallery1 ・ Gallery2 Free admission Organizer | MUJI Planning Cooperation | 《Windsor Department》 Yasushi Fujimori, DRILL DESIGN, INODA + SVEJE
Spatial Design | Yasushi Fujimori (Gallery2), DRILL DESIGN (Gallery1)
Graphic Design | Mina Tabei Exhibit Cooperation | Furniture Museum, Time and Style, Kanemitsu Lacquerware Co., Ltd., Karimoku Furniture Co., Ltd., Sakura Seisakusho Co., Ltd., Daniel Co., Ltd., Scandinavian Living Planning and Management | Co., Ltd. Ryohin Keikaku Lifestyle Goods Department Planning and Design MUJI Ginza ATELIER MUJI GINZA
ATELIER MUJI GINZA
MUJI Ginza 6F, 3-3-5 Ginza, Chuo-ku, Tokyo 104-0061
Access | Tokyo Metro Ginza Line / Marunouchi Line / Hibiya Line "Ginza" Station Exit B4 3 minutes walk Tokyo Metro Yurakucho Line "Ginza 1-chome" Station Exit 5 3 minutes walk
JR Yamanote Line "Yurakucho" Station Central Exit 5 minutes walk
ATELIER MUJI GINZA Official Website | https://atelier.muji.com/jp/
Instagram | @ateliermuji_ginza
Twitter | @ateliermuji