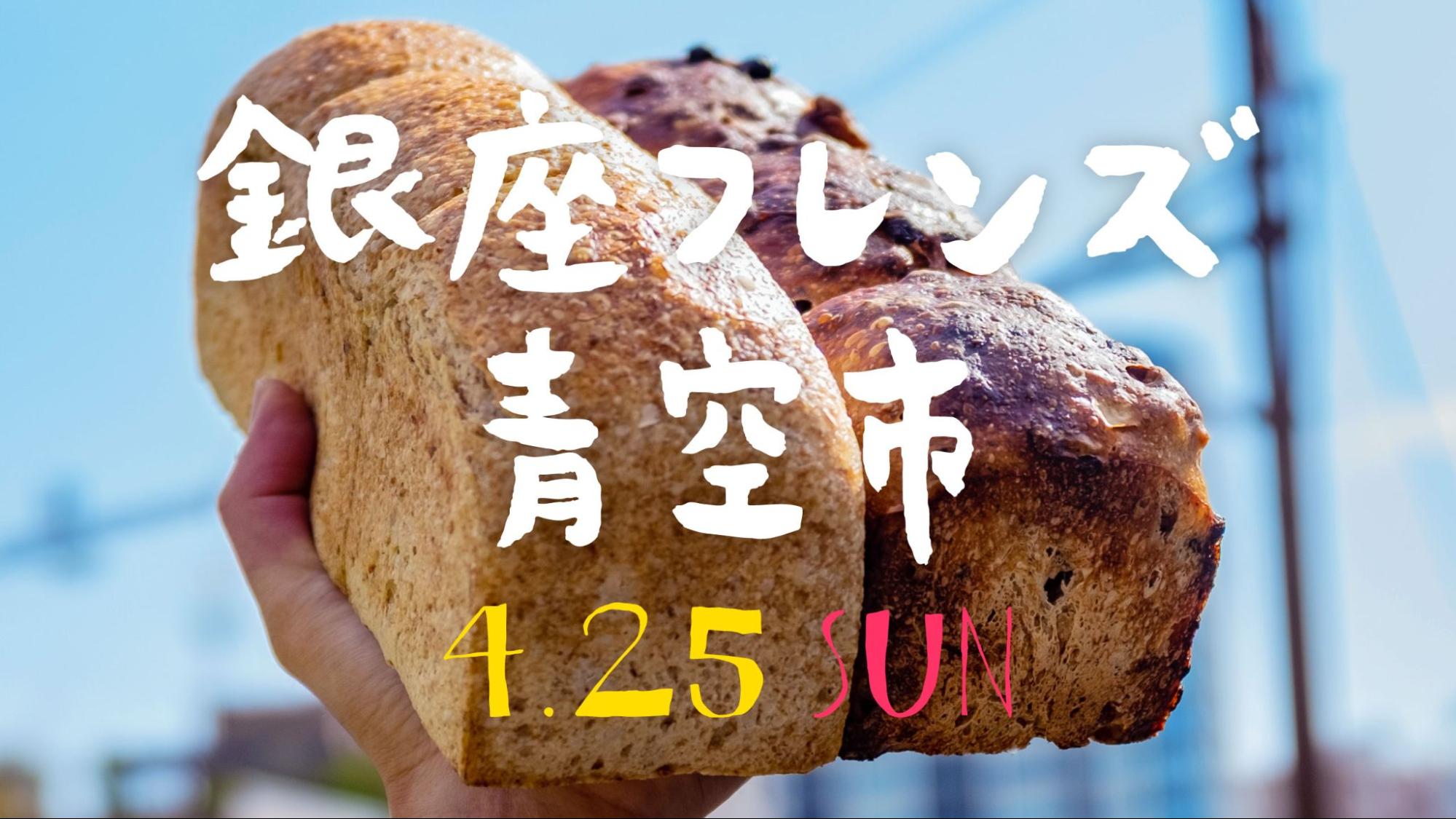 April theme <town bread, cheese and wine>
"Kama Bread & Friends <Natural Bussankan>" (Tokyo, Tokyo), which is jointly operated by Monosasu Co., Ltd. and Food Hub Project Co., Ltd., and sells additive-free products, vegetables, and bread directly sent from all over the country. Ginza) will hold a market event "Ginza Friends Aozoraichi" on April 25, 2021 (Sunday), where small farmers and makers who produce special products such as pesticide-free vegetables gather from all over the country.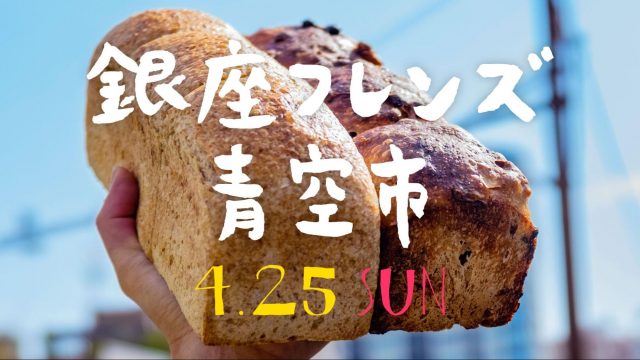 ・ Outdoor market event in the middle of Ginza, held with a theme that changes every month
・ In April, with the theme of <town bread, cheese, and wine>, discerning makers such as small bakeries and farmers who are familiar with the area will open stores from all over the country.
・Provide a limited menu by "Luvin" using the ingredients of the shop owner on the food truck
4,000 people visited. "Ginza Friends Aozora City" to enjoy "eating" with the creators of Japan
"Ginza Friends Aozora City" is a market event held on the last Sunday of every month as an event to connect creators and eaters. The venue is the open space on the ground floor of "Ginza Sony Park" at the corner of the Ginza-Sukiyabashi intersection. While changing the theme according to the season, we invite farmers and makers from all over the country to enjoy the fun of eating together. The first event, March, was attended by about 4,000 people despite the heavy rain.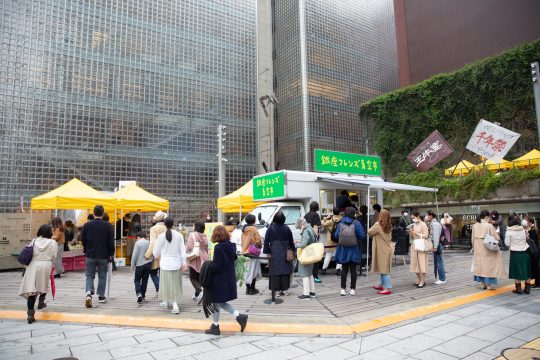 A small bakery that is particular about it, a cheese and wine maker that goes well with bread opens
In April, entitled <Machi no Bread, Cheese, and Wine>, five small bakeries that are popular in each region gather. "Luvin", which bake bread while sprinkling natural yeast in Tomigaya, Tokyo for over 35 years, "Akihiwa", Kanagawa and Mazuru, which uses ingredients from the local sea and mountains, and 10 types of wheat in Iwate and Morioka. , A bakery that makes bread that suits the local people and climate, such as "grain" that is a blend of three types of homemade yeast, comes to Ginza. In addition to cheese and wine that go well with bread, farmers and florists who became very popular during the March event will also gather. Please enjoy the valuable opportunity to listen to the stories of each maker, such as the feelings and cherishing of each maker, while picking up the ingredients.
・ Market
Safe , delicious and fun! Hand 13 stores to make a bakery that is popular in the region
▼ This month's creator
● Levain | Tomigaya, Tokyo (bread)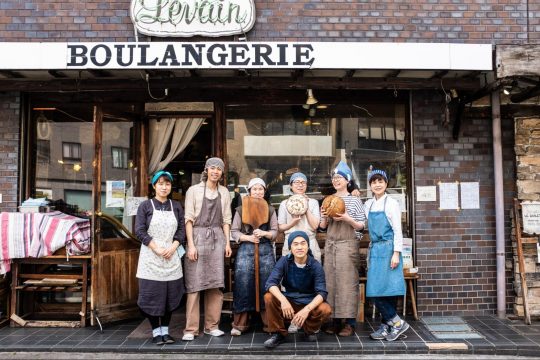 I'm just happy when people tweet that it's delicious. The delicious taste is the taste of the five senses. Our campagne. The etymology seems to be people who share bread. Levain shares with the people who visited it all. I want to be a place where you can experience beautiful tastes and things together every day. 2021 April Tokyo—— "Luvin" has been baking bread for over 35 years using domestic wheat, sprinkled with homemade home-grown yeast. On the day of the event, you can also enjoy "Campagne Butter Honey" made by Levin members.
@levain_tomigaya_tokyo https://www.instagram.com/levain_tomigaya_tokyo/?hl=ja
● Grain | Iwate / Morioka ( bread and baked goods )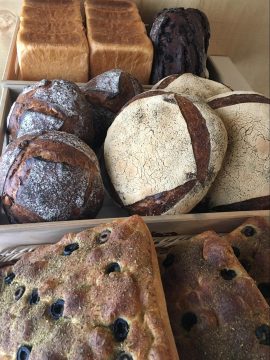 "Grain" in Morioka City, Iwate Prefecture, run by a couple who are in charge of each of the baker and baked confectionery. We use about 10 kinds of domestic wheat, mainly from Hokkaido and Iwate prefecture. Bread yeast uses three types of homemade yeast (raisin, hop, and levin), and the yeast is blended according to each bread. Baked confectionery makes sweets that do not use eggs or dairy products. We try to make baked confectionery that makes the best use of the taste of the ingredients and does not burden the body as much as possible.
@kokubakery https://www.instagram.com/kokubakery/
---
---
● Bakery Akihiwa | Kanagawa / Manazuru (bread)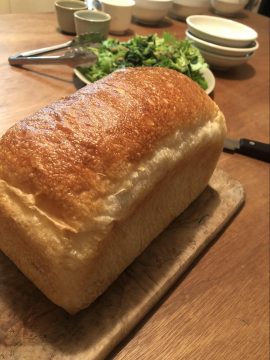 The bakery "Akihiwa" in Manazuru Town, Kanagawa Prefecture, opened in October 2019. Manazuru is surrounded by the sea and mountains, and is a place where you can get various kinds of ingredients every season. At the shop, we serve side dish bread using fresh shirasu from shirasu fishermen and cakes and bread using pesticide-free lemon from mandarin orange farmers. Among them, the main ones are "bread" and "country bread". "Bread" has a nice volume with just one piece, which has a smooth skin and a medium mochi. "Country bread" is baked using self-cultivated fermented seeds and has a long shelf life. You can enjoy it in various ways over time by combining it with jam, butter, and dishes. The self-cultivated fermented seeds are made from whole wheat flour and are inherited every day while observing the state of yeast, and the taste and aroma differ from season to season. These breads are recommended for daily dining and snack time.
@ akibiyori.pain https://www.instagram.com/akibiyori.pain/
● ONO PAIN | Ibaraki / Tone (bread)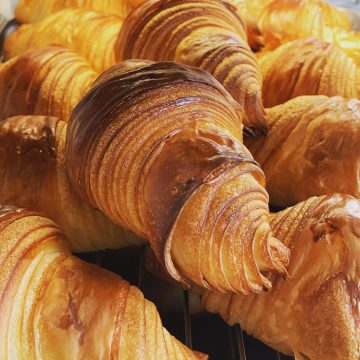 Onopan is a small bakery in the Heike. A pleasant breeze is blowing in the rice fields next door. I would be happy if I could bring a smile to my daily life. On the day of the event, we will bring natural yeast bread, campagne, fig cranberry walnut campagne, croissants, almond croissants, etc.
@ ono.pain https://www.instagram.com/ono.pain/
● Ome Farm | Ome, Tokyo (vegetables)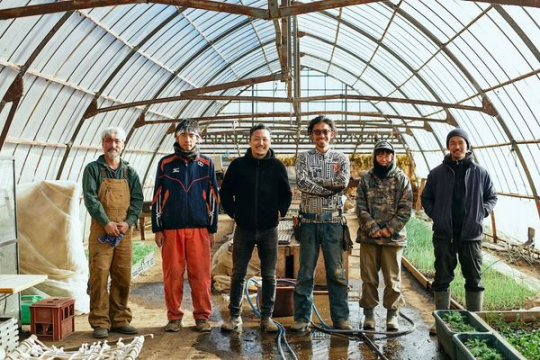 The field of Ome Farm is located in Ome City, about an hour away from the city center. We grow western vegetables and traditional Japanese vegetables by organic farming with the goal of "creating truly reassuring things in the suburbs of the city" in a blessed land that cannot be thought of as Tokyo. We grow vegetables by making the most of the power and wisdom of nature without using any pesticides or chemical fertilizers. We also make compost by fermenting and ripening plant-based raw materials, and Ome Farm's agriculture begins with the creation of environmentally friendly soil. Vegetables grown in healthy soil can enjoy the original flavor and sweetness of vegetables. Tokyo also has vast nature, and it is Ome Farm's wish that the locals (near Tokyo) can enjoy the vegetables grown there while they are fresh. In addition, we believe that it will lead to regional revitalization by letting more people know about vegetables from Ome through restaurants and Marche in Tokyo, and we are aiming for community development through farming.
@omefarm https://www.instagram.com/omefarm/
● Farm Vegico | Kochi / Haruno (vegetables)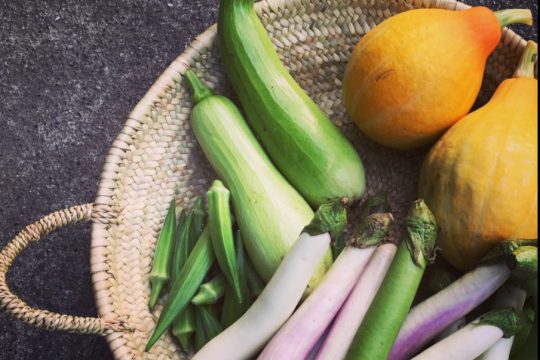 Haruno-cho, Kochi City, southern Shikoku. <Vegetable Communication> is the concept of Farm Vegico, which operates agriculture by taking advantage of the warm climate with an average annual temperature of 16.7 ° C. We not only sell products, but also deepen exchanges through vegetables with people in various fields such as designers in the area where they sell. Activities through Kochi ingredients are also carried out at schools, restaurants and hotels in Kochi prefecture. Among the vegetables, the most notable one is cucumber. In 2013, it won first place in the taste evaluation category of the vegetable sommelier summit.
@Vegeco_masayo https://www.instagram.com/vegeco_masayo/
● SHIBUYA CHEESE STAND | Shibuya, Tokyo (fresh cheese)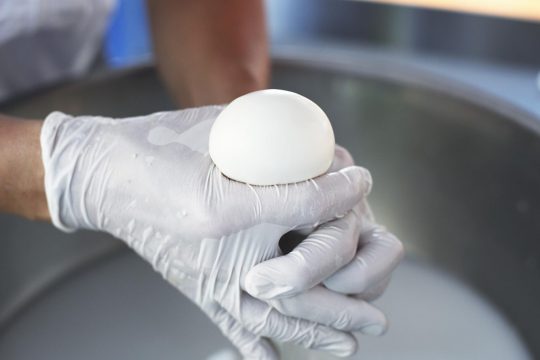 CHEESE STAND makes fresh cheese every day in Shibuya, Tokyo, with the concept of "freshly made cheese in the city". No additives such as preservatives are used. We will deliver the deliciousness of fresh cheese to your daily dining table. In 2012, we opened a cafe "SHIBUYA CHEESE STAND" where you can enjoy freshly made cheese on the spot, and in 2016, we opened a select shop "& CHEESE STAND" that sells cheese and ingredients that match the cheese. In addition, we also carry out wholesale sales to restaurants and EC sales. On the day of the event, Tokyo Burrata, Mozzarella, Ricotta cheese, etc., which have won awards in various contests, will be lined up. @cheese_stand https://www.instagram.com/cheese_stand/
● ÉCR U. GINZA | Ginza, Tokyo (coffee, wine, sweets)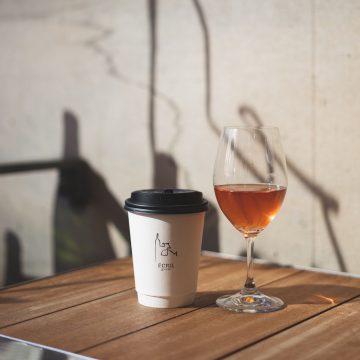 Pop-up store "ÉCRU. GINZA" for specialty coffee and natural wine. "ÉCRU.", A coffee and wine shop in Tenjin, Fukuoka, has collaborated with Ginza Sony Park to create a "stand where you can drink coffee and wine from day to night." The coffee offered at "ÉCRU. GINZA" is a single farm, a single variety, and a single origin where you can feel the unique characteristics of the land, the year, and the beans. As for wine, Mr. Tatsuya Harada, the owner of ÉCRU., Will select and provide each bottle of natural wine that has moved your heart. We also sell sweets and snacks that go well with coffee and wine.
@ecru_ginza https://www.instagram.com/ecru_ginza/
● Harappa University | Kanagawa / Zushi ( mud play workshop)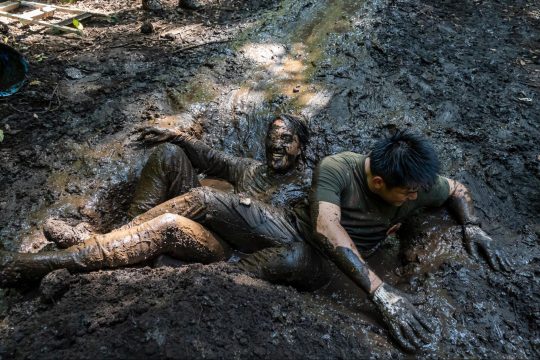 "Harappa University" is working to create a playground for adults and children. Covered with mud, collect vegetation, cut waste wood and play as adults and children feel. We have created such time and space at three bases: Zushi in Kanagawa, Sakura in Chiba, and Ibaraki in Osaka. This time, "Kamapan" in Kamiyama Town, which we consider to be our sister city, will be in the blue sky city, so it may be completely out of place, but we are glad to participate. Feel the "Harappa" in the middle of Ginza on a pleasant weekend in April! On the day, we will deliver the "soil" of each place. Touch the soil to play, relax, work … Please enjoy Ginza with soil!
@harappa_daigakuhttps://www.instagram.com/harappa_daigaku/
● qui no | Tokyo (flowers / vases )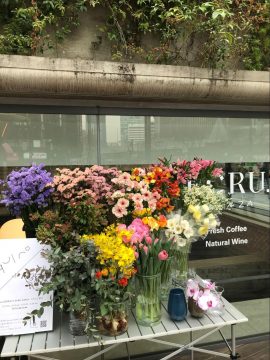 After graduating from Joshibi University of Art and Design, he worked as a model. Florist assistant at BUENO-F from 2016. Work at DILIGENCE PARLOUR. In 2020, he will launch qui no, as he will receive personal orders such as flower arrangements and wedding bouquets for photography and exhibitions. Since qui is pronounced as ki in French, the name kino means who is qui. Flowers in various situations. And feel free to give it. A florist who puts his thoughts into the characters "who, tree, and wildflower".
@quinoflowerkinosonoko https://www.instagram.com/quinoflowerkinosonoko/?hl=ja
● Kama Bread & Friends <Natural Bussankan> | Ginza, Tokyo (Bread and groceries)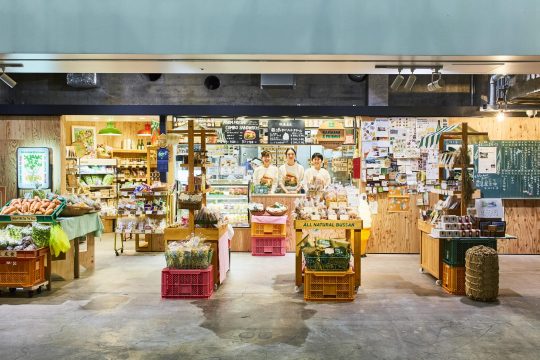 A product hall where small maker breads and additive-free special products from all over the country, as well as maker and eaters gather. Together with the creators who are close to the daily lives of the region, we will deliver food-related monogoto to everyone living in the city. By eating, you can get involved with the creators of various regions, and by continuing to eat, you can feel the relationship. We are starting such activities through this shop.
@kamapan_and_friends https://www.instagram.com/kamapan_and_friends/
* Details will be announced on the "Kamapan & Friends <Natural Bussankan>" SNS at any time.
・ Food track
A food truck where you can enjoy the delicious taste of bread
● Levain | Tomigaya , Tokyo
< Campagne butter honey>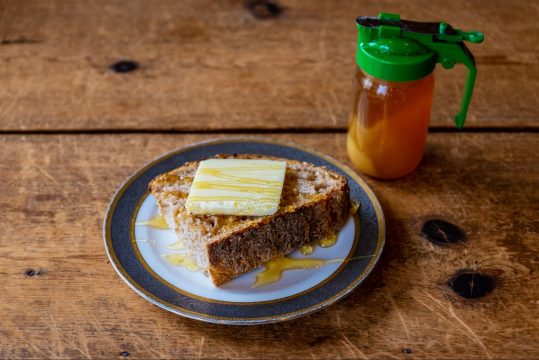 Levain in Tomigaya, Shibuya-ku, is a pioneer in baking bread with homemade yeast. At the venue this time, we will offer "Campagne Butter Honey" which is a very popular menu even when the "Fuji Rock Festival" opens. Please thoroughly taste the taste of ingredients such as wheat.
We also have sandwiches sandwiched between Kamapan & Friends <Natural Bussankan> deli.
● Kinoshita Coffee | Pop-up
<Coffee>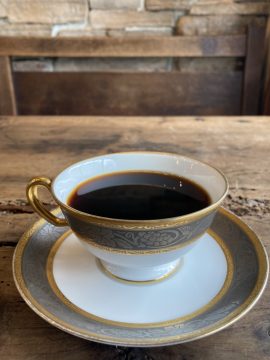 The coffee that you can enjoy with Levin's bread is the coffee that is roasted next time using a hand-cranked roaster, snuggling up to the special beans. The coffee, which is artistically extracted using the flannel handmade from the frame, has a merciful and inspirational taste.
――There is coffee that thinks about the production area. Think of the land and trees of bite beans, feel the scent and wind of two bite beans, and think of the workers who pile up three bite beans. Relax your mind with the remaining scent and light the fire. The taste of flannel drip, drop by drop.
・ Special Contents
Natural wine and cheese only for this day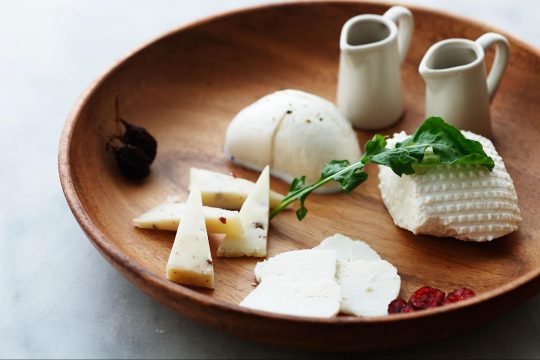 In ÉCRU. GINZA, which is attached to the venue, natural wine selected by Yukiko Yamamoto, who opens a natural wine stand every Friday and Saturday night at the flower shop little bar of flowers in Shibuya, and all over the country according to bread. You can also enjoy the cheese platter delivered from the ranch.
● Yukiko Yamamoto (mossan) | Shibuya, Tokyo
< Natural wine>
After closing the flower shop little bar of flowers on the 1st floor of Shibuya PARCO, the natural wine stand is open every Friday and Saturday from night.
・ Tour
Discover the joy of local food by visiting the Ginza product hall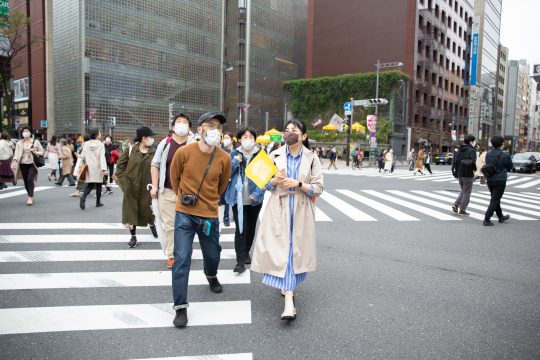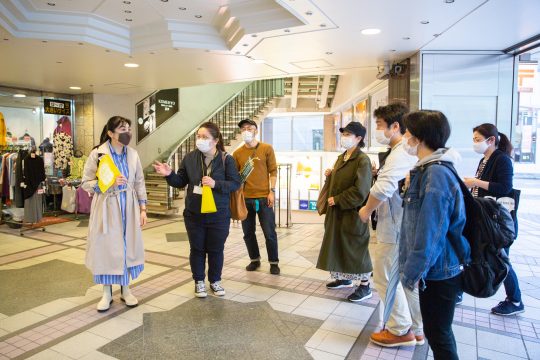 In Ginza, there are many product halls where you can find ingredients from each region of Japan. Members of "Kamapan & Friends <Natural Bussankan>" who love to search for ingredients that are eaten in various areas and have never been seen will show you how to enjoy the product hall together. ..
▼ Tour guide Keiko Hosoi (Food Hub Project Leader)
・ Kamapan & Friends <Natural Bussankan> Staff
* Advance reservations are required and you can participate on a first-come, first-served basis. Applications are accepted on the website.
"Kama Bread & Friends <Natural Bussankan>" is a small shop for bread and groceries in the basement of "Ginza Sony Park", where the creators who produce rich food and their eaters are connected. I started a shop in Ginza from the end of November 2020, and what surprised me was that fresh vegetables delivered directly from farmers are selling like crazy every day. I would like to create an opportunity to meet the producers of the vegetables and foods in person! So, once a month, we will hold "Ginza Friends Aozora City" in the middle of Ginza. It was an event that started with the idea that it would be a place where creators and eaters could connect, not just the relationship between selling and buying under the blue sky. I would like to take this opportunity to visit those who usually come to Kamapan & Friends, and those who are interested but haven't stopped by yet.
Outline of the event <br /> Name: Ginza Friends Aozora City Date: Sunday, April 25, 2021 11: 00-17: 00 * In case of rain, the event will be held on the basement floor Venue: Ginza Sony Park Ground floor (Tokyo) 5-3-1 Ginza, Chuo-ku, Tokyo)
Number of stores opened: 13 Stores Fee: Free admission Cooperation: Ginza Sony Park Project
Planning and management: Monosasu Co., Ltd., Food Hub Project Co., Ltd. Organizer: Kamapan & Friends <Natural Bussankan>
———————————————————————————–
URL: http://foodhub.co.jp/events/5213/
Coronavirus infection spread prevention measures "Ginza Friends Aozora City" will hold an event after thorough infection prevention measures. As a countermeasure for customers to visit the venue, we recommend that visitors to the venue be disinfected with alcohol and wear masks, and we plan to thoroughly wear masks and wash hands and gargle for operators and store owners. .. In addition, in the future, if there is a situation in which discussions with related parties, notifications or recommendations from public institutions are issued while observing the situation in Japan and overseas, there is a possibility that the policy will have to be changed. Therefore, please understand that.
About Kamapan & Friends <Natural Bussankan>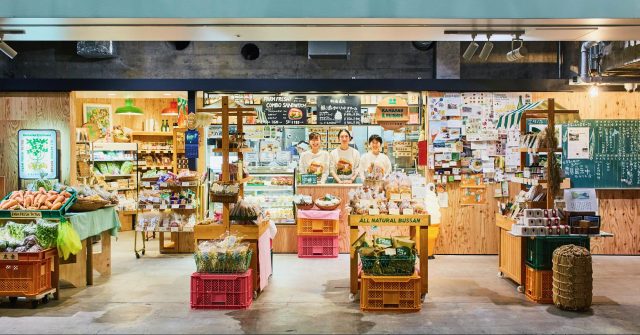 Under the slogan "Friendly food-Grow with friends, eat with friends-", the creators and eaters work together to improve their lives little by little. Through this place in the middle of Ginza, we aim to create such a store where you can feel peace of mind and trust with each other. At the storefront, vegetables and pickles grown in the climate of each region, local sauces and craft beer, miso of long-established kojiya, and other products that are eaten daily in the region are sent directly from all over the country, and bread is north. From small bakeries nationwide to Iwate in the south and Okinawa in the south, bread that is usually eaten only in that area arrives on a daily basis.
About the Food Hub Project <br /> The Food Hub Project was launched in 2014 in Kamiyama Town, Tokushima Prefecture, to connect local agriculture to the next generation. Under the slogan of "local production for local food," we operate a restaurant "Kamaya" and a bread and grocery "Kamapan & Store" to create a cycle of growing, cooking, and eating. We are also working on food education projects in collaboration with local schools.
Store overview
Kamapan & Friends <Natural Bussankan>
Business hours: 11: 00-19: 00 Closed on Mondays (open on public holidays, closed the next day)
Location: 5-3-1 Ginza, Chuo-ku, Tokyo Ginza Sony Park B3
Phone: 070-1381-8042
URL: http://foodhub.co.jp/
Facebook:https://www.facebook.com/Kamapanandfriends
Instagram: https://www.instagram.com/kamapan_and_friends/
Operating company
Monosasu Co., Ltd. <br /> Location: 3-9-5 Yoyogi, Shibuya-ku, Tokyo 151-0053
Representative: Representative Director Takahiro Hayashi Established: October 2004
URL: https://www.monosus.co.jp/
Business: Marketing consulting business, Web consulting business, Website production, Business Website coding business, Website operation business, Contract food service business, Food consulting service business, Food education service business
Food Hub Project Co., Ltd. <br /> Location: 190-1, Jinryo Kita, Kamiyama-cho, Myozai-gun, Tokushima 771-3311
Representative: Kaoru Shirato, Taichi Manabe, Co-Representative Director Established: April 2016
URL: http://foodhub.co.jp/
Business: Development of new farmers Business production of agricultural products, production of processed products in the distribution industry, sales of food and drink, operation of grocery stores Planning, design and production of food hub business