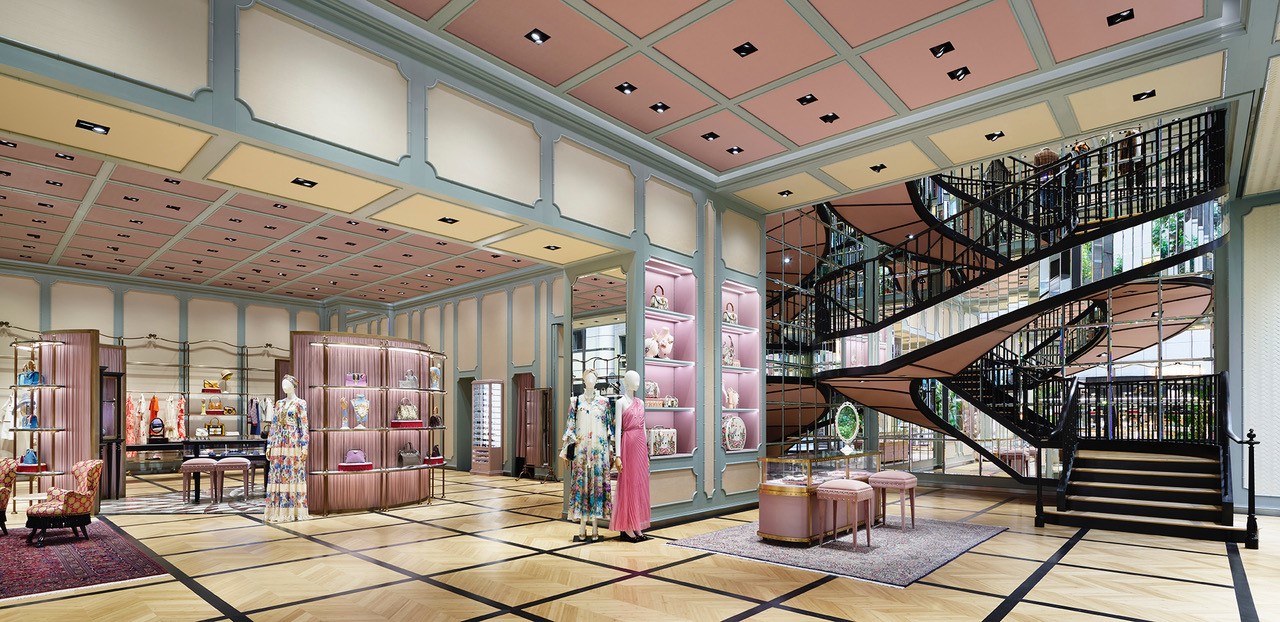 On April 29, 2021, Gucci opened its second flagship store, "Gucci Namiki," in Ginza, Tokyo.
Gucci Namiki is located on Namiki-dori, the place where Gucci first started developing in Japan in 1964, and customers who want an exclusive shopping experience and carefully selected products based on a unique concept suitable for a historic location. It will be born as a shop that provides tailor-made services for.
---
---
The four-floor space serves as a base for embodying Alessandro Michele's creative vision, which redefines the definition of luxury fashion with a contemporary approach, creating a new story for each customer while creating a personal experience for each customer. I will spin. Gucci Namiki consists of three different parts, and this time, the first chapter has begun.
The shop, which operates on two floors, the first and second floors, covers a total area of approximately 725 square meters, from men's and women's clothing to handbags, luggage, small leather goods, shoes, jewelry, watches, silk products, belts, and eyewear. We have a wide range of categories, from fragrances to fragrances, as well as high-end items such as precious leather handbags, limited quantities of fine jewelery and watches.
In addition, to celebrate the opening of Gucci Namiki, Japanese artist Yuko Higuchi, who has been collaborating with Gucci for many years, drew an original work, and handbags, small leather goods, luggage and accessories decorated with beautiful illustrations. A limited collection of a wide range of items will be released, and special artwork will decorate the façade facing the tree-lined street.
The unique shop concept is also embodied in the exterior of the building. The glass façade does not block the line of sight from inside or outside the shop, and makes you feel the comfort of nature in harmony with the linden roadside tree, which is also a symbol of the tree-lined street. Once inside the shop, a relaxing space suitable for welcoming customers opens up, and a drama that surprises you with the discreet yet unexpected combination of materials is created in the interior with a calm design.
The designs reminiscent of bamboo and Ajiro that can be seen everywhere were developed for this shop, and combine traditional Japanese designs with Gucci's contemporary aesthetics. And contrasting materials and shapes such as rigid display units and rich, soft fabrics, round and square tables, lustrous metal and jet-black wood details, quilting and smooth velvet weave contrasts. It creates a harmonious sense of unity, with luxurious chairs and vintage oriental rugs giving it a rich look.
In addition, foliage plants are placed throughout the shop, resonating with the elegant and contemporary eclecticism that is characteristic of Gucci's collection, reminiscent of a modern greenhouse in a space that combines tradition and modernity, industrial and romantic. It brings comfort to you.
On the 3rd floor, Japan's first special space named "Gucci Apartment" will be born this fall. As a salon that welcomes customers by reservation only and accepts custom-made products, as a showroom where you can slowly experience the furniture and upholstery of the Gucci Decor Collection, a service where you can enjoy Gucci's proud Italian craftsmanship. Expand. And later this year, the restaurant "Gucci Osteria da Massimo Bottura" is scheduled to open on the 4th floor of the same building. Named after Michelin's three-star chef Massimo Bottura, the restaurant is the third in the world after Florence, Italy and Los Angeles, USA, and head chef Calime of Gucci Osteria in Florence and Massimo Bottura.・ Lopez will co-supervise.
Shop name: Gucci Namiki Location: 6-6-12 Ginza, Chuo-ku, Tokyo
Opening date: Thursday, April 29, 2021
Business hours: 11:00 – 19:00 Irregular holidays
* In response to the announcement of the state of emergency, from April 29th, we will shorten the time and operate on a reservation priority system (usually 11: 00-20: 00). Depending on the future situation, it may be changed without prior notice. Please contact Gucci Japan Client Service (0120-99-2177 reception hours 10: 00-21: 00) for the latest store opening conditions. In addition, in consideration of customer safety, we may limit the number of people who can enter the store when the store is crowded, so please be forewarned.
Contact Gucci Japan Client Service
0120-99-2177
www.gucci.com
#GucciNamiki
#Gucci Namiki