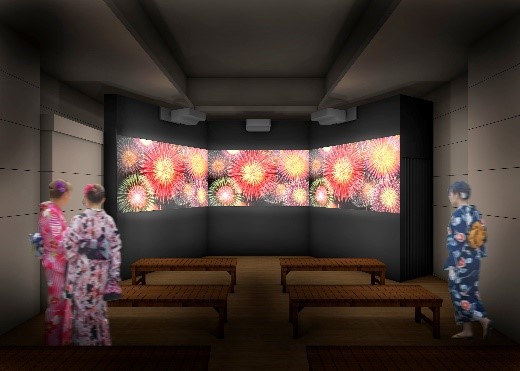 -New normal fireworks festivals, fairs, and summer gourmet foods such as "Extreme Shaved Ice" are also available! ~
FANCL Ginza Square (hereinafter referred to as Ginza Square), the flagship store of FANCL Corporation, will hold an event "Square Festival" from July 20th (Tuesday) to August to commemorate the first anniversary of the renewal. It will be held until Wednesday, 18th. The theme was "festival," which is a Japanese summer tradition, and various contents were prepared. The most recommended of these is the theater-style fireworks display, which brings together fireworks displays nationwide. While in Ginza, you can enjoy a truly new normal fireworks display where you can see the powerful and gorgeous fireworks from all over the country on a large screen that spreads in three directions.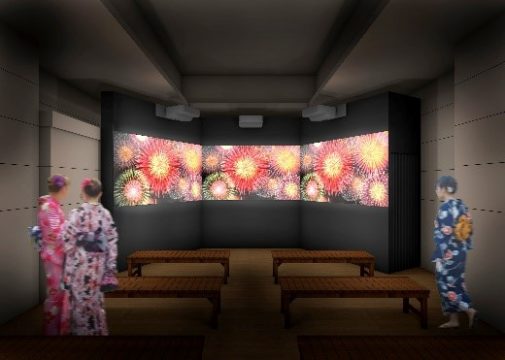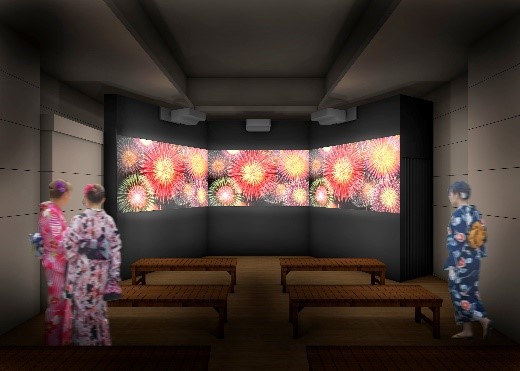 [ Summer traditions nationwide in Ginza! ?? New normal theater fireworks display held ]
With the cooperation of antenna shops in each prefecture, fireworks festivals nationwide will be gathered at Ginza Square. Fireworks project images on a large screen that spreads in three directions. Furthermore, by installing speakers, a space with a sense of realism that makes you feel as if you are surrounded by fireworks will appear.
Date: July 20th (Tuesday) -August 18th (Wednesday)
Time: 11: 30-18: 30
Location: Sky Garden on the 10th floor * On July 24th and 25th, only those who have purchased "Extreme Shaved Ice" will be able to visit.
[A two-day limited event will be held! "Event to enjoy extreme shaved ice and fireworks" and "Yukata special day" ]
◆ Time to enjoy "extreme shaved ice" and fireworks using FANCL products
---
---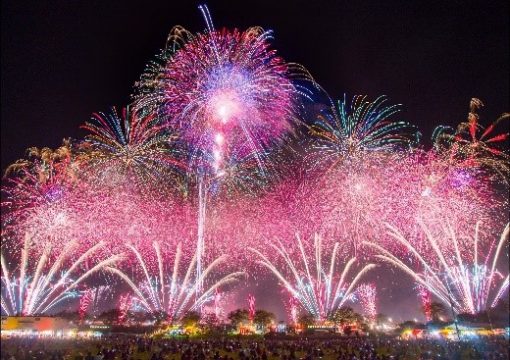 An event where you can enjoy fireworks while eating extreme shaved ice to commemorate the 1st anniversary of "Creative Cuisine FANCL Reiwa Honzen" which opened at the same time as the renewal of Ginza Square on Saturday, July 24th and Sunday, July 25th. "It will be held. At the event, all four types of Kakigori using FANCL's health foods will appear. You can enjoy the theater fireworks display with the original shaved ice for 2 days only.
Schedule: Saturday, July 24th and Sunday, July 25th, 2021
Time: 11: 30-16: 00 (15:30 last order)
Location: Sky Garden on the 10th floor
<Introduction of "Extreme Kakigori" menu > * All prices include tax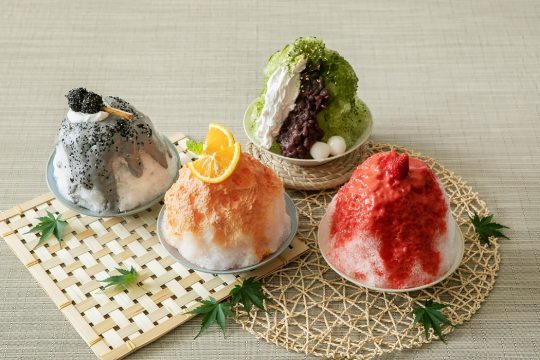 ・ "Foam strawberry" … 1,000 yen <br /> Sweet and sour strawberry sauce finished with espuma and shaved ice with plenty of raw strawberries. Deep Charge Collagen Stick Jelly is used as a secret ingredient, and FANCL's shaved ice is great for summer skin with strawberry vitamins and jelly collagen.
・ "Soy milk salt cream Ujikintoki" … 1,000 yen <br /> Shaved ice that you can enjoy the smooth melting of azuki beans and special soy milk salt cream in the fragrant Uji matcha. FANCL's green juice is blended with Uji matcha sauce, and you can enjoy the rich bitterness.
・ "Black sesame brown rice cream" … 1,000 yen <br /> Shaved ice that goes well with black sesame cream and milk ice. By adding brown rice topping of FANCL germinated brown rice, you can enjoy a more fragrant flavor. Homemade bean paste and walnuts are also included, so you can enjoy the change in taste until the end.
・ "Summer Fireworks-Orange and Honey Lemon-" … 1,000 yen <br /> Shaved ice with the image of orange and yellow fireworks at the Square Festival. Shaved ice that you can enjoy the sweet and sour taste of citrus with yogurt cream and blood orange espuma sauce. You can feel the refreshingness of summer while taking measures against UV rays by blending white force drink with the sauce.
On " Yukata Special Day " , there will be a fair event inside the building! ]
"Yukata Special Day" will be held on August 7th (Sat) and 8th (Sun). We will give a present to those who come in yukata.
In addition, events that image summer fairs will appear in the hall, such as "Sea Bream Mikuji Fishing" where you can catch a fortune with a sea bream motif with a mini fishing rod, and "Ball Darts" where you can get a prize according to the trout hit by the ball. To do. On the day of the festival, the staff will also wear yukata to welcome you, further enlivening the atmosphere of the festival.
◆ I want to taste it in the hot season! Summer limited gourmets will appear one after another <br /> On the gourmet floor, summer limited menus using seasonal ingredients will appear for a limited time.
<Period> July 20th (Tuesday) -August 18th (Wednesday)
<Introduction of each menu> * All prices include tax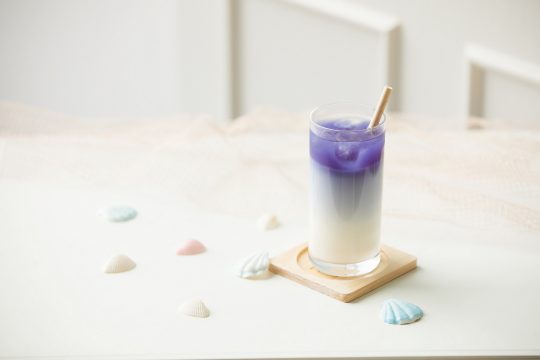 ● 8th floor: FANCL Forest Cafe
・17 s drink blue lassi … 400 yen
A lassi-style drink perfect for summer, inspired by the goal of SDGs17, "⑭ Let's protect the richness of the sea." Part of the sales will be donated to an environmental conservation organization.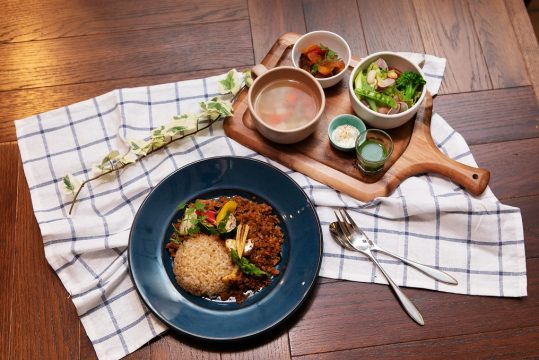 ● B 1st floor: FANCL Brown Rice Miles
Grill vegetables and Soimito schema style curry of … 1, schema-style vegan curry using soy meat of 650 yen <br /> topic. Several kinds of spices blended by the chef and FANCL's green juice are used as accents to create a deep taste. It is a nice menu to prevent summer heat fatigue, where you can eat plenty of protein and vegetables.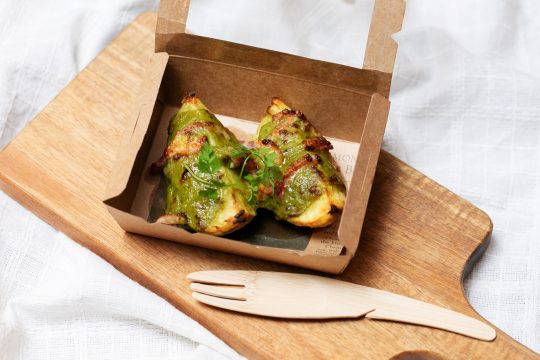 ・ Hokkaido Baron Jaga Butter ~ Kale Cream Sauce ~ … 2 pieces 350 yen <br /> Arranged the classic summer festival food "Jaga Butter" in the Funkel Brown Rice Miles style. The baron potatoes, which are fluffy and have a strong sweetness, are grilled and finished with a special cream sauce using kale and brown rice.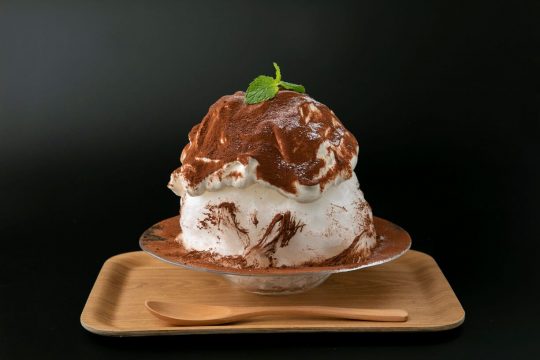 · BRM special shaved ice … 1, to 300 yen / half-size 600 yen <br /> fluffy ice using a special source and Esupuma, is a Western-style a best of shaved ice. We have prepared 4 kinds of menus (Strawberry Espuma, Ripe Mango Espuma, Coffee Tiramisu, Honey Lemon Rare Cheese).
* Half size is provided only for those who ordered the lunch plate set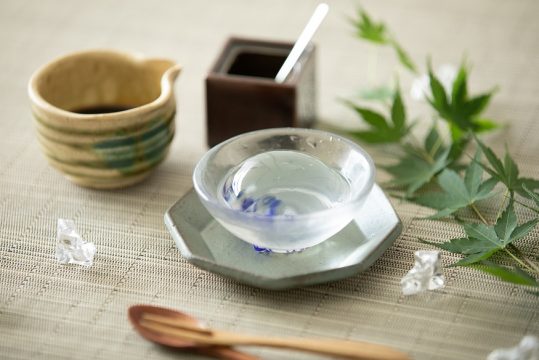 ● 9th floor creative cuisine FANCL Reiwamotozen
・ Shizuku ~ Aojiru Kinako ~ … 3 pieces 700 yen <br /> A cool summer-only sweetness that looks like "Shizuku". You can break the water balloon yourself and sprinkle with the special green juice kinako and brown sugar if you like. "Hamakko-doshi The Water," which is used as a material, is clear stream water from Doshi Village, Yamanashi Prefecture, which is characterized by its soft texture, and part of its sales is donated to contribute to the environment and international support.
[About FANCL Ginza Square]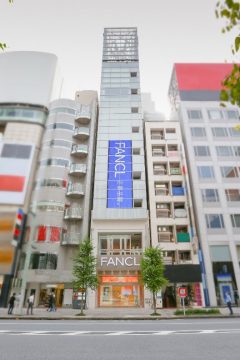 URL: https://www.fancl.jp/ginza-square/index.html
Business hours: 11: 00-20: 00 (depending on the floor)
* Regarding the eating and drinking floor, we will change the business hours as follows and refrain from serving alcoholic beverages.
Lunch: 11: 30-16: 00 (LO 15:30)
Supper: 16: 00-20: 00 (LO 19:00)
Access: ・ 1 minute walk from Exit A3 of Ginza Station on the Tokyo Metro Ginza Line, Hibiya Line, Marunouchi Line ・ 8 minutes walk from the Ginza Exit of JR Yurakucho Station (5-8-16, Ginza, Chuo-ku, Tokyo 104-0061)
Regular holiday: None * Closed only on January 1st
[ About measures against new coronavirus infection]
Based on the guidance from the government, we are fully implementing infection control measures.
・ Temperature measurement and disinfection at the entrance, and admission restrictions depending on congestion conditions ・ Regular ventilation and disinfection in the hall ・ Thorough wearing of staff gloves, face cards or masks ・ Wearing masks for customers and poor physical condition Announcement that people should refrain from visiting
* The contents may be changed or canceled depending on the policies and declarations of the government and Tokyo.