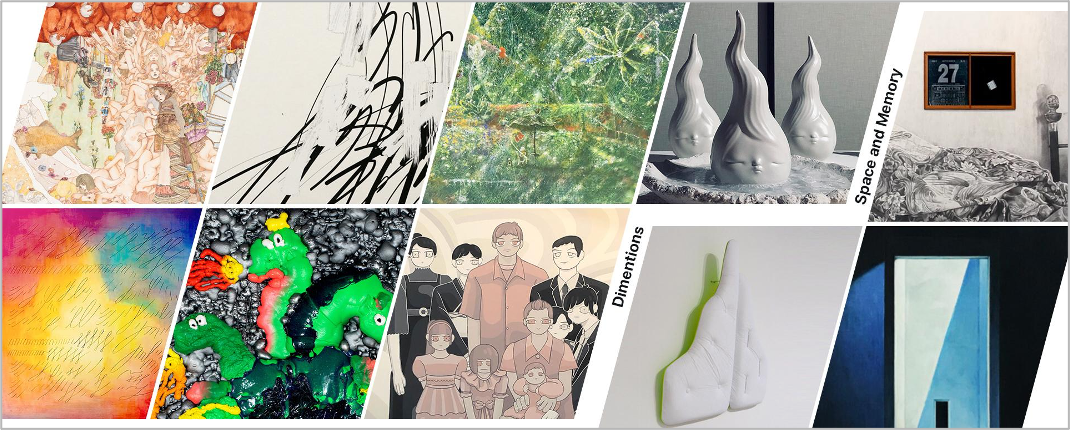 This time, we will hold a group exhibition "Dimensions" by 7 people who graduated from Tokyo University of the Arts, Tokyo Zokei University, and Yamagata University of Art and Design last year and this year at Whitestone Gallery Ginza New Building. (Part 1. August 27-September 11, 2021 / Part 2. September 17-October 2)
In addition, the Whitestone Online Gallery ( https://www.whitestone-gallery.com/ ) will hold an online exhibition that includes three young artists from Hong Kong in addition to seven artists.
The unique aspects and characteristics of each will bring new possibilities.
---
---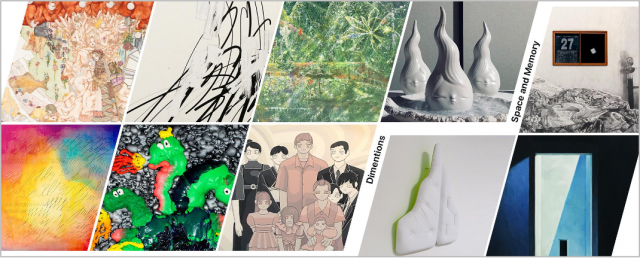 ■ Exhibition overview
Karen Shiozawa, who is pioneering and pursuing expression forms that work on the five senses such as sound, light, and three-dimensionality, aiming to represent the world that is recognized by something other than vision, and using a certain technique to print multiple identical things, one work. Kikuno Shoki who prints three-dimensionally, Ariha Imamiya who continues to take a sympathetic approach with the theme of "listening" in painting, combining casting technique with porcelain clay and manual modeling, with baby and young children as motifs Kyoko Terakura, who creates sculptures, Tanimura Meichin Romana, who expresses fictitious heroes and monsters in the two-dimensional world as three-dimensional objects, and dares to expose the grotesque parts, unique to the pale and ephemeral texture peculiar to watercolor pencils. Aika Sakamoto, who expresses the ugliness and stupidity of human beings in her world view, and Shiori Gushiken, who sublimates various values into her works with a girly style of painting.
The three Hong Kong artists also provide a unique perspective on the concept of "space" and open a gateway for introspection and contemplation.
The unique aspects and characteristics of Japanese and Hong Kong artists will bring new possibilities.
Session:
Part.1: 2021/8 / 27-2021 / 9/11
Part.2: 2021/9/17 ~ 2021/10/2
Venue: Whitestone Gallery Ginza New Building Business Hours: 11:00 – 19:00
Closed days: Sundays and Mondays Location: 6-4-16 Ginza, Chuo-ku, Tokyo
Date: 2021/8/27 ~ 2021/10/2
Venue Whitestone Online Gallery
URL https://www.whitestone-gallery.com/
■ About Whitestone Gallery

Since opening in Ginza, Tokyo in 1967, Whitestone Gallery has established itself as an art gallery that can compete with the rest of the world. In addition to domestic stores in Ginza and Karuizawa, we also have offices in Hong Kong (art complex building HK H Queen's) and Taiwan. Whitestone is one of Asia's most pioneering art galleries, introducing postwar Gutai art, contemporary artists, and up-and-coming young artists.
Company name: Whitestone Co., Ltd. Representative: Yukio Shiraishi, President and CEO Location: 5-1-10 Ginza, Chuo-ku, Tokyo 104-0061
Established: 1967
URL: www.whitestone-gallery.com
Press Inquiries Whitestone Gallery: Kuroki
email: kuroki@whitestonegallery.co.jp
<Related article>
Ronald Ventura Solo Exhibition "Comic Stripes"
2021.5.18 (Tue) Whitestone Gallery launches online art sales