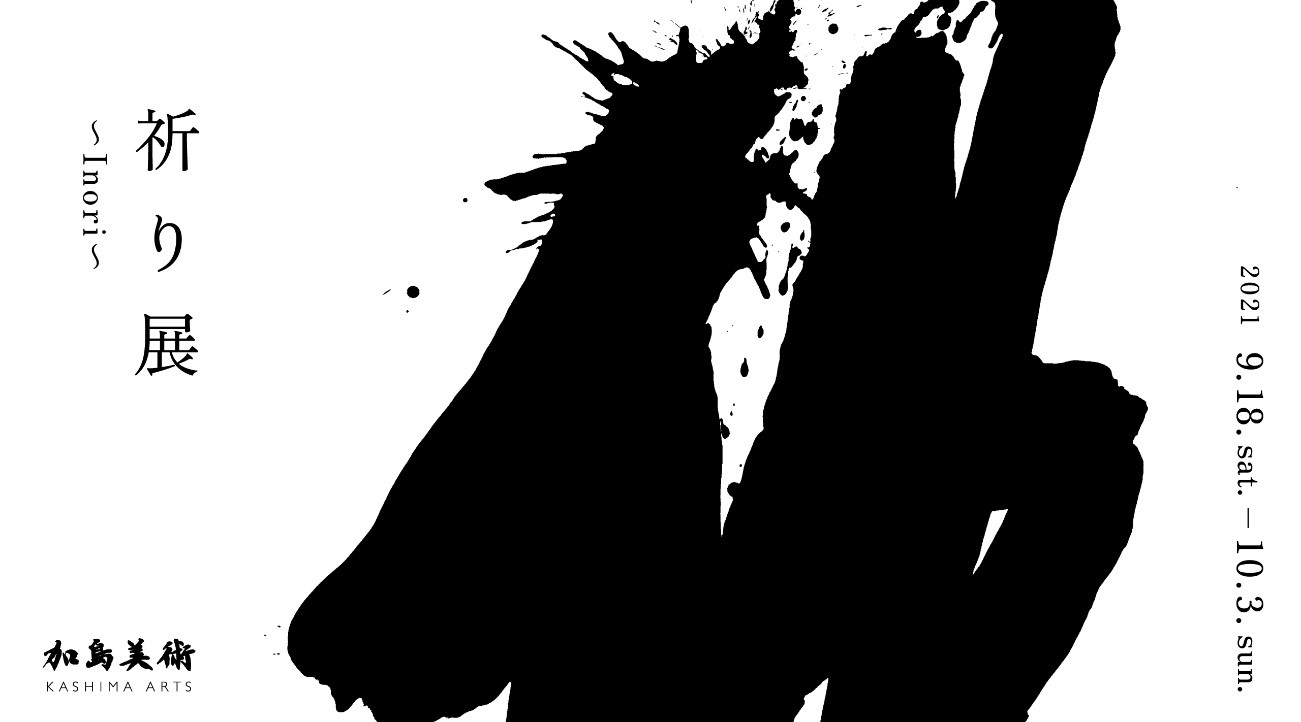 -Approximately 40 exhibited works / Free viewing / Available for sale-
Kashima Arts will hold a special exhibition "Prayer Exhibition-Inori-" focusing on "prayer" from September 18, 2021 (Sat) to October 3, 2021 (Sun).
Introducing a wide range of prayers, from Buddhist art, which has been the subject of people's prayers, to contemporary art works that incorporate the prayers of the artist himself.
Approximately 40 items were exhibited. Free viewing.
[About "Prayer Exhibition-Inori-"]
Since ancient times, "prayer" has been with people.
People have always prayed to the gods and Buddha and pondered their thoughts.
The art of "prayer" dates back to the murals painted about 40,000 years ago. It is said that Buddhism was introduced to Japan from Baekje during the Asuka period, and at the same time, Buddhist art, that is, the art of "prayer," became widespread.
This exhibition focuses on "prayer" that has been expressed in art history. Including the religious "prayer" against the background of Buddhism, the thoughts that calligraphers and painters put into their works, and the wishes projected on photographs and sculptures are also forms of "prayer."
Touching the appearance of "prayer" expressed in various forms over time using works of art as a medium, with the hope that you will not forget the power to survive in an unprecedented era and the heart to enjoy abundant time. This is an exhibition.
This is a valuable opportunity to meet together from Buddhist art, which is designated as an important art object, to modern art, which follows the classical tradition, and works by contemporary artists. Please take a look.
[Exhibitors]
Hakuin Ekaku (1685-1768)
A priest of the Rinzai sect in the middle of the Edo period. Suruga student. At the age of fifteen, he became a priest of Shoinji Temple and was called Keizuru. In the second year of Kyoho, he became the priest of Matsukageji Temple, and the following year he became the first priest of Myoshinji Temple. He raised Torei Enji and Suiō Genro, achieved the promotion of Rinzai Zen, and spread Zen to the people.
Also known for leaving a huge amount of calligraphy, Zenga using various elements such as Tatsuma, Confucianism, folk religion, and songs is humorous and continues to fascinate people.
Yuichi Inoue (1916-1985)
He is one of the representatives of avant-garde books that has created a new sensation in the world of calligraphy. He studied under Sokyu Ueda and formed the Sumijinkai. It rewrote the concept of calligraphy and sublimated it into a work of art. The dynamic lines written in ink are avant-garde, and have been highly acclaimed overseas as well, participating in the "Japanese Calligraphy" exhibition at the Museum of Modern Art in New York, the Sao Paulo Biennale, and Documenta 2.
Kagaku Murakami (1888-1939)
A Japanese painter from the Taisho era to the Showa era. His real name is Shinichi Takeda. Graduated from Kyoto Painting College. After being selected for the Japan Fine Arts Exhibition, he was selected as a special choice in 1918, but eventually formed the Kokugakai Creation Association with Tsuchida Bakusen, Chikukyo Ono, Sakakibara Shiho and others in opposition to the Japan Fine Arts Exhibition. Later, due to the worsening of asthma, he moved to Kobe and gradually moved away from the painting stage to paint. I drew many highly spiritual Buddhist paintings that fused with the wonders of holy and profane.
In addition, we will exhibit works by artists of all genres and generations, such as Kokei Kobayashi, Hata Teruo, Taro Okamoto, Takeo Yamaguchi, Jyo Hamada, and Tomohiro Muda.
[Highlights of this exhibition]
1. A wide range of works from Buddhist art to contemporary art in one place!
Buddhist art designated as an important work of art, painters who created their own world by repeating destruction and creation by drawing on the flow of classics such as Zenrin Sumi, or a talented person who aimed at the fusion of art and religion This is a valuable opportunity for free enjoyment of the works of painters, potters, and photographers who are still active, from deceased writers such as painters.
2. The catalog is free, and we have prepared a catalog containing all the works of this exhibition so that you can enjoy the exhibited works and the atmosphere of the exhibition at home as much as possible. This catalog will be sent free of charge to all those who wish. Please apply at this opportunity.
The price is also specified, so if you find your favorite work, you can contact us by phone, fax, or email.
In addition to paper catalogs, we also have online catalogs that can be viewed on personal computers and smartphones. Please apply at this opportunity.
Please contact Kashima Arts to apply for the catalog.
Kashima Arts HP: http://www.kashima-arts.co.jp/ Tel: 03-3276-0700
3. You can see many precious works without a glass case!
At the venue, many valuable works are exhibited without a glass case.
It will be an exhibition where you can fully enjoy the power of the work.
Please feel the unique texture and appearance of the work that can only be conveyed by looking directly at the work of art.
[Highlight work]
Enku "Twelve Gods General Tatsumi"
Enku was known as a wood-eating monk, a Buddhist priest, and a singer in the early Edo period, and left behind a wooden carved Buddha statue with a unique style called "Enku Buddha". This work was produced as a statue of Tatsugami, one of a total of 13 statues, the statue of Daimeijin and the statue of Twelve Gods. It was found that these statues were scattered about 60 years ago, and one of them was stored in the Arakawa Toyozo Memorial Hall in Gifu Prefecture, but the whereabouts of the remaining 12 were unknown. However, this work revealed its whereabouts for the first time in about 60 years. Rough chisel marks, unrestrained modeling, and a gentle expression that can be seen and hidden faintly attract our hearts.
[Overview of "Prayer Exhibition-Inori-"]
Special exhibition name: Prayer Exhibition-Inori-
Special exhibition HP: https://www.kashima-arts.co.jp/exhibitions/
Date: September 18th (Sat) -October 3rd (Sun), 2021 10: 00-18: 00 Open daily during the exhibition Number of exhibits: Approximately 45 items on sale
Exhibitors: Yuichi Inoue, Genichiro Inokuma, Enku, Taro Okamoto, Kodai Kobayashi, Serizawa Serizawa, Ryokan Taigu, Hakuin Ekaku, Hata Teruo, Jyo Hamada, Tomohiro Muda, Shikō Munakata, Kagaku Murakami, Takeo Yamaguchi, etc.
Venue: Kashima Arts Phone number: 03-3276-0700
Participation fee: Free admission Access: 3-3-2 Kyobashi, Chuo-ku, Tokyo 104-0031
Subway Ginza Line "Kyobashi Station" Exit 3 2 minutes walk Subway Yurakucho Line "Ginza 1-chome Station" Exit 7 3 minutes walk Toei Asakusa Line "Takaracho Station" Exit A4 5 minutes walk
9 minutes walk from JR Tokyo Station Yaesu South Exit
* Business days and hours may change depending on the spread of the new coronavirus. In case of change, we will inform you on our website and various SNS.
<Past related articles>
"Shotei, Kyosai, Zeshin-Paris-Philadelphia Expo, Japanese Art in the Meiji Era Across the Sea-"
Kashima Arts Co., Ltd. will hold "Great Ancient Painting Exhibition -The Masters Who Colored the Edo Period-" from Saturday, December 5, 2020 to Sunday, December 20, 2020!
Approximately 90 excellent items from the Edo period to the present day are lined up. Art exhibition and sales event "Beauty Festival" 4 / 20-5 / 6 Held at the gallery in Kyobashi, Tokyo