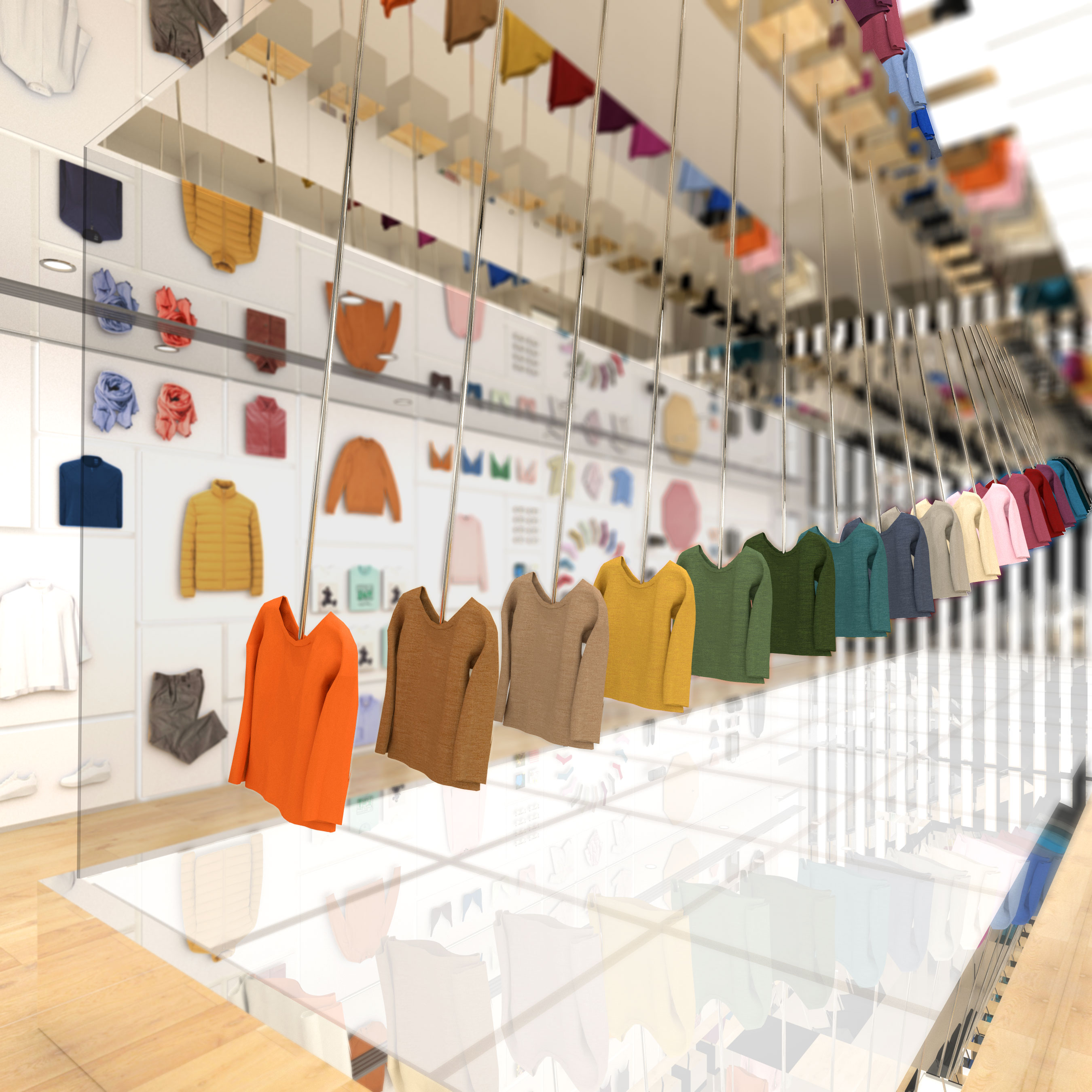 On September 17th (Friday), the UNIQLO Ginza store, which is celebrating its 10th anniversary as a global flagship store of UNIQLO, will be reborn on all 12 floors with the concept of "New Life, New Wear, New GINZA." increase. Experience the new UNIQLO in Ginza, which is full of commitment and aesthetics, such as installations expressing the brand philosophy Life Wear, salons specializing in women's innerwear and suits, and cafes.

・ Installations that allow you to experience LifeWear are exhibited on each floor <br /> UNIQLO's LifeWear is a simple, high-quality everyday wear that enriches the lives of all people with its functional beauty and sophisticated design. Installations that convey its charm at a glance have been installed on each floor.
At the entrance on the 1st floor, pendulum art using 20 colors of cashmere knit will welcome you. On the 4th floor, architect / artist / designer Emmanuelle Moure exhibited a work "Human / Color | hitobito iroiro" that expresses the joy and enjoyment of wearing your favorite clothes in rich colors. In addition, there are plenty of attractions such as installations that convey the functions and quality of UNIQLO's representative products such as ultra light down, 3D knit, and heat tech, and floors where you can learn about sustainability.
・ Providing a new purchasing experience <br /> The new UNIQLO Ginza store offers a number of services that have never been seen before.
(1) Establishing customer service and salons by specialized staff At the UNIQLO Ginza store, specialized staff with special training are assigned to each floor to convey the quality, added value, and craftsmanship of LifeWear to customers. Provide services.
On the 6th floor, there is a new floor dedicated to women's innerwear, "INTIMATE WEAR SALON," and on the 10th floor, "CUSTOM ORDER SALON," where you can choose just-sized suits with a custom-made feel. Our staff with specialized knowledge and skills will recommend the most suitable products according to your concerns and requests.
---
---
(2) A cafe "UNIQLO COFFEE" where you can enjoy your favorite coffee <br /> On the 12th floor of the top floor, there will be a cafe "UNIQLO COFFEE" where you can drink UNIQLO's first original coffee. You can enjoy blended coffee that can only be tasted here and specialty coffee brewed with high-quality beans, along with sweets from the long-established Japanese confectionery store "Ginza West" that has been loved in Ginza for a long time.
UNIQLO original blend coffee HOT / ICE 200 yen Geisha hand drip coffee HOT 450 yen * Limited quantity Ginza waist butter cookie 200 yen
③ The popular "UNIQLO FLOWER" is now available at "UNIQLO Ginza"
The flower department "UNIQLO FLOWER", which has been developed at UNIQLO TOKYO and Asakusa stores and has been well received for its product lineup and affordable prices, will appear at "UNIQLO Ginza store".
④ "UNIQLO PHOTO BOOTH" appears on the UT exclusive floor
The 11th floor is a dedicated floor for the T-shirt brand "UT", which is packed with the latest pop culture such as various artists and popular contents. On the UT floor, which is full of pop culture, we have newly installed "UNIQLO PHOTO BOOTH" where you can take a commemorative photo with the original wallpaper of "UNIQLO Ginza store".
⑤ Carrying out live commerce utilizing stores <br /> UNIQLO is developing a live commerce "UNIQLO LIVE STATION" where you can purchase the products you are interested in on the spot while watching the videos delivered live. As a new initiative, we will utilize the sales floor of the UNIQLO Ginza store to regularly disseminate the appeal of our products. Customers can send questions and comments in real time to the staff who introduce product points and recommended coordination live, and enjoy shopping interactively.
⑥ Free same-day delivery service for purchased products "UNIQLO Ginza Store" delivers products to your home for free on the same day for UNIQLO app members who live in the target ward and purchase 10,000 yen or more on the day. We will start the service for a limited time. After shopping at UNIQLO, enjoy the city of Ginza empty-handed.
* Target area: Chuo Ward, Chiyoda Ward, Minato Ward, Koto Ward, Sumida Ward * Period: September 17th (Friday) to November 30th (Tuesday)
* Same-day delivery is limited.
・ Original goods released in collaboration with famous stores representing Ginza
In collaboration with long-established restaurants and popular shops that represent Ginza, we will release T-shirts and tote bags that can only be obtained here. We also sell gems from each store, such as Itoya stationery, Kyukyodo incense, and Ginza Takumi's daily necessities, and through collaboration with local residents, we will disseminate the traditions and culture of Tokyo and Ginza to the world. ..
* Design is subject to change.
* List of collaborative companies (in alphabetical order)
Itoya, Cafe Paulista, Kabukiza, Kyukyodo, Ginza West, Ginza Kimura Family, Ginza Senbiya, Ginza Takumi, Ginza 100 Points, Tsubame Grill, Tricolore Main Store, Nile Restaurant, Nitto Corner, Morioka Bookstore, Renga-Tei, Rockfish

・"Made in TOKYO 3D knit" is on sale in limited quantities
The 3D knit, which makes full use of the WHOLEGARMENT® technology that is knitted without sewing, is a representative item of LifeWear that has both a beautiful silhouette and comfort. This time, as a special project, we will sell a limited number of "Made in TOKYO 3D knits" produced at our own factory "Innovation Factory" opened in Shinonome, Tokyo in April 2021.
3D Extra Fine Merino Dolman Sleeve Turtleneck Sweater 4,990 Yen
3D Extra Fine Merino Rib Neck Dress ¥ 6,990
・ Various benefits to commemorate the reopening
On the first day of opening on September 17th (Friday), the first 3,200 people who come to the store will receive anpan from the Ginza Kimuraya family. Also, from September 17th (Friday) to 20th (Monday), customers who purchase 10,000 yen or more will receive an original mug every day on a first-come, first-served basis. In addition, customers who shop at "UNIQLO Ginza" will be given the product in the original shopper.
* Open from 10:00 on September 17th (Friday) to September 20th (Monday).
* You cannot choose the color of the mug. A total of 2,000 mugs in 4 days.
* It will end as soon as all of them are gone.

·floor map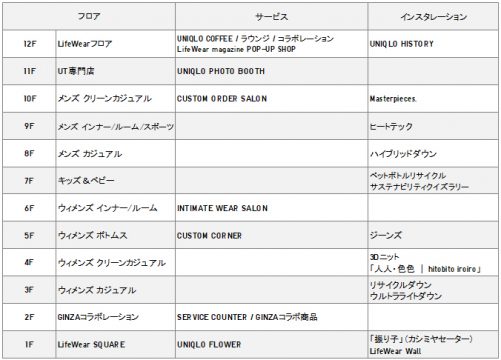 ・ Store overview
Store name: UNIQLO Ginza store reopening date: September 17, 2021 (Friday)
Address: 6-9-5 Ginza, Chuo-ku, Tokyo Ginza Komatsu East Building 1F-12F
Sales floor area: Approximately 1,500 tsubo (1st floor to 12th floor above ground, 12th floor, including installation part)
Products: Men's, Women's, Kids, Baby Special Site: https://www.uniqlo.com/jp/ja/spl/feature/shop/ginza
* The renewal opening date and other announcements are subject to change. note that.