A corner where you can ask the shops and facilities in Ginza about the best things, people, places, and commitments [Our favorite! ].
The shop that introduced us this time is a concept shop "re" that opened on June 24, 2021 and was designed by "ROSE GALLERY", a luxury rose specialty store with its main store in Ginza, aiming to eliminate "flower loss". : ROSE " .
"Re: ROSE" with the concept of "I will not abandon a single rose."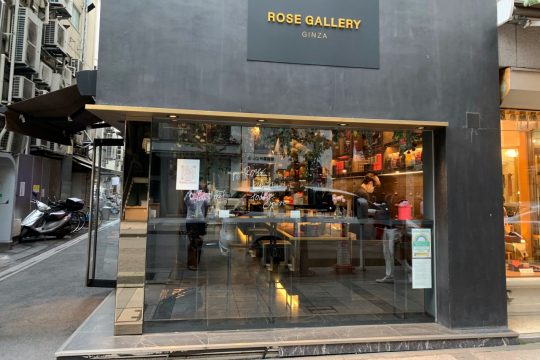 In 2020, as a result of the cancellation and postponement of various large and small events due to the Corona disaster, a large number of flowers that had lost their place were discarded. The problem of "flower loss" that many people became aware of when it was taken up in various media.
Flowers that are not even shipped as non-standard and are omitted by farmers, even though there is no problem with quality. It's been a long time since I bought the flowers, and although they are beautiful, they can no longer be sold in stores.
I want to shine the lives of such flowers, which have been given up as "unavoidable loss" for many years in the flower industry. Now that lifestyles have been reviewed and ethical and sustainable elements have become commonplace in lifestyles, individuals and businesses are beginning to tackle the flower loss problem one after another.
One of them is "re: ROSE" that we interviewed this time. It is open in Ginza 7-chome, about a 10-minute walk from Ginza Station.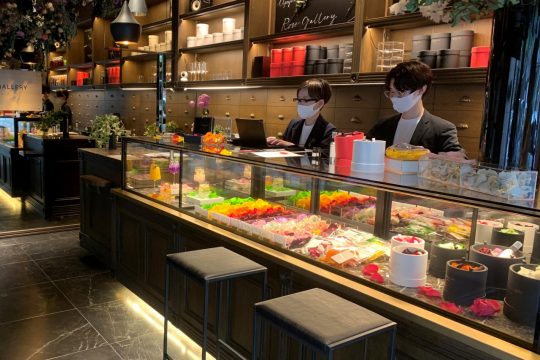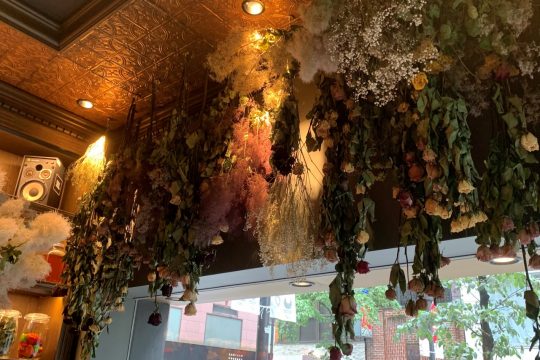 ---
---
When you enter the store, many dried flowers hung on the ceiling welcome visitors. At first glance, I was fascinated by the fashionable atmosphere that made me feel like a luxury sweets shop.
We talked to Momoko Takeda, Creative Director of Japan Flower Group Co., Ltd., which manages "re: ROSE", and Ryoki Mori, Re: ROSE Project Leader and Cosmetic Designer.
――Please tell us about the outline of "re: ROSE" and the reason for its opening.
Takeda:
Since "ROSE GALLERY" is a luxury roses specialty store, we have been patronizing us by providing our customers with only the highest quality roses that have been carefully selected.
Roses that do not meet the strict screening standards cannot be placed in stores, no matter how beautiful they are, and must be discarded. All the staff were distressed by the roses that were thrown away without seeing the light of day.
I don't want to abandon even one rose, and I thought there was a way to make the most of it, and the brand "re: ROSE" was born based on the situation where flower loss was attracting attention due to the corona. The roses that were destined to be discarded in "ROSE GALLERY" have been reborn and delivered to everyone as ethical products.
-Is the dried flower used in the interior also a rose that was planned to be discarded? Very romantic and cute!
Mori:
Thank you! As you said, we used roses that were supposed to be in the trash can as they were all non-standard. We are currently processing it into dried flowers while decorating it, and eventually we hope that it will be commercialized and enjoyed by our customers.
I wanted to create an interior that conveys the message that even non-standard roses look so beautiful and beautiful , so the showcase is also a pleasing shape, such as arranging colorful rose petals like sweets. Directed to.
[Our recommendation! ] Is "MY ROSE" that can make an original diffuser
[Our recommendation! ] Was introduced as a product called "MY ROSE". You can make your own diffuser by combining rose potpourri x container x scent.
Mori:
You can choose from two types of potpourri: a potpourri made from dried roses that are out of specification and open, or a timeless potpourri that is semi-permanently preserved and does not change color. You can use a single color or a mixture of multiple colors.
Preserved flowers are recommended for longevity, but dried flowers can enjoy the beauty of the original color of roses, so please use them properly according to the purpose.
Takeda:
Timeless potpourri is a processed rare variety of rose "AMOROSA" specially grown in Ecuador, South America. Each flower is a solid rose, and the petals are thick like velvet and have a texture like fresh flowers.
If the petals are separated in this way, the size and opening of the flowers are almost irrelevant. It is a product developed so that customers can enjoy it without wasting a single rose.
――If you look closely, the potpourri is introduced with flower language for each color.
Mori:
That's right. It is good to choose according to the color preference like choosing sweets, but since the flower language of roses is different for each color, I think it is fun to make a diffuser with your own meaning.
――It seems that you are wondering which one to use as the standard, especially for color, flower language, and gifts. Are there many customers who are selected by the flower language?
Takeda:
Surprisingly, more men are more interested in flower language than women.
At "ROSE GALLERY", we listen to each customer's gift scene, think together about how to make the other party happy, and propose products, but the same is true for "re: ROSE". If you have any doubts about colors and flower language, I would like the staff to feel free to consult with me.
――What kind of scene do you want to use "re: ROSE"?
Mori:
Not only when you are looking for a special gift, but also when you want to incorporate roses into your lifestyle, I would like you to come and make your own "MY ROSE". Drinks are also served in the store, so you are welcome to use it as a cafe.
We hope that you will come to the store alone, relax in the cute store, and think about the problem of flower loss as much as possible.
–Please give a few words to Kokoshiru readers.
Mori:
Please visit "re: ROSE" where you can meet your own special roses.
In addition, our Instagram account ( https://www.instagram.com/rerose_ginza7/ ) will post photos about roses and products, so it would be great if you could take a look.
---
Everyone at "re: ROSE" is making great efforts to eliminate flower loss. Rather than just delivering the discarded flowers to consumers, we learned about the attitude of responding to the needs of the times by developing up-cycle products with greater appeal, and visitors from major department stores have already visited us. Or something!
Looking at the beautiful dried flowers that make me mourn, "Why is this discarded !?" in the store, I felt that Flower Loss should not be indifferent not only to people in the flower industry but also to general consumers. Coverage. Why don't you visit "re: ROSE" and think about the consumption of ethical flowers?
Overview of "re: ROSE"
* The information provided is as of the article publication date (2021/07/28).