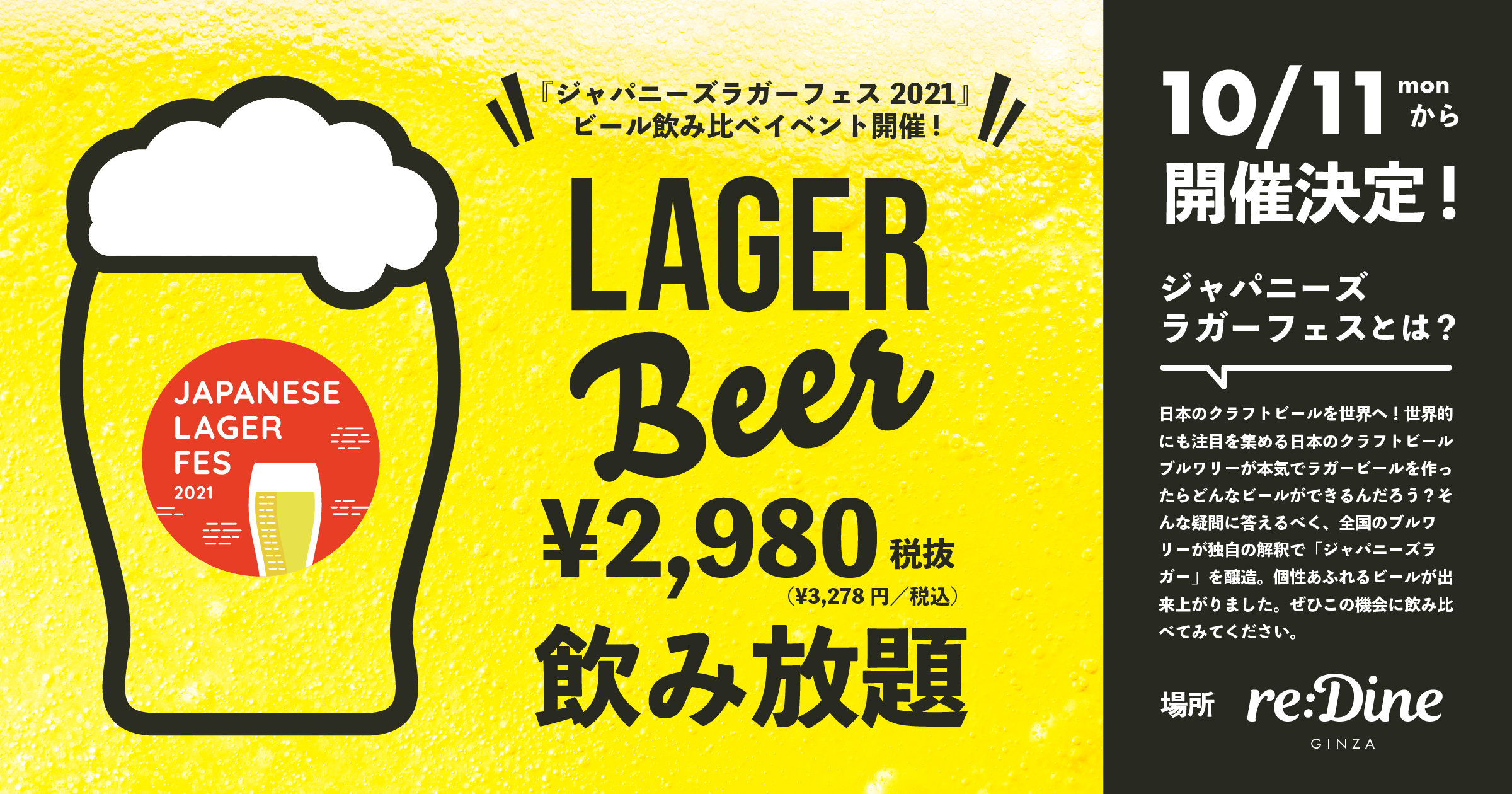 Gourmet media favy, which is used by 67 million people a month, will hold an all-you-can-drink event for craft beer nationwide for 2,980 yen (tax included 3,278 yen) from October 11 (Monday) at the shared restaurant "re" in Ginza, Tokyo. : Dine GINZA "will be held.
All-you-can-drink beer is 9 types of brewery beers participating in the ongoing craft beer festival "Japanese Lager Festival 2021". Please enjoy this opportunity.
■ What is "Japanese Lager Festival 2021"? <br /> The food and beverage industry was severely damaged by the spread of the new coronavirus infection. The same applies not only to restaurants that have been requested to shorten their working hours or closed due to a government announcement, but also to producers who wholesale beverages and ingredients to restaurants. Corona sickness has also shown that beer shipments have fallen by more than 25%. (Source: Tokyo Shoko Research https://www.tsr-net.co.jp/news/analysis/20201006_01.html )
Is it possible to support the craft beer industry in such a situation and at the same time support restaurants that offer craft beer? With the mission of "creating a world where stores do not easily collapse," favy decided to plan a craft beer event "Japanese Lager Festival 2021" with that in mind.
---
---
21 breweries from all over the country participate in the event currently being held online. Each brewery has its own unique "Japanese lager" (as of October 8, 2021).
At the drinking comparison event held from October 11th (Monday), beer from 9 of the breweries participating in "Japanese Lager Festival 2021" will be all-you-can-drink for 2,980 yen (tax included 3,278 yen). Please take this opportunity to enjoy brewery beers from all over the country.
Click here for the special site of "Japanese Lager Festival 2021"
https://subsc.favy.jp/cp/japanese_lager_festival_2021
■ About craft beer that can be drunk at a comparison event <br /> Brewery: YYG BREWING (Shibuya-ku, Tokyo)
Product name: Dear Sir, To you silver.
Brewery comment: The refreshing throat and dry aftertaste of Japan's proud "beer for the time being!" That silver beer. I reproduced that guy with the feelings of love and Big Respect.
Brewery: EBINA BEER (Ebina City, Kanagawa Prefecture)
Product Name: Pilsner Brewery Comment: "Pilsner" is a bohemian-style royal road created by Czech brewers. It is a rare craft beer in Japan with a rich aroma of wheat and a rich flavor and richness.
Brewery: Chichibu Brewery (Chichibu City, Saitama Prefecture)
Product name: Kanakuma's Pilsner Brewery Comment: A unique lager beer that the brewer says, "Beer doesn't have to be beer." The clean taste without any unpleasant taste and the wood flavor reminiscent of Quercus crispula stand out.
Brewery: Hop Garden Brewery (Tamura City, Fukushima Prefecture)
Product name: Abukuma CRYSTAL
Brewery comment: In the "Abukuma" series with the theme of "Ying Yang Five Lines", a beer with "transparency" that expresses [water]. It has a citrusy, sweet and spicy top aroma with a refreshing bitterness and hop flavor.
Brewery: Diamond Brewery (Omihachiman City, Shiga Prefecture)
Product name: SAKE Lager
Brewery comment: We used plenty of sake rice "Gohyakumangoku" from the local Omihachiman. The gentle and gentle aroma of rice and the balance of hops are comfortable, and you can feel the strong flavor of sake rice afterwards.
Brewery: Golden Rabbit Beer (Nara City, Nara Prefecture)
Product name: Hinohikari Brewery Comment: Rice beer using Nara Prefecture's specialty rice "Hinohikari". It is a lager with a soft and refreshing taste that is brewed every year for a limited fee and has a slight rice flavor.
Brewery: Matsue Beer Hearn (Matsue City, Shimane Prefecture)
Product name: Yakumo Lager Brewery Comment: "Matsue Beer Hearn" 22nd anniversary lager beer. Based on our Pilsner, it is a fruity gem with a light and refreshing finish and a hint of "sapphire" pop.
Brewery: Onejima Brewery (Matsue City, Shimane Prefecture)
Product name: Light Rice Lager
Brewery comment: A lager beer that uses rice from the local Yatsuka town and has a light taste to reduce bitterness. In addition to "light" and "rice", "Light Rice" also contains a wish that everyone is drinking both left (L) and right (R).
Brewery: Session's Brewery (Hiroshima City, Hiroshima Prefecture)
Product Name: Puffed Grain Lager Brewery Comment: Used after making rice into a nostalgic puffed grain. While firmly feeling the aroma and sweet aroma of puffed grains, it has a clear bitterness and a sharp, refreshing taste through the throat.
* Participating breweries may be added in the future.
■ "Japanese Lager Festival 2021" Real Drinking Comparison Event Overview <br /> Period: October 11, 2021 (Monday) -October 24, 2021 (Sunday)
* Depending on the stock status, it may end earlier than the period.
Business hours: 17: 00-21: 00
* Business hours and liquor service hours may change due to government requests.
Location: re: Dine GINZA (4-3-1 Ginza, Chuo-ku, Tokyo GINZA 9F Ginza Namikikan)
Price: All-you-can-drink 2,980 yen (tax included 3,278 yen)
■ We look forward to your visit!
For customers who come with peace of mind, we are waiting for you at the event venue with thorough measures against new coronavirus infections.
・ Temperature measurement before entering the store (* Customers with a body temperature of 37.5 ° C or higher will not be allowed to enter the store)
・ Alcohol disinfection and installation of alcohol bottles ・ Disinfection and cleaning of the store by staff ・ Constant ventilation
【Company Profile】
Company name: favy Inc.
Location: Shinjuku Tatsumi Building 7F, 6-16-6 Nishi-Shinjuku, Shinjuku-ku, Tokyo 160-0023
Business: Marketing support and restaurant management specializing in the restaurant market
http://favy.co.jp/