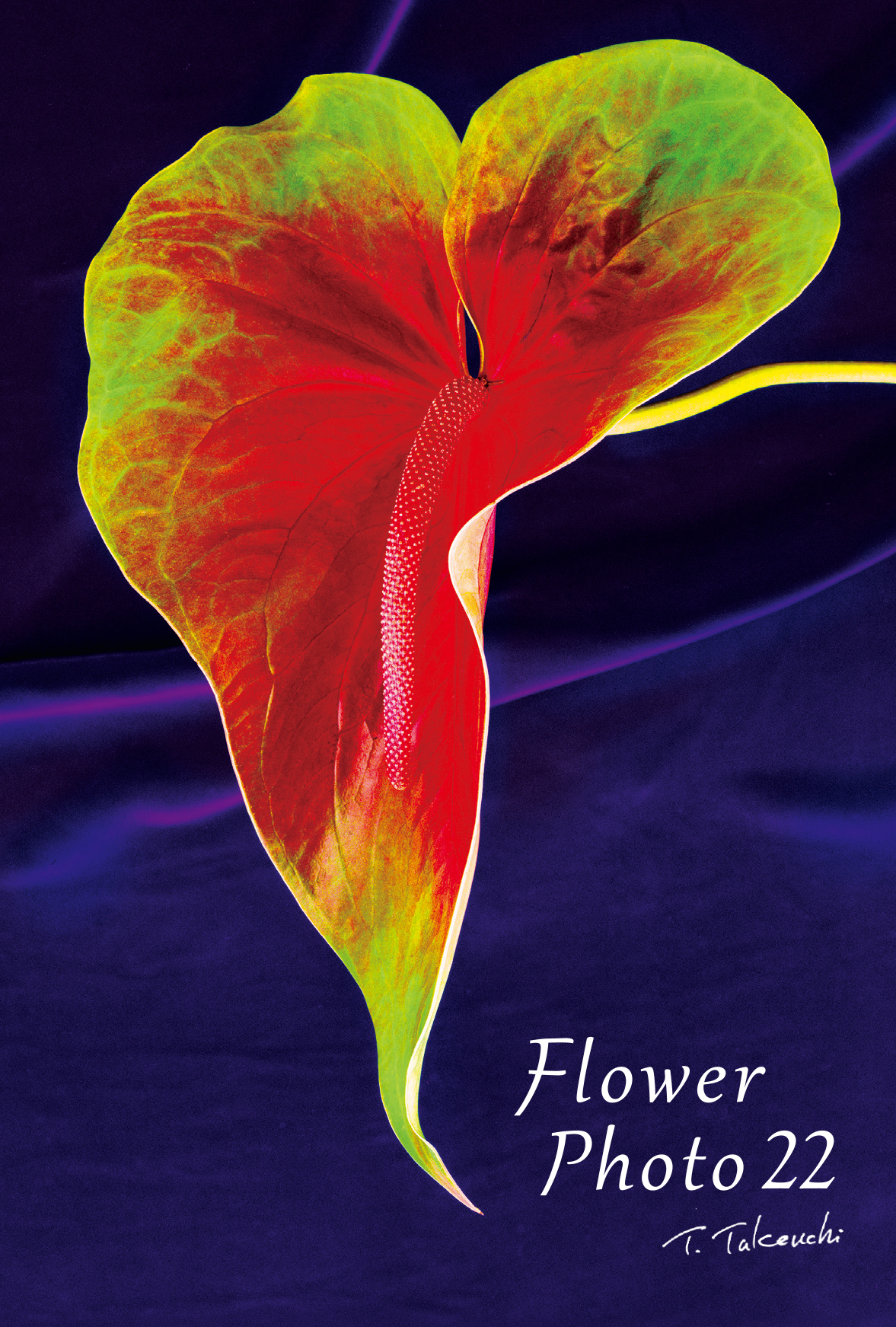 ~ A group of works on the theme of flowers taken during advertising shooting for over 40 years ~
Wish Co., Ltd. will hold a solo exhibition "Flower Photo 22" by award-winning photographer Toshiaki Takeuchi as a flower-themed photo art project from November 28th (Sun) to December 4th (Sat), 2021. ) It will be held at "Art Gallery Ishi" in Ginza from 11:00 to 18:00. [URL] https://wish-co.jp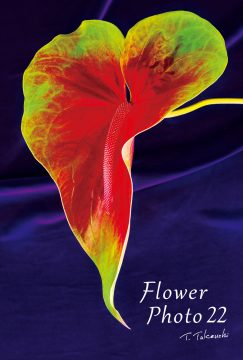 ■ Toshiaki Takeuchi Solo Exhibition "Flower Photo 22" Information
[ Schedule] November 28th (Sun) -December 4th (Sat), 2021
[Time] 11: 00-18: 00 (until 17:00 on the last day)
---
---
[ Venue] Ginza Art Gallery Ishi Okuno Building 206, 1-9-8 Ginza, Chuo-ku, Tokyo 104-0061
TEL: 03-3561-6565 / MOBILE: 080-5506-6565
URL: https://artgalleryishi.com
Tokyo Metro Yurakucho Line "Ginza 1-chome" Station Exit 10 1 minute walk Tokyo Metro Ginza Line "Ginza" Station Exit A13 5 minutes walk Tokyo Metro Ginza Line "Kyobashi" Station Exit 2 4 minutes walk
■ Profile
Toshiaki Takeuchi (Toshiaki Takeuchi)
Born in Hita City, Oita Prefecture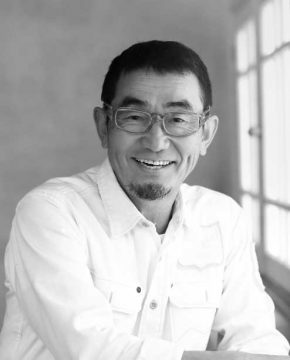 [Biography]
1978-1992: After dropping out of the photography department of Nihon University, moved to Australia and started working on fashion magazines such as "Australian VOUGU" and "COSMOPOLITAN". After returning to Japan, held a solo exhibition "Good Day" at the Canon Salon. In 1987, he established a photo production company that was the predecessor of WISH.
1993-2013: Original Prints Exhibition Email nude exhibition held at "Hanaemori Open Gallery" and "STUDIO WISH" at the same time. At the same time, exhibited his work at the 2nd International Contemporary Art Fair. After that, a charity photo exhibition "ARTISTS 1994" for Uganda relief was held at Kodak Photo Salon. And, "FLOWERS" exhibition is held at Tamagawa Takashimaya for flower art photos that I still stick to. In 2005, the "AD PEOPLE'S ART" exhibition was held at GINZA EST GALLERY. Large-scale photography studios and cafes have been opened in several locations in Tokyo as part of the photography business.
2014-2021: Expanding the field of activity as a photographer in advertising, magazines, fashion, etc., while energetically working in shooting studios, bridal production, etc., as an artist activity for a limited time, the photo art project "Flower Photo" 22 "is expanded. Currently, related sites such as online stores and concept shops are open.
[Awards]
・ Asahi Advertising Award Winning ・ Mainichi Advertising Award Winning ・ ADC Award Winning "Kyocera"
・ New York ADC Award Winning "Chage & Aska" Jacket ・ New York ADC Award Winning "Be Alive" Poster ・ Golden Award Of Montreux Gold Award Winning "NTT Akira Kurosawa" Poster ・ Nikkei Advertising Award Winning "BRITISH AIRWAYS"
・ Received the Nikkei Advertising Award Excellence Award "BRITISH AIRWAYS" for the second time ・ Yomiuri Shimbun Advertising Awards Life Plan Service Category Excellence Award ・ Daily Yomiuri Best Award "NTT Communications"
■ About "Flower Photo 22"
Photo art project by photographer "Toshiaki Takeuchi" [Flower Photo 22]
At the forefront of advertising, magazines, and fashion, I have always been particular about flowers as a cameraman. The characteristic of the creative activity is the creation of original works as a flower arrangement artist from the appearance of fresh flowers. Then, we will sublimate rich ideas into art with outstanding lighting and shooting technology that does not use CG or image processing at all.
To feel "healing and energy" in this era, sticking to the philosophical number "22" for the best gift of "decorating" the literary flower language and the vitality of plants and "giving" to important people. Photo art project of.
In order to make you feel closer to flowers and art photographs, high-quality prints are framed and limited editions with edition numbers are exhibited at famous department stores, solo exhibitions, galleries, flower photo 22 concept shops, and other catalogs and online shops. Started selling. Lease sales and subscriptions are also available for stores and offices.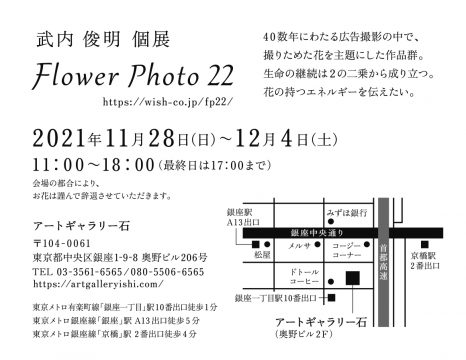 【Company Profile】
Company Name: Wish Co., Ltd. Location: South NW Building 1F, 1-1-17 Uehara, Shibuya-ku, Tokyo 151-0064
Location: 2-2-26 Tomigaya, Shibuya-ku, Tokyo 151-0063 Hill Top Terrace 102 101 (Studio)
Representative: Toshiaki Takeuchi, Representative Director Established: February 1987
URL: https://wish-co.jp
Business description: Commercial photography business
<Past related articles>
[Ginza Tsutaya Bookstore] Contemporary artist Hiroshi Mori will hold a solo exhibition "MORYGON KEWPIE" for the first time in a year and a half in Japan from November 27th. Announced new works such as the first 3D work and video work. NFT works are also released for the first time.
Kashima Arts Exhibition and Sales "Beauty Festival" will be held from November 13th. Approximately 55 selected excellent products from the Edo period to modern times are lined up.
Large-scale vintage costume jewelry exhibition held in Wako, Ginza