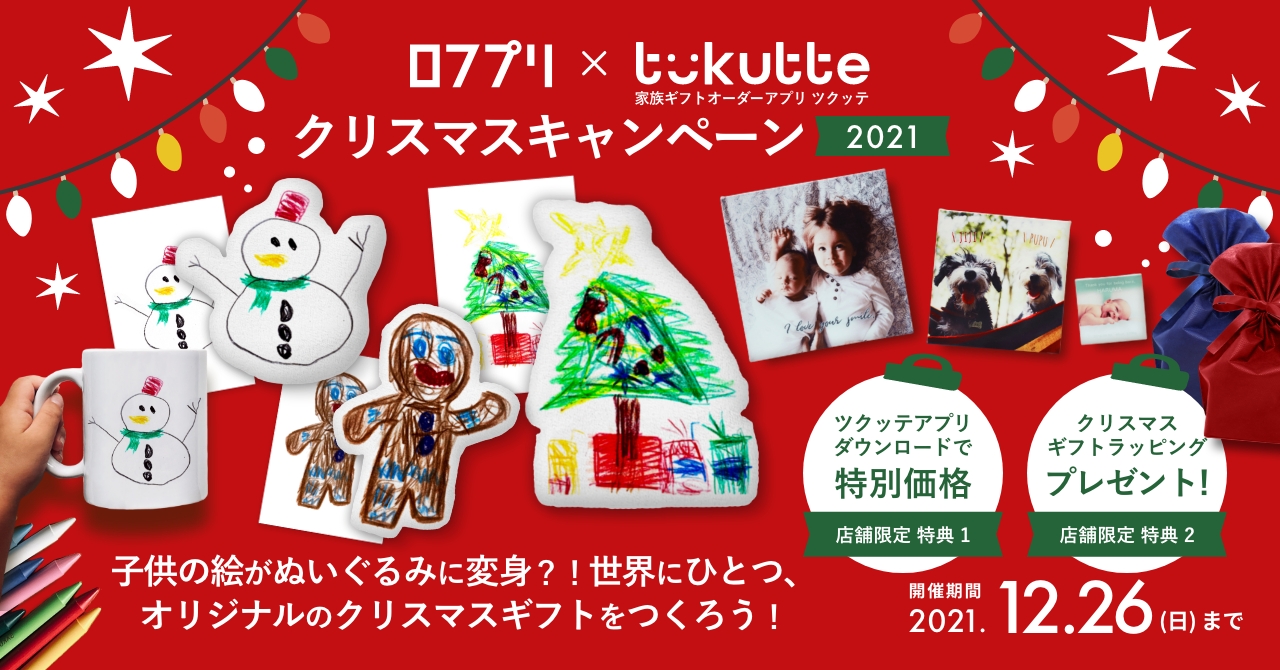 Is a child's picture a stuffed animal? Easy printing of your favorite photos and hand-drawn illustrations
"LoF Pri", a print customization workshop operated by Loft Co., Ltd. in collaboration with Image Magic Co., Ltd., will hold "Lofupri x Tsukutte Christmas Gift Campaign 2021" using the family gift app "tukutte". I am.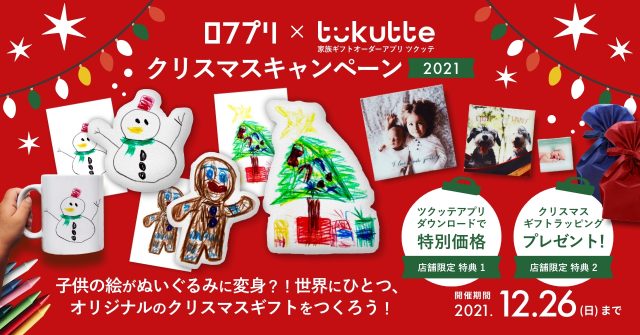 ■ Period: November 15th (Monday) -December 26th (Sunday)
■ Venue: Shibuya Loft 6th floor Lofpri Shibuya store, Ginza Loft 5th floor Lofpri Ginza store ■ Overview: After downloading the "tukutte" app, show the app screen at the target store to see your own illustrations. You can purchase original print goods made from photos at the campaign price, and we will do Christmas wrapping for free.
[ Products subject to "Lofpri x Tsukutte Christmas Campaign 2021 " ]
You can make only one original gift in the world using hand-drawn illustrations and photos taken with your smartphone.
We offer 3 types of mugs, canvas photos, and stuffed animals at a special price, and we have a lineup of items recommended for Christmas gifts and everyday use.
● Pair mug… 2,310 yen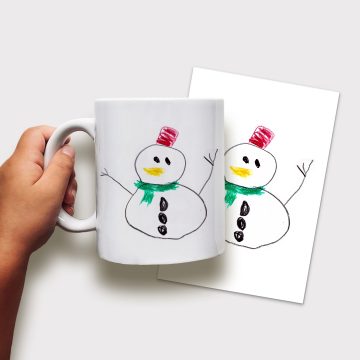 ● Canvas photo square
S size … 1,760 yen, M size … 2,750 yen , L size … 4,730 yen
● Plush toys ( die-cut cushions ) … 5,830 yen
Estimated from order to give you]
・ Mug, canvas photo… Handing over on the day ・ Die-cut cushion… Approximately 1 week * Varies depending on the number of orders and congestion. After ordering at the store, we also accept delivery for a fee.
<What is the family gift app " tukutte ">
An app provided by Image Magic Co., Ltd. that allows you to easily create original goods by simply uploading handwritten pictures and photos from your smartphone. We have apparel items such as T-shirts and aprons, as well as recommended items for everyday use such as mugs and eco bags.
● tukutte (Tsukutte) official site https://tukutte-gift.jp/
<What is the print customization workshop " LoFPri ">
A print customization workshop created by Loft Co., Ltd. and Image Magic Co., Ltd. You can print names, photos, and hand-drawn illustrations on products purchased at Shibuya Loft and Ginza Loft. You can also consult with the professional staff directly about the design, so you can use it with confidence even for the first time.
● Loft pre-online store https://originalprint.jp/loft/
<Past related articles>
[Loft] November 2 (Tuesday) "2foods Ginza Loft store opened" Sweets that do not use animal ingredients are enriched!
[Loft] Showa Retro Lively Shopping Street Loft "Bung Yokocho" Held
[Loft] Coffee from California landed for the first time! "Klatch coffee" POP UP SHOP @ Ginza Loft