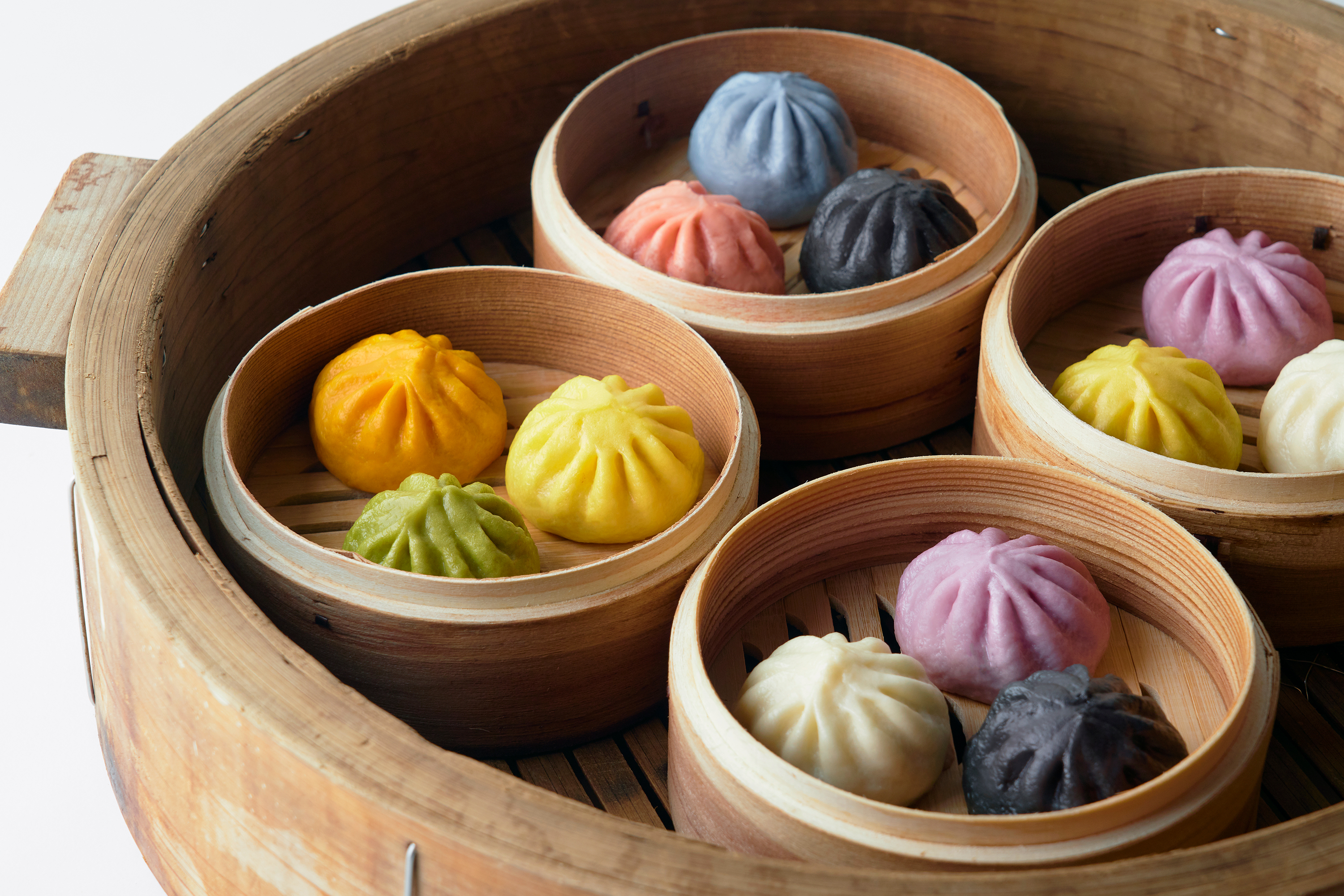 A meat bun brand born in Tokyo is now available!
Asian Table, which operates a Chinese restaurant "Dalian Gyoza Base DALIAN" in the suburbs of Tokyo, where you can enjoy authentic dishes such as handmade dumplings in a modern space, is a meat bun specialty store "TOKYO PAO" on Food Avenue on the first basement floor of Yurakucho Itoshia. Will open on Saturday, December 4, 2021.
A new sense of "petit rich" meat bun that is nice to receive, fun to eat
The characteristic of meat buns provided by "TOKYO PAO" is their size and colorfulness. The size is about 6 cm in diameter, which is smaller than a typical meat bun, and it is the size of a palm that is easy for women to eat with one hand. Not only the appearance but also the taste is colorful. Starting with the basic white meat bun based on pork, we offer a wide variety of fun with eight colors and flavors such as black (Chinese pepper), red (Ruro), and green (Deep-fried chicken with soy sauce).
It is a new style of meat bun that you can choose the number and taste combination according to your hunger and mood, such as light lunch and snacks. The inside is full of authentic flavored bean paste, and you can enjoy a small but slightly luxurious "petit rich" mood. In addition, meat buns that do not use garlic at all are easy to carry around and are recommended as souvenirs.
Not only cute, but carefully selected skin and full-fledged bean paste <br /> The development project of the new meat bun brand is Asian Table's roots in Taiwan, "I want to convey the deliciousness of meat buns" and "Enjoy more meat buns closer to you." I got up from the idea of "I want you to go out." Speaking of meat buns, we first focused on the skin where the bean paste attracted attention, and after more than half a year of trial and error, we realized a moist and chewy texture. For the bean paste to be packed inside, we carefully selected the ingredients and repeated trial production such as blending and cutting, and succeeded in developing a small but highly satisfying meat bun. In pursuit of surprise and enjoyment when eating, we colored the skin colorfully with vegetables and natural coloring agents, and adopted popular menus such as Chinese food for the bean paste wrapped inside. The recipe was adjusted to match the meat buns, and eight types of meat buns with a full-fledged taste were completed. We will continue to develop menus and provide new surprises.
---
---
Sending a new world view of meat buns from Tokyo from Yurakucho <br /> The first "TOKYO PAO" store that opens in Yurakucho Itoshia has an atmosphere that makes it easy to stop by like a cafe. There is an eat-in space where you can enjoy hot steamed meat buns. As an item that can fill your stomach in a short time not only as a meal but also as a snack, or during shopping or while traveling, a new way to enjoy meat buns from the Ginza / Yurakucho area, which is also the origin of fashion and food in Tokyo. I will propose. You can purchase one takeout so that you can enjoy it easily. We will also prepare a gift box containing 4 pieces. Frozen products that can be used as Tokyo souvenirs will be released soon.
TOKYO PAO MENU
001 white PAO (pork bun)
A basic meat bun filled with pork cut into large pieces in a moist and chewy skin.
002 black PAO (Sichuan pepper)
Bamboo charcoal was added to the skin, and the bean paste with tingling and pepper was stuffed. Recommended for Japanese pepper lovers.
003 pink PAO Pink
The authentic taste of domestic Sangen pork stewed with more than 10 kinds of spices and the aroma of star anise make it an appetizing meat bun.
004 green PAO (Deep-fried chicken with soy sauce)
In the skin colored with spinach, I wrapped the oil sardine chicken with Oyama chicken entwined with vegetables and sweet and spicy sauce.
005 yellow PAO (curry bun)
An authentic keema curry bun made by boiling beef with more than 20 kinds of spices and flavored vegetables.
006 blue PAO (Daigakuimoman)
It is a sweets bun with a gentle sweetness that wraps carefully baked Daigakuimo.
007 orange PAO (shrimp chili man)
It features a sweet and spicy taste of large shrimp fried with ginger, onions, and roasted eggs and seasoned with authentic chili sauce.
008 purple PAO (black sesame bun)
It is a sweet bun wrapped in a skin colored with purple potatoes, with walnuts that accentuate the texture added to the smooth black sesame paste.
■ Store information
Store name: TOKYO PAO
Address: 2-7-1 Yurakucho, Chiyoda-ku, Tokyo
Yurakucho Itoshia B1F Food Avenue Phone: 03-5224-6239
Business hours: 11: 00-21: 00 (LO20: 30)
Regular holiday: Number of seats according to facility closure: Eat-in 7 seats Budget: PAO (meat bun) 1 piece 234 yen (tax included)
Open: December 4, 2021 (pre-opening from November 28 to December 3, 2021)
Access: JR Yamanote Line "Yurakucho Station" Central Exit 1 minute walk Yurakucho Line "Yurakucho Station" D7-b Exit 1 minute walk Ginza Line / Hibiya Line / Marunouchi Line "Ginza Station" Exit C-9 2 minutes walk
<Past related articles>
The classical Hawaiian restaurant "The Island" will open in Ginza 1-chome, Tokyo!
Yakiniku / cold noodles Yutchan. Ginza store opening commemorative event "0 noodle festival" will be held! !!
An unprecedented antenna shop "Manabel Marche" will open for a limited time at Tokyu Plaza Ginza, which will be a step toward thinking about the attractiveness of a sustainable society and region!