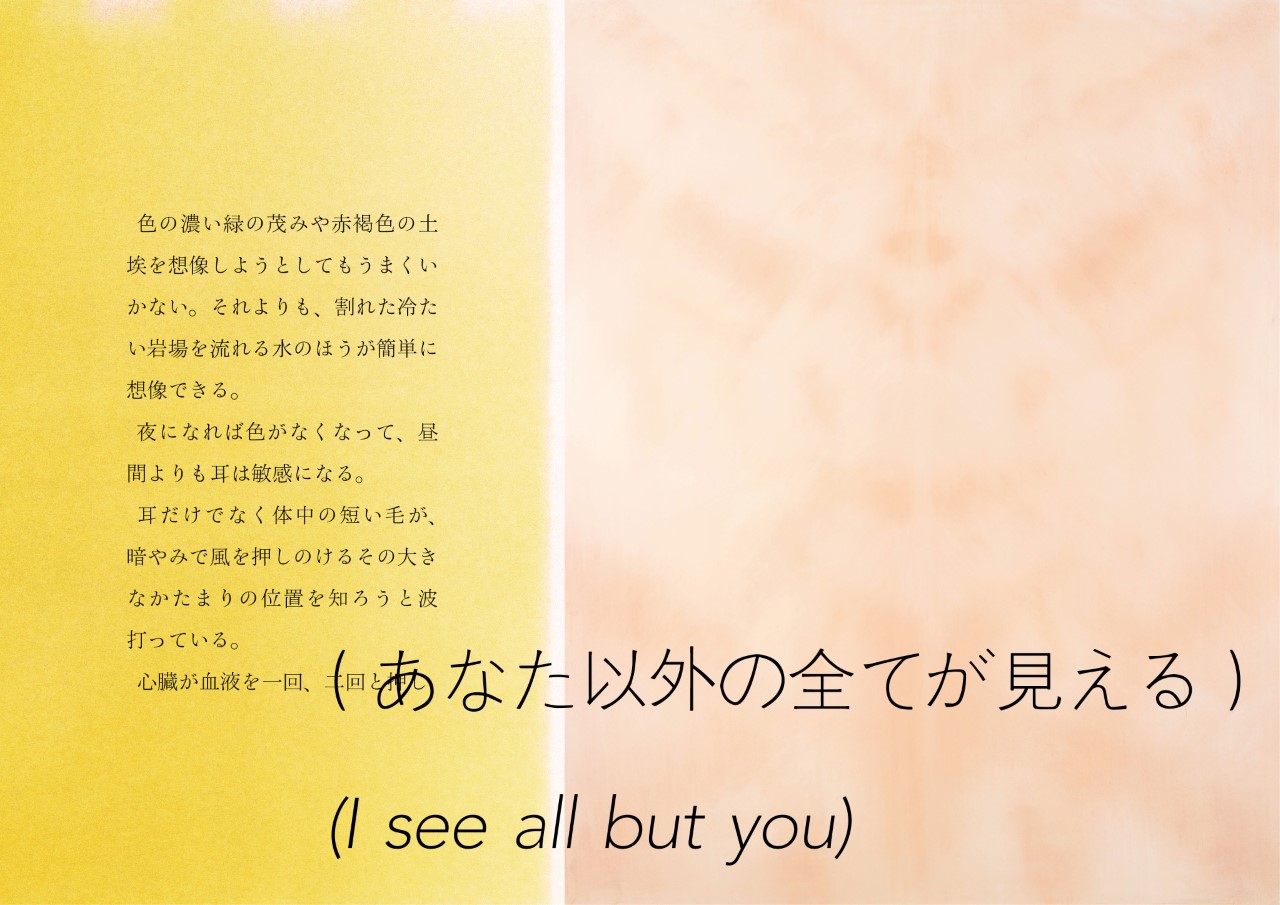 At Ginza Tsutaya Bookstore (GINZA SIX 6F, Chuo-ku, Tokyo), a two-person exhibition "(I see everything except you)" by artist Soh Souen and poet Hikari Kouchi. all but you) "will be held at GINZA ATRIUM. The period is from Saturday, January 15th to Tuesday, January 25th, 2022.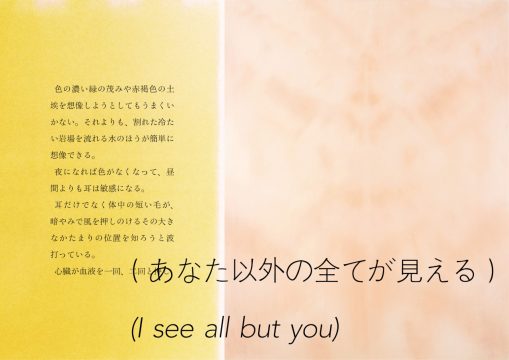 ·Overview
Based in Fukuoka, So Souen presents works on the theme of "self, otherness, and body" such as planes and performances.
Based in Tokyo, Hikari Kouchi has produced and presented three-dimensional works in which the soil is bonfired in parallel with the writing of poetry and texts.
This exhibition will be held as a two-person exhibition by Thor, who has been reading Kouchi's works since he was a student, calling out to Kouchi with the desire to bring "a big weakness" to the venue in Ginza. became.
The two people, who are active in expressing with different materials, methods, and forms, decided to exchange drafts, unfinished manuscripts, production diaries, etc. of works that will not be announced at the time of the event, and talked for about a year. I've been overwhelmed.
Eventually, we focus on things that exist at the boundaries of relationships such as "I" and "body" and "I" and "you". At the venue, we will create an exhibition space that physically asks the relationship between works / spaces.
In addition to pastel works that synchronize the movements of the right and left hands, Saw has released a work that traces the artist's body on a cloth using bleach, and the first video work.
Kouchi has released a new poetry collection "Lake can be seen from the observatory of jewels" produced for this exhibition. Pre-sale will be held at the venue.
Special page | https://store.tsite.jp/ginza/blog/art/24113-1402591227.html
・ Artist statement
---
---
Misunderstandings, beliefs, and the choice of who to tell and what not to tell continue to happen to everyone as long as they live on this planet and try to engage with others. Even if it is essentially impossible to understand others, but what the "person" here thinks, what the lifted hand is trying to do, what the open mouth says A strong desire to know what you are doing leads us to a place with a good view, which is completely different from the division of understanding / inability.
The work also does not mix with anyone when it appears there. It is the same even if it is the author. It is not possible to see how the dialogue and exchanges we have continued for this exhibition have actually affected the finished fiction work.
Materials such as pastel that crumbles to the touch, bleached and damaged cloth, unsigned dark-colored books, large dining tables, and scorched pottery objects are certainly present in the space at the same time. What is between the works separated by the title, what was not written in the text, are they really invisible?
And if you can't see it, and if you can't share it with someone, aren't they really?
When we are there, there is something that is neither "I" nor "you" at the boundaries that we always touch.
Here, I hope that you can feel the transition of the boundary with your skin like a fish swimming in the water.
What happened and what didn't happen is completely mixed and poured like cold water. Think of me like the fish I keep there. Think of things other than me like cold water (Mitsuru Kouchi "Jewelry" You can see the lake from the observatory ")
So Sowen Kouchi Hikari
・ Works to be exhibited (partial)
・ Artist profile
Soh Souen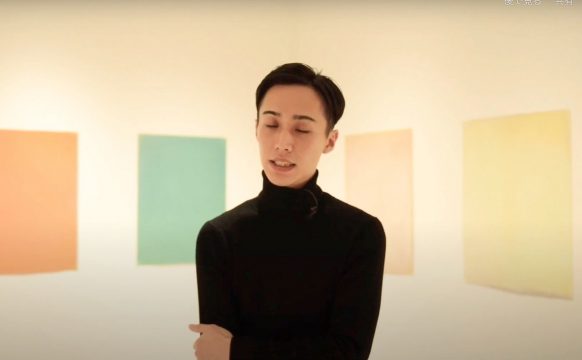 Born in Fukuoka Prefecture in 1995. Lives in Kitakyushu.
His main theme is the fluidity of himself and his body, and he works on paintings, installations, and performances. Major exhibitions include "Small Screaming" (The mass, Tokyo) and "We will sea – Sara Milio and Soh Souen" (Kyotamuro, Fukuoka).
Hikari Kouchi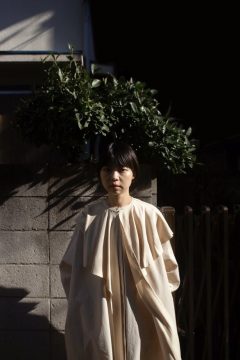 Born in Niigata Prefecture in 1993. Lives in Tokyo.
He creates poems, texts, and three-dimensional works on the theme of the relationship between the permanence of memories, dreams, and memories (half eternity) and the life span that comes to the body. The final candidate for the 18th Chuya Nakahara Award (in the name of Uni Goto). His major works include "Hints for 300 Years", "My Rainbow-Colored Limbs, My Rainbow-Colored Musical Instruments", and exhibitions of the same name.
・ About sales
● Sale of works <br /> Sold at the Ginza Tsutaya Bookstore.
Store | January 15, 2022 (Sat) 11: 00-
* Some works may be sold out by pre-sales.
● Kouchi Hikaru New Poetry Collection "Lake Can Be Seen from the Jewel Observatory" Ginza Tsutaya Bookstore Pre-sale
Price | 2,700 yen + tax format | Number of pages: 176 pages / Bookbinding: Top binding / Format: 116 x 170 mm
Design | Akutsu number of copies | 1000 copies
・ Exhibition details
Saw Souen Kouchi Hikaru Two-person Exhibition "(I see all but you)"
Period | January 15th (Sat) -January 25th (Tue), 2022
Time | 11: 00-20: 00
Venue | Ginza Tsutaya Bookstore GINZA ATRIUM (Event Space)
Admission | Free sponsorship | Ginza Tsutaya Bookstore Graphic Design | Akutsu Inquiries | 03-3575-7755 (during business hours) /info.ginza@ccc.co.jp
Special page | https://store.tsite.jp/ginza/blog/art/24113-1402591227.html
・ Ginza Tsutaya Bookstore
We propose "living with art" by connecting art, Japaneseization and living through books.
Address | GINZA SIX 6F, 6-10-1, Ginza, Chuo-ku, Tokyo 104-0061
Phone number | 03-3575-7755
Business hours | Please check the store homepage.
Homepage | https://store.tsite.jp/ginza/
Facebook | https://www.facebook.com/GINZA.TSUTAYABOOKS/?ref=bookmarks
Twitter | https://twitter.com/GINZA_TSUTAYA
Instagram |https://www.instagram.com/ginza_tsutayabooks/
・ CCC Art Lab
We are a planning group that conducts art-related business within the planning company Culture Convenience Club Co., Ltd. We would like to make art closer to us through "Proposals for a life with art" and contribute to making someone's life happier and creating a better society. Based on the knowledge cultivated through many years of business experience such as store planning, art media, product development and event production, we make planning proposals with a professional approach.
https://www.ccc-artlab.jp/
<Past related articles>
[Ginza Tsutaya Bookstore] Held a charity exhibition "THE CLUB Collective Echoes for Children" at THE CLUB, which will lead the next generation of the art world.
[Ginza Tsutaya Bookstore] Have a Christmas full of art. "Ginza Art Christmas 2021 -irodori-" with the theme of "color" presented by Ginza Tsutaya Bookstore will be held from November 26th.
[Ginza Tsutaya Bookstore] Contemporary artist Hiroshi Mori will hold a solo exhibition "MORYGON KEWPIE" for the first time in a year and a half in Japan from November 27th. Announced new works such as the first 3D work and video work. NFT works are also released for the first time.
[Ginza Tsutaya Bookstore] Asami Kiyokawa's solo exhibition "TOKYO MONSTER, reloaded", which celebrated the 20th anniversary of artist activity, will be held from Saturday, December 11th.