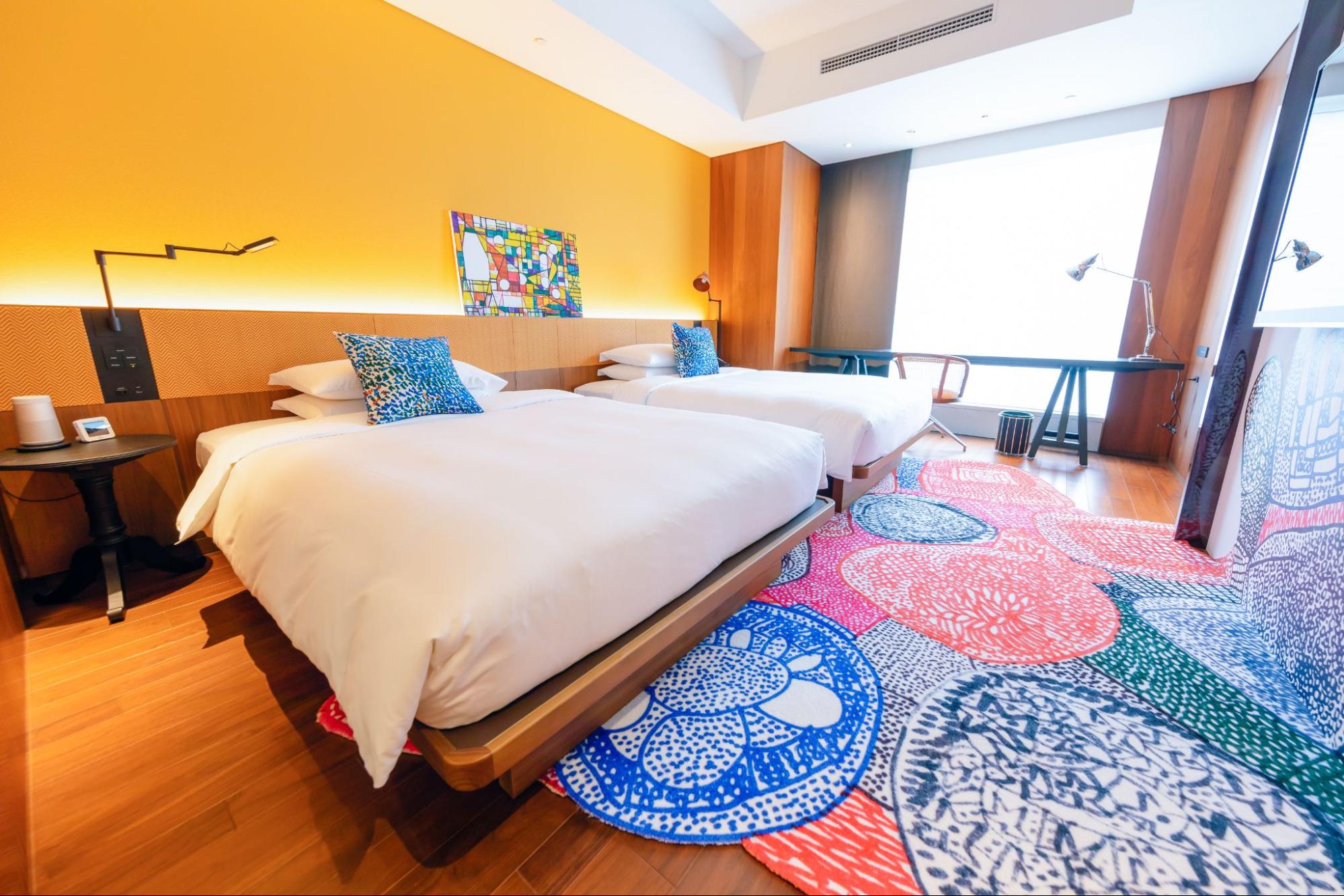 A concept room where you can experience the distinctive art created by artists with intellectual disabilities will be on sale from April 12, 2022!
-Original drinks and goods inspired by "Isai" are also available-
Helal Bonnie Co., Ltd. ("Heral Bonnie"), which defines the talents of writers with intellectual disabilities and the art drawn as "different colors" and develops them in various things, things, and baths in society, is a life located on Namiki-dori Street in Ginza. General sales of the concept room, which was the first collaboration with the style hotel "Hyatt Centric Ginza Tokyo", will start on April 12, 2022 (Tuesday). In commemoration of this collaboration, from May 2nd, the all-day dining NAMIKI667 on the 3rd floor will offer an original cocktail mocktail inspired by "Isai".
■ Collaboration Background <br /> Hyatt Centric Ginza Tokyo is a lifestyle where you can enjoy art in line with the four design concepts of "media," "fashion," "landscape," and "entertainment." It is a hotel. This time, the collaboration with Heral Bonnie was realized as the first concept room that Hyatt Centric Ginza Tokyo is working on to completely change the image of the guest room. A unique concept that we want travelers who are accustomed to visiting hotels to experience the wonders of art in collaboration with talented art created by a disabled artist curated by Heralbonnie. It is finished in the room.
■ Concept Room: HERALBONY ART ROOM Overview <br /> The company brand "HERALBONY" operated by HERALBONY is visible between consumers and the fields of "welfare" and "disability" that are difficult to relate to in everyday life. We will expand the area as a "lifestyle brand" to melt the boundaries and create a new lifestyle starting from welfare. This time, as the first step for lifestyle brands to color the space, we have decided to collaborate with the hotel "Hyatt Centric Ginza Tokyo".
A concept that stimulates the sensibilities of visiting guests with the power of art that stands out from artists with intellectual disabilities, and allows you to experience rich feelings through an accommodation experience that creates new perspectives and values. Both companies worked on the standard and suite types of rooms, and Nomura Kogyo Co., Ltd. cooperated in the space design and construction. During the period, each room is a special room that can only be accommodated by one group per day, incorporating distinctive art with various materials and methods, and in addition to the interior where you can enjoy the world view of "Heral Bonnie", the entire space is vividly colored. increase.
---
---
Not only can you freely use HERALBONY lifestyle items such as cups, cushions, and sofas during your stay, but we also offer a plan where you can take home a set of art T-shirts and coasters in collaboration with "HERALBONY" for guests only. I am preparing. Please enjoy a unique time in the center of Ginza Namiki Dori.



* Concept room (both suite and standard), original T-shirt and coaster
■ Detailed accommodation plan information <br /> Plan details: Accommodation at Hyatt Centric Ginza Tokyo "HERAL BONY ART ROOM"
One cup of special cocktail mocktail that you can enjoy at NAMIKI667
HERALBONY original art T-shirt, coaster 1 set per person (* accommodation + cocktail + original art goods plan only)
Offer price: Accommodation + collaboration drink standard ¥ 23,100 ~ (tax included)
Suite ¥ 61,600 ~ (tax included)
Accommodation + collaboration drink + original art goods 1 set per person Standard ¥ 36,174 ~ (tax included)
Suite ¥ 69,218 ~ (tax included)
Sale period: April 12th (Tuesday) -July 31st (Sunday), 2022
Accommodation period: May 2nd (Monday) -July 31st (Sunday), 2022
Room type: Standard, Suite details: https://www.hyatt.com/ja-JP/hotel/japan/hyatt-centric-ginza-tokyo/tyoct/offers
* The price is for 2 people per room. There is no room rate for one person.
* 15% service charge and accommodation tax will be added to the above price.
■ HERAL BONY Inspired Cocktails
In commemoration of this collaboration, we will offer an original cocktail mocktail inspired by "Isai". "Prominence" is a cocktail that expresses the prominence of black flames rising from the surface of the sun. By combining independent cocktails such as tequila cassis, the red flame around the chaotic black moon was expressed. "Flower Mojito" is designed in a mojito style using refreshing mint and colorful flowers on a transparent canvas called glass. It is a mocktail that makes you feel the beginning of a new spring, reminiscent of the various futures of new buds.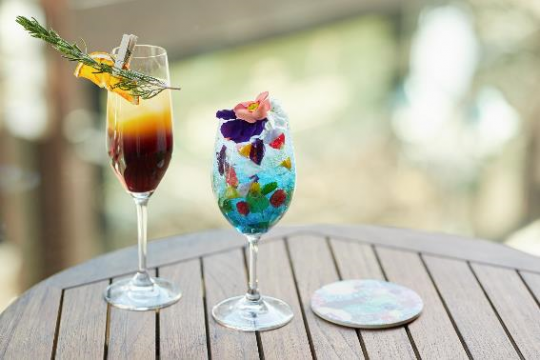 Drinks: Prominence / Flower Mojito
Offer price: ¥ 1,650 (tax included)
Offer period: May 2nd (Monday) -July 31st (Sunday), 2022
Offer time: 11:00 – 17:00 (LO 16:00)
* A 15% service charge will be added to the above price.
* The menu is subject to change depending on the purchasing situation.
[Comment by Takaya Matsuda and Fumito Matsuda, CEO of Heralbonnie]
A unique space that colors the special moments of everyday life is completed. I think that the creation of culture through welfare is to aim for Heralbonnie, which will remain for 100 years. We have expanded into a world where different people, different values, different lifestyles, and different arts are mixed. This is the scenery we always wanted to see and see.
[Comment by Hyatt Centric Ginza Tokyo Uchiyama Watanabe General Manager]
Through our first concept room collaboration, we will expand the distinctiveness of writers with intellectual disabilities to various things, things, and places in society, along with the world view of Heralbonnie, which aims to transform the image of "disability". We would like to convey the individuality and diversity that our hotel values ​​to society. We hope that guests will be able to create new perspectives and values ​​while enjoying their stay in the concept room where they can experience the individuality of both brands.
[Comment by Nomura Kogeisha Designer Minato Yoshimura]
From art, you can feel the power of rich colors and shapes that continue to pop out of the canvas and continue to spread. We have created a space so that you can experience a rich time as if you were in the ever-expanding art while spending time in your room. I hope that many conversations and discoveries will be born while watching the art that blends into various places.
■ About Hyatt Centric Ginza Tokyo
"Hyatt Centric Ginza Tokyo" is located on Namiki-dori, one of the representative streets of Ginza, Tokyo, where you can enjoy the city of Ginza in all directions. The world's leading luxury brands, gourmet foods, and many long-established stores are gathered here. "Ginza" has always cherished tradition while flexibly accepting new culture. The 164 guest rooms, which incorporate such "Ginza-ness" into unique colors and designs, are open spaces that combine functionality and comfort. NAMIKI667, an all-day dining room on the 3rd floor, offers a new dining experience in Ginza with a novel interior and a new menu. Also, in the bar area, the ever-changing city of Ginza will be decorated with various cocktails and a special bar menu. Please spend your time on the terrace overlooking the tree-lined street. As a new travel base in "Ginza" where old and new cultures intersect, as long as you are an "active traveler" who has an excellent antenna for travel, always pursues new discoveries at your destination, and is pleased to share it with your friends. Supports no exploration.
Hotel Name: Hyatt Centric Ginza Tokyo | Hyatt Centric Ginza Tokyo
General Manager: Uchiyama Traveling Opening Date: January 22, 2018 Interior Design: Yohei Akao, Representative of Strickland Co., Ltd. Location: 6-6-7 Ginza, Chuo-ku, Tokyo
TEL: Representative 03-6837-1234 Accommodation reservation 03-6837-1313
Official site: hyattcentricginza.jp
■ About Nomura Kogeisha
Founded in 1892. Nomura Kogeisha is a comprehensive producer of spaces that handles planning and design, construction and operation management of commercial facilities, hotels, corporate PR facilities, workplaces, expositions, museums, etc. We are expanding our business at 9 bases nationwide and overseas, and we have a total of more than 1,000 professionals such as planners, designers, and product directors. We deliver "joy and excitement" to people by providing space value that leads to the solution of social issues by utilizing the comprehensive strength that we have cultivated over 120 years since our founding.
Official site: https://www.nomurakougei.co.jp/
■ Introduction of appointed artists and works * Some introductions

Writer: Mr. Fumie Shimaoka Enrollment: Individual (Osaka)
From an early age, I loved the work of concentrating on my desk and moving my fingers, so I enjoyed going to the Montessori classroom. Meanwhile, one day he suddenly developed acute edema, and although he was afraid of blindness at one point, he miraculously recovered. After I was able to correct my eyesight with contact treatment, I began to boldly draw fine line drawings with my own water-based pen. The feature of her work is to connect small circles and cells with a unique sense of color and draw favorite things and feelings. Gradually, it had many colors, changed its shape, and the fragments proliferated, gradually establishing the current style. Currently, while attending the workshop, he spends his days relaxing and enjoying creative activities at the table after having dinner with his family.

Writer: Koichi Tsuchiya Enrollment: unico / Museum of Beginnings (Fukushima Prefecture)
Using brush markers, it creates a detailed screen full of dynamic shapes and colors. I've loved coloring books since I was little, but I first started drawing my own paintings when I was 19 years old. Since then, he has produced one after another works consisting of vivid colors and delicate composition as if he had cut a weir. The titles "word processor" and "origami" were given by the artist himself.
[Overview of art lifestyle brand "HERAL BONY"]

Producing high-brand apparel products (scarves, bags, ties, etc.) using the art data of artists with disabilities. We are expanding our sales channels with real stores and cross-border e-commerce stores all over Japan. We also handle sustainable products that upcycle the art materials posted in the All Japan Temporary Enclosure Art Museum Project.
EC site:
https://heralbony.com/
[Overview of Heralbonnie Co., Ltd.]

HERALBONY is a welfare experiment unit whose mission is to "release the distinctiveness."
We conclude contracts with welfare facilities and writers with intellectual disabilities all over Japan, and turn our works into fashion and interior products, including the licensing business centered on copyright management of over 2,000 high-resolution art data. We are developing a variety of businesses with a view to expanding the welfare field, such as the operation of the art lifestyle brand "HERAL BONY" and the "All Japan Temporary Enclosure Art Museum" that diverts works to temporary enclosures at construction sites. Through these social implementations, we aim to transform the image of "disability" and create a new culture starting from welfare. The company name "Heralbonnie" is a mysterious leaf that Shota Matsuda, the older brother of both representatives with intellectual disabilities, wrote in his personal history book when he was 7 years old. It has the meaning of "I want to create new value in the world that seems to be meaningless."
Company name: HERALBONY Co., Ltd.
Location: 2-38 Kaiunbashidori, Morioka City, Iwate Prefecture
Representative: Takaya Matsuda, President and CEO, Fumito Matsuda Official Website: Vice President and Representative Director
https://www.heralbony.jp
https://www.heralbony.com
<Past related articles>
Hyatt Centric Ginza Tokyo A wall installation art that expresses the history of the hotel by Mr. itu', an artist based in Paris who is active in the world, has appeared.
Hyatt Centric Ginza Tokyo Floral Strawberry Afternoon Tea will be available for a limited time from March 1st (Tuesday) to May 9th (Monday)
Hyatt Centric Ginza Tokyo's popular Halloween cake set is now available as an afternoon tea. We offer savory products with cute ghosts and eye-catching sweets.