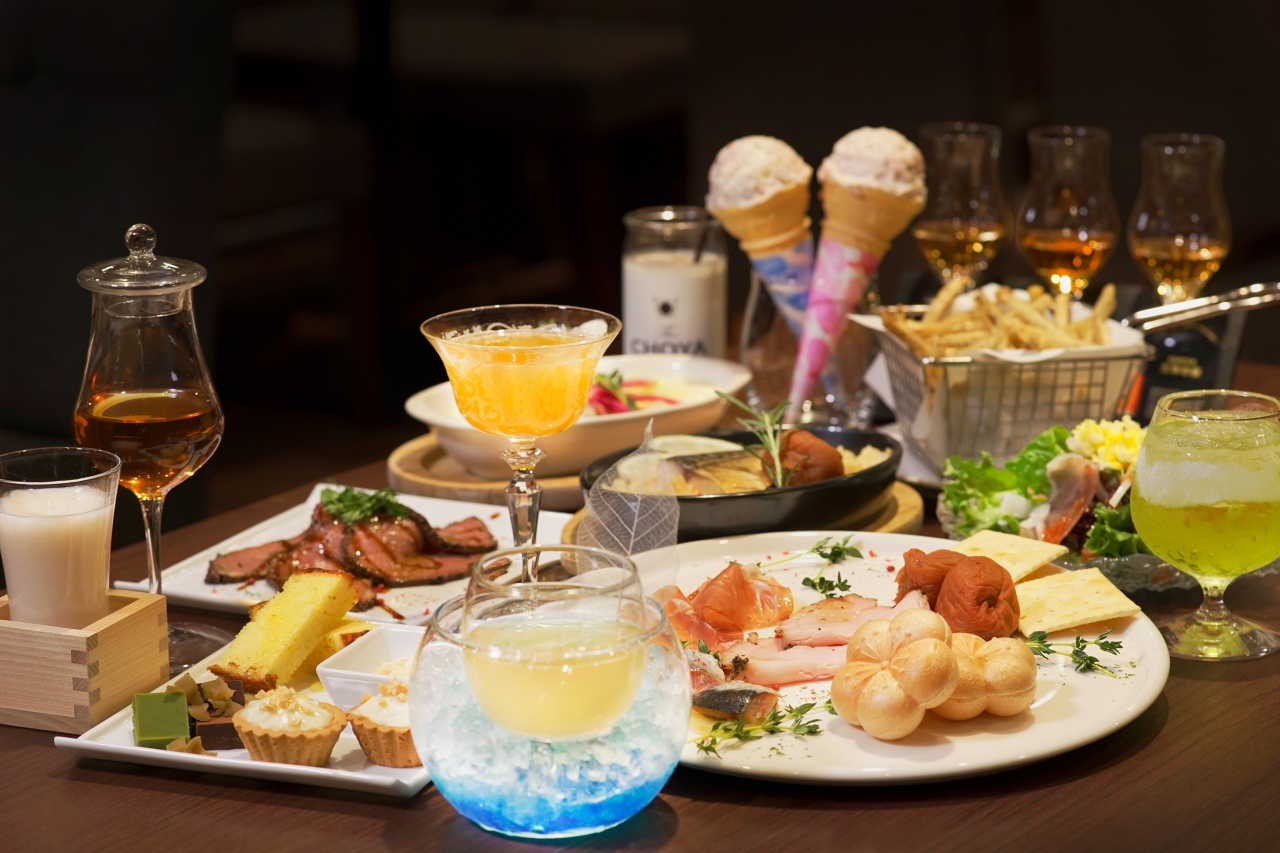 From May 9, 2022 (Monday) (Reservation URL: https://bit.ly/choya-yoyaku ) We will also hold a campaign to present one popular sweet "Umepurin" per person.
Choya Umeshu Co., Ltd. (hereinafter referred to as Choya) will sell the "Umezukushi Dinner Course" from May 9, 2022 at "The CHOYA Ginza BAR", a store specializing in plum wine cocktails.
The course starts with an apéritif that you can choose between those who get drunk (with alcohol) and those who do not get drunk (non-alcoholic). An appetizer set that combines meat, fish, vegetables and plums, fried foods with plum tartar, main meat dishes and rice dishes, and even after-dinner desserts, the course is unique to a specialty store that pursues compatibility with plum wine. It's cooking. There are more than 50 types of drinks, including a flight set where you can enjoy limited-edition plum wine that can only be enjoyed at restaurants, popular plum wine cocktails, and non-alcoholic plum cocktails, all-you-can-drink for 2 hours and 30 minutes. As a closing liqueur for the course, you can choose your favorite cup from "Premium Mixology Cocktail". Feel free to drop by for a dinner with your friends and family, after work or on a weekend date.
Also, the season of plum blossoms! To commemorate the arrival, customers who use this course during May and June will receive one of the popular sweets "Umepurin" per person.
・ Selectable tightening liqueur
In order to experience the liqueur "Genuine Umeshu" that you can enjoy before, during, and after meals, you can choose one item as a liqueur with a creative cocktail at the Umezukushi Dinner Course. Enjoy the afterglow of the course with the premium mixology cocktail unique to The CHOYA Ginza BAR.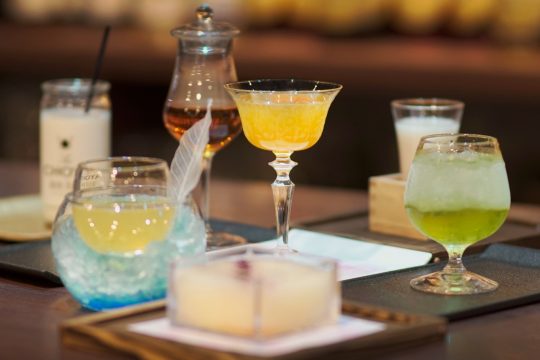 ・ Course outline
---
---
Reservation page: https://bit.ly/choya-yoyaku
Sale period: From May 9, 2022 (Monday)
Course: Umezukushi Dinner Course Price: 6,000 yen (tax included) * Includes charge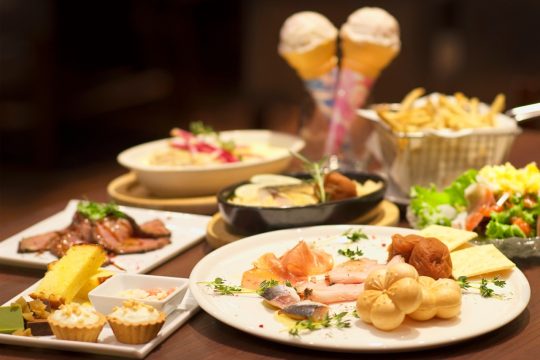 ・ Dinner course meal
<Appetizer>
・ 5 kinds of plums plate Cheese whip with plum fruits 4 yuan pork pastrami plum confiture marinated blue fish plum confiture Italian prochute plum confiture smoked plums ・ ice cream plum potato salad ・ roast beef plum puree and balsamic sauce <salad >
・ Mimosa salad with new onions and prosciutto plum tomato dressing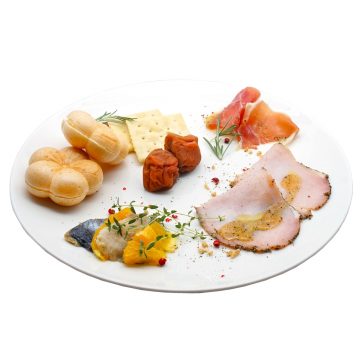 <Fried food>
・ French fries with umeboshi flavor with plum tartar <meat dish>
・ Grilled chicken thigh with plum scent and cheese sauce with herb scent of white asparagus <rice>
・ Smoked mackerel-flavored rice with plum wine

<Assorted Petit Fools>
・ Plum cheese tart ・ Plum hail ・ Pound cake flavored with plum wine ・ Pavé chocolate with chopped plums
* Plan contents may change depending on the season and other conditions.
・ Enliven the season of plum blossoms in May and June! Special gift plan!
Harvesting of "ume" begins in May in early regions and reaches its peak in June. June 6th is Plum Day. June 11th is Umeshu Day. It will be a special period that is indispensable for making plum wine at our company. Customers who use the "Umezukushi Dinner Course" by the end of June will receive one of The CHOYA Ginza BAR's popular sweets, "Umepurin", to match the season when the plum mood rises. increase.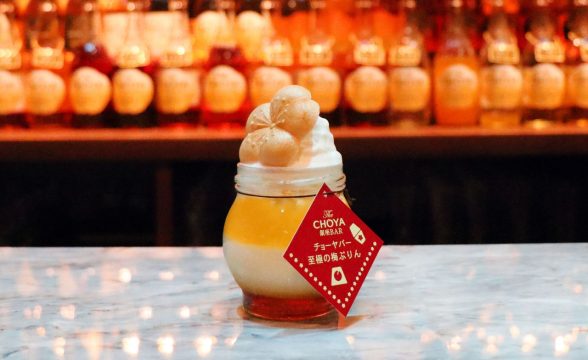 ・ Example of closing premium mixology cocktail
Kamisui (The CHOYA, Japanese sake, yogurt, etc.), Umeshu incense (The CHOYA, Belmot, Sherry liquor, etc.), Golden Rod (The CHOYA, Extreme plum syrup, mango, orange peel, etc.), Green Earth (The CHOYA, Organic matcha, etc.), C4D (The CHOYA, tea liqueur, milk, etc.), Snow Garden (The CHOYA, Japanese sake, grape sansho, etc.), etc.

・ All-you-can-drink drink menu example
<Alcohol>
・ Plum wine cocktail
The CHOYA Sonic, The CHOYA Highball, The CHOYA Lemon Sour, The CHOYA Ginger, The CHOYA HOTEE, The CHOYA Royale, The CHOYA Sangria, The CHOYA Beer, etc.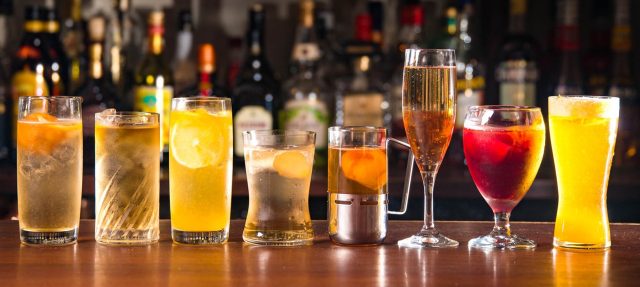 ・ Tadashi Umeshu The CHOYA Flight 5 types Please enjoy the unique personality of authentic plum wine.
(Single Year, Aged Three Years, Black, Craft Fruit, Kishu Nanko Umehara Sake)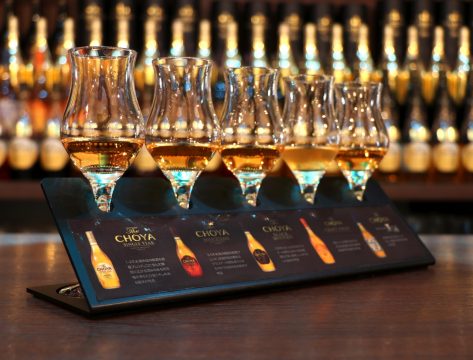 ・ Tadashi Umeshu The CHOYA 3 types of extreme flights
(Extreme plum / limited plum wine selection Deep & Rich / limited plum wine selection Sweet & Juicy)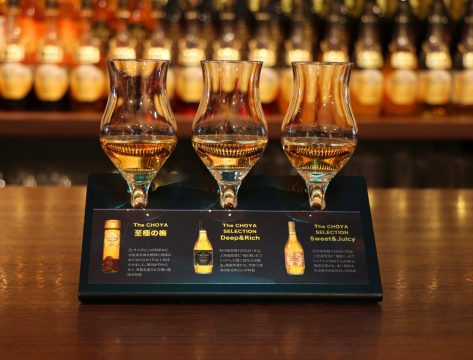 In addition, The CHOYA Earth Ume, The CHOYA Umeshu, The CHOYA Ume Salute, The CHOYA x Peach, The CHOYA x Pine, The CHOYA Mule, The CHOYA Gintnick, The CHOYA Breeze, The CHOYA Salty, The CHOYA Blossom, etc.
<Non-alcoholic>
Don't get drunk plum squash, don't get drunk plum lemon sour, don't get drunk The CHOYA, etc.
The CHOYA Ginza BAR will continue to operate with the concept of delivering "always new encounters with plums" to our customers. We continue to offer regular BAR menus and other courses, and sell goods for the exclusive syrup "The CHOYA Umeshu Umeshu".
Under the slogan of "Delivery, the power of plum blossoms," Choya pursues the new possibilities of plum blossoms and delivers the splendor of plum blossoms to people all over the world so that they can live a healthy and enjoyable life.
■ Store overview Store name: The CHOYA Ginza BAR
Time: Please check from the homepage in advance.
Charge fee: 880 yen (tax included) * Except when applying for a course plan.
Location: NOCO 7F, 5-6-5 Ginza, Chuo-ku, Tokyo 104-0061
TEL: 03-3573-8015
Access: Subway Marunouchi Line Ginza Station Exit A1 1 minute walk Subway Ginza Line Ginza Station Exit B5 1 minute walk Subway Hibiya Line Ginza Station Exit B5 1 minute walk
URL: https://www.choya.co.jp/the-choya-ginza-bar/
* Smoking is prohibited in the store. Please be careful.
Choya Umeshu's first permanent bar opened with the aim of evolving the drinking style of authentic plum wine, which is a traditional liqueur originating in Japan, and transmitting it to the world as a culture. You can enjoy more than 100 kinds of original menus including plum wine cocktails based on the authentic plum wine "The CHOYA" developed as the next generation standard, and plum food using plum wine and dried plums.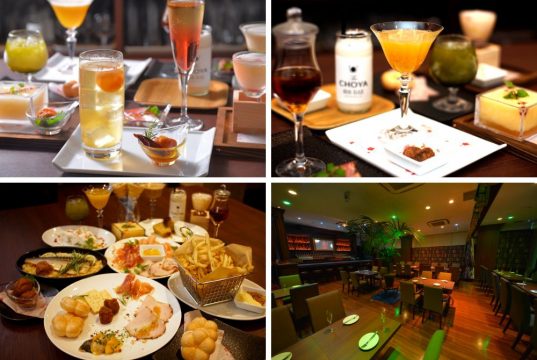 ■ Company Profile Name: Choya Umeshu Co., Ltd. Established: June 1962 Capital: 28 million yen Representative: Shigehiro Kondo, President and CEO
Business: Manufacture and sale of plum wine and plum-related products Location: 160-1 Komagatani, Habikino City, Osaka Prefecture 583-0841
Main sales destinations: National liquor wholesalers, Western countries, Southeast Asia, and other foreign websites: https://www.choya.jp
■ Contact information Choya Umeshu Co., Ltd.
TEL: 072-956-0515 (Representative)
<Past related articles>
Umeshu Cocktail Specialty Store "The CHOYA Ginza BAR" All-you-can-drink "Umezukushi Afternoon Tea & High Tea" with more than 50 types of plum wine cocktails Choya Bar The ultimate course with plum purin is also born