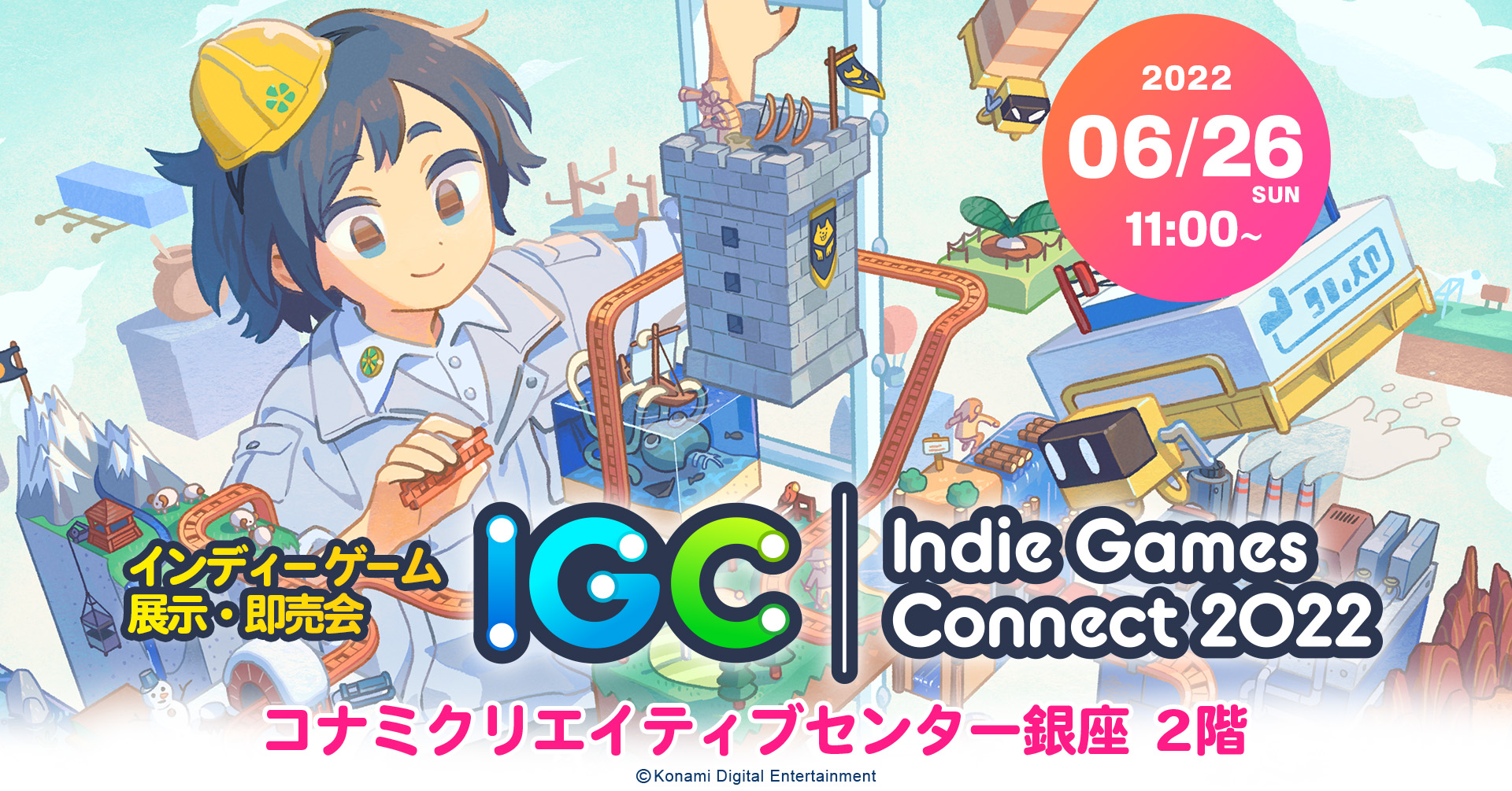 Introducing all the benefits of visiting the venue and the contents of the supporter area exhibition where you can win luxurious prizes such as PC Engine Mini!
Konami Digital Entertainment Co., Ltd. will finally hold the first indie game exhibition "Indie Games Connect 2022 (hereinafter, IGC2022)" to be held at our facility on June 26th (Sun) this weekend.
"IGC2022" is an event held to get as many people as possible to experience indie games in response to the creators' desire to "enjoy their work with as many people as possible". And admission is free. On the day of the event, we will also offer a visit privilege to present a PC engine mini and game software by lottery from those who answered the questionnaire at the venue.
In addition, the supporters of "IGC2022" and the Ginza Unity Mokumokukai, which cooperates with the event, will also exhibit indie game works and their own products. It will be a valuable opportunity to experience more than 80 titles by creators of about 70 circles for free, so please experience the charm of indie games at "IGC2022" this weekend.
---
---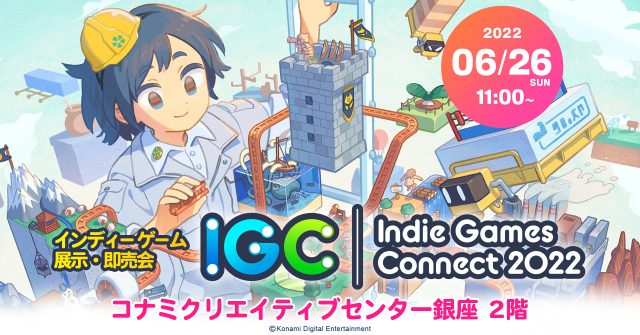 <Overview of "Indie Games Connect 2022">
Date and time: Sunday, June 26, 2022 11: 00-17: 00
Venue: Konami Creative Center Ginza 2nd floor Admission: Free (No prior procedures required. Please visit directly on the day.)
Organizer: Konami Digital Entertainment Co., Ltd. Cooperation: Ginza Unity Mokumokukai Official Website: https://www.konami.com/games/event/igc/
* Please note that admission will be restricted if the number of admissions exceeds the specified number at the venue, as we will take measures in line with the basic policy for infectious disease control.
■ Visitor benefits From those who answered the questionnaire distributed at the venue on the day of the event
By lottery, 22 people will be presented with PC Engine mini and game software.
* Prizes are subject to change due to circumstances.
■ Supporter area Exhibited works / contents (* in alphabetical order)
Ginza Unity Mokumokukai
| | | |
| --- | --- | --- |
| title | Genre | Circle / other group names |
| Ganshu Collection | Family tree SLG | hatomune |
| Custom shooter | Controller customization STG | Ideno |
| Urasenke Tea Ceremony Experience VR | How about the tea ceremony? SLG | Denik |
| Pocket throwing fan | Competitive traditional game SLG | Takuro |
| King heaven | A certain SLG with the Chinese emperor | Sakaguchi |
Kodansha Game Creators Lab
| | | |
| --- | --- | --- |
| FAMILY BATTLE Tag Arena | 2vs2 Tag Battle Action Arena | nekogameteacher |
| Different winter we | Two-player puzzle adventure | Tokoronyori |
| Two princesses in March | Visual novel | Kobayashi Maru |
Shueisha Game Creators CAMP
| | | |
| --- | --- | --- |
| "Captain Velvet Meteor: The Jump + Dimensions" | Tactical adventure | Momo-Pi Game Studio |
Unity Technologies Japan Co., Ltd.
・ Unity carefully selected! Experience of operating recommended assets ・ A 20% discount coupon for Unity Asset Store will be given to those who answered the questionnaire ・ An Amazon gift card will be given to those who introduced their impressions of using assets purchased from the Unity Asset Store on blogs etc. (If there are many applications, it may be a lottery. Please check at the venue for details)
<Implementation of baggage inspection>
At IGC2022, we will carry out baggage inspection for all visitors for safe and smooth event management. We appreciate your understanding and cooperation.
・ The staff will check all baggage you bring into the venue.
・ When inspecting baggage, place a bag on your desk and prepare in advance so that you can see all the contents.
* Please put your rucksack on your desk with your shoulder down. ・ For baggage inspection, please follow the staff's guidance and cooperate with smooth inspection.
・ If you do not agree, you may be refused admission.
We appreciate your understanding and cooperation.