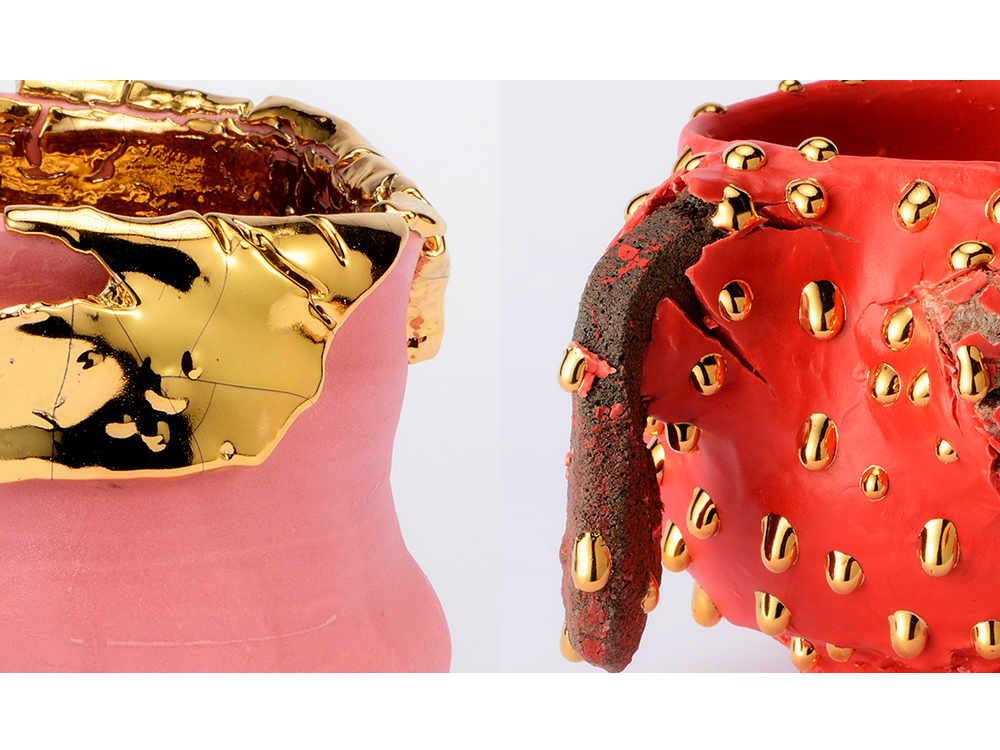 Ginza Tsutaya Bookstore (GINZA SIX 6F, Chuo-ku, Tokyo) will hold a new exhibition of ceramist Takuro Kuwata in front of the information counter in the store from Saturday, July 9 to Friday, July 29. .. We will display colorful and lustrous works created by fusing Kuwata's characteristic traditional techniques with modern sensibilities, and accept lottery sales at stores.
·Overview
Takuro Kuwata graduated from the Ceramics Course in the Department of Fine Arts, Faculty of Arts, Kyoto Saga in 2001, and is currently a ceramist who produces works in Tajimi City, Gifu Prefecture.
The work, which combines various techniques cultivated in Gifu Prefecture, which has been producing pottery for a long time, with a modern sense, has the unique texture and color of Kuwata, giving it a unique presence.
In 2018, he won the "LOEWE Craft Prize 2018" special award, and there is a constant demand for works that are highly evaluated both in Japan and overseas, and it is said that there are conflicts as well as the joy of the artist.
As a bookstore with the theme of art and Japanese culture, we have spent a lot of time talking with Kuwata from the desire to actively introduce contemporary ceramic art, which is one of the important arts of Japanese culture. And this time, from Saturday, July 9th, the "Takuro Kuwata" exhibition at Ginza Tsutaya Bookstore has been realized.
In this exhibition, we will introduce Kuwata's characteristic colorful slipware (*) and new works using original techniques under the theme of "tea bowls". There are various methods of ceramic art, and the exhibition reflects Kuwata's desire to convey, ask, and share the methods to the viewer, and Kuwata, such as Kinsai and Shirokanesai, is now the most powerful. We will show you a new work that has taken on a new challenge with the technique we have put in.
---
---
Please take a look at the attempt to expand the possibilities and concepts as well as the history and beauty of "tea bowls".
* Slipware: A vessel whose surface is decorated with a slurry-like clay called slip.
Special page | https://store.tsite.jp/ginza/blog/art/27649-1439400706.html
・ About sales
All works will be sold by lottery at the store.
Application acceptance period | July 9, 2022 (Saturday) 10:30 to July 20, (Wednesday) 21:00 Application method | Applications will be accepted at the information counter at the Ginza Tsutaya Bookstore.
Announcement of lottery results | All applicants will be notified of the results by email or phone by the end of August 2022.
·profile
Takuro Kuwata (Kuwata Takuro)
Born in Hiroshima Prefecture in 1981
2001 Graduated from Kyoto Saga University of Arts, Department of Fine Arts, Ceramics Course
2002 Studied under the potter, Susumu Tadashi
2007 Completed Tajimi City Ceramic Design Institute
<History of solo exhibition> (* Excerpt)
2021 "USE" Roll, Tokyo "Drink" ROPPONGI HILLS A / D GALLERY, Tokyo "TEE BOWL" KOSAKU KANECHIKA, Tokyo
GALLERY KOHODO, Kiyo
"ZUNGURI MUKKURI" Salon 94, New York
2020 "CUP" Kakiden Gallery, Tokyo "Hi Tea Bowl, I'm in Paris." Pierre Marie Giraud, Paris
2019 "TETSUKI" Ginza Toen, Tokyo "today" Pierre Marie Giraud, Brussels "Sunday" Seikanji Temple, Kyoto "Dear Tea Bowl, Horsetails are in season in Hagi." Museum, Urakami Memorial Hall, Children
<Awards> (* Excerpt)
Received the 2022 Japan Ceramics Association Award
2018
LOEWE Craft Prize 2018, Special Award Winner
・Exhibition details
"Takuro Kuwata" Exhibition
Session | July 9th (Sat) -July 29th (Fri), 2022
Venue | Ginza Tsutaya Bookstore Information Counter Sponsored | Ginza Tsutaya Bookstore Cooperation | Takuro Kuwata Inquiries | 03-3575-7755 (during business hours) /info.ginza@ccc.co.jp
Special page | https://store.tsite.jp/ginza/blog/art/27649-1439400706.html
* Please check our website for business hours.
* The date and time of the event are subject to change.
* The last day will be until 17:00.
・ Ginza Tsutaya Bookstore
We propose "living with art" by connecting art, Japaneseization and living through books.
Address | GINZA SIX 6F, 6-10-1, Ginza, Chuo-ku, Tokyo 104-0061
Phone number | 03-3575-7755
Business hours | Please check the store homepage.
Homepage | https://store.tsite.jp/ginza/
Facebook | https://www.facebook.com/GINZA.TSUTAYABOOKS/?ref=bookmarks
Twitter | https://twitter.com/GINZA_TSUTAYA
Instagram |https://www.instagram.com/ginza_tsutayabooks/
・ CCC Art Lab
We are a planning group that conducts art-related business within the planning company Culture Convenience Club Co., Ltd. We would like to make art closer to us through "Proposals for a life with art" and contribute to making someone's life happier and creating a better society. Based on the knowledge cultivated through many years of business experience such as store planning, art media, product development and event production, we make planning proposals with a professional approach.
https://www.ccc-artlab.jp/
<Past related articles>
[Ginza Tsutaya Bookstore] A solo exhibition "In the Forest of Humans" by Kayafu Onishi, who won the 24th Taro Okamoto Contemporary Art Award, will be held from Saturday, July 16th. In addition to the award-winning work "Requicoros" (core part), new works are also on display.
[Ginza Tsutaya Bookstore] A solo exhibition "Colours in summer" by up-and-coming artist Rikako Kawauchi will be held from Saturday, July 2nd.
[Ginza Tsutaya Bookstore] Geoffrey Bouillot's new exhibition "Happy Flower Friends" will be held from June 25th (Saturday) to establish a unique style by fusing various genres.