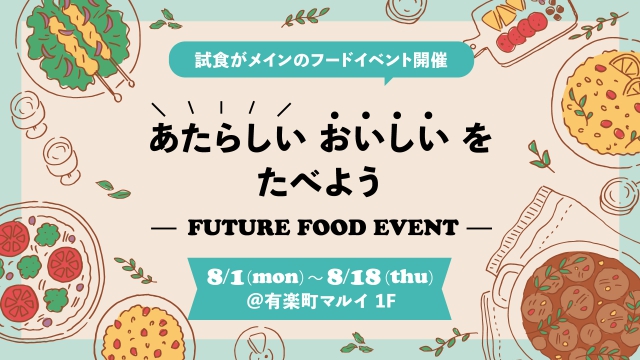 August 1st (Monday) -August 18th (Thursday)
At the event space on the 1st floor of Yurakucho Marui, we will hold a food tech experience event "FUTURE FOOD EVENT" that offers new "delicious" food tech.
■ What is "FUTURE FOOD EVENT"? <br /> In recent years, the category of "food tech", which combines food and technology, has been attracting worldwide attention as an approach to solving social issues and health.
"I want to reach many people with the discovery of food that will lead to a new future and a friendly future!"
With that in mind, we will hold the "FUTURE FOOD EVENT", a food tech experience event that focuses on tasting with companies who share our thoughts.
Compared to the previous event, the scale of the event has been expanded and "Japan's first landing" overseas companies have also participated! Through the event, we will deliver a new, delicious and sustainable "food" experience.
■ Introduction of participating brands
SOYCLE (Soykle: upward)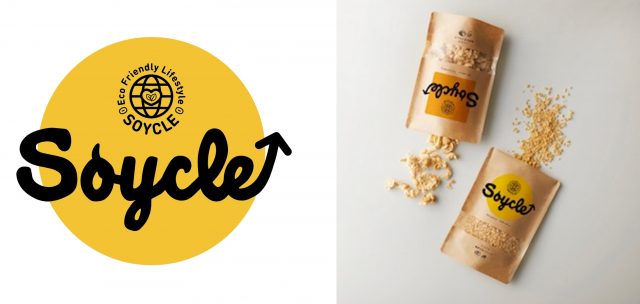 A new brand of soybean meat with high umami and nutritional value using germinated soybeans. Please try SOYCLE, a new type of flake type that "just puts on and mixes".
GRYLLUS (Gurirasu Co., Ltd.)

A brand that solves the two social issues of "protein crisis" and "food loss" at the same time by turning crickets that feed on food loss into powder and making them edible.
We provide a protein bar with low sweetness that allows you to efficiently take in characteristic nutrients such as proteins and vitamins.
---
---
My Fit (My Fit Co., Ltd.)

Focus on the problem of not knowing the nutrients and proteins you need. It is a brand that provides proteins with ingredients, protein amount, and taste that are tailored to the individual by answering about 20 simple questions online.
Atelier Brown Rice Decaf (MNH Co., Ltd.)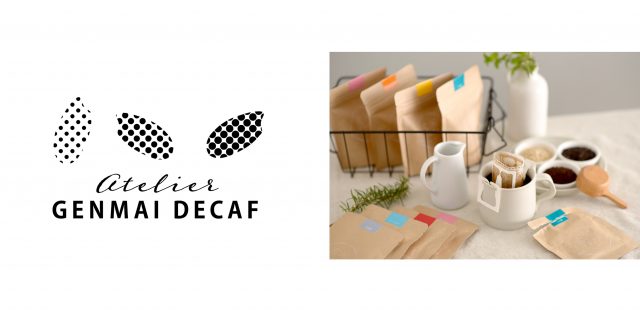 We will deliver "Brown Rice Decaf", a simple and gentle drink made from rice, from Yamagata and Shonai. It is non-caffeine and you can enjoy the bitterness and sweetness of rice.
It's hard to imagine what it tastes like, but it won't disappoint. Please try it once.
Kurakon Good for Vegans (Kurakon Co., Ltd.)

This is a Kurakon original brand that can be enjoyed by a wide range of people, from those who strive for a healthy diet to those who have adopted vegetarian and vegan diets. We make it without using any animal-derived ingredients.
Agrain (Agrain)

An up-cycle food brand that creates new added value by using the by-product "malt lees (used grains)" that is discarded from beer and whiskey breweries.
We offer crackers, granola, etc. as healthy and sustainable shopping options with a good balance of abundant dietary fiber and protein.
Esical Spirits (Esical Spirits Co., Ltd.)
A distillation venture that produces a new era of gin and whiskey with the aim of realizing a circular economy. Recycled lees discarded in the process of making sake and beer whose expiration date is approaching as gin. Enjoy craft gin like never before.
ICHI-GO-CAN (Strawberry-Can: Agnavi Co., Ltd.)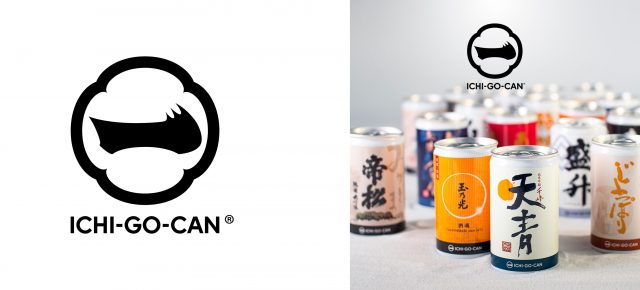 The world's first canned sake brand (180 ml) was born from the desire to make sake more accessible and easier to enjoy.
We offer such carefully selected products that you can understand the taste of the sake brewery when you drink it once.
CRAFT FISH (Craft Fish: Fish Farm Co., Ltd.)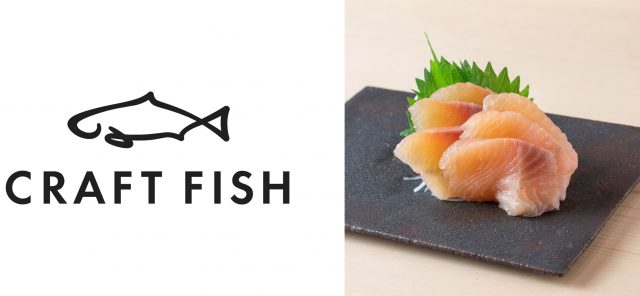 A brand of fish raised in a sustainable manner, including land-based aquaculture, in pursuit of deliciousness and peace of mind.
We offer discerning products supervised by top chefs.
Regional Fish (Regional Fish Co., Ltd.)

A startup that contributes to solving the world's protein deficiency and revitalizing the Japanese fishery industry and regional economy through ultra-high-speed breeding and smart aquaculture through genome editing.
We offer a new variety "22nd Century Fugu" that boasts twice the growth rate and a crispy texture.
CHEF BOX (Chef Box: DELIPICKS Co., Ltd.)

Supervised by a chef who has experienced a Michelin-starred restaurant! A frozen home-cooking service where you can enjoy the taste of an authentic restaurant just by warming it in the microwave. Just answer a one-minute question and we will select and deliver the dish that is right for you from about 150 kinds of menus.
CookingPal (CookingPal Limited) ★ First landing in Japan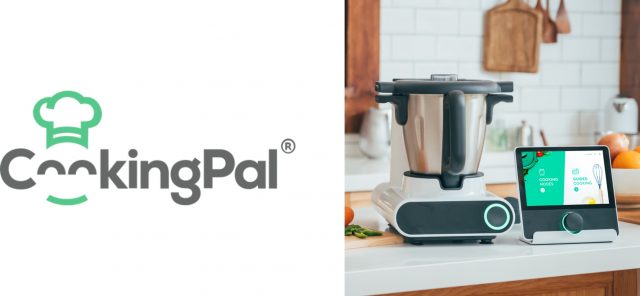 Japan's first landing smart kitchen home appliance brand. We are developing all-in-one kitchen appliances that pursue ease of use.
Equipped with more than 15 types of functions such as preparation and cooking. If you use a dedicated tablet, you can remotely reproduce the recipes that are updated weekly.
Hestan Cue (Felicidad Co., Ltd.)

We provide a new cooking method in which the heat source, cooking utensils, and recipes are linked so that the cooking temperature can be controlled in 1 degree increments from 38 degrees to 259 degrees.
When the dedicated app, Hestan Cue's IH heater, and cooking utensils are linked via Bluetooth, the IH heater and cooking utensils adjust the temperature while the app teaches the process. Approximately 450 kinds of video recipes developed by Michelin chefs will guide you.
Enjoy a new era of cooking experience, like cooking according to a car navigation system!
■ Outline of the event
Date: August 1st (Monday) -August 18th (Thursday), 2022
Venue: Yurakucho Marui 1F
Business hours: 11: 00-20: 00 * Closed at 19:00 on Thursday, August 18th
* The holding period and venue are subject to change. For details, please see the store's website * We are taking the following measures to prevent the spread of new coronavirus infections ・ Wearing staff masks ・ Implementing alcohol disinfection before entering the store ・ Ensuring sufficient social distance * Please cooperate with alcohol disinfection at the time of entering the store and restrictions on entering the store at the time of congestion.
▼ Click here for details on "FUTURE FOOD EVENT"
https://food-tech-0101.jp/?utm_sourse=news&utm_medium=prtimes&utm_campaign=ft_2208
▼ Yurakucho Marui
https://www.0101.co.jp/086/
▼ Marui Group
https://www.0101maruigroup.co.jp/
<Past related articles>
Movie release commemoration! "Minions Fever Goods Collection mini" will be held for a limited time in Yurakucho Marui from July 15th (Friday)!
Cheese sweets specialty store [Now on Cheese ♪] Opening a pop-up shop in Yurakucho Marui from July 1st (Friday) to July 14th (Thursday) for the first time in 3 years
White Day sweets carefully selected by Cake.jp, one of the largest online shopping sites for cakes and sweets in Japan, are on sale at real stores! Pop-up shop "Cake.jp Store" will be held for a limited time in Yurakucho Marui