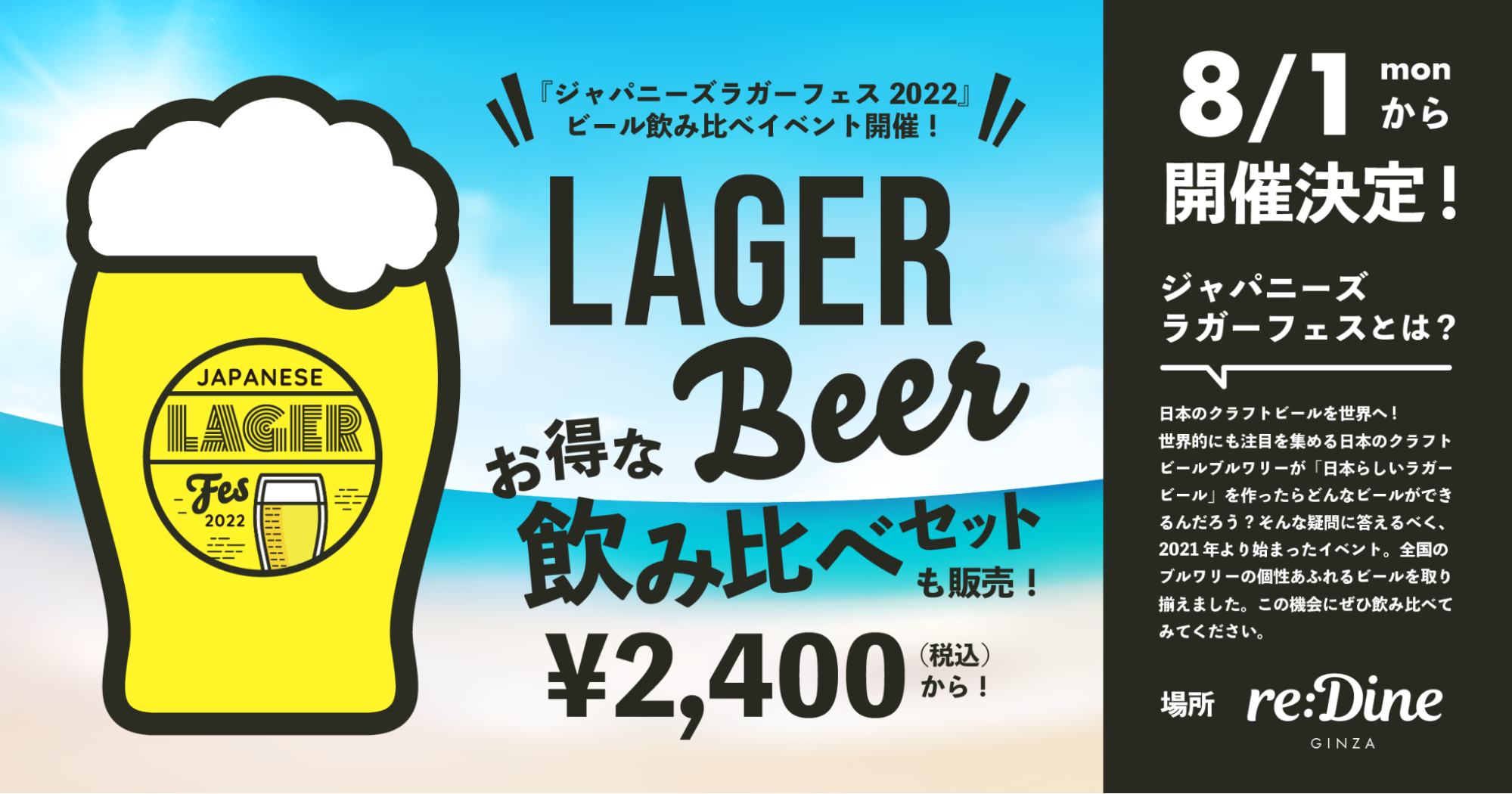 Favy Co., Ltd., which operates shared restaurants nationwide, will hold "Japanese Lager Festival 2022" at "re: Dine GINZA" in Ginza, Tokyo, where you can compare seven types of carefully selected craft beer from all over the country in August 2022. It will be held for a limited time from the 1st of the month to the 31st of August.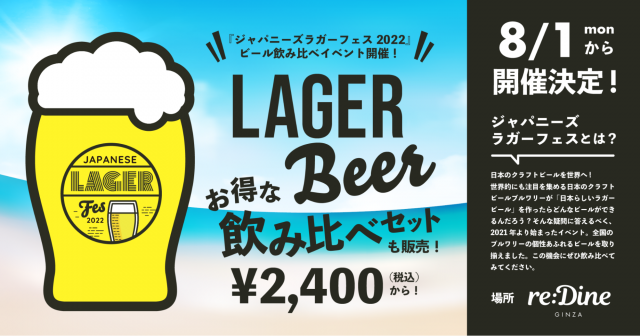 ■The theme for this year's event, which will be held for the third time in total, is "Japanese lager to drink in the summer." Save with a set! Please compare the drinks!
Each brewery's recommended lager beer* can be ordered as a single bottle, but we also offer a 3-bottle set (2,400 yen/tax included) and a 5-bottle set (3,500 yen/tax included) that are perfect for comparing drinks. increase.
You can enjoy it in a variety of situations, such as enjoying it alone or comparing it in a group. All of them are offered in bottled beer, so you can enjoy comparing the label designs that are filled with the thoughts of the brewers. *Some products other than lagers are also available.
■Craft beers from breweries from Iwate Prefecture in the north to Shimane Prefecture in the south!
[Participating Brewery & Beer] (As of July 29) We plan to continue participating in the future! !
Diamond Brewery (Omihachiman City, Shiga Prefecture)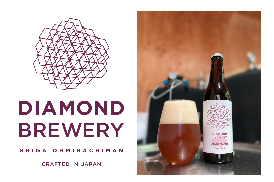 URL: https://diamondbrewery.online/
Product name: Azuki Märzen Based on the German-style Märzen, we brewed it using azuki broth.
At Japanese confectionery shops, a large amount of boiled adzuki beans are thrown away. I received a request from a local Japanese confectionery maker and brewed it. It's a lager with a strong malt flavor, but the scent that comes out at the end is just red beans. It goes well with Japanese sweets and foods made with soybean flour. Of course, it has an easy-to-drink finish that is easy to match with your usual meals. It was the most popular product of our brewery at the beer festival held in Osaka. Please enjoy a unique cup made with reused Japanese ingredients.
---
---
Golden Rabbit Beer (Nara City, Nara Prefecture)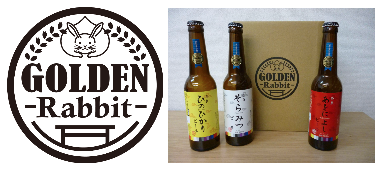 URL: https://www.goldenrabbitbeer.com/
Product name: Hinohikari Rice beer made with Hinohikari rice, a specialty of Nara Prefecture. Brewed every year in limited quantities, this lager has a soft, refreshing taste with a hint of rice.
DHC (Gotemba City, Shizuoka Prefecture)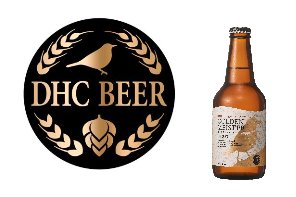 URL: https://top.dhc.co.jp/shop/beer/
Product name: Golden Meister [unfiltered]
An unfiltered beer that can only be tasted when the brewer checks the quality of the beer. A pilsner-type beer that allows you to enjoy the umami of beer's original malt and yeast without filtering the yeast. Enjoy the special taste that becomes even sweeter and milder as the temperature rises.
Iwate Kura Beer (Ichinoseki City, Iwate Prefecture)

URL: https://sekinoichi.co.jp/beer/
Product Name: Tohoku Tamashi Beer Mugisui Lager A high-alcohol lager beer made with recipes from five Tohoku breweries. Although it is an imperial lager style, it is brewed with yuzu as a secret ingredient so that it is easy to drink even with high alcohol.
Matsue Local Beer Beer Herun (Matsue City, Shimane Prefecture)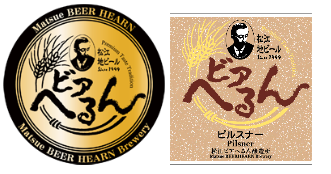 URL: http://www.shimane-beer.co.jp/
Product name: Matsue Beer Herun A refreshing lager even with pilsner craft beer! It is a beer aimed at Japanese favorite lager beer!
It's not a traditional German bitter beer, and it's not as flashy as the recent IPA's. normal beer!
Daikonjima Brewery (Matsue City, Shimane Prefecture)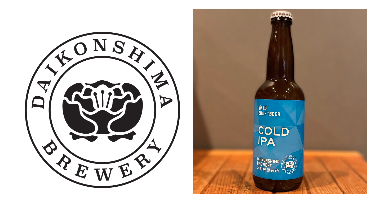 URL: https://daikonshima.theshop.jp/
Product name: COLD IPA
It features a light-bodied, drinkable and flavorful taste that combines the refreshingness of lager with the rich hop aroma of IPA (HOP: CRYO Citra).
OGA BREWING (Mitaka City, Tokyo)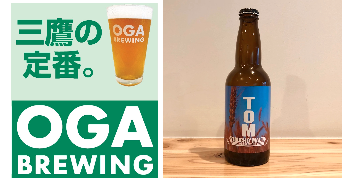 URL: https://oga-brewing.com/
Product name: TOM (TOUCH O' MALT)
A 100% malt lager with Pilsner malt as the main ingredient. OGA's lager is rare, so please take this opportunity to taste it. The body is light, but the malt's original graininess is smooth and pleasant to the touch, and it is a style that you can drink forever. The aftertaste is a faint bitterness and the brewer's spirit of respecting "TOM"!
[Overview of "Japanese Lager Fes 2022"]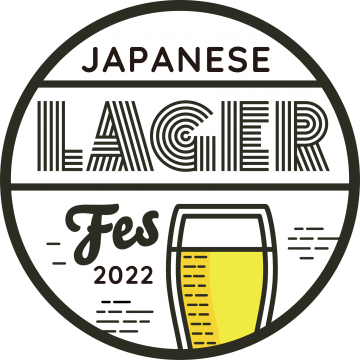 Schedule: August 1st, 2022 ~ August 31st, 2022 (scheduled) * Depending on the inventory status, it may end earlier than the period.
Venue: re:Dine GINZA
Ginza Namikikan 9F, 4-3-1 Ginza, Chuo-ku, Tokyo
Hours: 17:00-23:00 (22:00 last order)
Price: 950 yen per bottle (tax included)
3-piece set 2,400 yen (tax included)
5-piece set 3,500 yen (tax included)
■Summer to liven up the craft beer industry!
Craft beer filled with the brewer's commitment at home or on your way home! !
This event is an event that started with the desire to boost the craft beer industry that was damaged by the corona wreck. We have held a beer tasting event.
Even though our lifestyles have diversified, the beer we drink in the hot summer is still exceptionally delicious.
This time it will be held at only one venue, but it is okay if you can not participate locally. We are also selling craft beer from participating breweries online.
Please order from each brewery HP and enjoy it at home or on your way home!
https://subsc.favy.jp/cp/japanese_ale_festival_2022