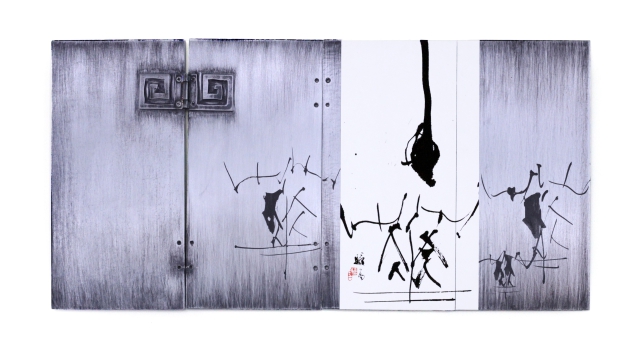 Ginza Tsutaya Bookstore (GINZA SIX6F, Chuo-ku, Tokyo) will hold an exhibition "Kekkai" by the 2019 Yukei Teshima Award-winning contemporary calligrapher Shinbo Kanashiki from Saturday, August 20. It will be held in front of the information counter on September 9th (Friday). This exhibition, Kanashiki's first solo exhibition since 2019, will feature 19 works, including new works.
·Overview
Ginza Tsutaya Bookstore has carried out various projects as a bookstore with the theme of art and Japanese culture. In terms of Japanese culture, we regard "Japanese swords," "modern ceramics," and "Buddha statues" as works of art that are unique to Japan, and propose "living with art." And this time, from the desire to create a place where you can once again feel the charm of "calligraphy", which is one of the important arts of Japanese culture, the exhibition "Kekkai" by calligrapher Sakubo Kanashiki will be held on Saturday, August 20th. It will be held from
Kanashiki Kakubo has created works that fuse iron and wood with calligraphy, as well as creating the world's longest calligraphy, in which a single book's worth of text is written on a piece of paper about 5,000 meters long. A modern calligrapher who opens up new possibilities. In 1990, he studied under Mr. Hiromitsu Ishitobi and received high acclaim at numerous calligraphy exhibitions. , Presented works that go beyond the realm of "calligraphy", such as brushing on cardboard. After winning the 13th Seikai Kunii Award in 2010 for his epoch-making expression that combines iron and "calligraphy", he won the 13th Yukei Teshima Award in 2019.
This exhibition will be the first solo exhibition in three years since 2019, and 19 works including new works will be exhibited. All of these works give fresh surprises to people who are usually unfamiliar with "calligraphy" and convey its charm. What is "calligraphy" in modern times? Please pay attention to the challenge of Kanashiki who continues to question the meaning.
---
---
Feature page| https://store.tsite.jp/ginza/blog/art/28182-1231540805.html
・Artist statement
"Calligraphy" is a balance of black and white.
"Letters" are designs that have been formed over thousands of years.
Polished lines and shapes create barriers in the margins.
Allowing the viewer to interpret freely,
No one is allowed to enter its white.
Anshiki Dachbo
・ Artist profile
1973 Born in Ota Ward, Tokyo
1990 Studied under Hiromitsu Ishitobi
2006 38th Nitten / Selected for the first time Selected twice thereafter
2007 59th Mainichi Calligraphy Exhibition / Member Award
2009 Solo exhibition "Excess" (Tower Hall Funabori)
2010 13th Seikai Kunii Award
2013 49th Sogen Exhibition / 21st Century Award
2014 Solo exhibition "Kanashinbo Exhibition ANVIL" (Theater 1010)
2015 TOKYO calligraphy 2015 exhibition (Tokyo Metropolitan Art Museum)
2016 NHK historical drama "Sanada Maru" calligraphy instruction, every year since then
2017 Solo exhibition "TSUKISHIMA Project" (Tsukishima Warehouse)
2018 Published the book "Practical brush pen practice book that can be done quickly at any age"
2018 Ueno Artist Project 2018 "See, Know, Feel Contemporary Calligraphy" Exhibition (Tokyo Metropolitan Art Museum)
2019 13th Yukei Teshima Award
2019 Solo exhibition "Teshima Yukei Award Commemorative Kanashiki Rakubo Exhibition" (Koshin Gallery, Kochi City)
2019 Solo exhibition "timeless" (Keio Plaza Hotel)
2019 Solo exhibition "Wunderkammer" (Ginza Gallery Akatsuki)
2022 Kanashiki Kakubo Exhibition "Kekkai" (Ginza Tsutaya Bookstore)
2022 Solo exhibition "Kanashiki Kakubo Exhibition in Bunkamura" (Bunkamura gallery)
・Sales information
Sales will start at 10:30 on Saturday, August 20th at the storefront of Ginza Tsutaya Bookstore and the art online marketplace "OIL by Bijutsu Techo".
https://oil.bijutsutecho.com/gallery/730
*Products may be sold out before the start of the exhibition, depending on the pre-sale status.
・ Exhibition details
Kanashiki Sakubo Exhibition "Kekkai"
Date: August 20th (Sat) – September 9th (Fri), 2022
Time | 10:30-21:00 *Please check the store website.
Venue|Ginza Tsutaya Bookstore Information Counter Entrance|Free Organizer|Ginza Tsutaya Bookstore Inquiries|03-3575-7755 (during business hours)/info.ginza@ccc.co.jp
Feature page| https://store.tsite.jp/ginza/blog/art/28182-1231540805.html
・ Ginza Tsutaya Bookstore
By connecting art, Japanese culture, and life through books, we propose a lifestyle with art.
Address|6-10-1 GINZA SIX 6F, Ginza, Chuo-ku, Tokyo 104-0061
Phone number|03-3575-7755
Business hours | Please check the store website.
Homepage| https://store.tsite.jp/ginza/
Facebook| https://www.facebook.com/GINZA.TSUTAYABOOKS/? ref=bookmarks
Twitter| https://twitter.com/GINZA_TSUTAYA
Instagram |https://www.instagram.com/ginza_tsutayabooks/
・CCC Art Lab
We are a planning group that conducts business related to art within the planning company Culture Convenience Club Co., Ltd. We would like to contribute to making people's lives happier and creating a better society by making art more accessible through "proposing a life with art". Based on the knowledge cultivated through many years of business experience such as store planning, art media, product development and event production, we will propose plans with a professional approach.
https://www.ccc-artlab.jp/
<Related articles in the past>
At Ginza Tsutaya Bookstore (GINZA SIX 6F, Chuo-ku, Tokyo), Atelier matic / Sho Toyama will hold a fair of objects and vases using minerals and plants, "Stones, Plants, and Human Hands." on August 6th ( It will be held from Saturday) to September 2nd (Friday).
[Ginza Tsutaya Bookstore] A new exhibition by ceramic artist Takuro Kuwata will be held from Saturday, July 9th. Original and colorful works on the theme of "tea bowl" are exhibited.