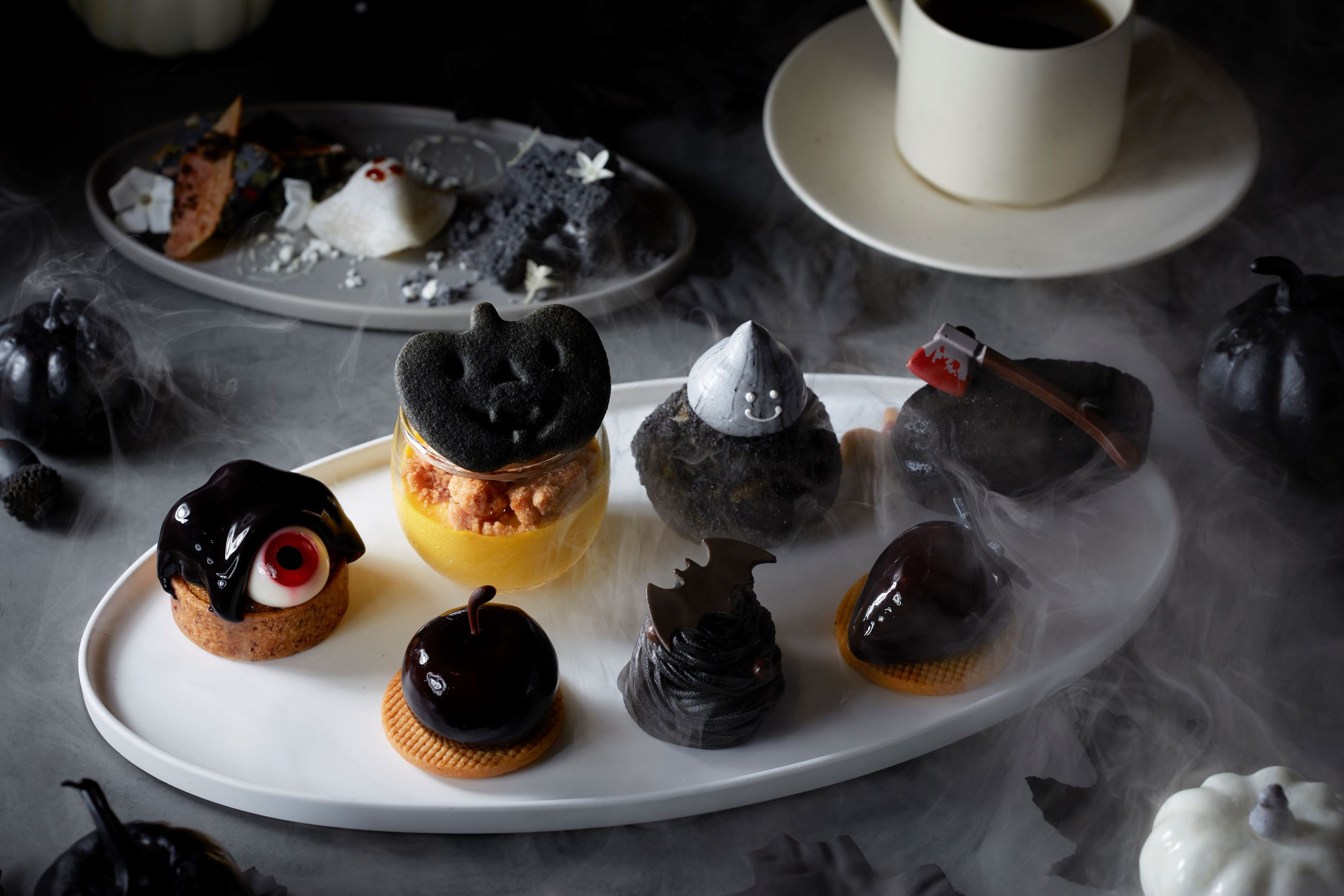 Halloween cocktails and black cream puffs are also on sale October 1st (Sat)-October 31st (Mon)
Hyatt Centric Ginza Tokyo, a lifestyle hotel located on Namiki-dori in Ginza, will offer Halloween Afternoon Tea with a Halloween motif from Saturday, October 1st to Monday, October 31st. You can enjoy Halloween sweets and savory that look like ghosts and graves. During the same period, Halloween-only cocktails and black Halloween cream puffs will appear.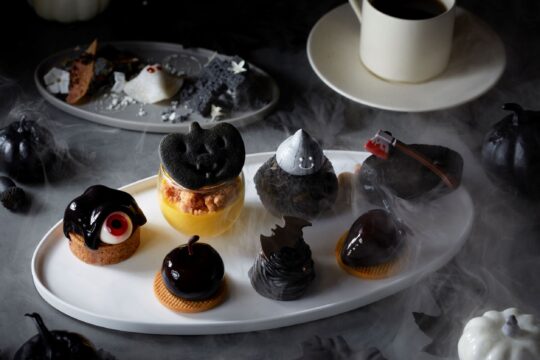 ・Halloween Afternoon Tea
At Halloween Afternoon Tea, you can enjoy sweets unique to Halloween that mix dark elements such as poisoned apples, poisoned strawberries, eyeballs and crosses with cute ghosts and pumpkins. With 7 types of sweets, 3 types of savory, and coffee and tea that you can change freely, enjoy a high-quality yet playful Halloween for adults.
The poisoned apple mousse is made by filling caramel apple mousse with cinnamon cream, fragrant with cinnamon cardamom daccoise, and finishing with raspberry with bamboo charcoal coating. The black ghost cream puff is filled with pumpkin custard and topped with ghosts. Bamboo charcoal is used for the shoe fabric and the decorative ghosts, giving it a dark appearance reminiscent of Halloween night.
The poisonous strawberry mousse is stuffed with a rich dough that uses plenty of almonds, and strawberry and vanilla jelly are put in the strawberry mousse. Also, by adding bamboo charcoal to the coated raspberry, you can enjoy a chic Halloween-like atmosphere. The pumpkin pudding is made by combining caramel ice cream with pumpkin pudding, crumble with nutmeg and cinnamon, and jack o'lantern cookies mixed with bamboo charcoal on top.
Savory black cake sacre uses plenty of sweet potatoes and pumpkins and is baked black, and the cross truffle sandwich is a sandwich of truffle paste with black bread.
Please enjoy Halloween for adults, enjoying unique black sweets that are exciting just by looking at them in the high-quality space of the hotel.
Contents:
・eyeball tart ・pumpkin pudding ・black ghost cream puff ・grave madeleine ・poisonous strawberry mousse ・bat mont blanc ・poison apple mousse ・black cake sale (offered only at Afternoon Tea)
・Obake marron (provided only at Afternoon Tea)
・Cross truffle sandwich (offered only at Afternoon Tea)
・Coffee or tea
Offer price: Halloween Afternoon Tea ¥ 4,500 (tax included ¥ 4,950)
Halloween Sweet Afternoon Tea *Only weekday reservations ¥3,000 (tax included ¥3,300)
Offer period: October 1st (Sat)-October 31st (Mon)
Offer time: 12:00 – 17:00 (LO 16:00)
Details and reservations: https://bit.ly/NAMIKI667AfternoonTea
*A 15% service charge will be added to the above prices.
*The menu may change depending on the purchase situation.
・Halloween Cocktail (Witches' Potion/Ghost Night)
We also have special cocktails for Halloween only.
Witches' Potion is a unique Halloween cocktail inspired by a suspicious drink made by witches. The eye-catching garnish is an eye-catching cup, with herbs that look like medicine, and spoons reminiscent of a witch stirring a kiln. The refreshing taste of Aperol is complemented by the fruity and subtly sweet Bacardi Quattro.
Ghost Night is a fluffy ghostly cocktail made with soda and dried egg whites. The creamy sweetness of vanilla syrup and fresh cream is complemented by fresh and fruity lille blanc, and the whole cocktail is finished with vodka.
Offer price: ¥ 1,800 (¥ 1,980 including tax)
Sales period: October 1st (Sat) – October 31st (Mon)
Offer time: 11:00 – 21:00 (LO 20:00)
*A 15% service charge will be added to the above prices.
・Halloween cream puff
NAMIKI667 Pastry Chef Ryuichi Osawa's "Ginza Cream Puff", which has been very popular, will offer original cream puffs for a limited time in line with the Halloween season.
Bamboo charcoal is used for the choux pastry and the decorated spice cookies, and they are baked black. The spice cookie uses cinnamon and nutmeg to create an American flavor. Inside the cream puff, a healthy custard cream cooked using organic sugar and organic vanilla beans is filled with plenty of pumpkin custard with pumpkin, making it a perfect sweet to enjoy Halloween in both appearance and taste. .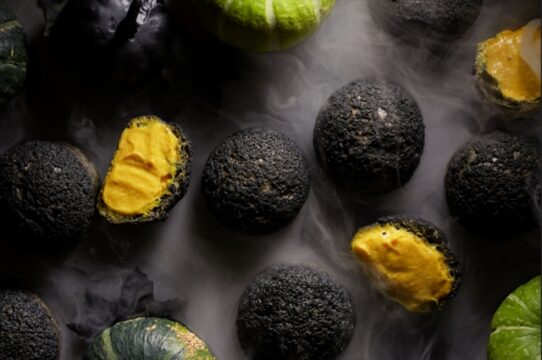 Offer price: ¥ 380 (tax included ¥ 410)
Offer period: October 24th (Monday) to October 31st (Monday)
Delivery time: 11:00 – 19:00
Reservation method: 03-6837-1300
Reservations accepted: 10:00-20:00 until the day before
Same-day reservation 10:00-15:00
* The number of sales may change depending on the situation. Due to the limited quantity, the reception will be closed as soon as it is over.
*Reservations are recommended as we only offer 20 pieces per day.
・About NAMIKI667
■Facility name: NAMIKI667
Location: Hyatt Centric Ginza Tokyo 3F, 6-6-7 Ginza, Chuo-ku, Tokyo Head Chef: Toru Hirakawa Pastry Chef Ryuichi Osawa
TEL: Reservations/Inquiries 03-6837-1300 (Reception hours 10:00 – 22:00)
■ URL: http://namiki667.com
■Business hours:
[Dining] Breakfast: 7:00 – 11:00 (LO 10:30)
Lunch: 11:30 – 14:30 (LO 14:00)
Dinner: 18:00 – 22:00 (LO 21:00)
[Bar & Lounge] 11:00 – 24:00 (Food LO 23:00 | Drink LO 23:30)*
■ Number of seats:
[Dining] 102 seats / Private dining room: 2 rooms 24 seats / Terrace seats: 42 seats [Bar & Lounge] Counter 44 seats / Lounge seating: 22 seats / Terrace seats: 12 seats
[Dining area]
A lively show kitchen, a mellow scent that tickles the nostrils from a large oven, and seasonal ingredients and seasonings unique to Ginza, Tokyo. " invites you. From the terrace along Namiki-dori Street, which is about 40 meters long, you can see the ever-changing scenery of Ginza with each hour and season. A private dining room (private room) of approximately 86 m2 and a multi-function area can be used for a wide range of purposes. Artwork with letterpress motifs in a bold and open atrium and an interior that incorporates a wide variety of materials like Ginza where various people come and go create an exceptional space.
[Bar & Lounge area]
As soon as you get off the elevator on the 3rd floor, you will see a bar counter with a total length of about 7m and a large staircase leading to the 4th floor with an impressive bright red carpet. There is also a lounge area where you can relax and overlook the space. We offer a wide variety of drinks, from cocktails that enjoy the ingredients, such as unique and original signature cocktails that symbolize Japanese taste. The popular cake set is also offered at cafe time. It is a comfortable space that can be used for different purposes.
*The above are normal business hours. Business hours may change due to the spread of new coronavirus infection.
For the latest operating information, please visit our website:
https://namiki667.com/news/2021/01/hours.html
・Hygiene measures
Our top priority is the safety and health of our guests and employees.
We have strengthened hygiene measures for accommodation, food and beverages ( https://www.hyatt.com/ja-JP/hotel/japan/hyatt-centric-ginza-tokyo/tyoct/ policies ) and pursue the provision of a safe and clean hotel life.
As part of our sanitary measures, the restaurant will guide you to maintain social distancing at your table.
In addition, we recommend that you make a reservation in advance to prevent the three Cs. We appreciate your understanding and cooperation.
In addition, Hyatt has further strengthened its operational guidance and resources regarding the safety and security of its guests and employees, in line with its guiding principle of Care. For more information on Hyatt's new hygiene measures "Global Care & Clean", please visit the official Hyatt website ( http://hyatt.com/care-and-cleanliness ).
・About Hyatt Centric Ginza Tokyo
"Hyatt Centric Ginza Tokyo" is located on Namiki-dori, one of the representative streets of Ginza, Tokyo, where you can enjoy the city of Ginza in all directions. The world's leading luxury brands, gourmet restaurants, and many long-established stores are gathered here. Ginza has always flexibly embraced new cultures while valuing tradition. The 164 guest rooms, which incorporate such "Ginza-ness" into unique colors and designs, are an open space that combines functionality and comfort.
All-day dining NAMIKI667 on the 3rd floor offers a new dining experience in Ginza with a novel interior and new menu. In addition, in the bar area, the ever-changing city of Ginza will be colored with various cocktails and a special bar menu. Please spend your time on the terrace overlooking Namiki-dori.
As a base for new travels in Ginza, where old and new cultures intersect, we are only active travelers who have excellent travel antennas, always pursue new discoveries while traveling, and enjoy sharing them with their friends. Supports no exploration. @hyattcentricginza, @hyattcentricginza on Facebook ( https://www.facebook.com/hyattcentricginza/ ), Instagram ( https://www.instagram.com/hyattcentricginza/ ) and Twitter ( https://twitter.com/HyattCentricGNZ ) Follow HyattCentricGNZ.
■ Hotel name: Hyatt Centric Ginza Tokyo | Hyatt Centric Ginza Tokyo
General Manager: Uchiyama Tonori
Opening date: Monday, January 22, 2018 (Heisei 30)
■ Interior design: Yohei Akao, representative of Strickland Co., Ltd.
■ Location: 6-6-7 Ginza, Chuo-ku, Tokyo
■ TEL: Representative 03-6837-1234
Accommodation reservation 03-6837-1313
■ Official website: http://hyattcentricginza.jp
■ Total floor area: 11,905.23 m2
Hotel facilities: Number of rooms: 164 guest rooms and suites from 35 m2 to 127 m2
Food and beverage facilities: dining, bar and lounge 630 m2
Meeting facilities: private dining room in the restaurant 86 m2
Other: fitness gym 80 m2
■ Floor composition
1st floor entrance
3rd floor "NAMIKI667"
4th floor reception, library, fitness gym
5th to 12th floor Guest room basement parking lot (mechanical)
[Access] 3-minute walk from Tokyo Metro Ginza Station (Hibiya Line, Marunouchi Line, Ginza Line)
7 minutes walk from JR Yurakucho Station (Yamanote Line, Keihin Tohoku Line)
7-minute walk from Shimbashi Station on the JR Line (Yamanote Line, Keihin Tohoku Line)
About 30 minutes by car to Haneda Airport / About 80 minutes by car to Narita Airport
・About Hyatt Centric
Consistently located in prime locations, Hyatt Centric is a full-service lifestyle hotel brand. The hotel was created to invite the discerning traveler who wants to be at the center of activities to embark on an adventure full of new discoveries. While each hotel offers its lobby a place for guests to mingle, its on-site bars and restaurants are popular local hotspots for lively conversation, menus inspired by local tastes and signature cocktails. . The guest rooms are functional and modern with just the right touches. Our passionate staff will welcome you with hot information on local food and nightlife.
For more information, please visit hyattcentric.com ( https://www.hyatt.com/ja-JP/brands/hyatt-centric ). Follow @HyattCentric on Facebook ( https://www.facebook.com/hyattcentric/ ) and Instagram ( https://www.instagram.com/hyattcentric/ ). We are also waiting for you to post photos with the hashtag "#HyattCentric" to commemorate your trip.
<Related articles in the past>
The first collaboration between Heralbonnie and Hyatt Centric Ginza Tokyo
Hyatt Centric Ginza Tokyo Wall installation art that expresses the history of the hotel by itu', an internationally active artist based in Paris
Hyatt Centric Ginza Tokyo Floral Strawberry Afternoon Tea available for a limited time March 1 (Tue) – May 9 (Mon)