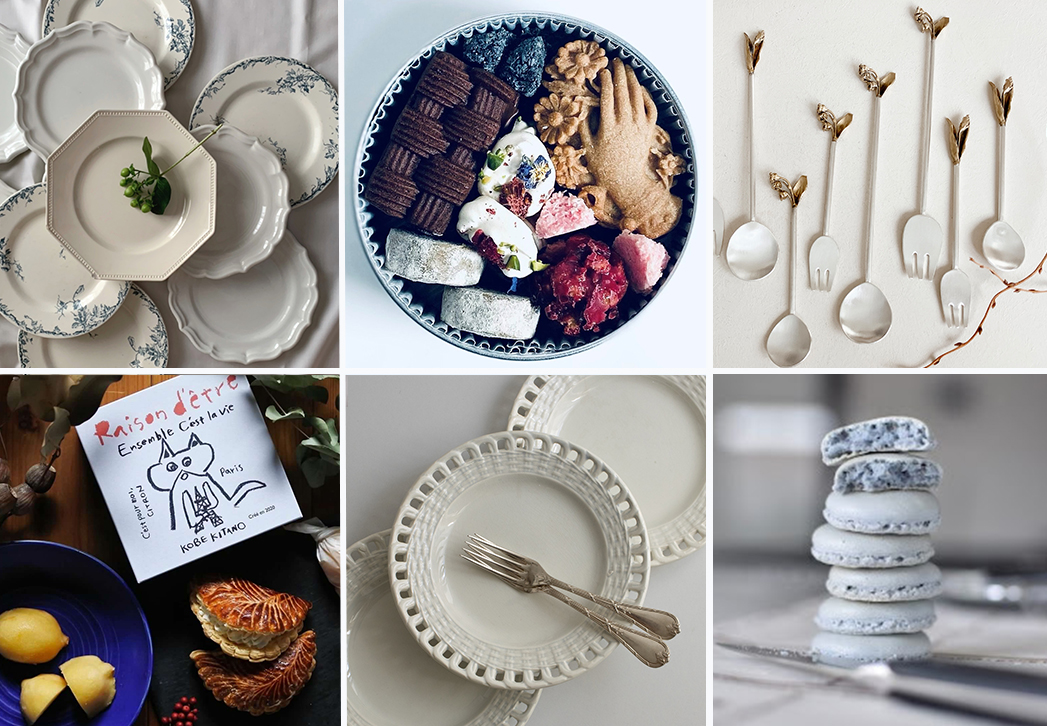 European antique tableware, handmade cutlery, and special sweets are available.
At Ginza Tsutaya Bookstore (GINZA SIX 6F, Chuo-ku, Tokyo), the "Afternoon tea that spins a story" fair based on the image of Alice's tea party will be held from September 1st (Thursday) to September 30th (Friday). It will be held at the store travel section. We propose many products such as tableware and sweets that enhance tea time.
·Overview
At Ginza Tsutaya Bookstore, we will hold a "Story Afternoon Tea" fair, inspired by a tea party, a scene from Lewis Carroll's children's literature "Alice in Wonderland".
At this fair, items from 6 brands will be on display, including 3 brands that will be sold at physical stores for the first time.
From Atelier BonbonneFuu, the new colorful gluten-free sweets "Sukoshizutsuwokashi Kobako" is inspired by the world of "Alice in Wonderland." "tea time fork" is sold. Both are produced according to this fair, and sales will start from Ginza Tsutaya Bookstore.
In addition, aru and mahorobamarket have European antique tableware, junlee cake, Raison d'etre has cookies and lemon cakes, and many other products that will enhance your tea time.
Official books and postcards (4 types) of official goods for the exhibition "Special Exhibition Alice – Strange, Strange World" currently being held at Mori Arts Center Gallery (until October 10) will also be on sale.
It was a fair that expressed the world view of "Alice in Wonderland" from a perspective unique to Ginza Tsutaya Bookstore, such as European antique tableware where the story was born, and a special sweets box reminiscent of the adventures of the curious Alice. I'm here.
From children to adults, please enjoy the world of Alice, which has been loved for over 150 years since the first edition.
Special page| https://store.tsite.jp/ginza/blog/stationery/28367-1137410817.html
・Exhibition brand, product introduction
---
---
Atelier BonbonneFuu
Atelier BonbonneFuu, in Yokkaichi City, Mie Prefecture, sells baked confectioneries and whole cakes to order in addition to confectionery classes. We use several types of gluten-free ingredients, mainly rice flour, according to the recipe, and manufacture confectionery while exploring our own selection and combination of ingredients.
Currently, we only sell monthly baked confectionery assortments that require reservations in advance at the online shop, and this time will be the first deployment at a physical store.
This time, we will sell an assortment of 9 kinds of small sweets made for this fair in the image of Alice's world view. The small box has a motif of the striped socks worn by Alice who got lost in the Looking-Glass Land, expressing a colorful, surreal and lively view of the world.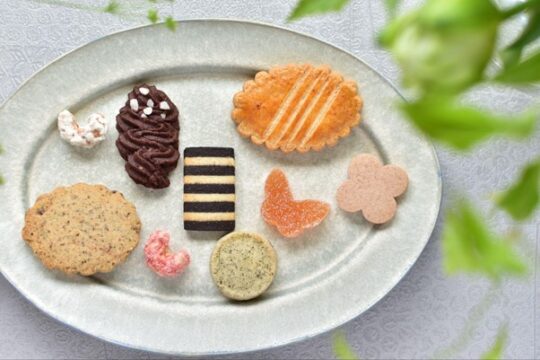 ​Product Name|Sukoshizutsuwokashi Small Box
Price | 4,320 yen (tax included)
Size | Internal dimensions 125×107×H32mm
Contents: Nuts Cristalise (roasted cashew nuts covered in sugar), sable vienois (French cacao powder, organic cacao nibs, squeezed sable with macadamia nuts), Les chaussettes d'Alice (black cocoa imitating Alice's striped socks) ice box cookies), sable nante (sable with domestic fermented butter and marcona almond poodle), sable phrase (sable with several kinds of berry powder), part de fruit (orange, mango, plum and confizzerie with homemade fig jam), sable au te (sable with Earl Gray tea leaves), nuts crystallize rosé (roasted cashew nuts with berry powder sugar), sable cafe noisette (coffee, French couverture chocolate, sable with hazelnut powder)
*Clockwise from top left
nüsse
We produce metal objects such as accessories like amulets to wear, cutlery that enriches the dining table, and mobiles and objects that create a comfortable space. The brand name is named after imagining how many fruits are attached to one tree, and has the meaning of "nut".
New cutlery made for this fair will be on sale. It is a fork with a gentle texture that features plants in a delicate form with a thin handle.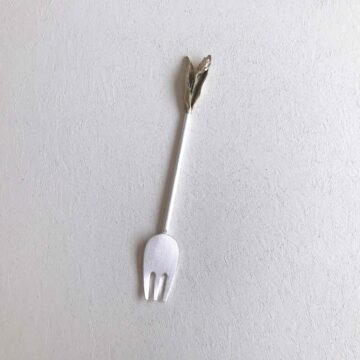 Title|tea time fork
Price | 4,070 yen (tax included)
Size|About 12cm
Material|Brass/Silver plating
aru
A store specializing in French antique plates with the theme of inheriting the good old things and enjoying the life you have now. We value what we already have, and connect encounters with one of our favorites for those who want to enjoy their lives and themselves. This time, the first physical store sales in the Kanto area.
We will sell special items centered on large flower rim plates that are simple and easy to use in milky white with gold borders.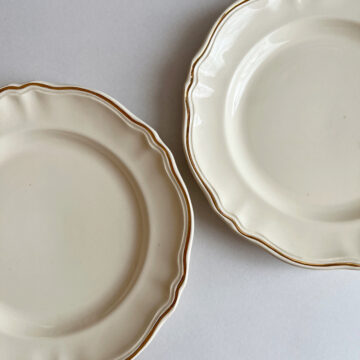 Product name|Golden flower rim plate (BADONVILLER)
Price | 8,800 yen (tax included)
Size|About 25cm
mahorobamarket
The shop owner himself selects antique items that add color to the table, mainly antique plates that enrich our daily lives, and is usually sold online, but this time it will be the first time to sell it at a physical store.
The trompe-l'oeil (trompe-l'oeil) effect that imitates a woven basket and the technique of carefully hollowing out and carving the pannier with fretwork and woven basket patterns on the edges show the high level of the craftsmen of the time. increase. When light hits it, shadows are created, and it is a very beautiful plate that looks like a sculpture. Because it is fragile and delicate, it is prone to cracks and chips, and it is rare to find one in good condition.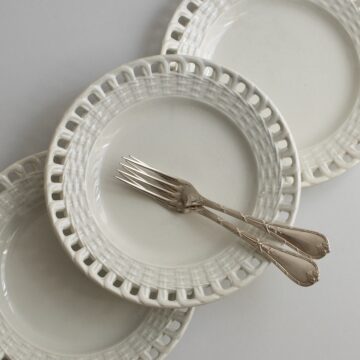 Product Name | Creil et Montereau Pannier Plate Price | 29,000 yen (tax included)
Size|∅21cm
junlee cake
We manufacture sweets that will remain in your memory as if a story were unfolding there. It is a sweet that gives a little special color to everyday life. It is usually handled only at the web shop, and this time it will be the first sale at the actual store.
We will sell cookie cans with 8 different textures, such as walnuts, streusel, crunchy rochet mixed with dried fruits and raspberry chocolate, and hojicha polvoron that crumbles. I imagined a small treasure that can be seen, eaten, and enjoyed in retrospect.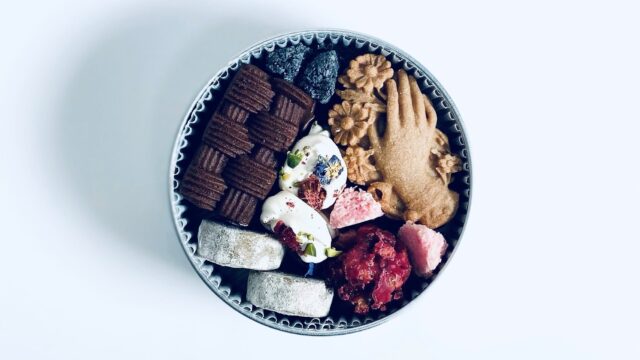 Product Name|Whimsical Cookies ~my treasure~
Price | 3,600 yen (tax included)
Size|104φ×37mm
Contents|Cinnamon cookie, Viennois chocolate, Hojicha polvoron, Black tea beurre de neige, Meringue cookie, Raspberry and nut rochet, Charcoal coconut macaron, Cherry blossom coconut macaron
Raison d'etre
A lemon cake specialty store that was born in Himeji in 2020 with the desire to make lemon cake the leading role. We use only domestically produced lemons and bake them using traditional methods without using preservatives.
This time, we will sell popular items in a box inspired by a jewelry box that will excite you the moment you open it.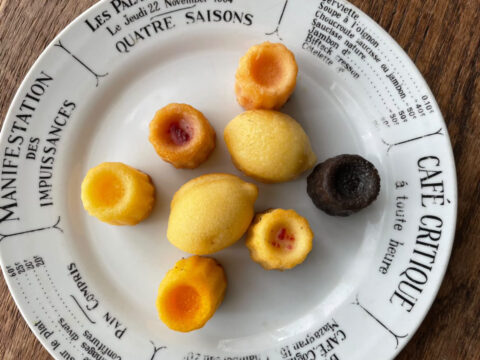 Product name|petit lemon cake BOX
Price | 1,900 yen (tax included)
Contents|Mini lemon cake (2 pieces), Petit lemon canelé, Petit strawberry lemon canelé, Petit cocoa lemon canelé, Petit earl gray lemon canelé, Petit passion fruit lemon canelé, Petit peach lemon canelé (each canele is one)
In addition, we sell many products from each brand. Please check at the store.
・About sales
Sales will begin at 10:30 on September 1 (Thursday) at Ginza Tsutaya Bookstore.
* Only some cutlery products will be sold at the online store.
Special page| https://store.tsite.jp/ginza/blog/stationery/28367-1137410817.html
・Fair details
"Afternoon tea that spins a story" fair
Period | September 1, 2022 (Thursday) to September 30, 2022 (Friday)
Venue | Ginza Tsutaya Bookstore Travel Section Organized by Ginza Tsutaya Bookstore Inquiries | 03-3575-7755 (during business hours) / info.ginza@ccc.co.jp
Special page| https://store.tsite.jp/ginza/blog/stationery/28367-1137410817.html
・Ginza Tsutaya Bookstore -Travel-
We propose a new way to enjoy your trip without relying on guidebooks. The concierge will introduce unique travel concepts through not only actual travel and local information, but also all cultures and arts of the world. We have products that will take you on a journey with new inspiration, and you can feel the journey wherever you are.
・Ginza Tsutaya bookstore
By connecting art, Japanese culture, and life through books, we propose a lifestyle with art.
Address|6-10-1 GINZA SIX 6F, Ginza, Chuo-ku, Tokyo 104-0061
Phone number|03-3575-7755
Business hours | Please check the store website.
Homepage| https://store.tsite.jp/ginza/
Facebook| https://www.facebook.com/GINZA.TSUTAYABOOKS/? ref=bookmarks
Twitter| https://twitter.com/GINZA_TSUTAYA
Instagram |https://www.instagram.com/ginza_tsutayabooks/
・CCC Art Lab
We are a planning group that conducts business related to art within the planning company Culture Convenience Club Co., Ltd. We would like to contribute to making people's lives happier and creating a better society by making art more accessible through "proposing a life with art". Based on the knowledge cultivated through many years of business experience such as store planning, art media, product development and event production, we will propose plans with a professional approach.
https://www.ccc-artlab.jp/
<Related articles in the past>
[Ginza Tsutaya Bookstore] Illustrator Natsumi Teraoka's exhibition "Life with a Dog" will be held from Monday, September 5th. In addition to exhibiting 40 newly drawn works, lunch bags limited to Ginza Tsutaya Bookstore will be sold to commemorate this exhibition.
At Ginza Tsutaya Bookstore (GINZA SIX 6F, Chuo-ku, Tokyo), Atelier matic / Sho Toyama will hold a fair of objects and vases using minerals and plants, "Stones, Plants, and Human Hands." on August 6th ( It will be held from Saturday) to September 2nd (Friday).
[Ginza Tsutaya Bookstore] A new exhibition by ceramic artist Takuro Kuwata will be held from Saturday, July 9th. Original and colorful works on the theme of "tea bowl" are exhibited.