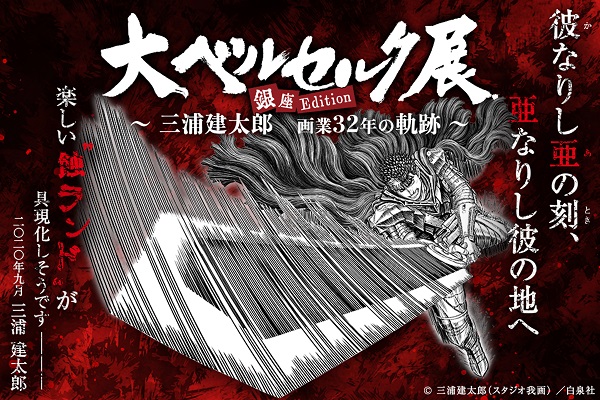 At Matsuya Ginza, from September 21st (Wednesday) to October 4th (Tuesday), we will hold the "Great Berserk Exhibition-Kentaro Miura 32 Years of Painting-Ginza Edition".
This exhibition is the first solo large-scale exhibition (fourth venue since last year's tour) that brings together handwritten manuscripts and color original drawings of "Berserk".
In addition to the original drawings, valuable exhibits such as various dioramas created for this exhibition will be on display.
At Matsuya Ginza this time, we will add and develop multiple new attempts such as exhibits from comics volume 41 onwards, limited goods that will appear for the first time this time, collaboration goods, and collaboration cafes.
■Matsuya Ginza first appearance goods
Chara Fine Graph CONVEX
"It was just a painting"
A limited number of premium reproductions of the original drawings suitable for the Great Berserk Exhibition will be sold by lottery. Comes with a "Startrail" NFT that permanently protects the value of the work. It can also be used as a certificate. The 3D data of the original drawing is extracted using the latest scanning technology. Even the fine brush strokes and texture of the canvas used in the original painting are reproduced with elaborate three-dimensional printing by overlapping layers of ink.
Experience the reality that could not be reproduced on a flat surface with the latest 3D printing technology.
#01 Guts and Griffith <br /> Work size: 544mm x 620mm x 1mm / Frame size: Approx. 595mm x 670mm x 50mm / ¥660,000 (tax included)
#02 Guts and Zod <br /> Work size: 540mm x 464mm x 1mm / Frame size: Approx. 673mm x 598mm x 40mm / ¥550,000 (tax included)
#03 Skull Knight <br /> Work size: 479mm x 554mm x 1mm / frame size: about 556mm x 631mm x 40mm / ¥550,000 (tax included)
◆ Sales method: Limited to visitors to the Great Berserk Exhibition Ginza Edition Advance lottery sales
Application acceptance period September 21 (Wednesday) to October 5 (Wednesday), 2022
Applications for lottery sales will be accepted for 5 items each of 3 types (ED.No.1/10-5/10).
For details, please visit the official website of the Great Berserk Exhibition ( https://www.dai-berserk-ten.com/ ).
---
---
New product sold from Ginza Edition ・Rubber key chain Dragon Koroshi ¥1,650 (tax included)
・Comic acrylic stand (Volume 3, Volume 13, Volume 18, Volume 32)
¥2,750 each (tax included)
・ Cover acrylic stand 3rd.ver (10 types of blinds)
¥880 (tax included) per item
■Products first appearing in Tokyo
・Dance of the Hawk pennant ¥3,850 (tax included)
・ B2 tapestry (3 types in total)
¥3,850 each (tax included)
・ Acrylic diorama (5 types in total)
¥3,850 each (tax included)
・ Adhesive plaster in a case (2 types in total)
¥1,100 each (tax included)
・Sacrifice Brand Mesh CAP
¥4,400 (tax included)
[Collaboration Cafe]
At the MG Cafe in Restaurant City on the 8th floor of Matsuya Ginza, which is the same as the exhibition venue, we offer a collaboration menu of drinks, desserts, food, and cocktails inspired by "Berserk". Here are some of the menu items.
Place: Matsuya Ginza 8F Restaurant City
【Drink】
Latte of this world and the ghost world ¥ 990 (tax included) Cafe latte with randomly printed characters.
Float to Call to Another World ¥1,100 (tax included) A cola float with a king's egg on it.
【dessert】
Light parfait ¥ 1,430 (tax included) A noble parfait inspired by Griffith.
Black confectionery ¥ 1,430 (tax included) Dessert using marshmallows inspired by Guts.
[hood]
Crazy ¥ 1,540 (tax included) Super spicy curry and salad set with Guts printed.
Sylphe noodles ¥ 1,595 (tax included) A set of pasta and salad inspired by Serpico.
【Cocktails】
¥1,210 each (tax included) *Available from 17:00.
Black Midland: Image of Gaiserik. El Diablo with cola. (tequila base)
White Midland: An image of a white title. Short version of chichi. (vodka base)
Red Midland: An image of Charlotte's love for Griffith. Negroni with words of first love. (gin base)
Customers who order the collaboration menu will receive a random original coaster (7 types in total).
* It will end as soon as the limited number is reached.
Business hours: 10:30 am to 9:00 pm (Last order is 1 hour before closing)
* The opening time may be earlier depending on the number of customers visiting the store.
*Business hours are subject to change.
<Special plan>
The anime "Berserk Golden Age Hen MEMORIAL EDITION" will be broadcast on Saturday, October 1, 2022 from 24:30 on TOKYO MX and other stations.
To commemorate the broadcast, an exhibition of the original animation of "Berserk Golden Age Arc" at the time of its release from 2012 to 2013 has also been decided at the collaboration cafe "MG Cafe" in Matsuya Ginza.
Please come and visit us for a valuable opportunity that you cannot see at other venues.
・ What is "Berserk"?
It started serialization in "Monthly Animal House" in 1989, and is currently being serialized in "Young Animal" (both published by Hakusensha). A solid story, attractive characters, overwhelming and detailed drawings, and unrivaled creativity. It has a strong impact and impression on the hearts and lives of readers, and has been published not only in Japan but also overseas, attracting readers around the world. In 2002, it won the 6th Tezuka Osamu Cultural Award Manga Excellence Award, and as of 2022, the cumulative circulation of the series worldwide is 50 million copies (paper + electronic). In addition to the success of manga, it continues to influence a wide range of people such as animation and game development.
Volumes 1 to 41 of the comics are on sale.
・Overview of "Large Berserk Exhibition-Kentaro Miura 32 Years of Painting-Ginza Edition"
Date : September 21 (Wednesday) – October 4 (Tuesday), 2022
Venue: Matsuya Ginza 8F Event Square
Opening hours: 10:00 a.m. – 8:00 p.m. <7:30 p.m. on September 25 (Sun) and October 2 (Sun), closing at 5:00 p.m. on the last day> 1 hour before
Organized by: "Great Berserk Exhibition" Executive Committee
Sponsored by: TOKYO MX
Cooperation: Fields
Exhibition cooperation: Kenshin Co., Ltd. (ART OF WAR) Prime 1 Studio Co., Ltd. Max Factory Co., Ltd.
◎Precautions when entering *This exhibition contains some stimulating expressions and depictions. Please visit us after understanding.
Admission ticket: General 1,700 yen (1,500 yen), high school students 1,200 yen (1,000 yen), junior high school students 1,000 yen (800 yen), elementary school students 700 yen (500 yen)
Admission ticket with paper knife = 4,900 yen (4,700 yen), admission ticket with zipper bite = 2,700 yen (2,500 yen)
Audio guide 700 yen *All displayed prices include tax.
*Free for preschoolers *Prices in parentheses are advance prices. Advance tickets will be on sale until September 20th (Tuesday).
*Please see the official website for details.
Official site https://www.dai-berserk-ten.com/
Official Twitter @B26478213 ( https://twitter.com/B26478213 )
<Related articles in the past>
It will be held at Matsuya Ginza from Wednesday, September 21st! "Tom and Jerry Cartoon Carnival"
"Exhibition that was slime after reincarnation 2" in Matsuya Ginza Audio guide and collaboration cafe by gorgeous voice actors will be held!
The TV anime SPY x FAMILY POP UP SHOP will be held at Matsuya Ginza from Wednesday, June 29th for a limited time!