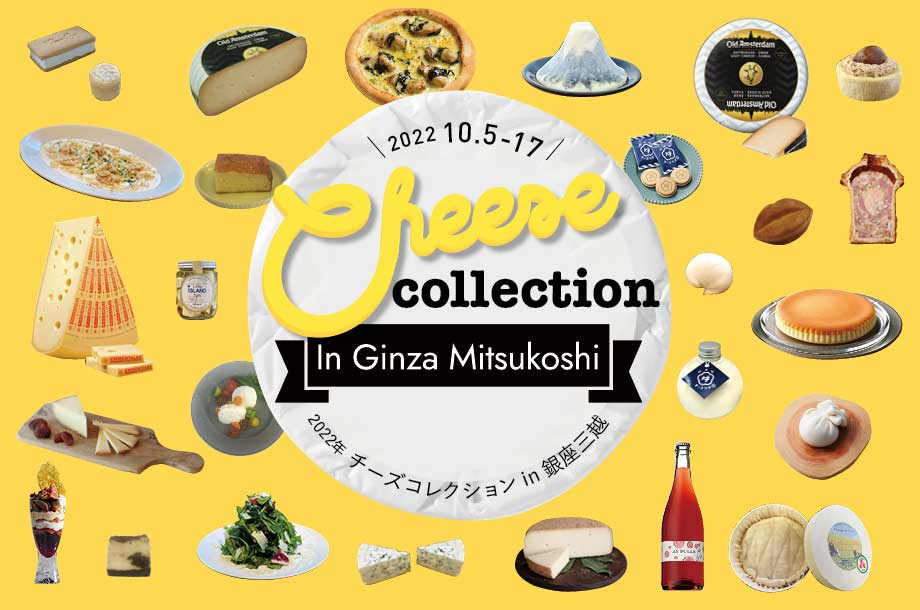 The first eat-in at the venue where you can enjoy MOF matured cheese and wine lovers and sweets lovers
 
Date: Part 1: October 5, 2022 (Wednesday) to October 10, 2022 (Monday / holiday)
Part 2: October 12 (Wednesday) to October 17 (Monday), 2022
*Both ends at 6:00 pm on the last day *Closed all day on Tuesday, October 11
* Eat-in is available from 10:30 a.m. (11:00 a.m. for alcoholic beverages) to 8:00 p.m. (Last order is 30 minutes before closing each day)
■Venue: Ginza Mitsukoshi New Building 7F Event Hall
Isetan Mitsukoshi Online Store: September 21, 2022 (Wednesday) 10:00 am to October 17, 2022 (Monday) 10:00 am
URL: https://www.mistore.jp/shopping/shopping/event/ginza_e/pancheese_51
We will introduce carefully selected rare cheeses that you don't usually see. You can enjoy a wide variety of cheeses from all over Europe such as Italy, France, and Switzerland, as well as contest-winning cheeses from various parts of Japan. In addition to so-called cheese, Part 1 will introduce cheese sweets, and Part 2 will introduce a more carefully selected selection of authentic cheeses. This is an exciting event for cheese lovers over the course of two weeks. This time, you can enjoy freshly made cheese dishes with wine at the eat-in in the venue.
・Carefully selected cheeses from overseas: Cheeses from Italy, France, Holland, Germany, England, and more! You can enjoy award-winning cheeses from global competitions and unusual cheeses that you don't usually see!
◆ Part 2 ◆ <Dolce Vita> Parmigiano Reggiano Milleggi Mart dismantling sale 1,836 yen (180 g / refrigerated / made in Italy)
"Parmigiano Reggiano" is made in the Emilia-Romagna region of Italy and is only allowed to be called DOP-certified cheese. Millage Mart is made from concentrated milk from dairy cows that are less than 100 days old. This time, we will cut it from the lump on the spot and sell it by weight. You can enjoy the freshly shaved flavor.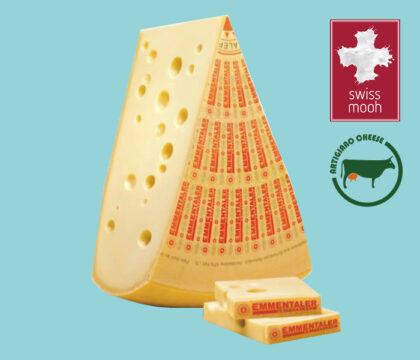 ◆ Part 2 ◆ [First appearance] <Swiss Moo × Artigiano Cheese> Emmental AOP 1,250 yen (100g/refrigerated/made in Switzerland)
"Emmental" is certified as a unique Swiss APO (Protected Designation of Origin) cheese, and only those that comply with the strict conditions of AOP can be named "Emmental". "Emmental" handled by <Artigiano Cheese>, which opened for the first time this time, is of high quality, as Swissmoo, which first landed in Japan, put all its pride into the world as a representative company of Switzerland.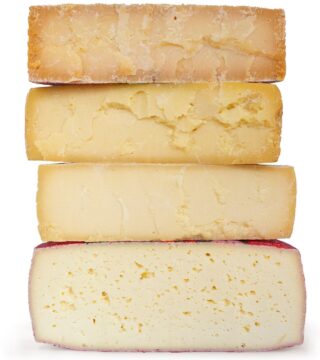 ◆ Part 2 ◆ [First appearance] <Fior di Maso> Asiago 4 types of eating comparison set 2,700 yen (1 set / refrigerated / made in Italy)
Ajogo is a 100% cow's milk cheese from the Veneto region of Italy. Depending on the ripening period, you can enjoy different textures from soft to hard with a nutty flavor.
*Four types: Asiago Fresco (maturity 20 days), Mezzano (4-10 months), Vecchio (10-15 months), Stravecchio (15 months or more)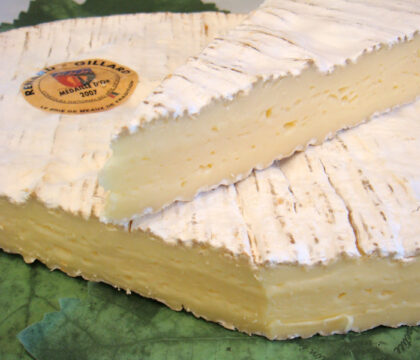 ---
---
◆Part1・Part2◆<<Cheese on the table> Breedmaw aged for 10 weeks ¥1,728 (per 100g/refrigerated/made in France)
Breedmaux of France <Lénard Girard> won the gold medal in 2009 and the silver medal in 2011 at the Breedmaux International Competition. It is a famous cheese that wins a medal every year at the Paris Agricultural Competition.
◆Part1・Part2◆ <Neal's Yard Daily> Stilton Colston Basset ¥1,381 (100g/refrigerated/made in England)
British traditional moldy cheese "Stilton". While it has a mellowness due to long-term maturation, it has a more tasteful finish combined with the tangy taste of blue mold.
・Taste at the venue: Enjoy delicious freshly made cheese dishes and desserts with wine.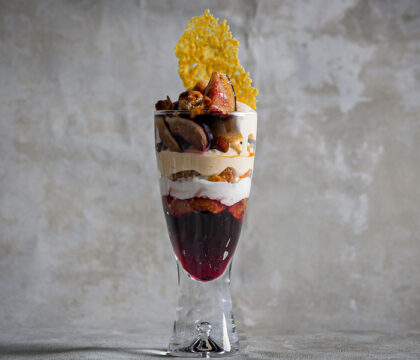 ◆ Part 1 ◆ <Pâtissière MAYO> Cheese and fig parfait 3,850 yen (1 serving/made in Japan) *Limited to 100 points each day
We express discerning cheese by various tailoring including ice and cookie. While enjoying fresh figs, the salty taste of cheese is an accent. You can enjoy it without getting tired of it until the last spoonful.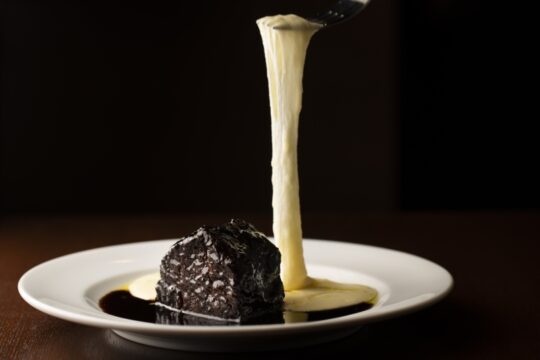 ​◆Part 1◆ <Bar a Fromage Sous Voile> Wagyu beef cheek stewed in red wine and Aligot 2,970 yen (1 serving/made in Japan)
Moist wagyu beef cheek stewed in red wine, served with a traditional cheese dish from the Auvergne region, Aligot. Enjoy the smooth texture and rich flavor of potatoes and cheese.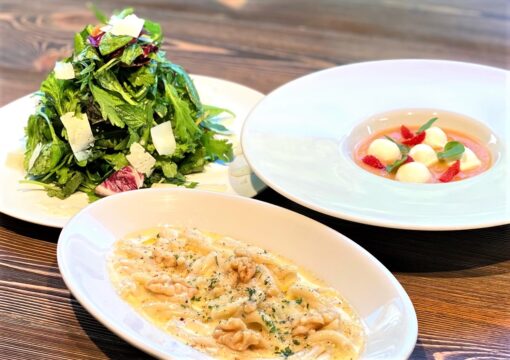 Foreground: ◆ Part 2 ◆ <Subrideo Restrale> Casarecce Gorgonzola Malt Cremoso Sauce 1,980 yen (for 1 person/made in Japan)
A dolce-type gorgonzola flavor named "malt cremoso (very creamy)" directly. Enjoy it with plenty of handmade pasta Casarecce.
Back left: ◆ Part 2 ◆ <Subrideo Restrale> Fresh Maki Cheese Salad ¥1,650 (1 serving/Made in Japan)
Maki, a sheep's milk cheese with several kinds of dried herbs representing Corsica. This is made into a salad with the popular menu "Herb Salad" and "Fondant Ile de Beauté" of <Subrideo Restrale>.
Back right: ◆ Part 2 ◆ <Subrideo Restrale> Pear and pomegranate soup shiratama 880 yen (1 serving/made in Japan)
The very milky "Mozzarella Bocconcino" is likened to shiratama. A soup dessert to enjoy with the flavor of seasonal pear and pomegranate.
・ Innovative cheese sweets … We have collected a variety of cheese sweets that make full use of techniques.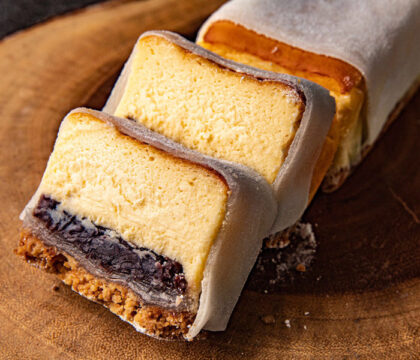 ◆ Part 1 ◆ [First appearance] <Amai Keiki Select Runny Cheese> Habutae Hikari Silk Baked Cheesecake 3,240 yen (1 piece/refrigerated/made in Japan) *Limited to 30 items each day
A hybrid sweet that combines Fukui's specialty "Habutae Mochi" and <Runny Cheese>'s proud "baked cheesecake". The balance between moist and rich cream cheese, chewy habutae mochi, and moderately sweet red bean paste is excellent.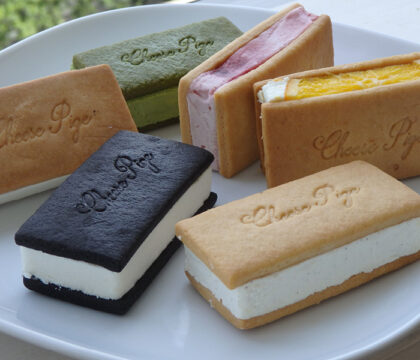 ◆Part 1◆ [First appearance] <Cheese Piguet> Various cheese sandwiches from 346 yen (1 piece/refrigerated/made in Japan)
1.5 cm thick, Hokkaido cream cheese sandwiched between crunchy cookies. We have prepared about 10 types of honey, strawberry, and seasonal flavors combined with cream cheese.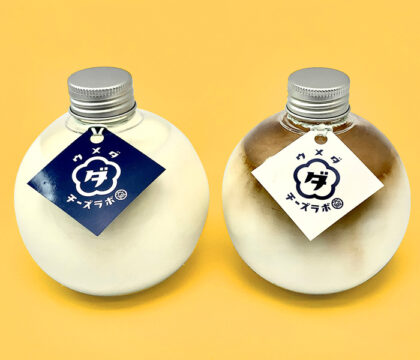 ◆ Part 2 ◆ [First appearance] <Umeda Cheese Lab> Drinkable cheesecake (white egg, black egg) 648 yen each (1 piece/refrigerated/made in Japan)
"Shirotama" is made mainly from cream cheese, cream and milk. "Kurotama" is made by adding coffee syrup to mascarpone. The texture changes depending on the number of times you shake it, so finding your favorite texture and drinking time is one of the pleasures.
・Carefully Selected Japanese Cheeses・・・Introducing award-winning cheeses and limited quantity cheeses.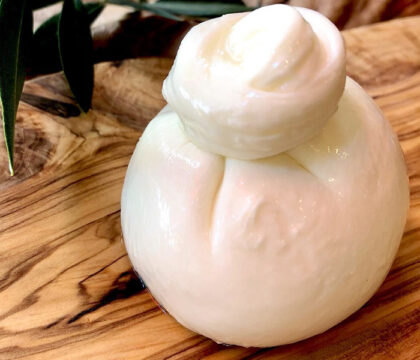 ◆Part 1◆ <Selvagina> Burrata cheese 1,501 yen (130g/refrigerated/made in Japan) *Limited to 20 each day
Burrata cheese from Puglia, Italy. We used milk purchased from Hachioji, Tokyo, <Isonuma Milk Farm>, and aimed for the same deliciousness as the local. When you insert a knife into the elastic cheese, milky cream flows out from inside.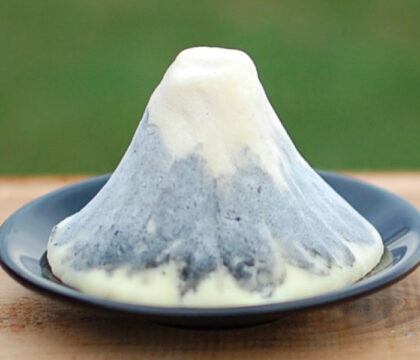 ◆ Part 2 ◆ <Fromage Doll> Mt. Fuji / Charcoal (Mirasaka Fromage) 2,391 yen (120g/refrigerated/made in Japan) *Limited to 50 items
This is a cheese made with 100% grass-fed goat milk by Mr. Masanori Matsubara of <Mirazaka Fromage>, which has a unique appearance with a motif of Mt. Fuji. Winner of the prestigious Gold Award at the 2022 World Championship Cheese Contest.
​◆ Part 2 ◆ [First appearance] <Ceasanista> Little Island Tilly (Goat) Limited to 15 items each day, 2,368 yen (300g/refrigerated/made in Japan) *Limited to 15 items each day
Greek cheese "Tilly" marinated in olive oil with herbs. The oil mixed with oregano, rosemary, sundried tomato and garlic can also be used for cooking.
・4 selections of carefully selected cheeses by MOF maturers: These are the proud creations of MOF (French National Medal of Excellence) cheese maturers, which are rarely seen in Japan.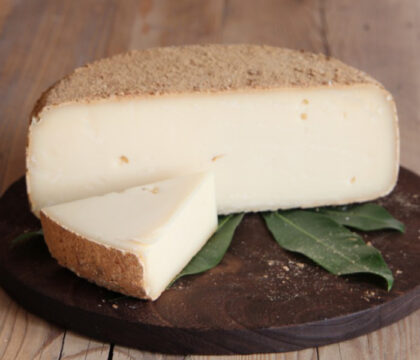 ◆Part2◆ [Mr. Dominique Boucher aged] <Fromagerie Hisada> Hercule ¥1,501 (100g/refrigerated/made in France)
Dominique Boucher is a craftsman who works mainly with sheep's milk cheese in the beautiful Montréjo in the mountains of Pyrenees. This cheese is made from a mixture of sheep and goat milk, and is characterized by its nutty flavor and sweetness, as well as its mature, condensed umami and richness.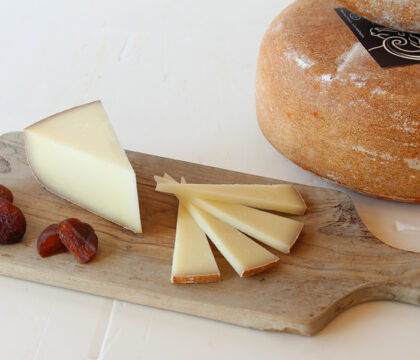 ◆Part 2◆ [Aged by Dominique Boucher] <Fromagerie Hisada> Napoleon View ¥1,381 (100g/refrigerated/made in France)
A sheep's milk cheese born from the encounter between Mr. Dominique Bouchet and the cheese specialty store <Fromagerie Hisada> in Paris. In the moist texture and strong flavor, you can feel the gentle sweetness peculiar to sheep milk.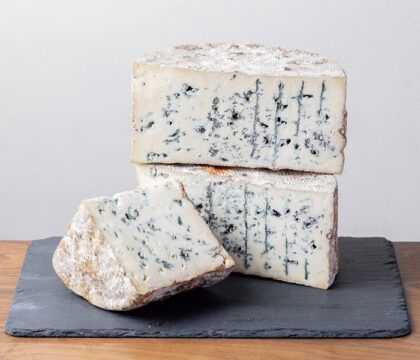 ◆ Part 1・Part 2 ◆ [Made by Hervé Mons] <Hervé Mons> 1924 1,301 yen (100g/refrigerated/made in France)
"1924" by Hervé Mons is a special cheese that traces the origin of "Roquefort" and is newly created by the producer and the maturing expert. Manufactured by mixing cow's milk and sheep's milk that are milked on the same day using an old-fashioned method. The sticky texture is perfectly balanced with the pleasant saltiness of the blue mold and the sweetness of the milk. It also features a long aftertaste.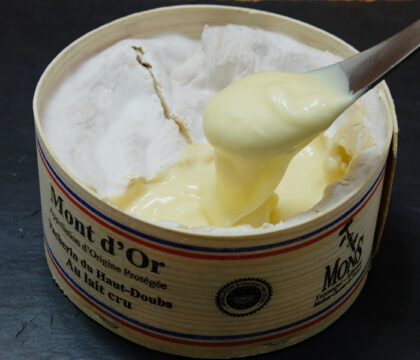 ◆Part1・Part2◆ [Mr. Hervé Mons] <Hervé Mons> Mon d'or MONS mature 5,801 yen (400g/refrigerated/made in France)
Introducing the original Mondor, directed from the manufacturing stage by Mr. Herve Mons. The characteristic of "Mondor" is that it is wrapped in the bark of the fir tree "Episea", giving it a refined fragrance. It is soft enough to be used as cheese fondue at room temperature, and goes well with baguettes and vegetables.
*This product will be sold in stores from Thursday, October 6th.
・Enjoy pairing with wine and coffee… Please spend a more delicious time with each other's synergy.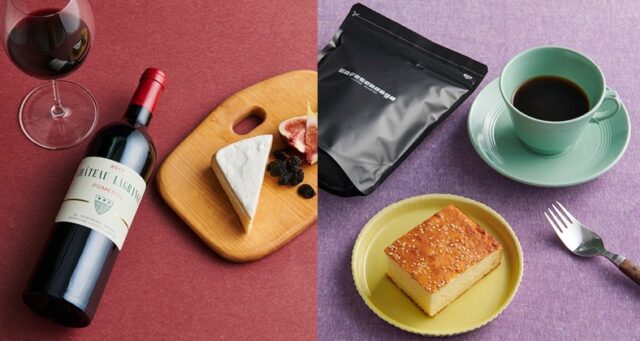 ◆Part1・Part2◆ <Chateau Lagrange a Pomerol> Chateau Lagrange a Pomerol Limited to 20 items 7,700 yen (red/750ml/room temperature/made in France)
"Brie de Meaux" is a white mold cheese that is said to be the king of cheeses. Its mellow and deep taste goes well with the rich red with full fruit flavor.
◆ Part 1 ◆ [First appearance] <Cafe Tenango> La Hueja 4,644 yen (200g/normal temperature/made in Japan)
A special lot that only Cafetenango won in Japan from a specialty producer representing Nicaragua. An elegant coffee with a strawberry-like delicacy. Combined with cheese sweets, the taste will be even deeper.
* The images posted may be used as an example of arrangement and image.
*The package in the image is subject to change.
*All prices include tax. For food, the standard tax rate (10%) and the reduced tax rate (8%) are mixed.
*Prices are subject to change if there are changes in the brands we handle, or if there are no products in stock.
※Please pardon the case of run out.
*We do not accept reservations or reservations over the phone. Please note.
* Due to various circumstances, the information posted, such as business days, business hours, and planned content, may be changed or canceled without notice. Please note.
*In order to alleviate congestion in the venue, admission may be restricted at the entrance of the event venue on the 7th floor of the new building. We appreciate your understanding and cooperation.
<Related articles in the past>
Mai Kishimoto Exhibition "Barometer 75" will be held at Ginza Mitsukoshi Main Building 7F Gallery! !
"# Bear Festival in Ginza Mitsukoshi 2022" A large collection of popular bear characters that continue to be loved!
"Winnie the Pooh DISNEY WINNIE THE POOH FESTIVAL 2022" will be held again this year at Ginza Mitsukoshi from Wednesday, September 14th!