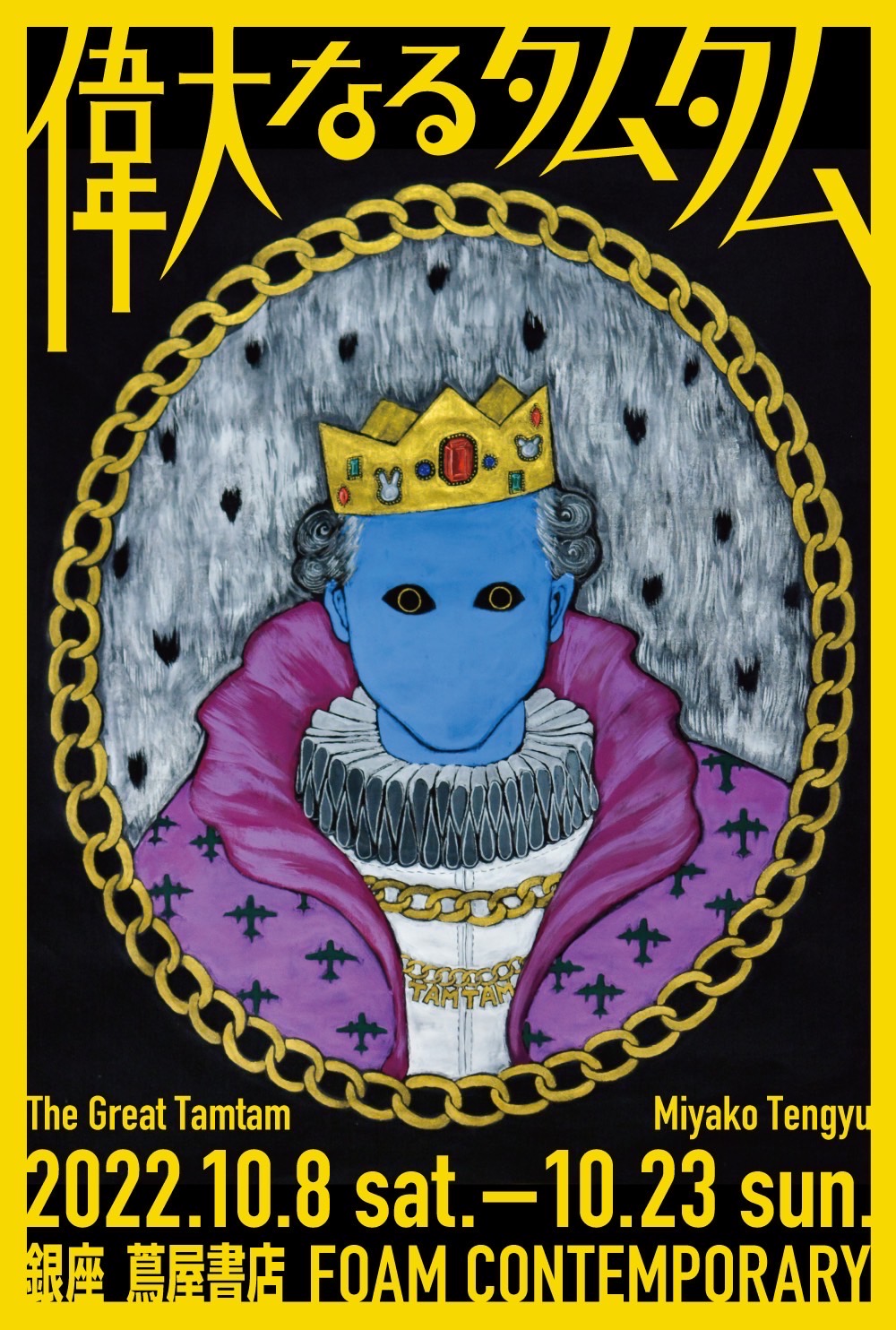 At Ginza Tsutaya Bookstore (GINZA SIX 6F, Chuo-ku, Tokyo), a solo exhibition by Miyako Amagi will be held at FOAM CONTEMPORARY from Saturday, October 8th to Sunday, October 23rd. Please enjoy the world of stories created by mixing disturbing reality and fantasy.
·Overview
Born in a secondhand bookstore, Miyako Amanoyu has been exposed to the magical power of stories since childhood. At Kyoto City University of Arts, I majored in dyeing and weaving, and I am engaged in creative activities using dyeing and weaving materials that are closely related to people's lives and culture. By expressing images reminiscent of illustrations using familiar materials such as cloth and leather instead of canvas, I have worked to eliminate the sense of distance between the story that dwells in the work and the viewer, and the creation of the story has been the original responsibility. We are rediscovering primitive power.
In this exhibition, we will introduce a new story created by Tengyu, centering on the character "Great Tam Tam".
Feature page| https://store.tsite.jp/ginza/blog/art/28954-1443210916.html
*In "Web Bijutsu Techo", a dialogue between Miyako Amanoyu and Kanna Takase is being published in "DIALOGUE for ART" Vol.7, a series of talks by artists.
DIALOGUE for ART Vol.7|https: //bijutsutecho.com/magazine/interview/oil/25985
・For this exhibition
---
---
My family owns a second-hand bookstore, so I was surrounded by many books from an early age and was exposed to various stories. For me, making a work is close to imagining a story. When you encounter the absurdity of the world, the sad past, and the resentment of society, the story begins to raise a small voice. I listen carefully so as not to miss anything. "News from a Clown", "Deathly Wordplay", "Utopia and Spells", "The Propaganda Demon". I want to confront the world by stitching together the narratives that arise when reality mixes with fantasy.
In retrospect, each of the works that I sewed in the days of constant disturbing news may have been a curse to ward off evil. It is said that sewing decorations have magical powers. "Relying on talismans with mystical power to avoid disaster" is a custom that has been practiced by many ethnic groups since ancient times. It can be said that it is the archetype of religion that people ask for the protection of paranormal beings as a base for their uneasy feelings.
When I was vaguely thinking about such a theme recently, a character called "Great Tam Tam" stood there. As if snuggling up to my uneasy feeling.
I wanted to make an exhibition centered on him.
I got to work and started imagining a story. For this "new idol".
Will he save me and us?
Tam Tam! Tam Tam! Tam Tam!
"Please save us."
Miyako Amagyu
・ About work sales
It will be on sale from October 8th (Sat) at Ginza Tsutaya Bookstore and the art online marketplace "OIL by Bijutsu Techo".
Store | Sales start from 11:00 on Saturday, October 8th Online store | Sales start from 12:00 on Saturday, October 8th * Only some works will be sold online.
*Products may be sold out before the start of the exhibition, depending on the pre-sale status.
Web Bijutsu Techo "DIALOGUE for ART" Vol.7 In conjunction with the release of the interview article, the works are being sold on the online marketplace "OIL by Bijutsu Techo".
OIL by Bijutsu Techo | https://oil.bijutsutecho.com/artist/1168
・Artist profile
Miyako Amagyu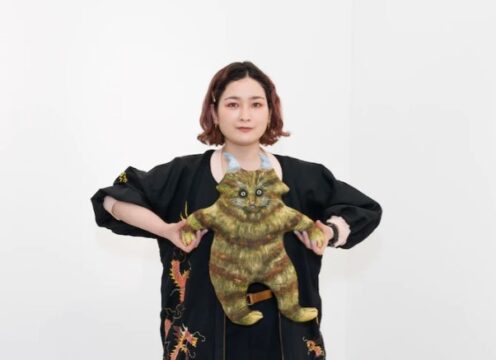 Born in Osaka in 1989. Her family runs a second-hand bookstore, and she grew up surrounded by books from an early age. After graduating from Kyoto City University of Arts Graduate School in 2015, he is based in Osaka. His recent solo exhibition is "Devil of Propagare" (COHJU contemporary art, Kyoto, 2021). In addition to producing his own works, in recent years he has been working on editing and publishing zines, and has expanded his range of activities, such as curating the group exhibition "Curse and Celebration" (KUNST ARZT, Kyoto) held in 2018. there is
・Exhibition information
Miyako Amaushi Solo Exhibition "Great Tam Tam"
Dates: Saturday, October 8, 2022 to Sunday, October 23, 2022
Time | 11:00-19:00
Regular holiday|Monday Venue|FOAM CONTEMPORARY
Admission|Free Organizer|Ginza Tsutaya Bookstore Inquiries|03-3575-7755 (during business hours)/info.ginza@ccc.co.jp
Feature page| https://store.tsite.jp/ginza/blog/art/28954-1443210916.html
・FOAM CONTEMPORARY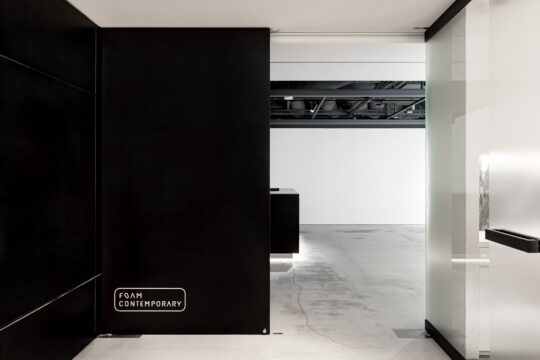 "FOAM'' is an intermediate form that combines "LIQUID'', which is an image of flexible planning content, and "SOLID,'' a space that is fully equipped as a conventional white cube. An expression space that reflects the art scene of books from multiple angles.
The first "O" in the logo is intentionally deformed to create the image of bubbles. While expressing the contemporary art scene itself, which is changing day by day, it expresses the image of the artist's free and flexible expression that exists infinitely.
We will introduce various notable artists regardless of career or age as an expression space that explores and fosters the value and real pleasure of art that transcends the life cycle while staying close to the actuality of the times.
Instagram | https://www.instagram.com/foamcontemporary/
・Ginza Tsutaya bookstore
By connecting art, Japanese culture, and life through books, we propose a lifestyle with art.
Address|6-10-1 GINZA SIX 6F, Ginza, Chuo-ku, Tokyo 104-0061
Phone number|03-3575-7755
Business hours | Please check the store website.
Homepage| https://store.tsite.jp/ginza/
Facebook| https://www.facebook.com/GINZA.TSUTAYABOOKS/? ref=bookmarks
Twitter| https://twitter.com/GINZA_TSUTAYA
Instagram |https://www.instagram.com/ginza_tsutayabooks/
・ CCC Art Lab
We are a planning group that conducts business related to art within the planning company Culture Convenience Club Co., Ltd. We would like to contribute to making people's lives happier and creating a better society by making art more accessible through "proposing a life with art". Based on the knowledge cultivated through many years of business experience such as store planning, art media, product development and event production, we will propose plans with a professional approach.
https://www.ccc-artlab.jp
<Related articles in the past>
[Ginza Tsutaya Bookstore] Artist Shohei Yamamoto's solo exhibition "Calcite on Myth: Greek Beauty" will be held from Saturday, October 8th.
[Ginza Tsutaya Bookstore] "Afternoon tea that spins a story" fair based on the image of Alice's tea party in Wonderland will be held from September 1st (Thursday)
[Ginza Tsutaya Bookstore] Illustrator Natsumi Teraoka's exhibition "Life with a Dog" will be held from Monday, September 5th. In addition to exhibiting 40 newly drawn works, lunch bags limited to Ginza Tsutaya Bookstore will be sold to commemorate this exhibition.